Reply to comment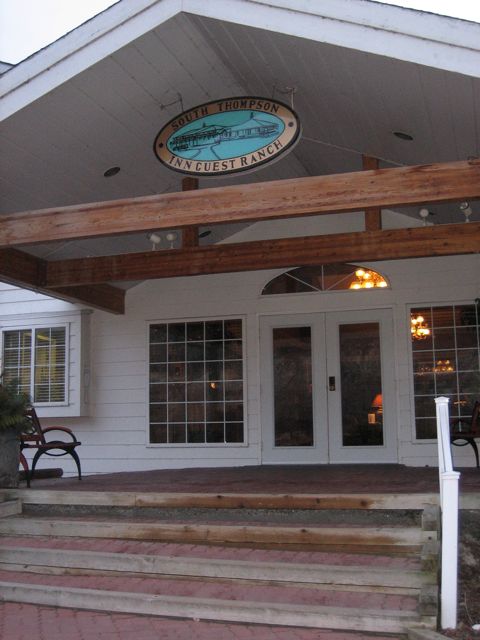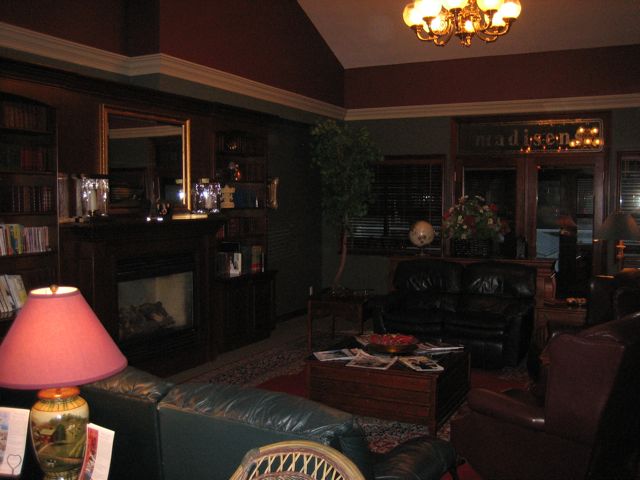 Went to madisens for Mitchell Shafer's weekend menu. This restaurant is located at the South Thompson Inn Guest Ranch and Conference Centre in Kamloops, BC.
The space is small. In fact the dining room is completely separate from the kitchen. As in the serving staff carry your food from the kitchen through the Bourbon Lounge and then open a separate door to get into the dining space. Odd.
It was a cozy space with a fireplace and less than 10 four top tables.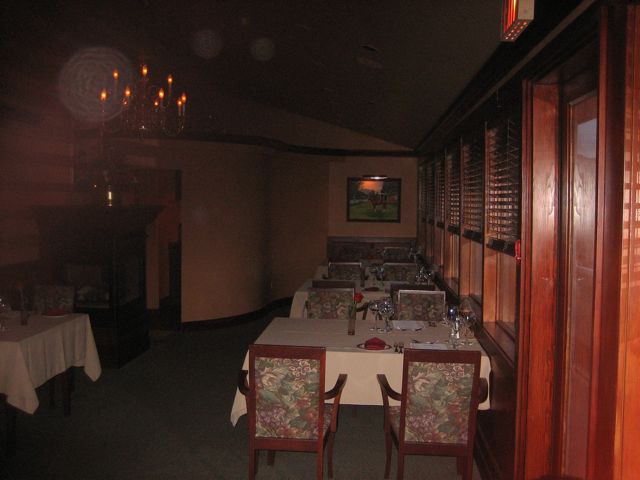 Preferring to eat earlier, I ended up booking the earliest dinner reservation they could accommodate.
Had some wine and a Caesar while perusing the menu.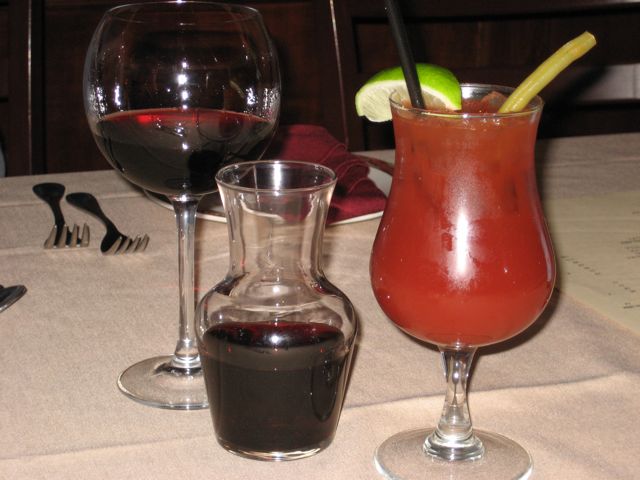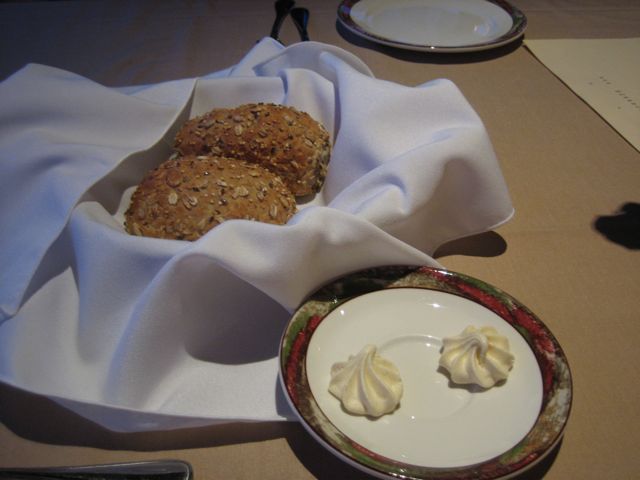 The server, Claire, is friendly and accomodating. We are the only table for some time, and it was great having a staff member all to ourselves.
The bread is warm and seedy but the butter pats are solid little bricks. I'm glad they refrigerate their butter, but please bring it to spreadable temperature before serving.
I end up making a snuggie out of the buns to help the butter warm up until spreadable.
We had 3 courses.
Starters:
Atlantic Lobster and Brandy Bisque with Pan Seared Giant Shrimp ($13.00)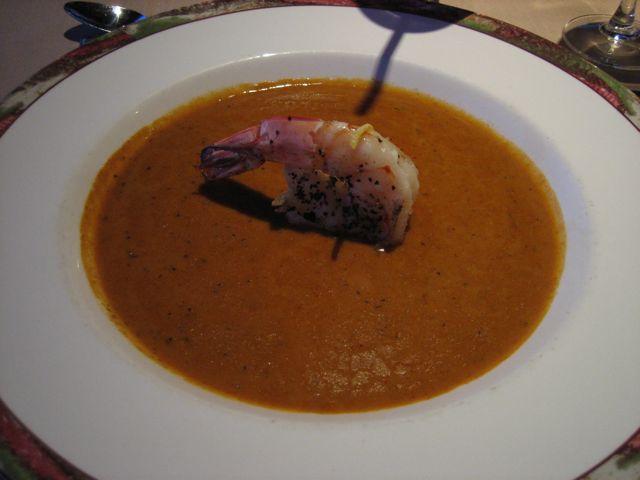 The portion of this starter is very generous. It's a bit too generous, for me, as I knew I would be struggling to finish the next two courses if I finished my starter. The bisque is wonderfully aromatic. The giant shrimp is nicely grilled with the prawn flesh still maintaining that firm "crispy" texture to it. As you can tell in the picture the bisque came to the table with a bit of a "skin" formed on it. Perhaps it had to sit for a bit while the other starter was being plated. This did not deter me from enjoying it greatly, but it is one of those small details that makes me raise an eyebrow; it doesn't go unnoticed.
Crispy Duck Spring Roll with Papaya Chutney and Vegetable Slaw ($14.00)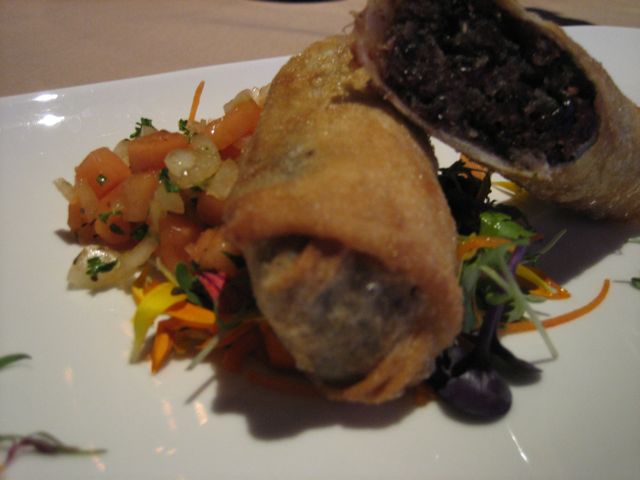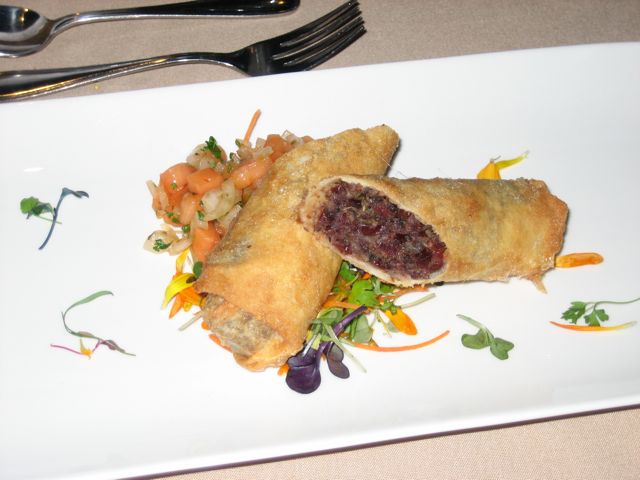 I did not get to taste this, but according to the person who ordered it, found it deelish. The duck had a mince meat texture to it and there is a detectable 5 spice flavour. Interestingly enough there was no distinct "duck" flavour to it. Some people may prefer this, but I like that distinctive duck aroma. Maximum crispiness without the greasiness.
Mains:
Beef Tenderloin and Lobster Tail with Jus, Horseradish Cream and Lobster Bisque Sauce ($39.00)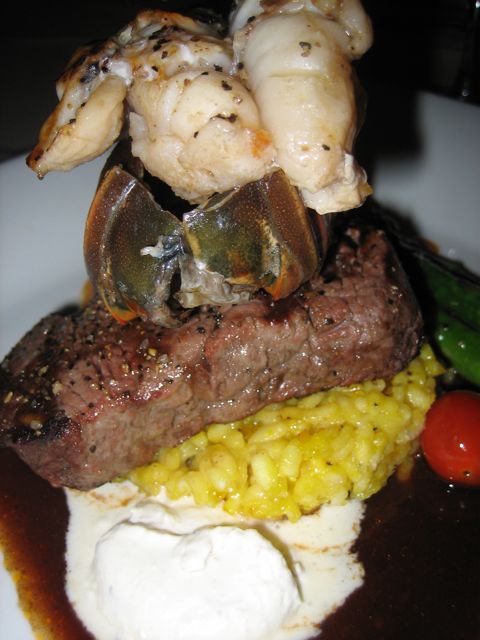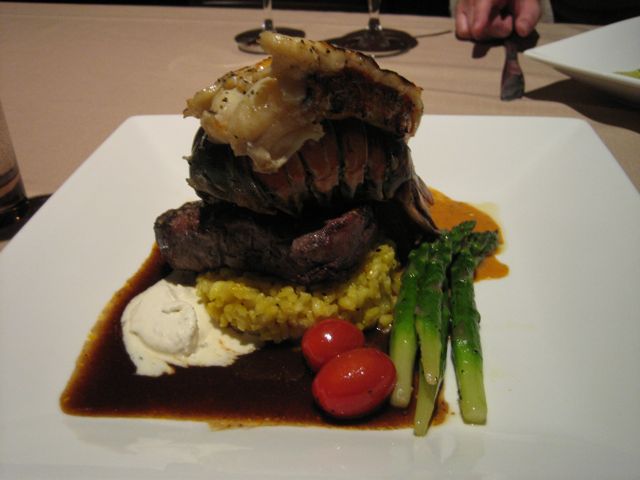 The beef is like buttah. The meat is almost eerily tender, literally like buttah. The meat came to the table at the requested medium. The lobster flesh is crisp and "poppy" like the giant shrimp. I'm always a bit skeptical about having seafood so far inland. I have no idea where the shrimp and lobster came from or how fresh or frozen it was. In any event, my eating partner deems this dish to be delicious, and was quite excited about eating it.
Duck Confit with Cabernet-Chocolate Demi Glace ($36.00)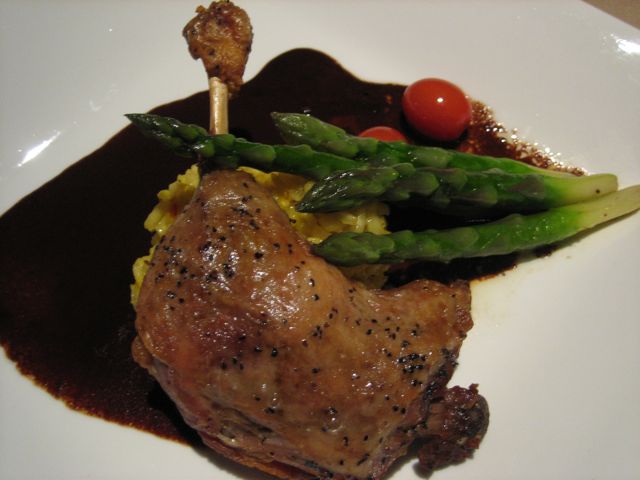 I love duck and I love duck fat. To slow cook something enveloped in it's own fat is genius. I eat a lot of duck. Mostly asian barbecue styles. When eating out I tend to order duck dishes whenever it's available. This confit was pretty standard. I've had better. Again there wasn't enough of a bouquet for your senses to have the whole experience of eating duck. If I close my eyes, it could have been a different poultry for all I knew. I did enjoy the demi glace with the duck, it adds a different angle to the dish, and makes it interesting.
Both the mains had asparagus, cherry tomatoes and risotto. The vegetable sides are excellent. Seems like they were flash blanched in oil to keep the brightness of the colour, yet cooked perfectly. Each of the entrees sat on a bed of risotto that needed a little attention. The flavours are fine, but with each mouthful the cooked-ness of arborio rice was odd. It's as if some of the grains were overdone, and some of the grains were underdone. If the kitchen is making each serving to order, this is a strange outcome.
Desserts:
Vanilla Bean Crème Brûlée with Canadian Maple Whipped Cream ($10.00)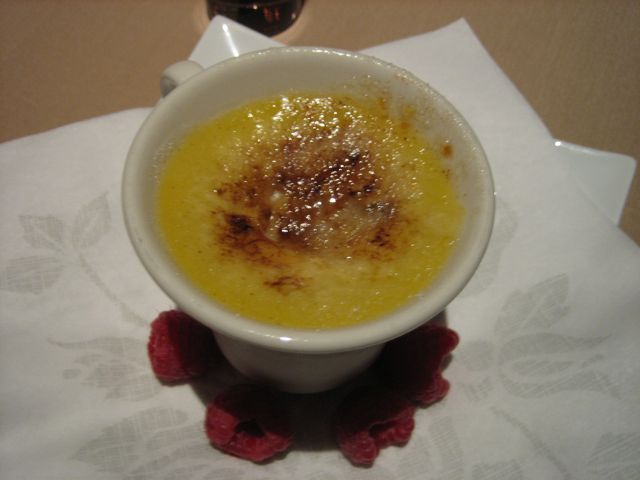 This is luscious. The creme brule tastes like the filling in a Beard Papa puff. Nice vanilla bean flavour and there is evidence of vanilla bean usage. The combination of the fresh raspberries and the creme was perfectly sweet and tangy. The only thing that could have made this dessert better, would be a bit more torch on the sugar for some increased surface area of that smile-inducing crunchy top.
Dark Belgian Chocolate Pate with Honey Roasted Bosc Pear ($10.00)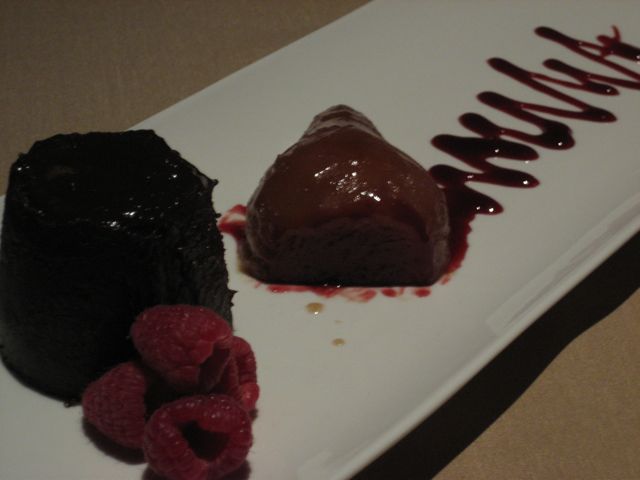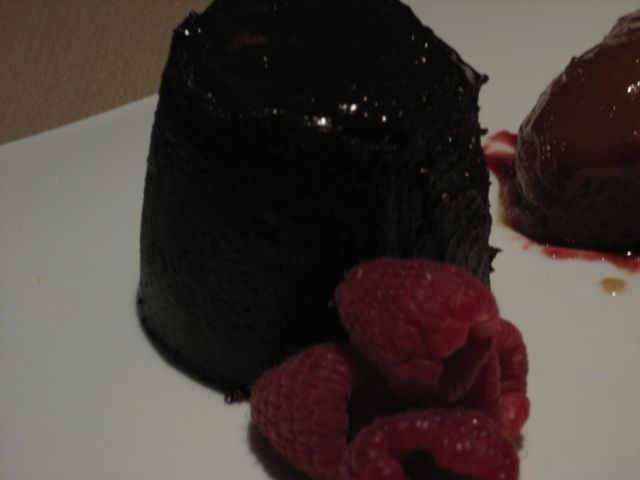 Before dessert we had asked Claire if we could take a "breather" before going into the final course. (It probably would have been better to go for a short power walk around the grounds then come back for dessert.) Thank goodness we took a break, because look at the size of this dessert! It was very very rich and heavenly. A little dab will do ya. If you like chocolate you will love the pate. The roasted pear was nice and light. I used it as a palate cleanser as I tasted all the desserts.
At the end of the night, we appreciate the efforts at the South Thompson Inn. It's a bit of a drive, but worth it.
If I wanted to have a civilized volume conversation while enjoying some decently presented cuisine, I would absolutely consider madisens. Or those of you looking for a date place that wasn't absurdly pretentious and/or loud, this would be a good pick.

Location
Madisens at the South Kamloops Inn Guest Ranch
3438 Shuswap Road
Kamloops
,
BC
V2H 1T2
Canada
Phone:
1 800 797 7713 or 250 573 3777