Reply to comment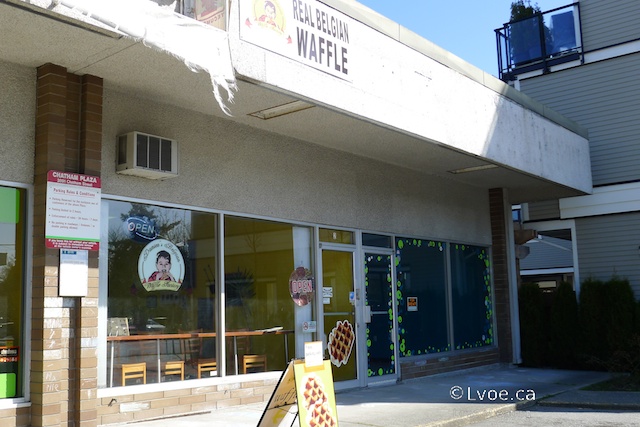 I'm having a quick breakfast at Damien's Belgian Waffles in Steveston Village this morning. It's a tiny little waffle factory located in Chatham Plaza on Chatham Street. (And by "quick breakfast" I mean much, much less than two hours. This will make sense later...) It's a bit DDE when I scan the strip mall, but once I head inside, the waffle aroma makes me forget about the exterior.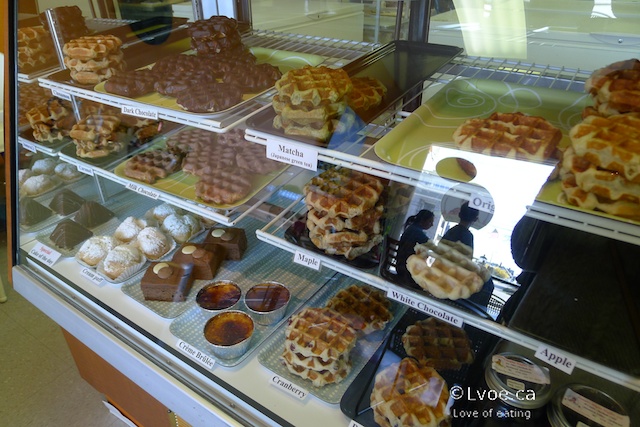 The display case is so enticing. There's not just a waffle calling me, but crème brûlée and cream puffs too. It is morning right now, and I can't justify eating crème brûlée, cream puffs and waffles for my first meal.
All Day Breakfast Waffle ($7.00, with extra waffle add $2.25 per waffle)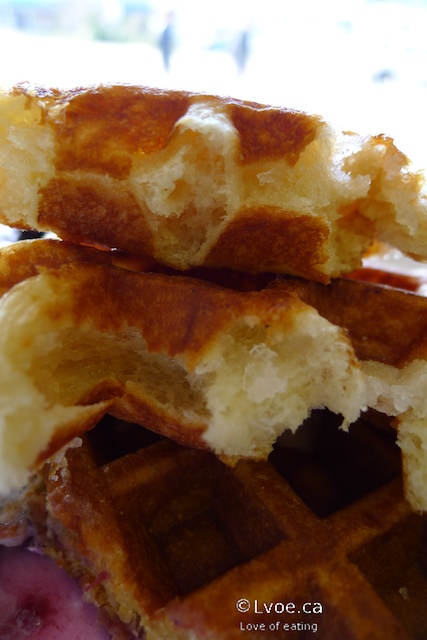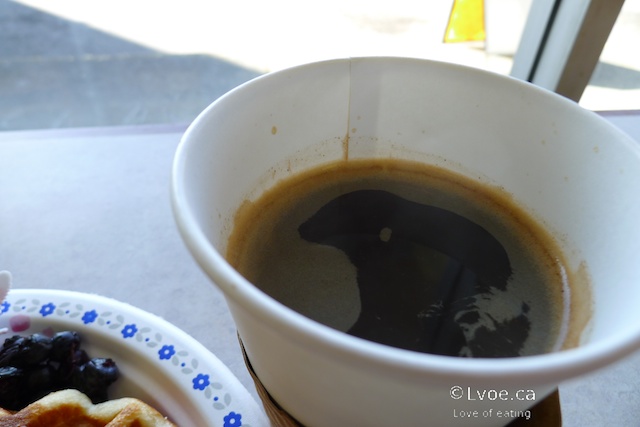 The All Day Breakfast Waffle option is good if you want a sit down breakfast. The $7 offering includes your choice of one waffle and a coffee or tea. You are paying a little more, because the waffle is plated with some thawed mixed berries, whipped cream, butter and syrup. If you don't want condiments with your waffle, or you just want to grab a coffee and waffle, then it's cheaper to just buy the two items individually. I wanted the full dealio this morning. I added some extra waffles too. Please, who can just eat one waffle?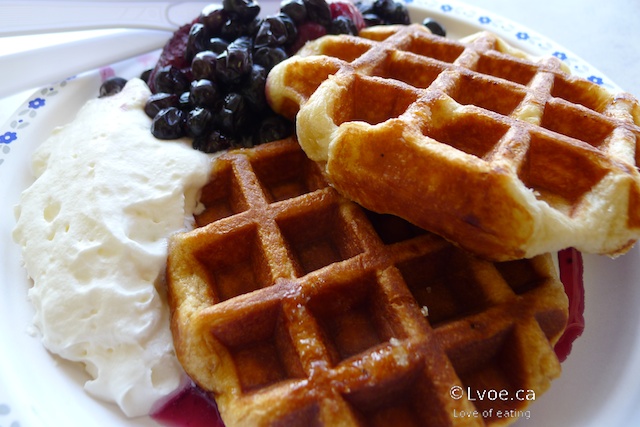 Here we have the original vanilla waffle and a caramel waffle. The caramel waffle has little chunks of caramel throughout, and is slightly sweeter than the vanilla. Damn, these are good waffles. They are crispy on the outside, but thick, soft and chewy on the inside. The crispiness on the outside makes the waffle hold up to any kind of condiment. No issues with sogginess.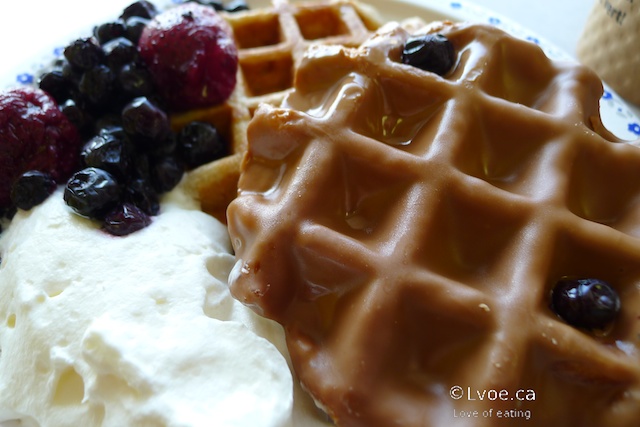 Here we have a milk chocolate covered waffle, and a maple waffle. The maple waffle is wonderfully strong in maple aroma and this flavour is infused throughout. I worry the chocolate waffle might be too sweet, so I had my coffee ready to cut the sugar. I find the milk chocolate is sweet, but not cloyingly. Super.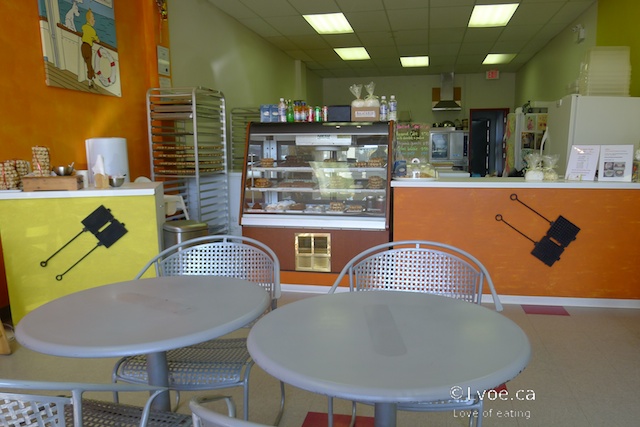 The husband-wife team is soft spoken and wants you to love their waffles as much as they do. The service is low-key and warm. What an enjoyable little brekkie this morning.
Here's a side story that left a bad taste in my mouth:
According to Chatham Plaza's own signage, the customer parking in this strip mall is two hour parking for people patronizing the businesses in the plaza. We, obviously, are happy customers of Damien's Belgian Waffles today. However, the overzealous neighbouring convenience store person assumes we are not, and slaps this on my windshield while I am scooping whipped cream onto my Liège waffle:


Huh?
Dear Quick-To-Pull-The-Trigger-Convenience Store Person in Chatham Plaza:
This entire lot is TWO HOUR parking; for customers of ALL the businesses in Chatham Plaza. Check your lease agreement and the sign in front of your own store (see below.) You may feel justified with your actions, as some folks in the past may have taken advantage, but randomly threatening legitimate customers is not good business practice nor good manners.
Have you tried your neighbour's waffles? They're excellent!
L.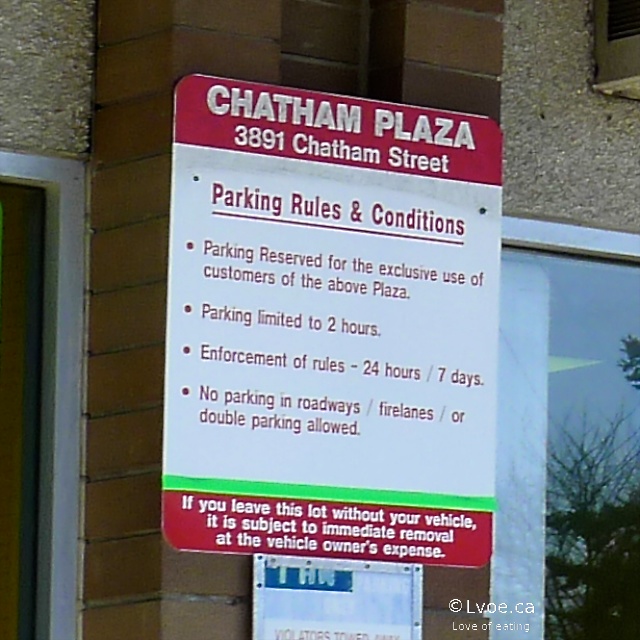 Sheesh. What is happening to me?? I think being out here for so long is making me crotchety. I need to come home.
Locations
Damien's Belgian Waffles Ltd.
2-3891 Chatham Street
(Steveston Village)
Richmond
,
BC
V7E 2Z6
Canada