Reply to comment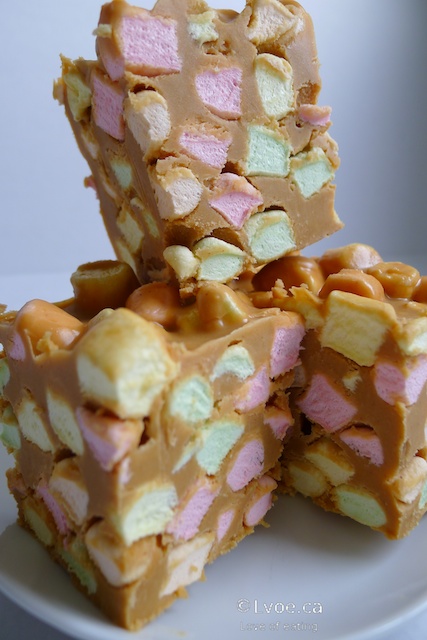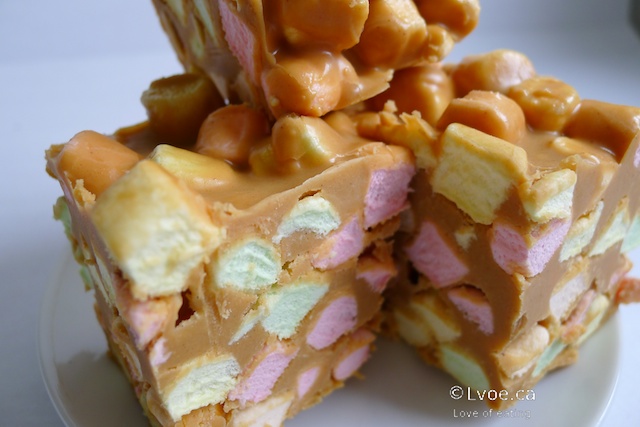 I'm feeling a little junk foodish today. These squares show up all the time during holidays and random potlucks. Recently, a co-worker of mine was chatting about this retro treat, and the conversation reminded me of the last time I ate these sweets at the Ashcroft Bakery and Coffee Shop.
The Ashcroft Bakery calls them Butterscotch Confetti Squares, but they also go by the descriptive name of Butterscotch Peanut Butter Marshmallow Squares. The latter moniker pretty much tells the eater three quarters of the ingredient list. Seriously, three quarters. The only other ingredient is butter.
I think I have come a long way in terms of some preferences. Things that I harbour a hate-on for, are begrudgingly becoming "likes."
Firstly, I don't like ickly sweet things. This is an ickly sweet recipe. Secondly, I'm not a peanut butter fan. But damn, this nut paste has grown on me the past few years. Thirdly, I don't often eat marshmallows, and I never eat marshmallows in their original un-melted state. This recipe calls for not only marshmallow, but the weird flavoured and unnaturally coloured kind. (Shivers...)
These are the four ingredients you'll need:


1 cup peanut butter (you can use ½ cup if you want it less peanutty and more butterscotch-y)
½ cup good quality butter
250 grams of butterscotch baking chips (small bag)
400 grams of "fruit flavoured" coloured marshmallows (big bag)
I have never in my life purchased multi-coloured mini marshmallows before. Never. In my life. You can use half the amount marshmallows (200 grams) if you want more of the butterscotch medium.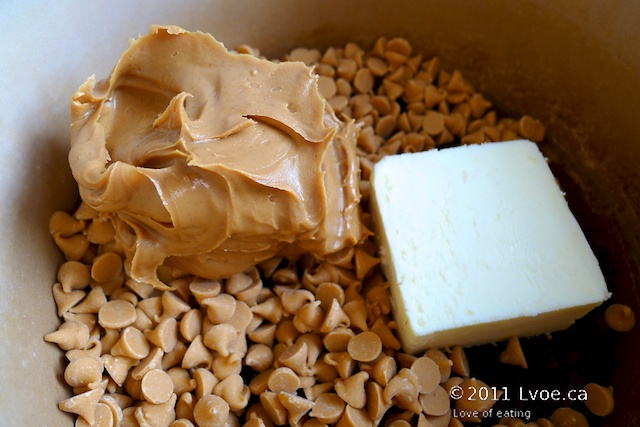 Put peanut butter, good quality butter, and butterscotch chips in a big ol' pot. I use my trusty 24 quart Dutch oven. The butterscotch chips take the longest to melt. You can melt the chips first in a microwave, but that's an extra step I can't be bothered with. I just hover over the pot smooshing the chips with a rubber spatula until smooth.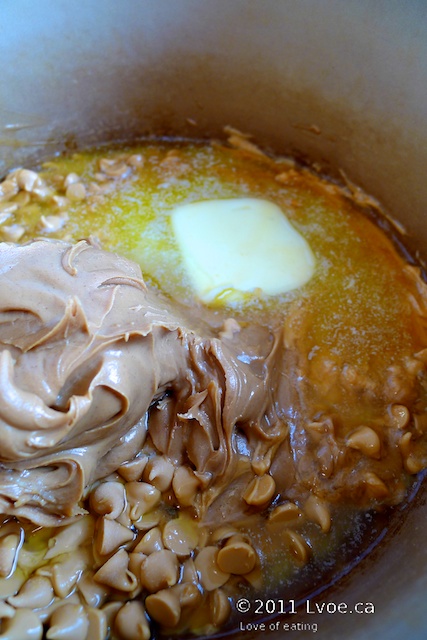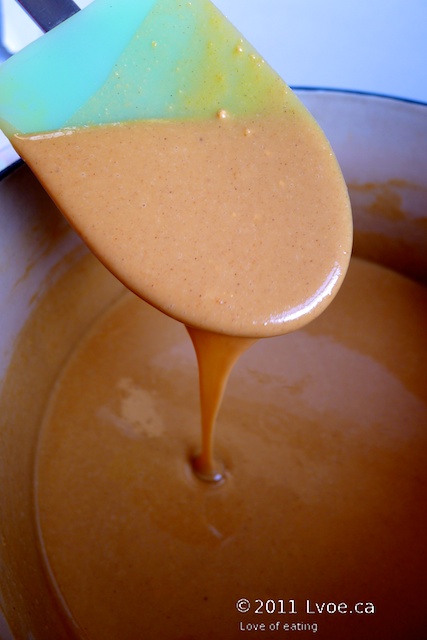 If you don't smoosh the chips smooth the finished product will have hard butterscotch pieces throughout. Some people don't mind this, but I do. Once the first three ingredients are smooth, have patience and let it cool down a smidge. I let the mixture cool until I am able to put my palm on the bottom of the pot without pain. The cooling step is important if you like the peanut butter butterscotch to be evenly distributed throughout the marshmallows. Otherwise a thick fudgy layer will settle at the bottom of the pan with the 'mallows floating on top.
Here's a batch I did without waiting for the mixture to cool: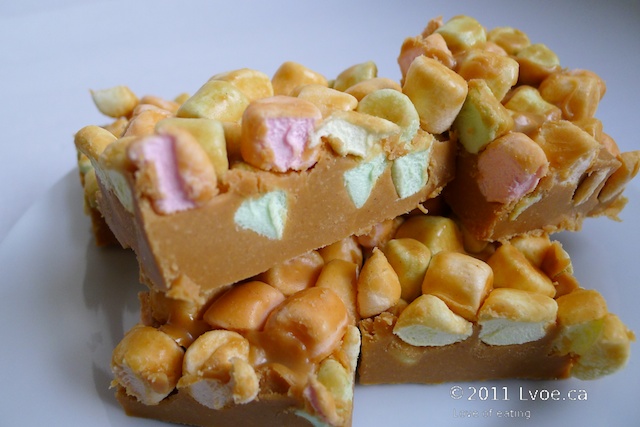 Next, dump in the mini coloured marshmallow. Stir to coat.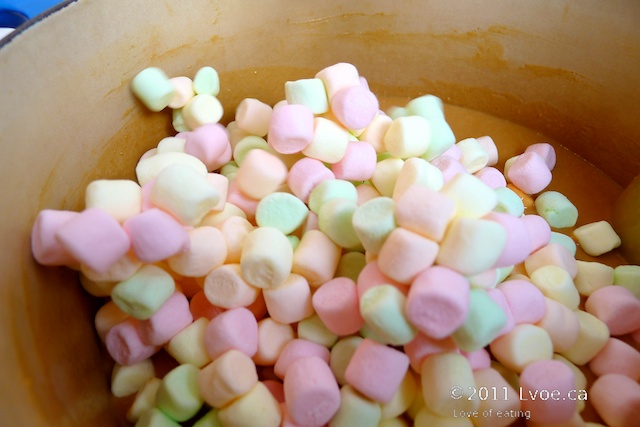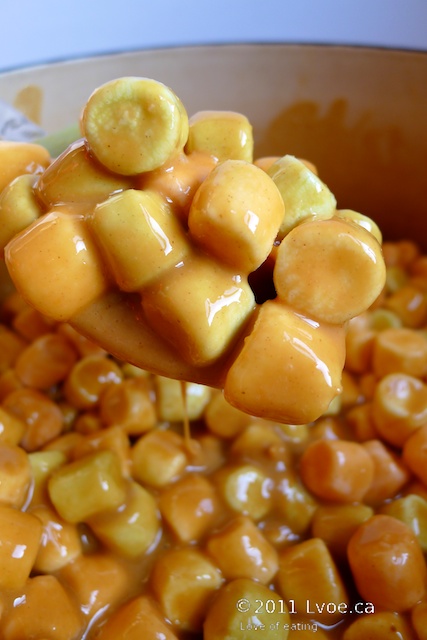 Pour and pack into a pan of your choice. I use an 8X8X2 inch square brownie pan with the bottom lined with parchment paper. I also did a batch in a 9X13 inch cake pan. I like the look of the finished product using the brownie pan, because it makes tall thick cubes. Whereas the 9X13 cake pan makes shorter, not so thick bars.
Put the pan of goodies into refrigerator until cold and set. (I just leave it in the fridge overnight.) After all is chill and set, I dump the entire square out onto a cutting board before cutting into cubes with a cleaver. Yes, a cleaver. A cleaver is not over kill. I find this method is so much more efficient than fussing about with a knife trying to cut the squares inside the pan. I heart my cleaver.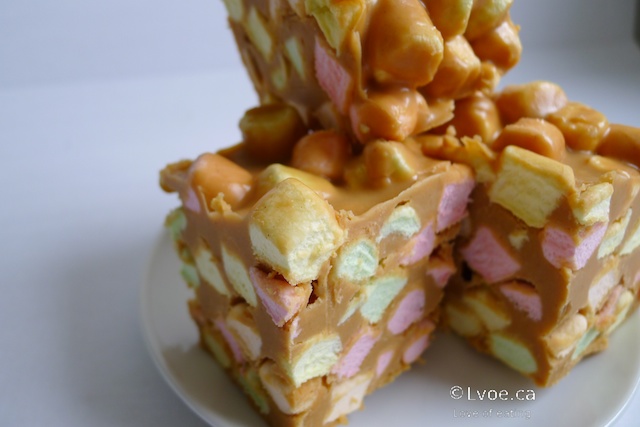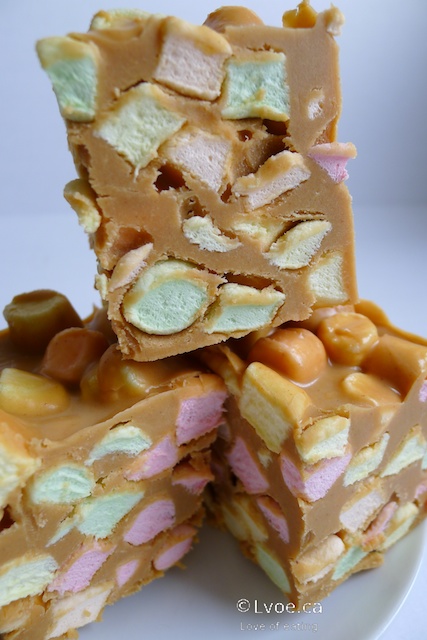 After I cut my squares, I then promptly put them in the freezer. Butterscotch Peanut Butter Marshmallow Squares a.k.a Butterscotch Confetti Squares are best eaten frozen. Well, the ingredients don't actually freeze completely, but they have a nougat-like texture if you eat them straight from the freezer. It's pretty safe to say this little dessert cube is devoid of any real nutrition. C'mon you just Boogied the Bridge, enjoy a little empty calorie.
Locations