Reply to comment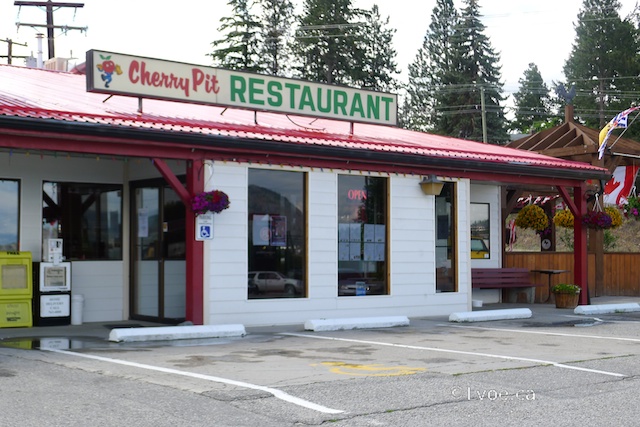 I'm looking for a big, brand-specific bag of mineral rock dust for my garden. The nursery folks in Kamloops advised me to check out the various feed stores for the 40 pound size bags. This is why I'm at Buckerfield's Country Store today. (Bear with me, Buckerfield's will be important later…)
The Cherry Pit Restaurant is a home style diner in Westbank. It is late in the morning, but any time is a good time for breakfast, no?
Sunrise Juice ($3.75)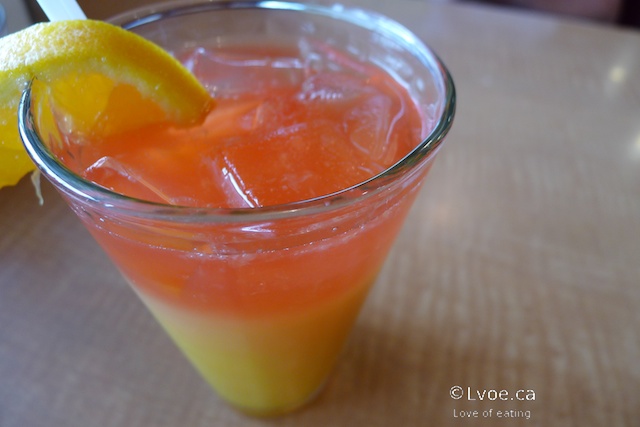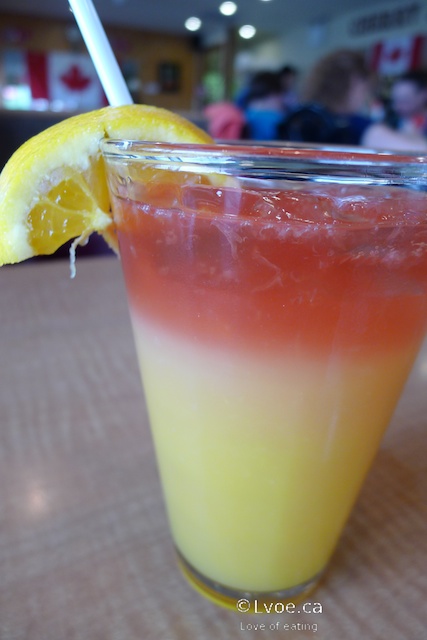 Our server offers the bar drink special today, a Caesar. Tempting, but it is barely 11:00am. I stick with coffee and juice. This colourful beverage is layered with orange juice, grapefruit juice then topped with a hit of cranberry juice. Fun and refreshing. The orange and grapefruit juices are fresh squeezed, which is a nice touch.
Florentine Benedict ($10.95)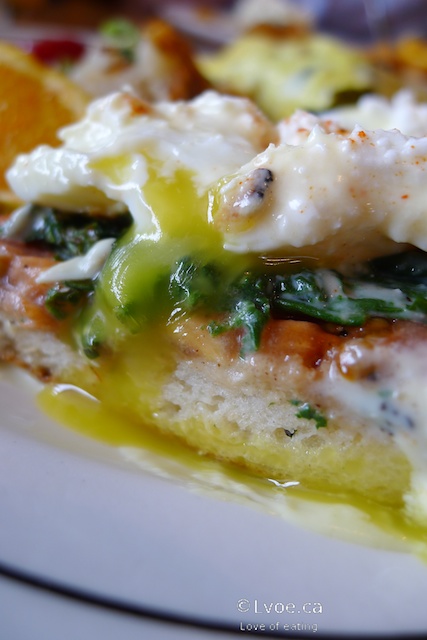 In addition to the spinach in this Benedict, the slice of tomato adds a little tang and the briny feta adds just enough savoury.
Build Your Own 3 Egg Omelette ($6.95; plus toppings from 0.99 cents)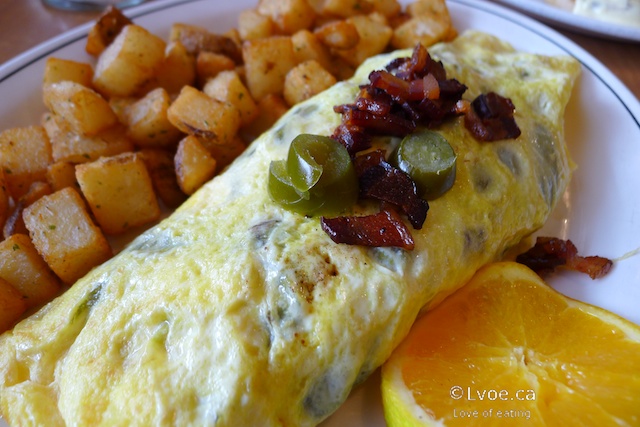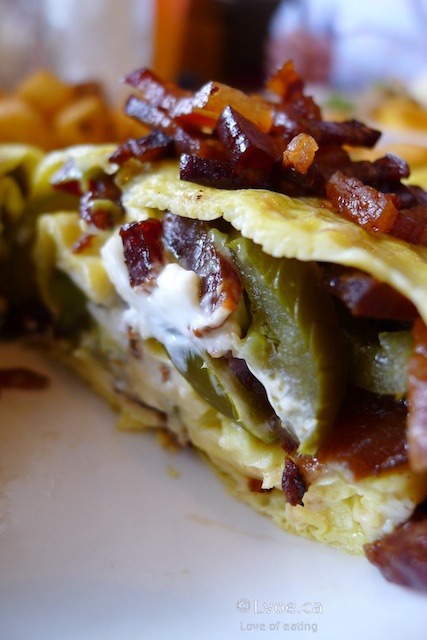 DL chooses to build an omelette today. The veggie fillings are 0.99 cents and the proteins or cheeses are $1.50 and seafoods are $2.50. The DL Omelette has bacon, cream cheese, guacamole, and jalapeños for a total of $11.93. I enjoy Cherry Pit bacon. It reminds me of Chinese cured pork belly; not in taste but in colour. The bacon has a smokey crackle and glistens with deep burgundy brown hues. The kitchen does not skimp on the jalapeños as the chubby egg wrap has a mighty zing to it due to the peppers. The guacamole and cream cheese help cool things down and adds smoothness.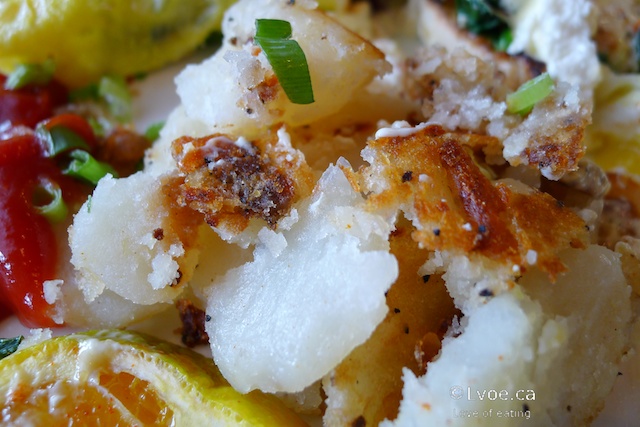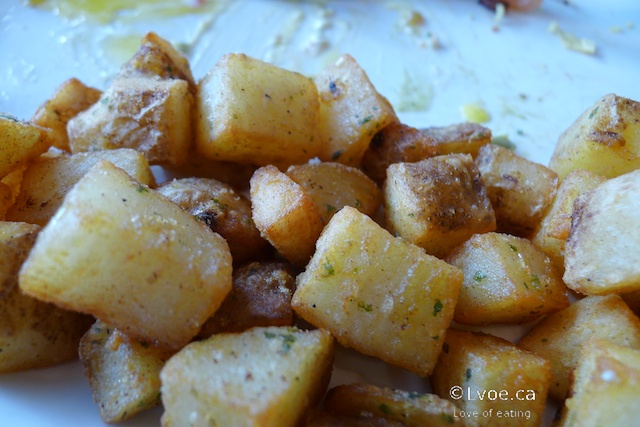 The default hash browns are Cherry Pit panfries. However you may substitute Crispy Crunchy Savoury Hash browns and toast for 0.50 cents. The Benedict came with Cherry Pit panfries, but with the omelette, we opt for the savoury hash brown cubes.
Waffle with Strawberries and Cream ($5.95 add $2.50 for fruit and cream)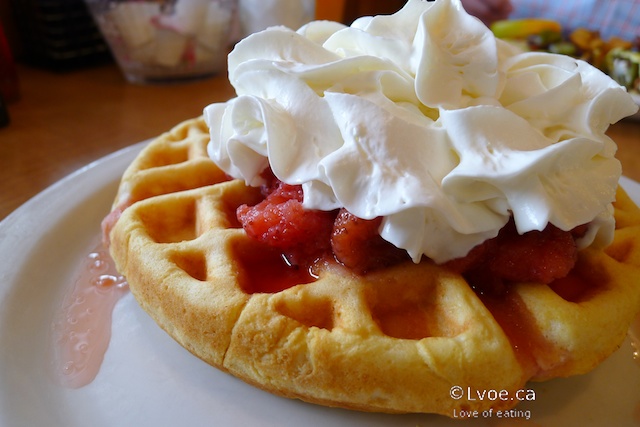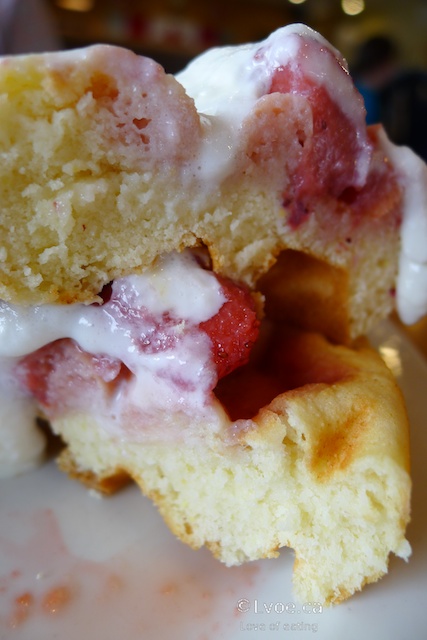 This is more of a soft cakey waffle than a crispy-outside-soft-inside waffle. The thick waffle readily soaks up the strawberry without becoming soggy all the way through. I prefer waffles slightly crispier on the outside, but this waffle does the job as a sweet ending to a hearty diner breakfast.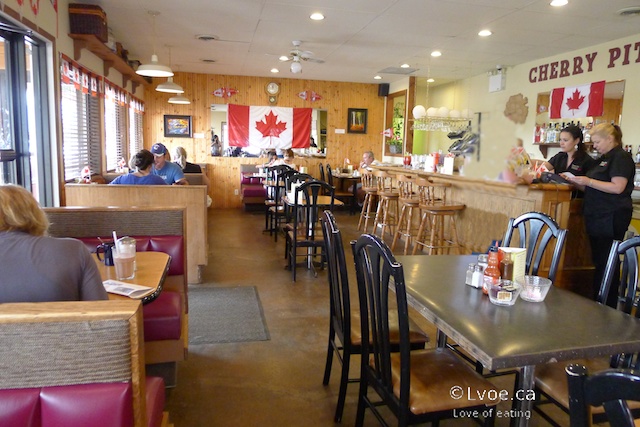 The Cherry Pit Restaurant is attached to the same structure as the Buckerfield's Country Store. You can't really see the restaurant from the road if you're heading north on Highway 97 (Dobbin Road) through Westbank. This is why I need to tell you about Buckerfield's. The feed store is the easiest landmark to spot. When travelling north on the 97 through Westbank, turn into the Buckerfield's parking lot and you will be at the Cherry Pit Restaurant.
Unfortunately, the Buckerfield's staff has never heard of BC made Gaia Green Glacial rock dust soil amendments. I leave with a satisfied stomach but without my big bag of rock dust.
Cherry Pit Restaurant hours:
Monday to Sunday 6:00am to 4:00pm
Cherry Pit Menu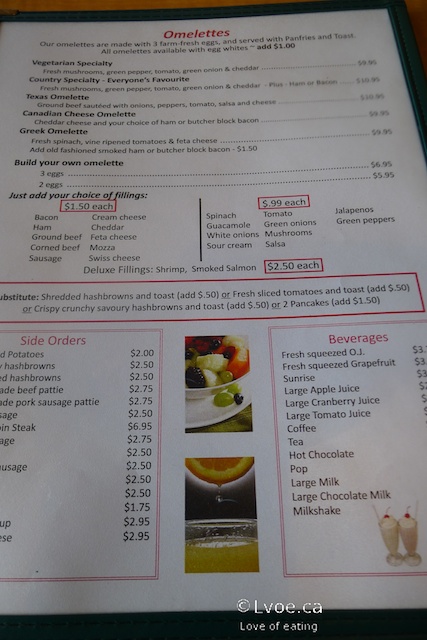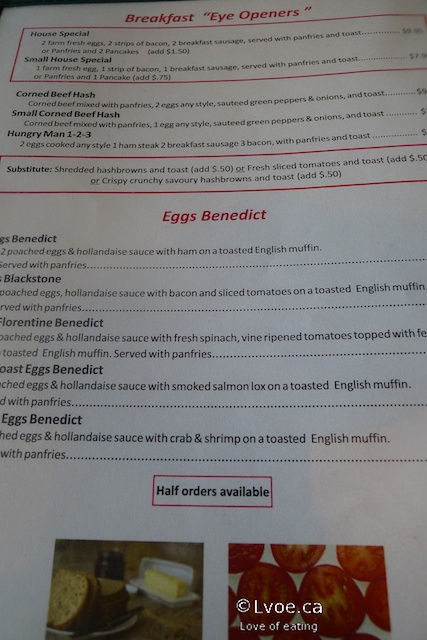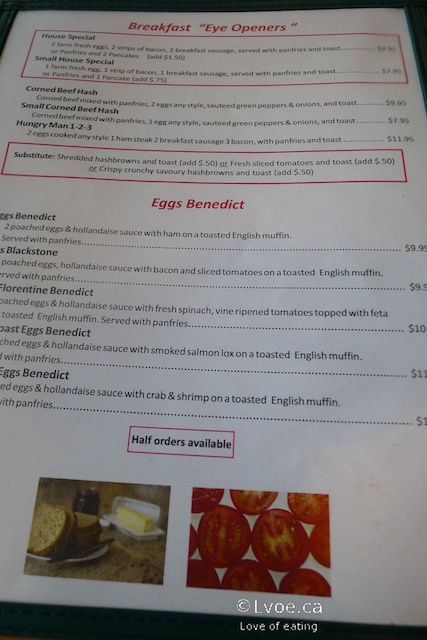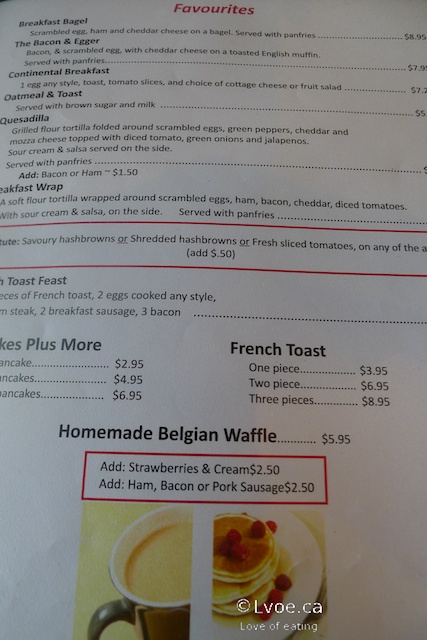 Location
The Cherry Pit Restaurant
2565 Highway 97 Dobbin Road (Northbound)
Westbank
,
BC
V4T 2J6
Canada