Reply to comment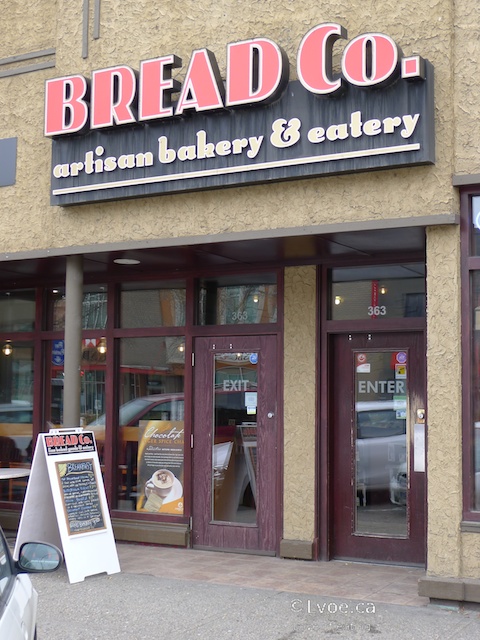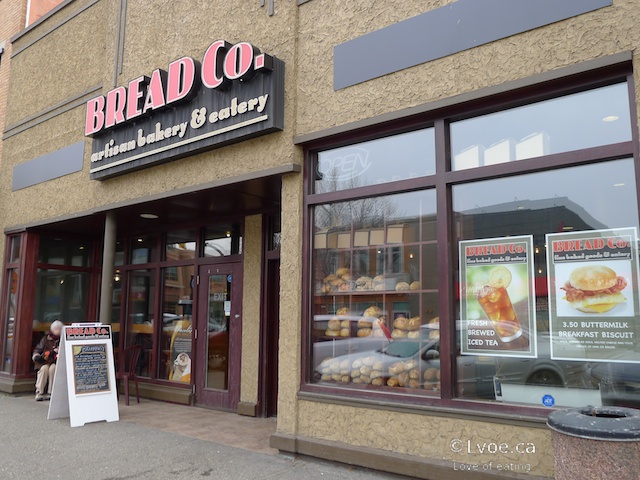 I need a little breakfast before I start a full day today, so this morning and I'm here at The Bread Company. I love eateries that open early, and the Bread Co. opens conveniently at 6:00am on weekdays. Seriously, there are very few sit down places that open early and can provide a well made coffee and solid morning fare before 6:30am. The Bread Company bakery café is located on Bernard Street in downtown Kelowna.
Chocolate Croissant ($2.50)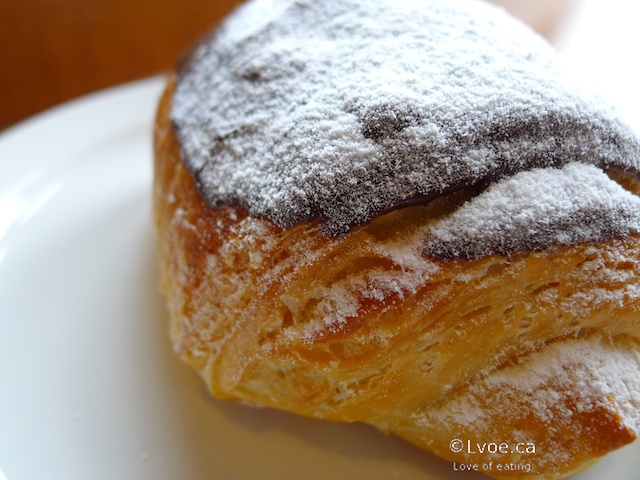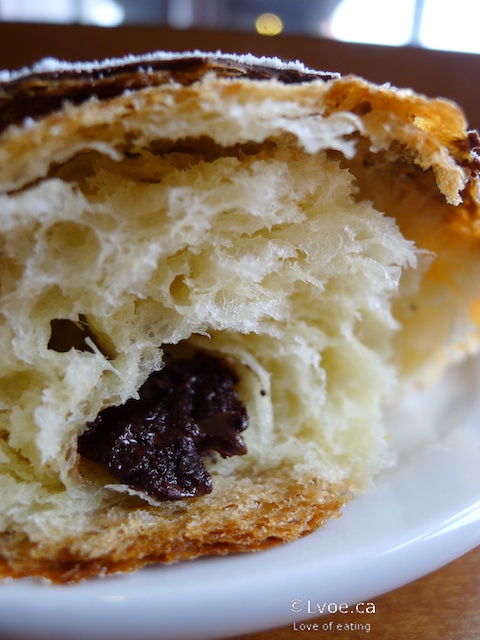 Crispy on the outside and chocolaty soft on the inside.
Orange Juice ($4.00)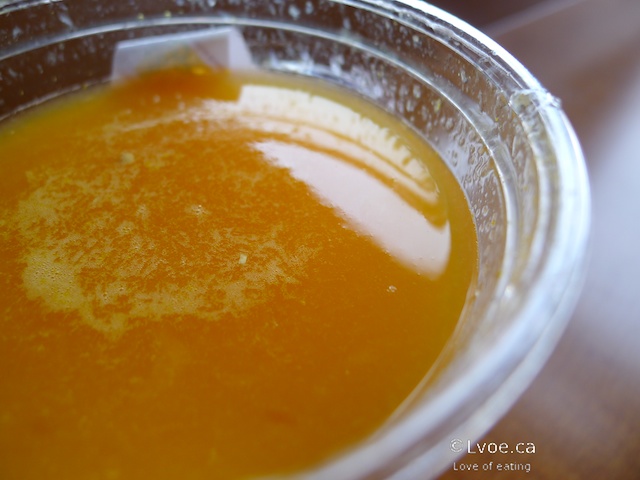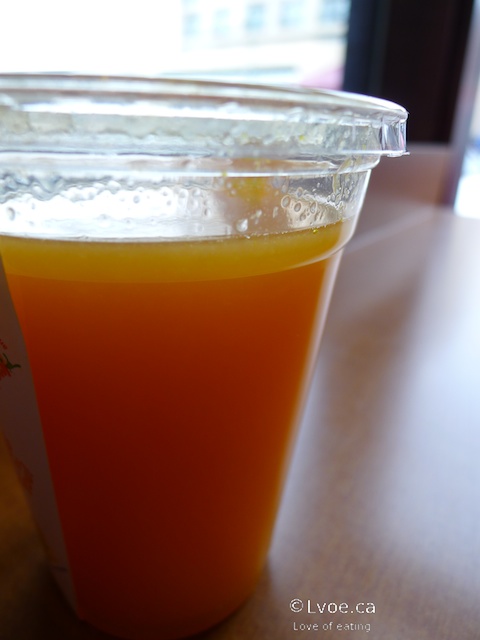 Their OJ is squeezed. You know how when you make your own orange juice; it is often a mix of tart and sweet, because every single orange isn't as sweet as the next? This doesn't seem to be the case here. Their OJ seems very uniformly sweet, but it's nicely refreshing none the less. They must only use the very sweet oranges! ;)
Eggs Benedict ($9.50)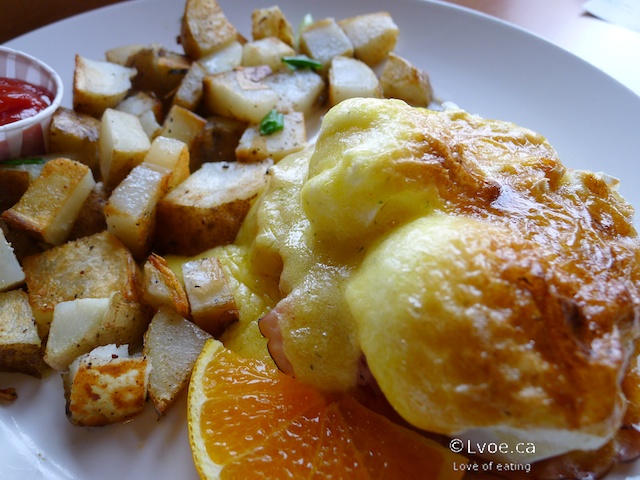 At the service counter I am asked how I would like my poached eggs. I order my eggs soft and they arrive, not-soft. They are not egg–salad hard, but as you can see the yolks are not of the golden lava variety. I'm not a fan of the solid yolks.
It never occurred to me that anyone would want to poach an egg to any doneness other than soft. Poached eggs are soft. Anything else is blasphemy, no?
How do you like your poached eggs? Medium to hard poached egg lovers identify yourselves!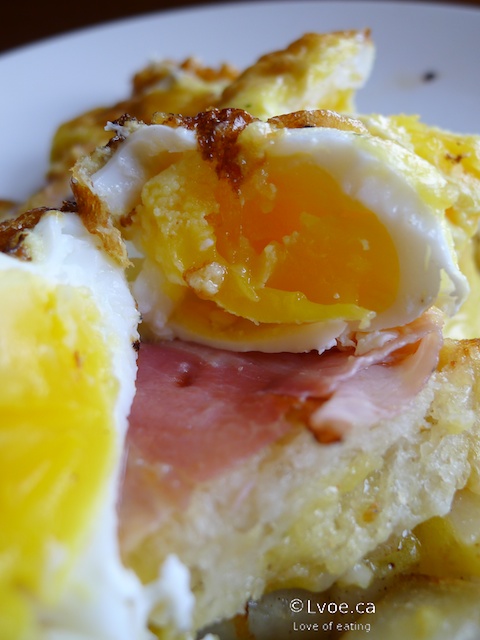 Now putting the egg issue aside, the taste of everything on the plate is pretty good. The Benny is broiled a bit before serving, so the hollandaise forms a crispy skin. I like this little extra step. It adds some unexpected texture, and makes it a little different than the many other Benedicts out there in breakfast-land.
Stuffed French Toast ($8.25)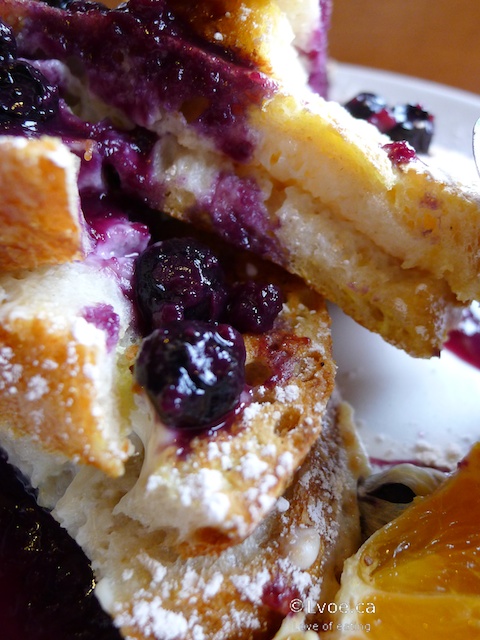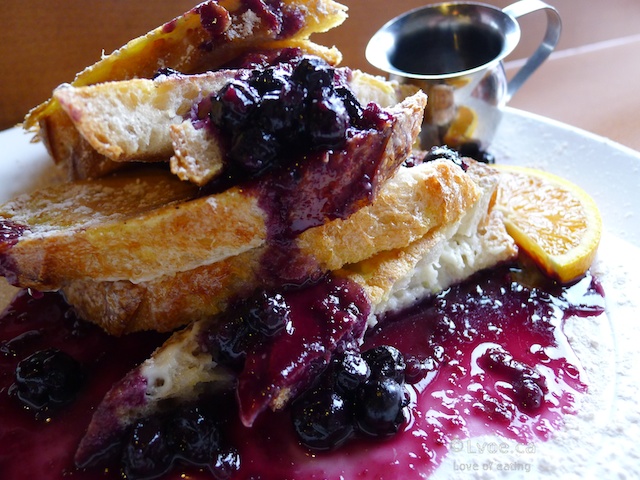 This is probably my favourite dish at the table today. The bread is excellent. The sourdough slices are stuffed with a schmear of light as air cream cheese. The toast texture has a tidbit of chew from the sourdough crust, which makes it feel more like grown-up French toast. The blueberries aren't cloying and I didn't feel the need for the maple syrup provided on the side.
The service is young, smiley and can move a line, but not particularly attentive. It's what you'd expect from the standard bakery café: order, pay, sit down and then fend for yourself. The Bread Co. is basically just counter service then the rest is pretty much up to you. They can get busy, so it's not always easy to find a staff member available to inquire about issues like...a botched order or some missing cutlery. Although we are a party of two and we order two breakfast entrees, we are only given one set of dine-in cutlery (?) So I left it up to DL to scavenge for a plastic knife and fork up by the coffee condiment zone. Sorry DL, but if I'm paying, then I get the good cutlery.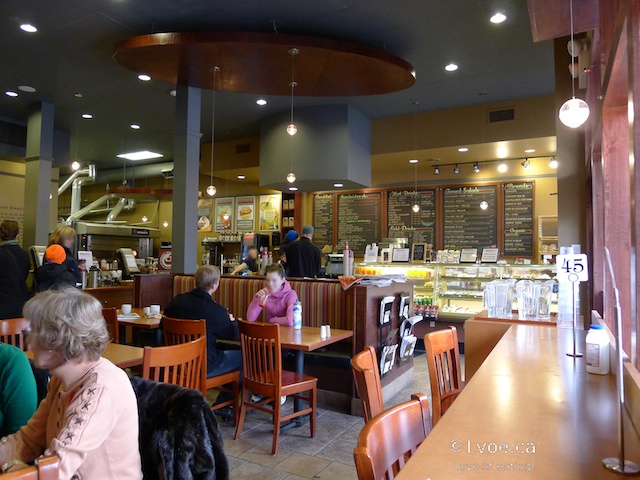 I have to say the staff member that brought out the two dishes was definitely a trooper. Our poor food runner almost burned off her hands trying to get that over-cooked Benny to the table. The plate was crazy HOT. She could barely hang on to it. I watched her grimacing as she approached the table as quickly as she could maneuver across the floor. She had that Get-Out-of-My-Way-I-Need-to-Put-this-Down-NOW look on her face. The plate just made it onto the edge of the table with a thud, as her wrist almost gave out. Despite this, she still tried to handle the plate in order to arrange it closer to me. Bless her. I told her not to worry and used my paper napkins as pot holders to pull the plate in front of me.
As I'm eating this morning, I notice the breakfast specials written on the outside sandwich board. Gah! I didn't see that they offered a breakfast soufflé! I hope they offer soufflé semi regularly. I want to try! I hope it is available the next time I roll into town. Despite the quirks and snafus today, our food is pretty good at the Bread Company and their lunch menu sounds pretty tasty too. For me, the fact that The Bread Company is open and ready at 6:00am with coffee and in house baked goods automatically puts them on my Will Return list.
The Bread Company Website click here
The Bread Company Facebook click here
The Bread Company hours:
Monday to Friday 6:00am – 6:00pm
Saturday 7:00am – 6:00pm
Sunday 8:00am – 6:00pm
Locations
The Bread Co.
363 Bernard Avenue
Kelowna
,
BC
V1Y 6N6
Canada