Reply to comment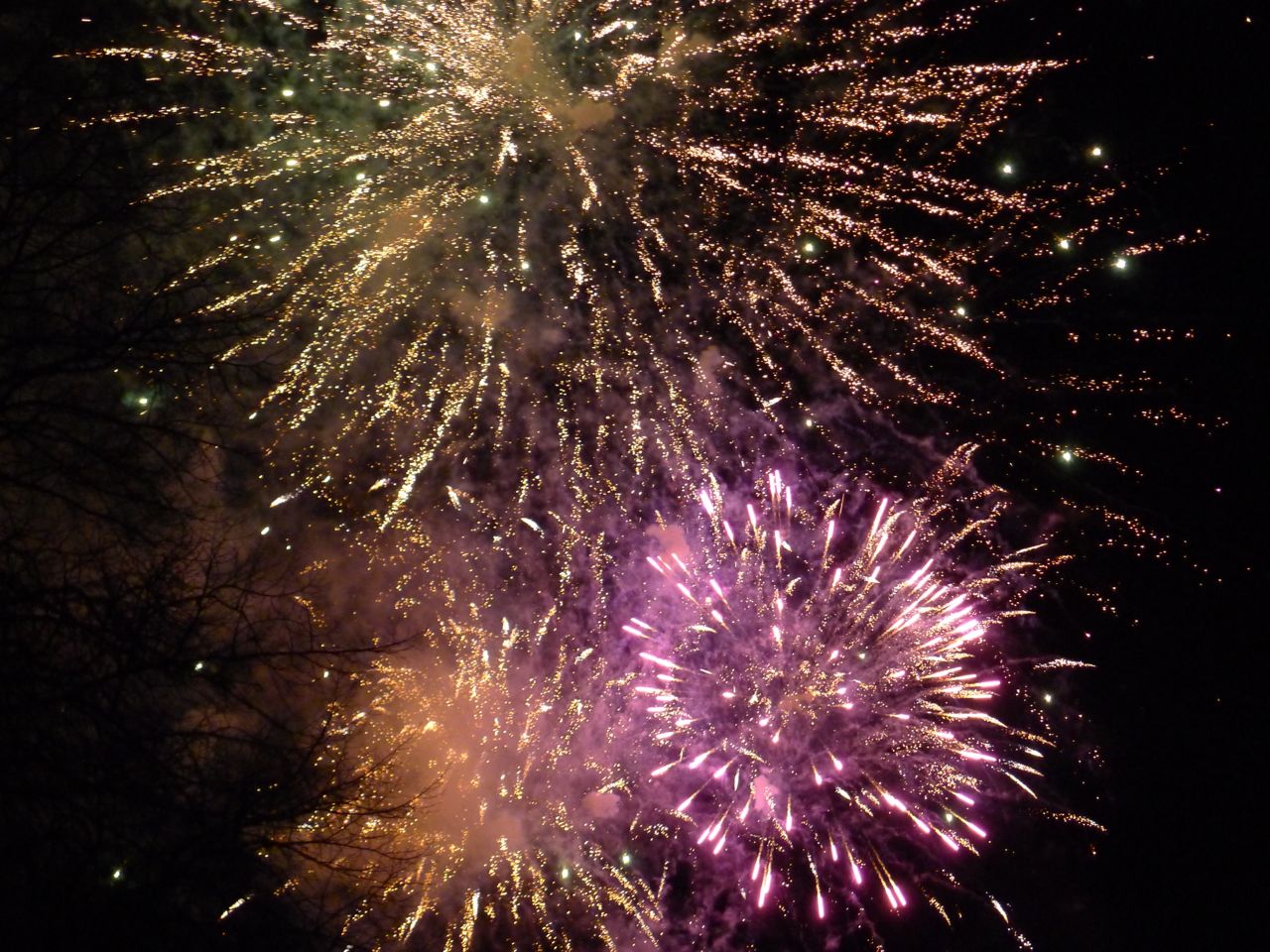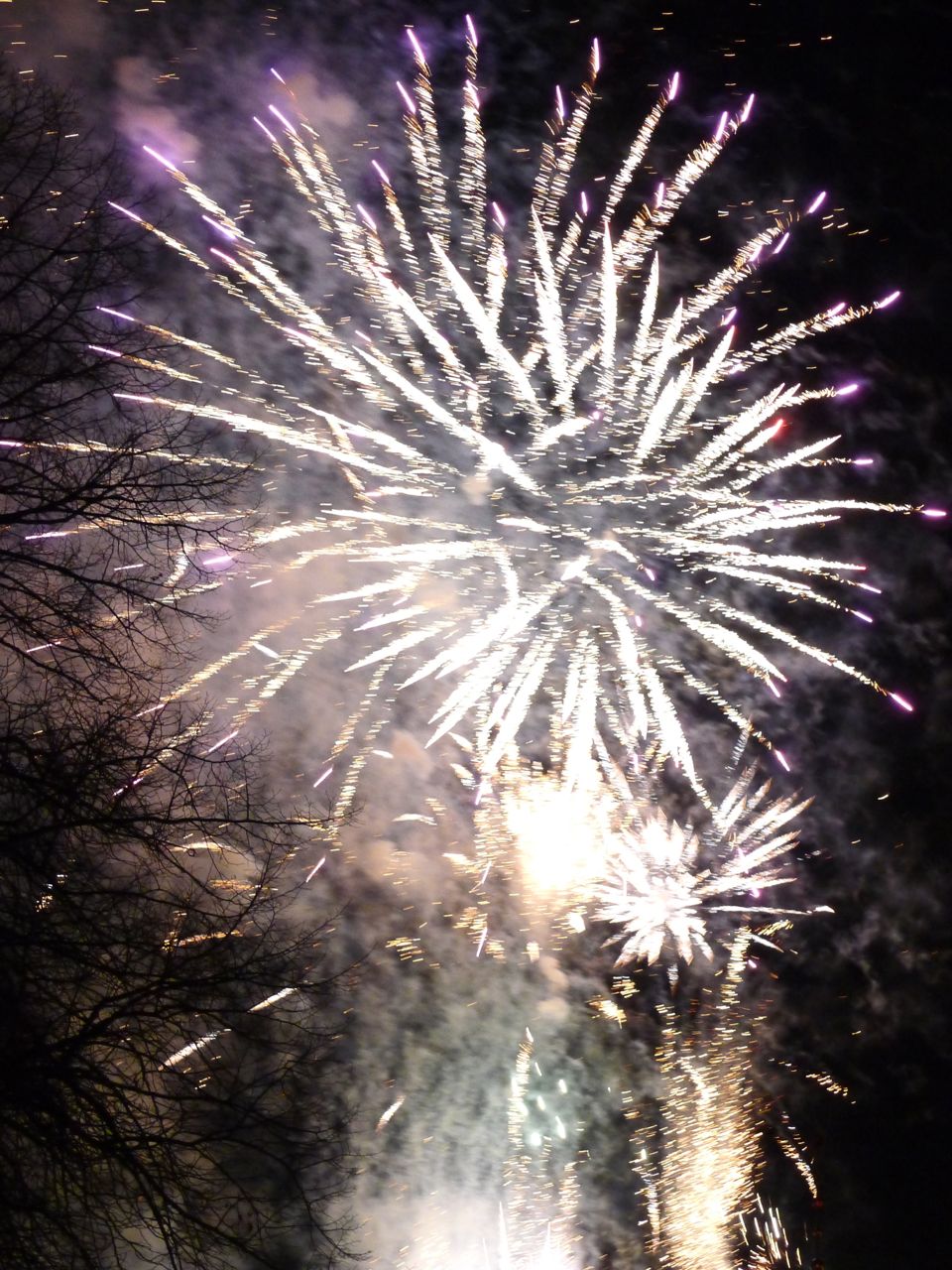 Happy New Year.
I already rang in the New Year several hours ago, and I hope you have a great time when the clock strikes twelve back home in BC.
I hope you don't mind, but I'll try to share a quick post or two about my travels as I make my way through three Nordic countries.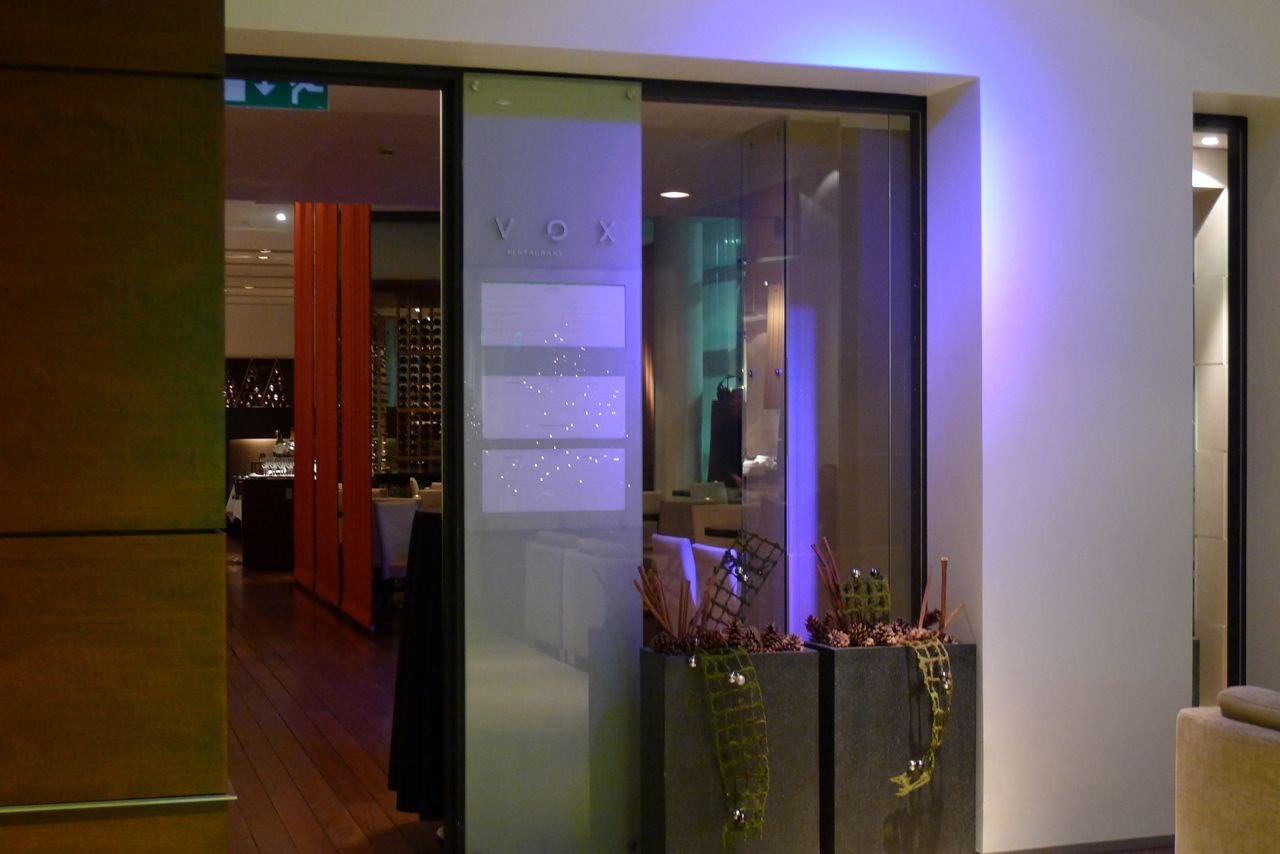 VOX Restaurant is part of the Hilton in Reykjavík, and predictably the decor is modern and contemporary.
It is much warmer in Reykjavík this time compared to my last visit. I don't need to wear a thermal layer beneath my clothes yet. Awesome.
Breads:
House-made Crisp Bread with Dill Cream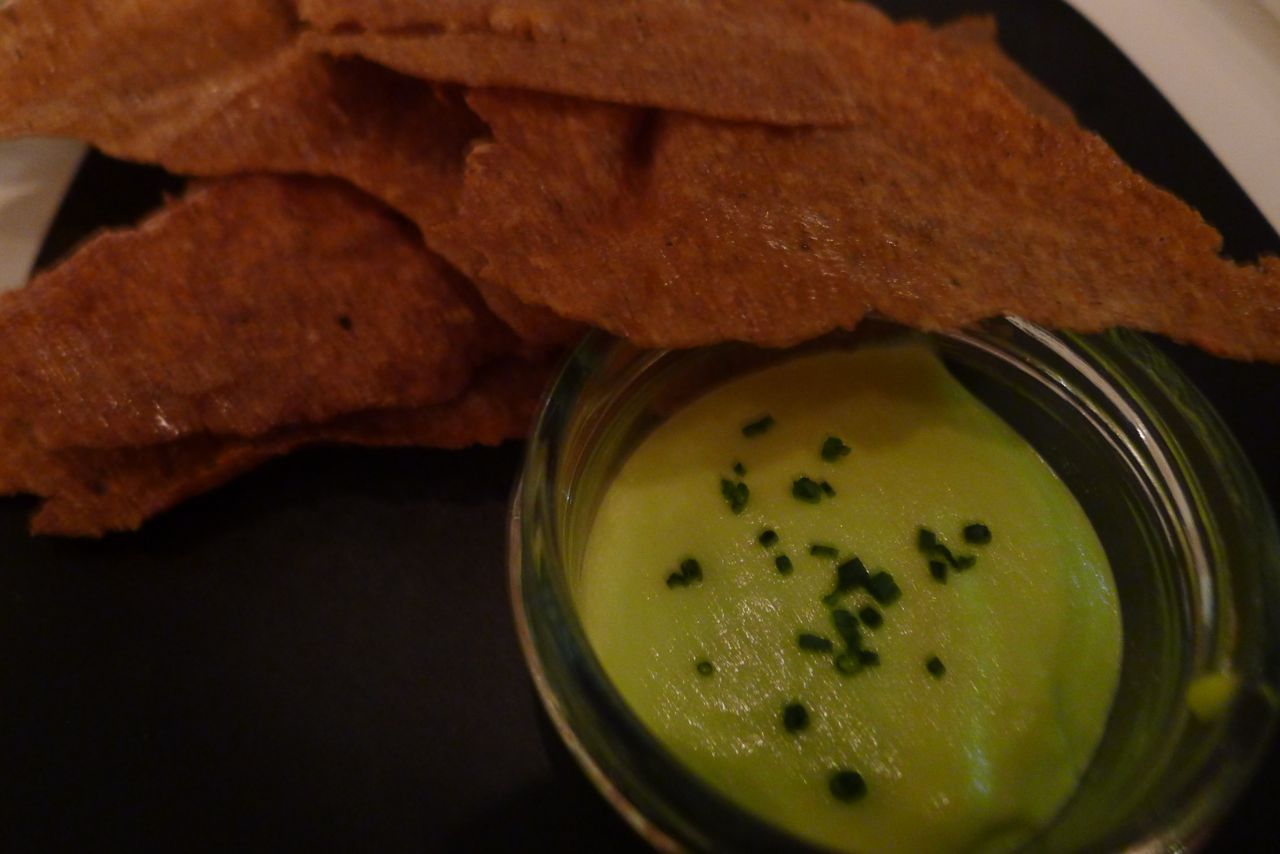 A bit like a poppadom crisp, but with a nutty flavour. The dill cream tastes light and refreshing, but the creamy dip is thick and rich.
Farm Bread and Sourdough with Browned Butter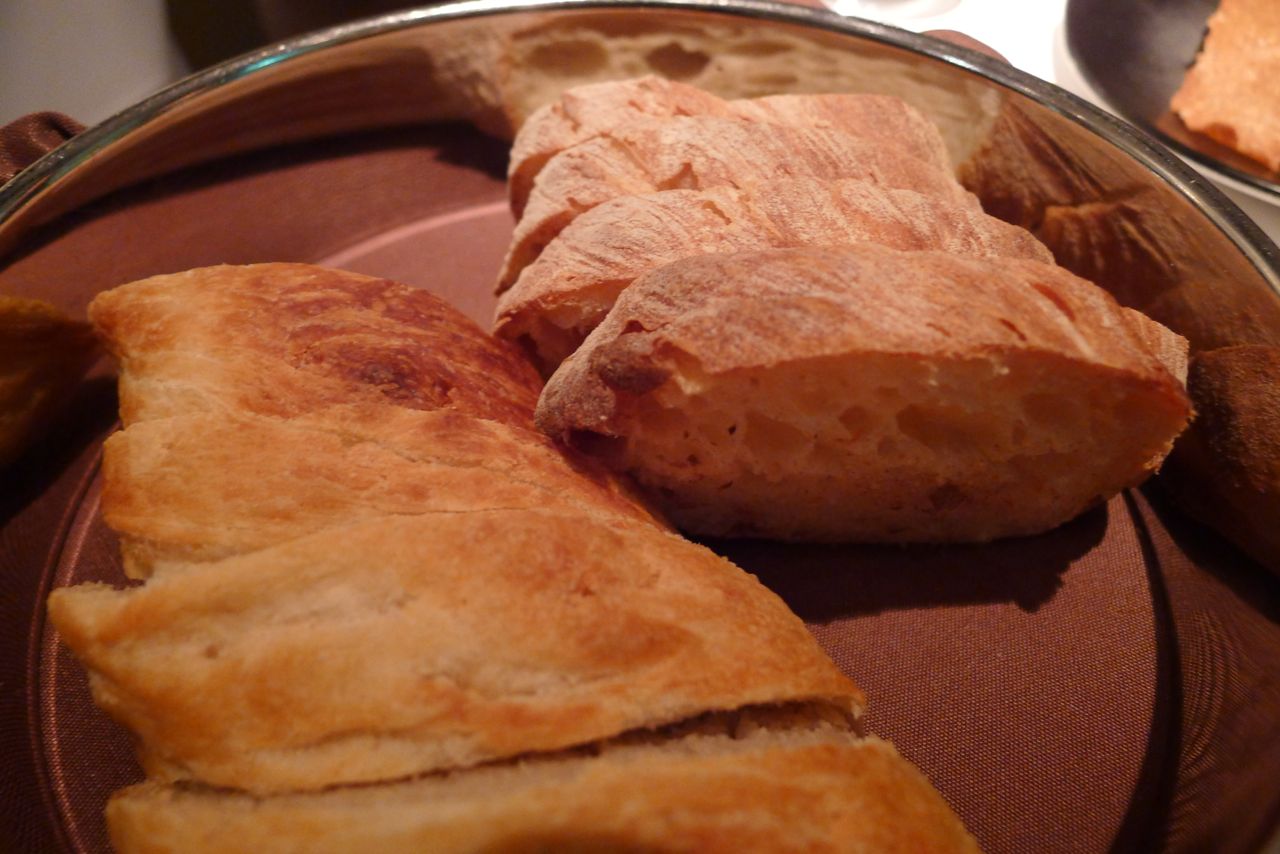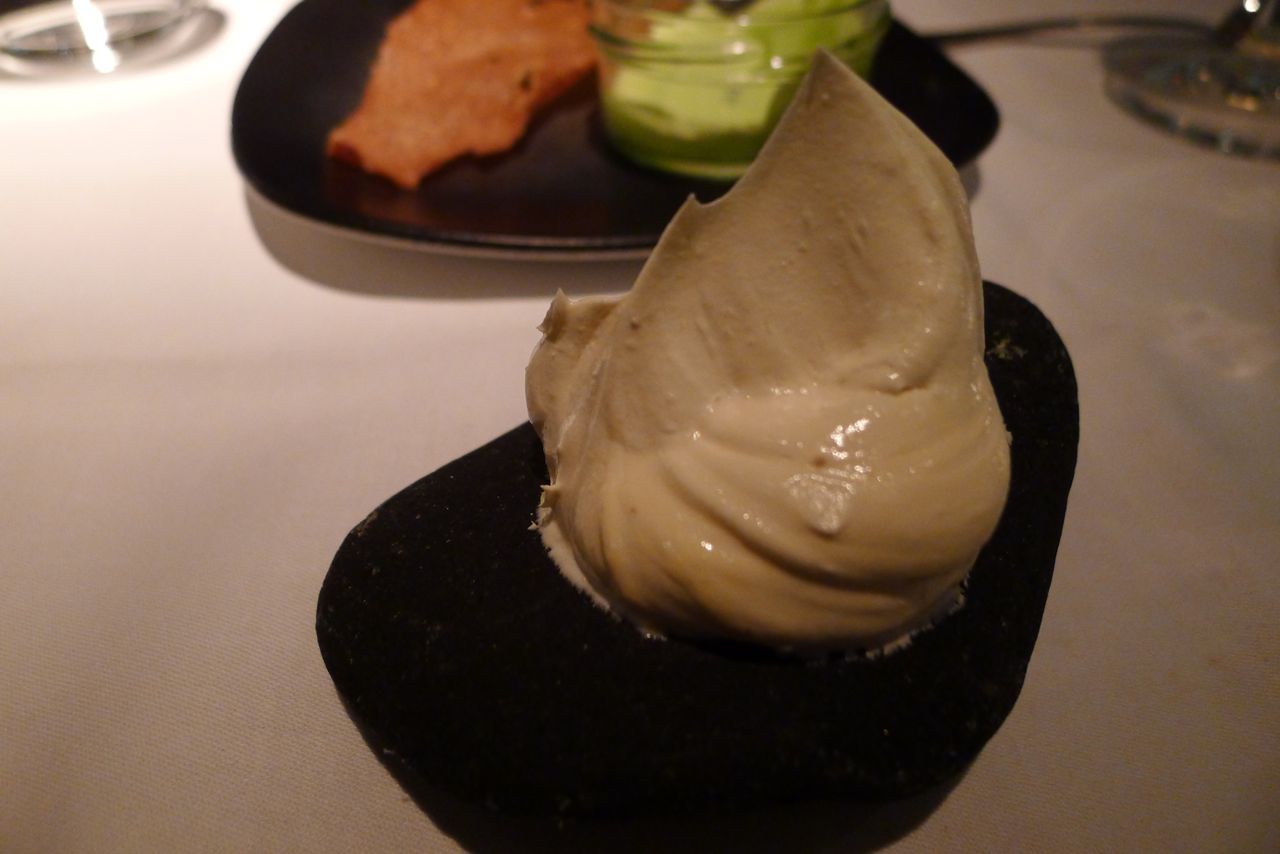 There is something about the cows here in Iceland, because all the dairy products I've had in this country are so intensely full of flavour...dairy flavour. I've mentioned previously how much I love their common butter Smjör. Gawd, so good. Hmm, I may stop by the grocery store tomorrow to pick up a brick of Smjör...for buttery enjoyment later.
Salmon Tartar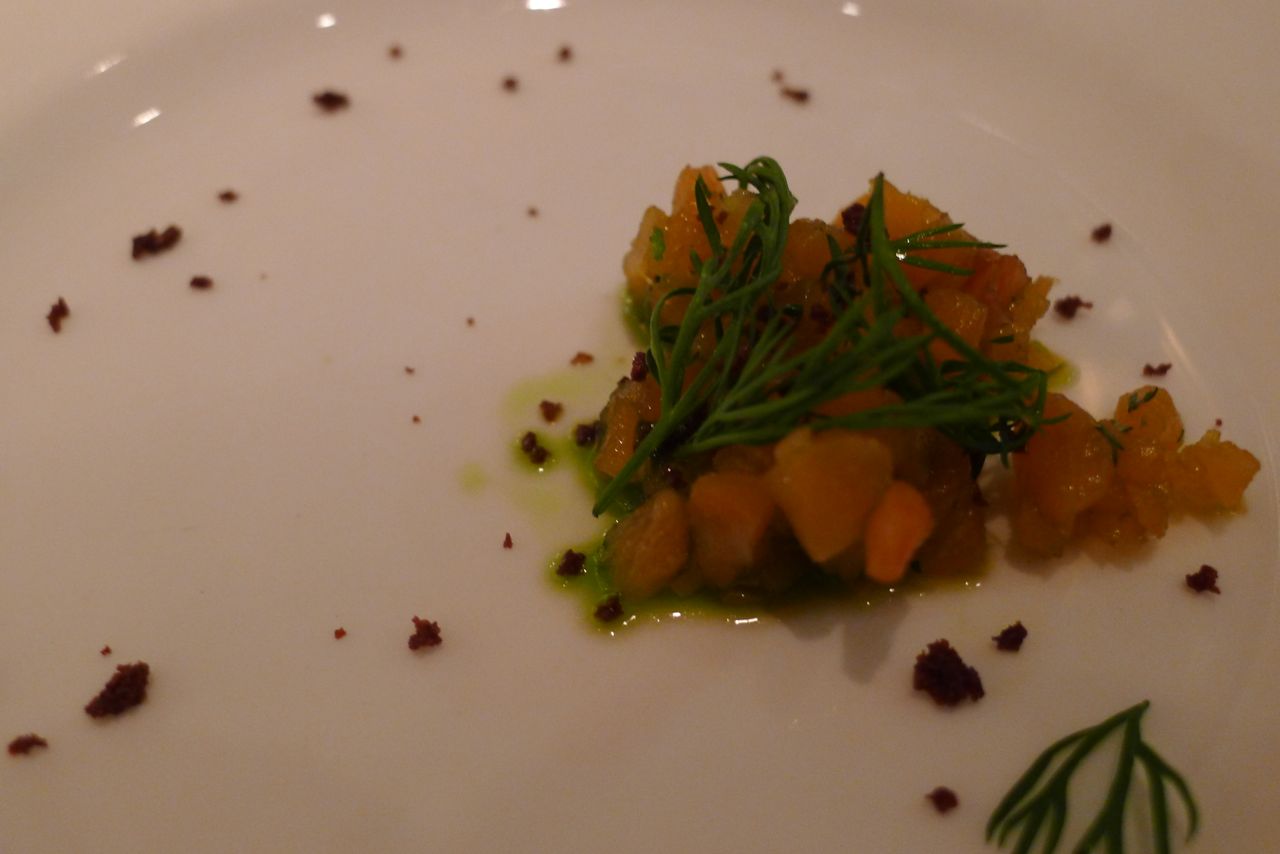 The amuse-gueule tonight is salmon tartar. The vinegar and chive oil adds a little tang, while the 5mm square cubes retain their fresh salmon textures.
Pickled Herring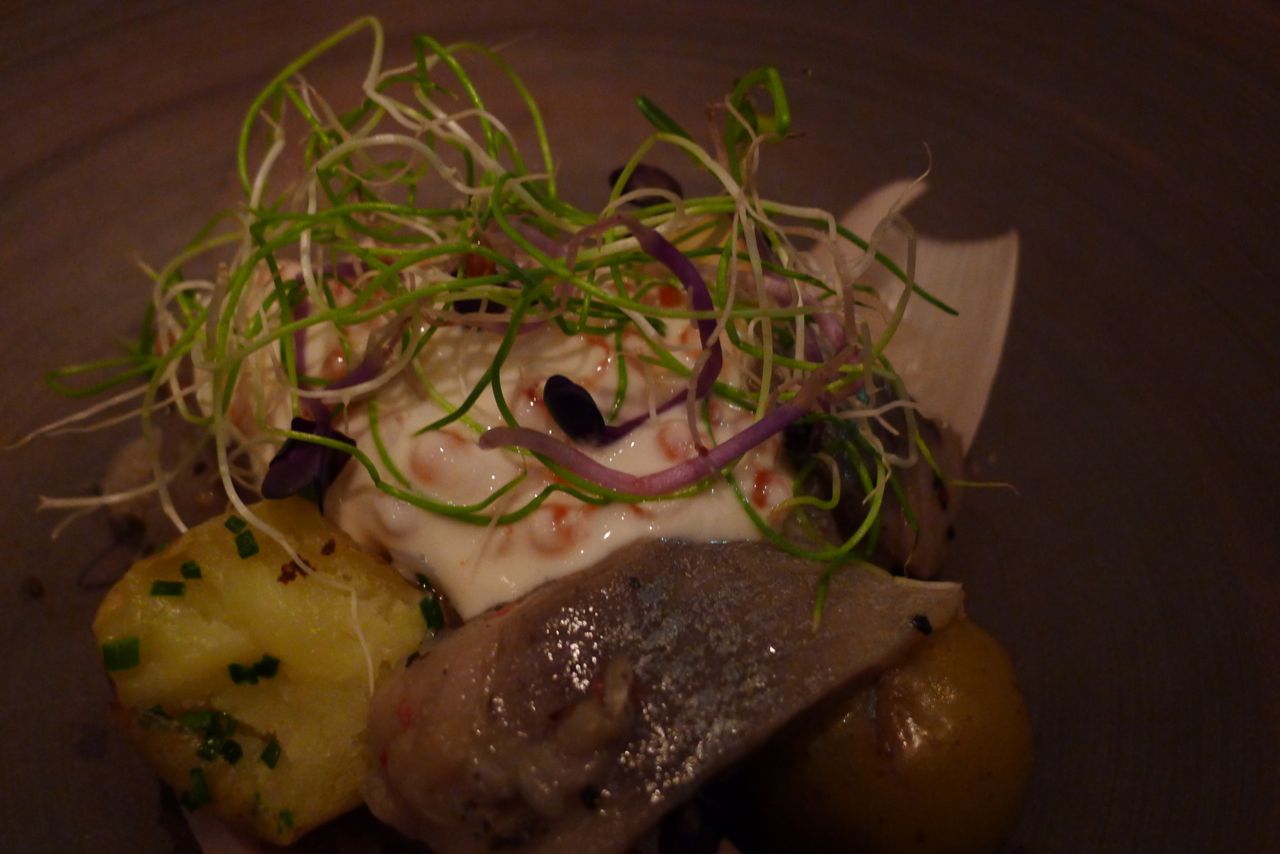 This little fish is surprisingly my favourite little bite of the night. I say "surprisingly," because pickled fish has always been a bit too fishy for me. Not this particular pickled poisson. The fillet pieces in my bowl are pickled with a hint of sweetness, the texture is almost like a boiled beet (if that makes any sense.) Hiding amongst the herring are marinated onions, char roe, and tender new potatoes. Super.
Langoustine and Pork Belly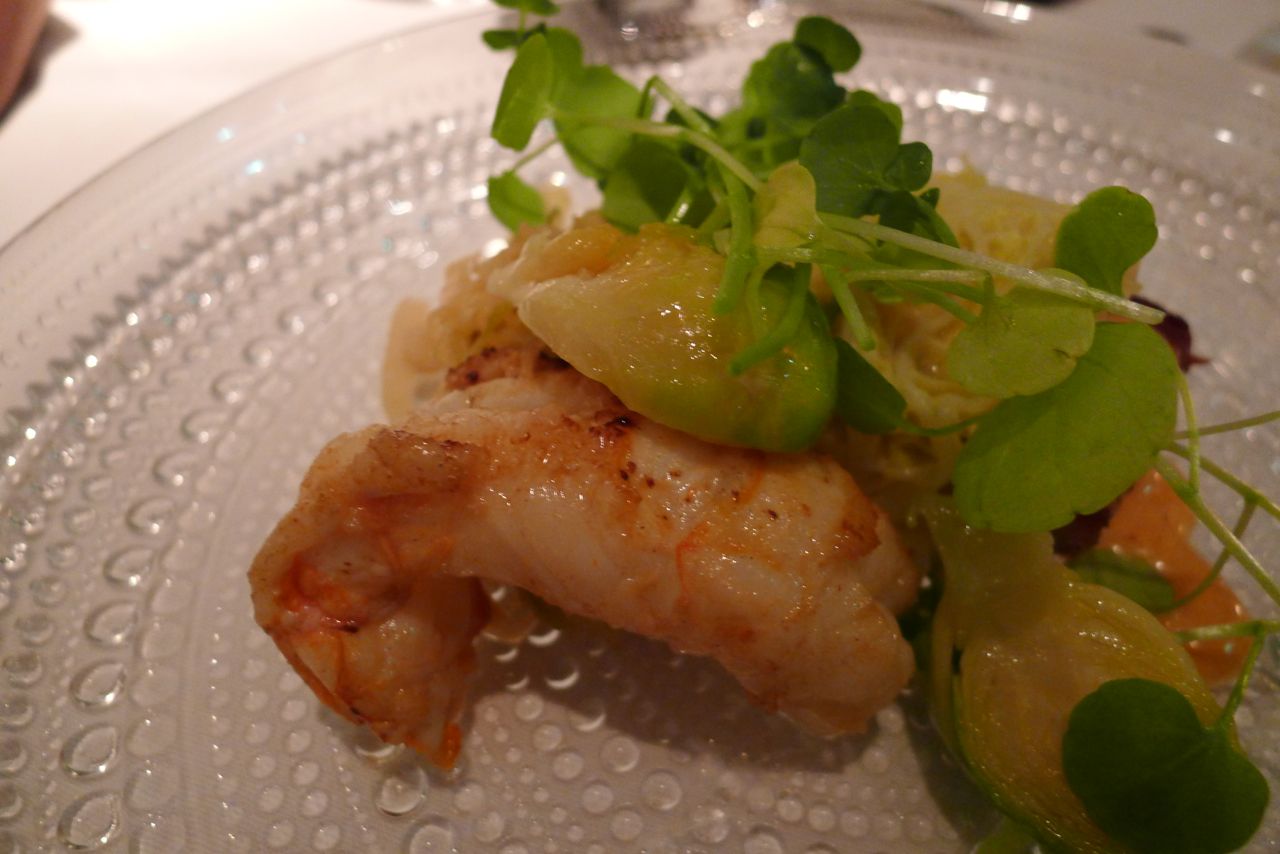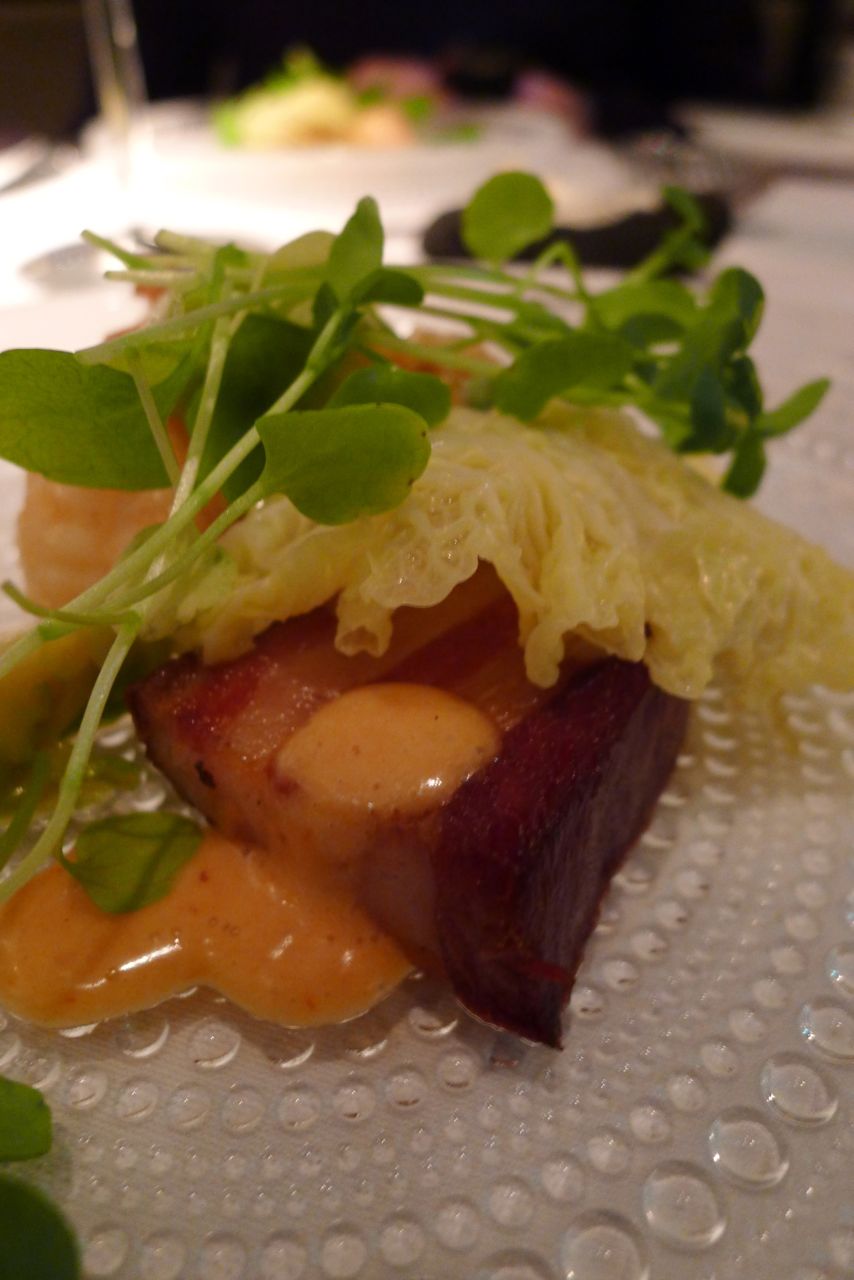 The scampi is subtly sweet and tender. I'm glad I started with the langoustine, because the saltiness of the smoked pork belly overwhelms its plate partner. I enjoy each element much more as separate bites, rather than together.
Lamb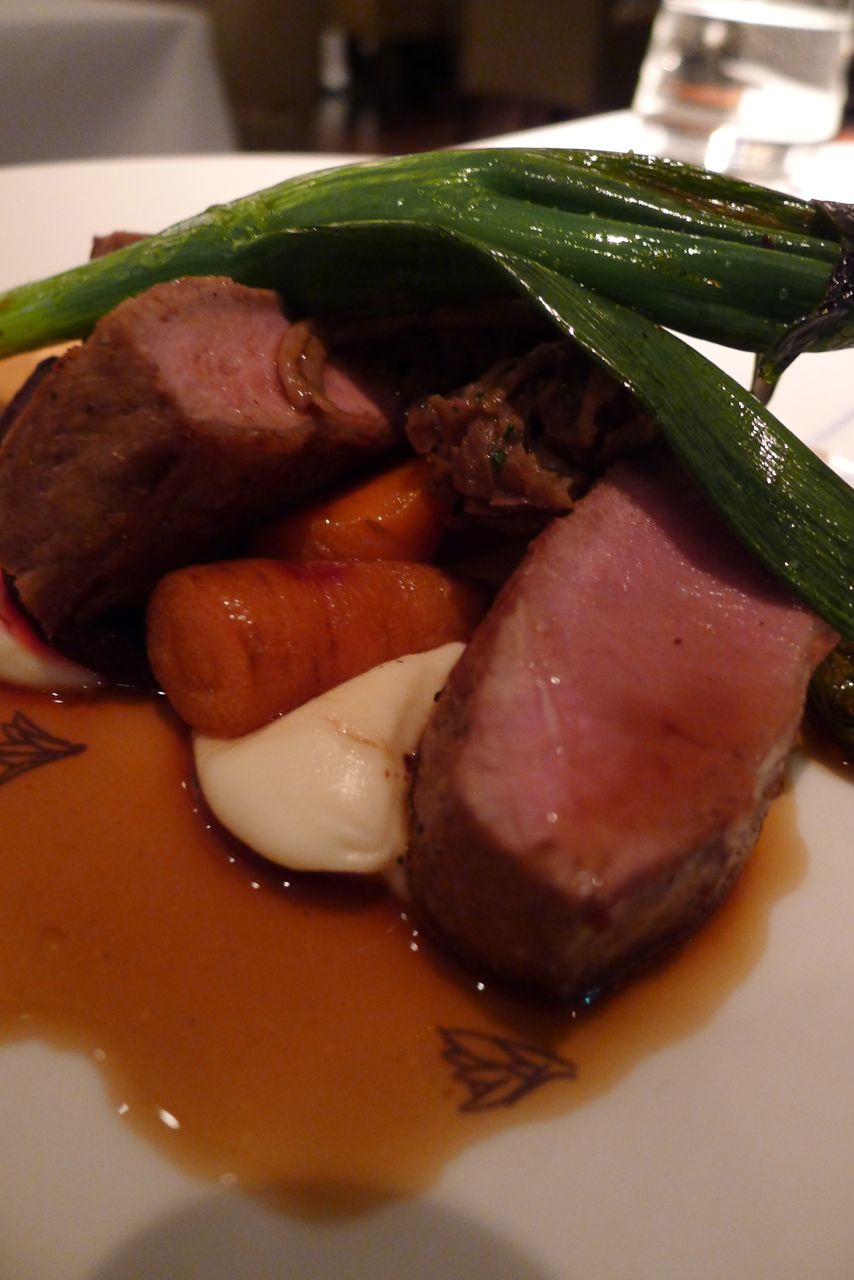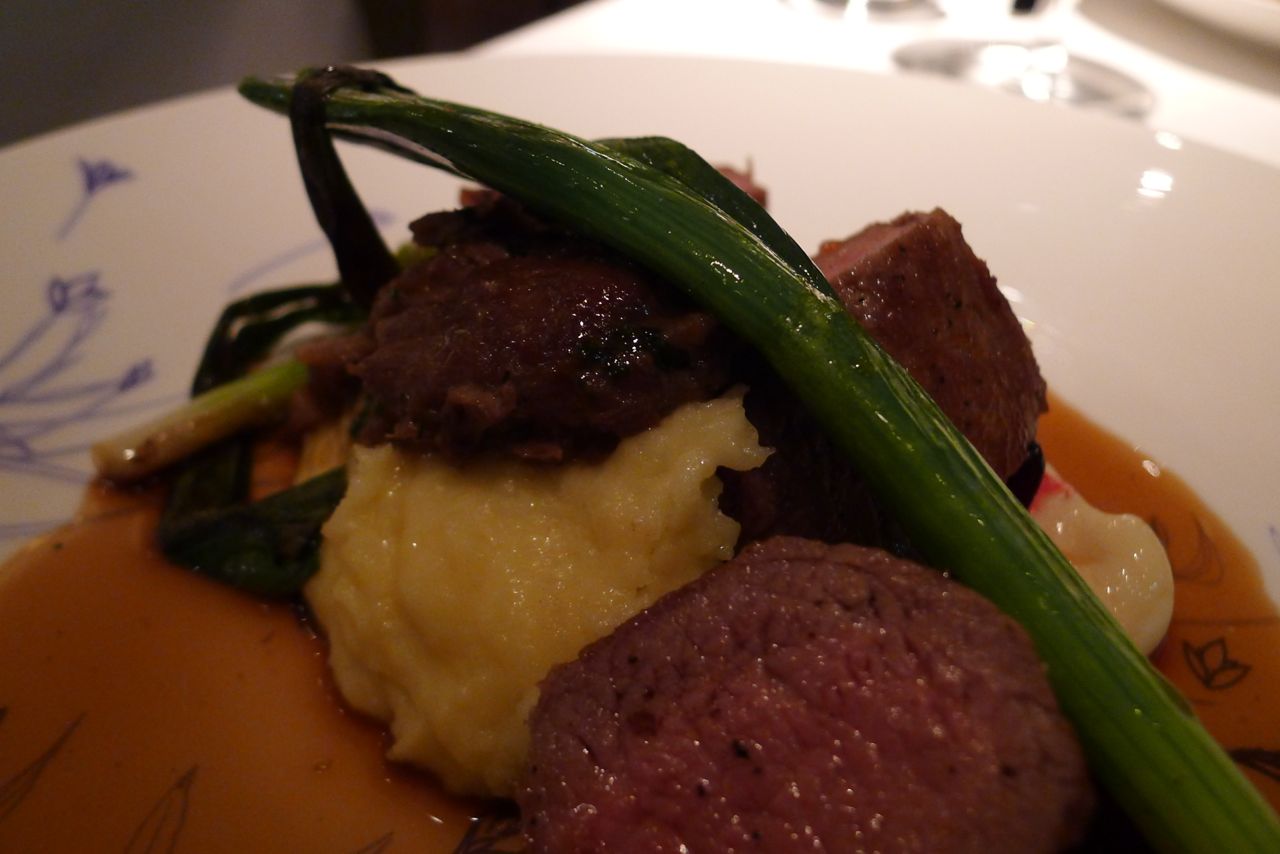 The last time I included some posts about Iceland I didn't really say much about the lamb. I love lamb. In addition to excellent seafoods, Iceland has some darn fine lamb. This is filet of lamb, but there is also braised lamb shoulder atop of the parsnip purée. The filet is so very tender, and there isn't that hint-o-mutton taste that shows up with some other lamb dishes.
Crowberry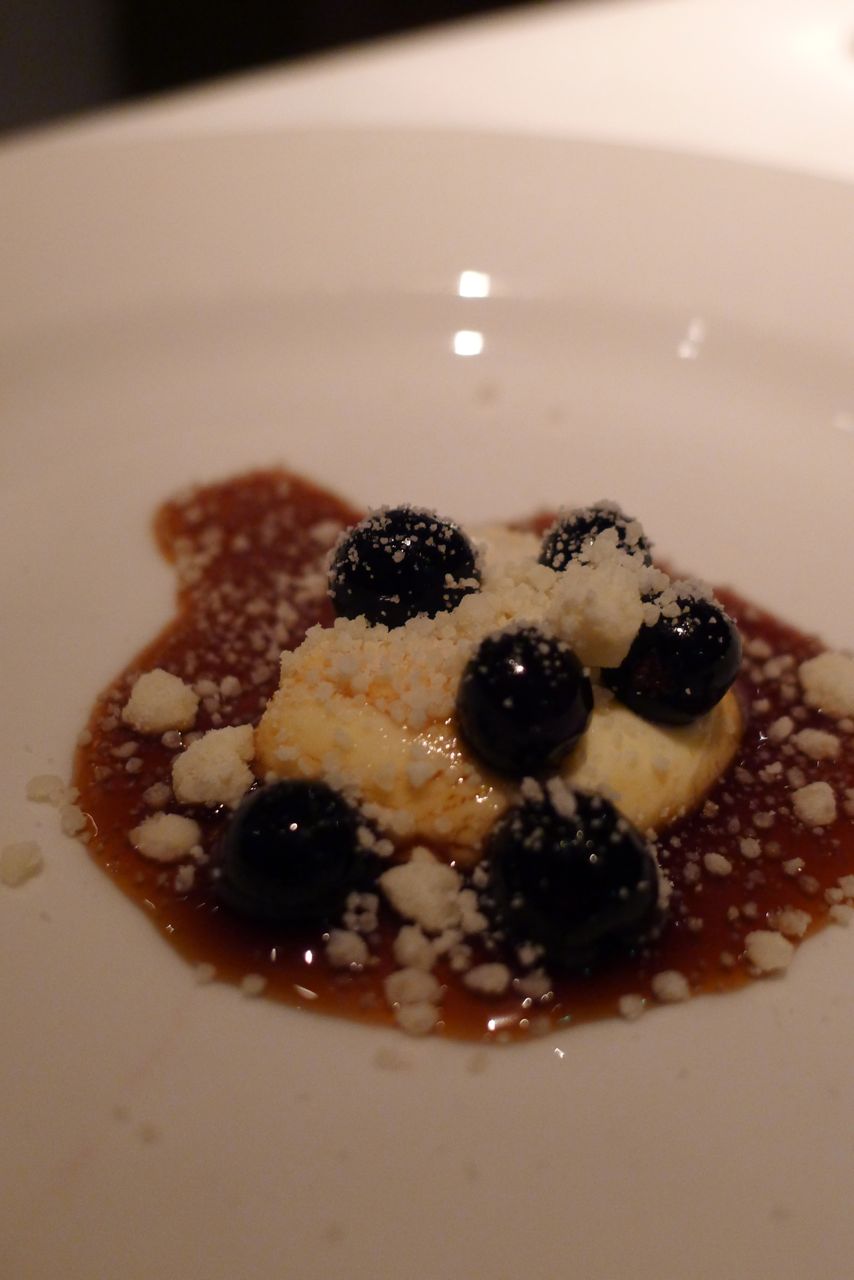 This is the pre-dessert tonight. These are tiny frozen crowberries crowning mascarpone cheese and a liquorice reduction syrup. I have no idea what the white crunchy bits are, but they add a texture contrast that makes this fun to eat.
Lemon and Skyr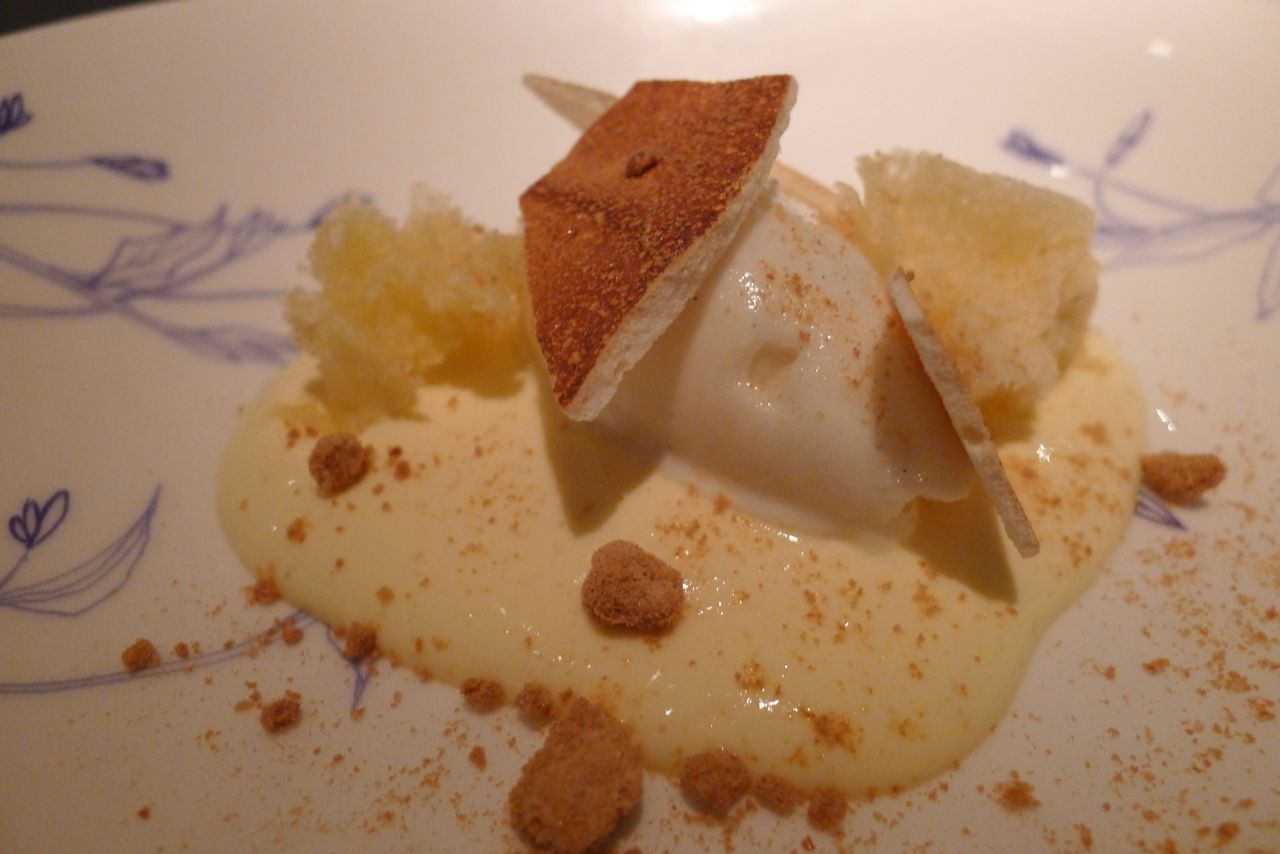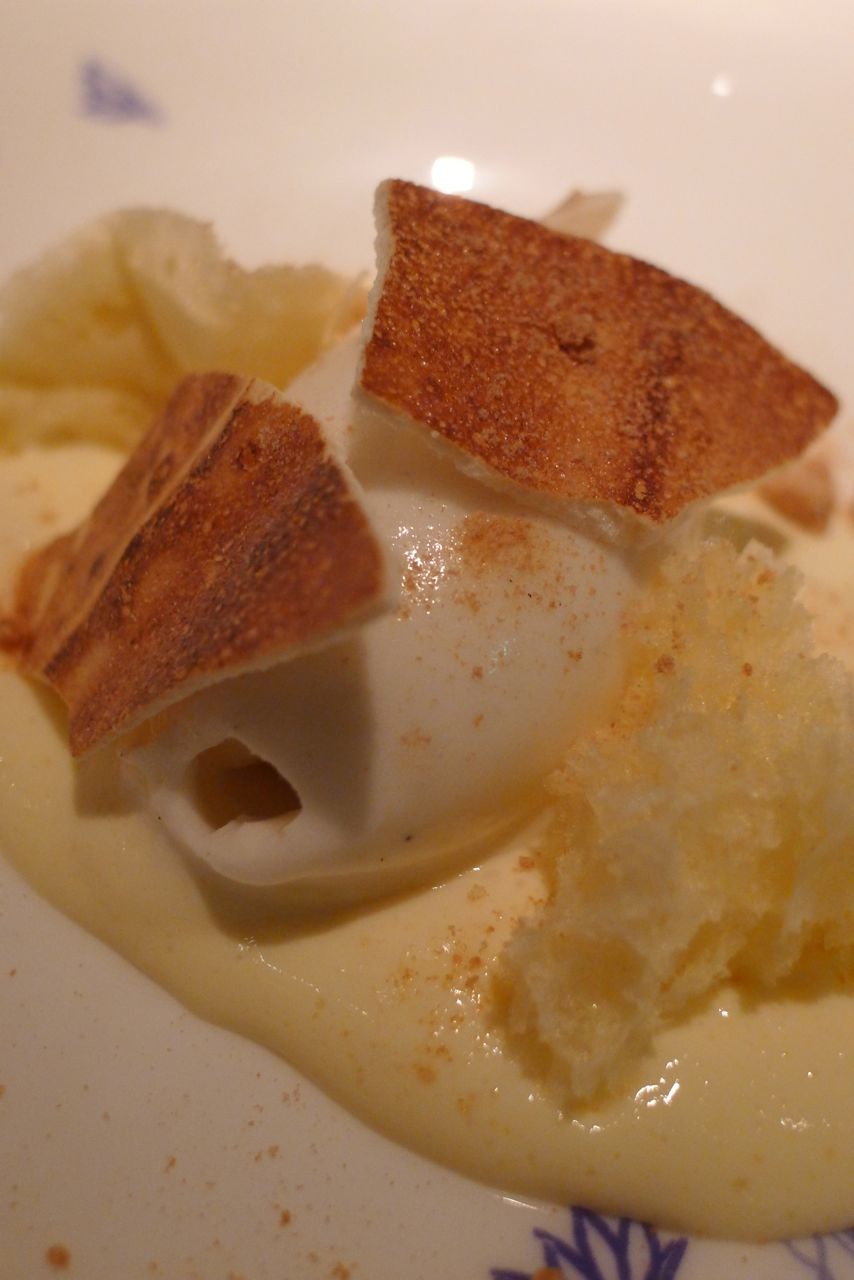 Vanilla skyr ice cream. How can skyr be bad? I've been eating skyr almost everyday during breakfast since arriving in Iceland. If we had this fresh cheese in Canada, I'd be adding it to anything that needed cream. The shards of lemon meringue in this dessert are insane. So much tang! The lemon-ness starts out subtly tangy and then it punches you in the face with tart.
The food is enjoyable here at VOX, but there are a few attention-to-detail things that made me give them the side eye:
1. The plate edges are not wiped clean before service to the tables. Several dishes came to the table with greasy fingerprints or a small splotch of sauce. I don't know, but when a diner is presented with enough impressions of friction ridges to conduct a forensics analysis of kitchen staff, isn't that a bit much? Blech.
2. There are holes in my table napkin. By no means is the cloth a rag, but there are several places where it looked like a French Bulldog used it for tug-of-war.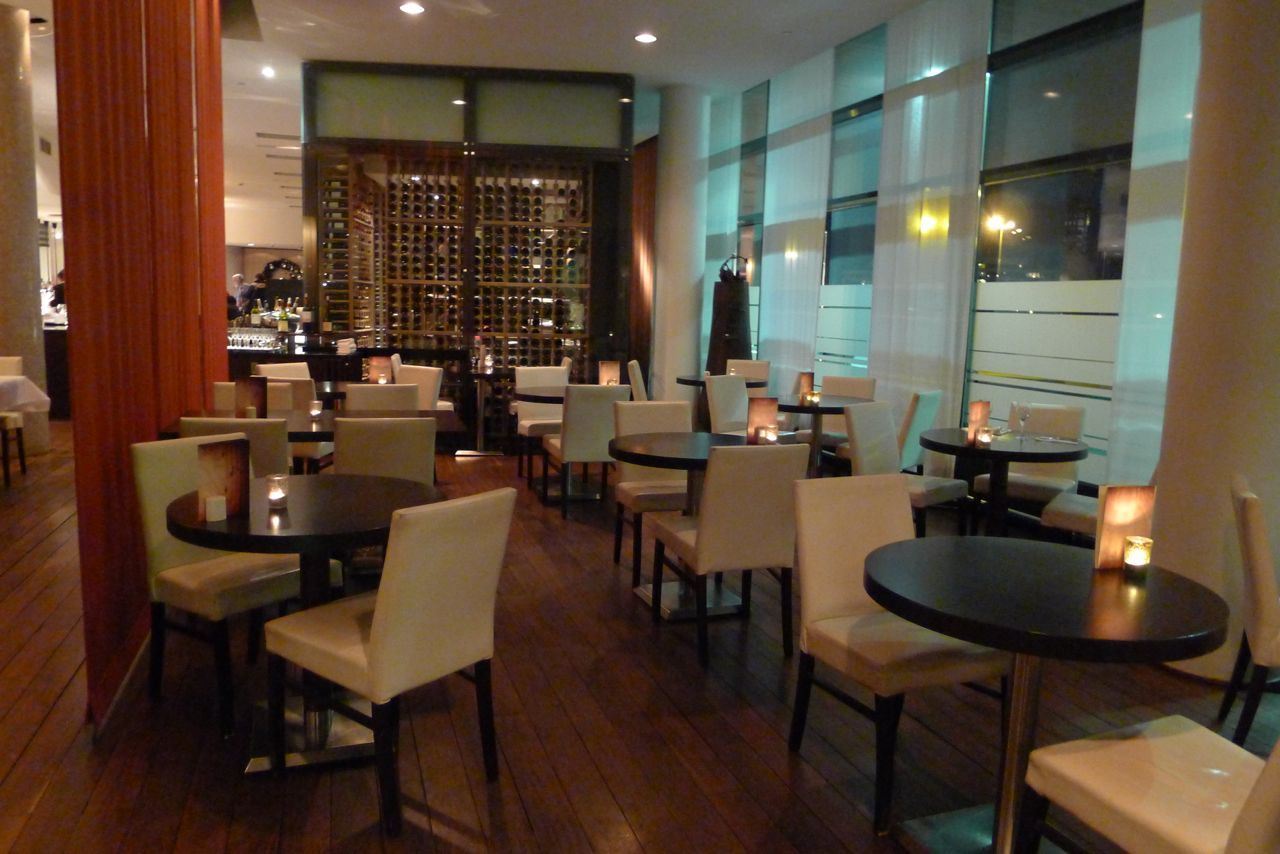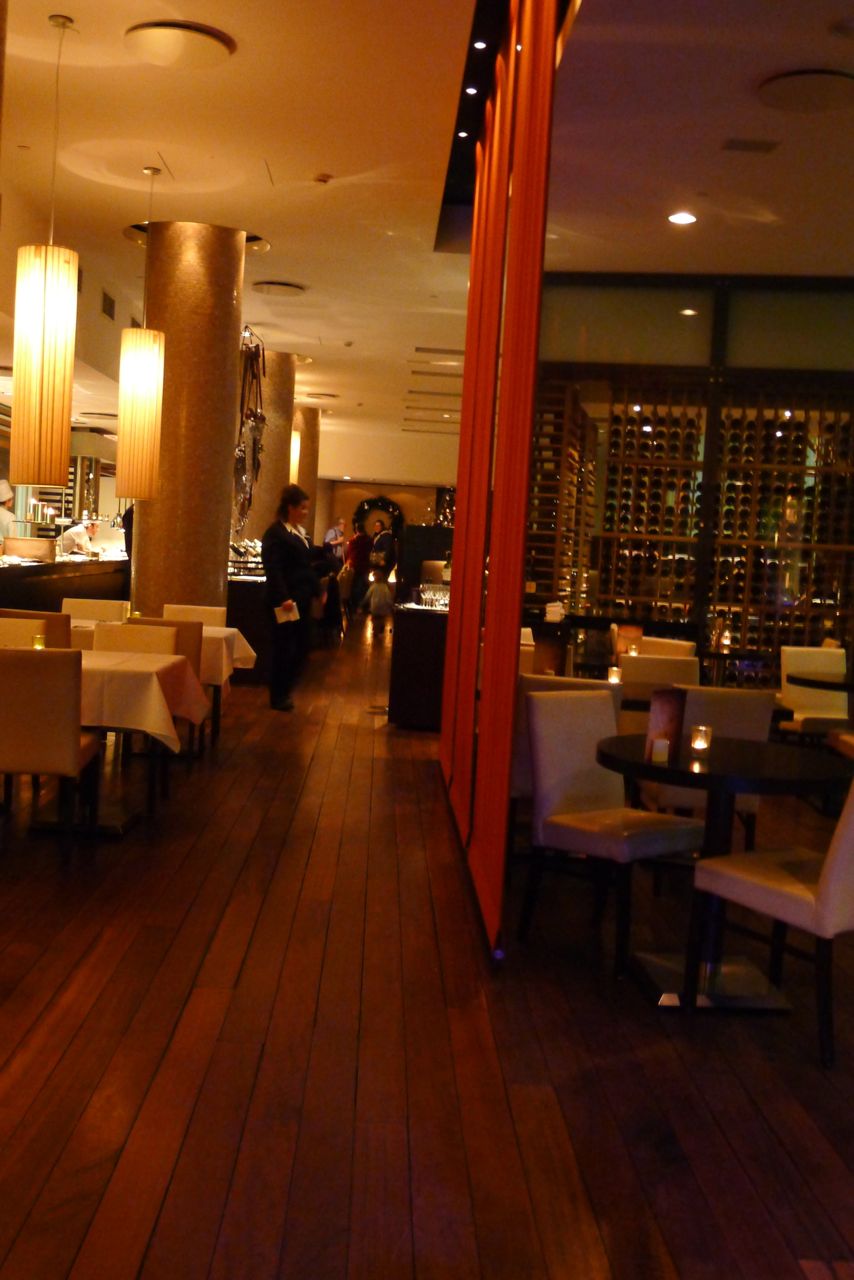 Although service is young, friendly and accommodating, there are some on the floor that may need a briefing about tonight's menu.
The table beside me had the langoustine as well. Their young female server seems to be a darling of a person, but maybe VOX needs to ensure everyone working the floor knows what the hell they are serving. Because man, it looks bad when they don't.
This is the interaction between a man at the table next to me and the server:
The server places the langoustine and pork belly in front of the gentleman and his dinner date.
Server: "Here is langoustine with some sauce. And...some mushrooms."
Gentleman Diner: "I don't see any mushrooms on this plate. Are you sure there are mushr-"
Server:"Enjoy!"
She then turns on her heel and promptly vacates our dining section.
Hilarious, no? I love it when she says, "...some sauce." (!!)
Maybe not so funny to my dining neighbour. Clearly, the server was desperate and just looked at the plate and guessed. You can imagine the look of disbelief on his face. Part of me wanted to just lean across space between the tables and tell him what he was about to eat.
It doesn't take much for me to enjoy my night. So after a few drinks and a nice cup of coffee, I left VOX smiling with a visual of my neighbour's face after the server tried to pass off pork belly as mushrooms.
VOX Restaurant Website click here
VOX Restaurant Facebook click here
Locations
VOX Restaurant
Sudurlandsbraut 2
Reykjavík
108
Iceland