Reply to comment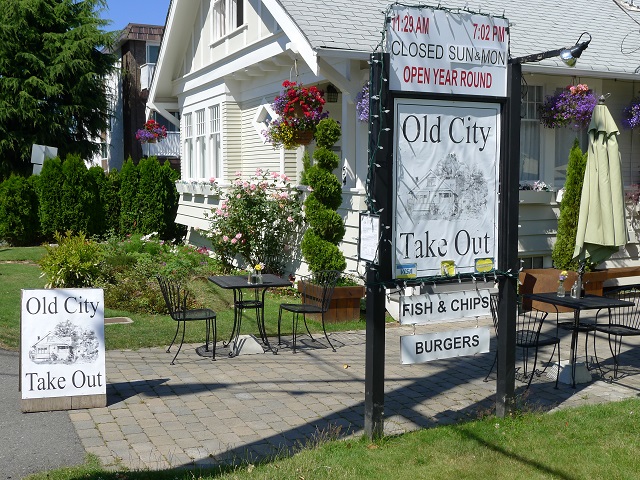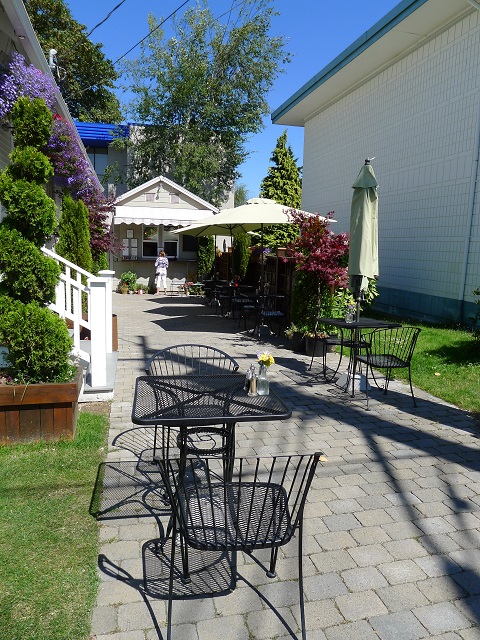 I'm here in Nanaimo on special assignment. I love referring to it as "special assignment" as it makes my work sound way more Fox Mulder-ish. I know I'll have my nose to the grindstone for most of my time on Vancouver Island, but I hope to share out some eateries while I'm here.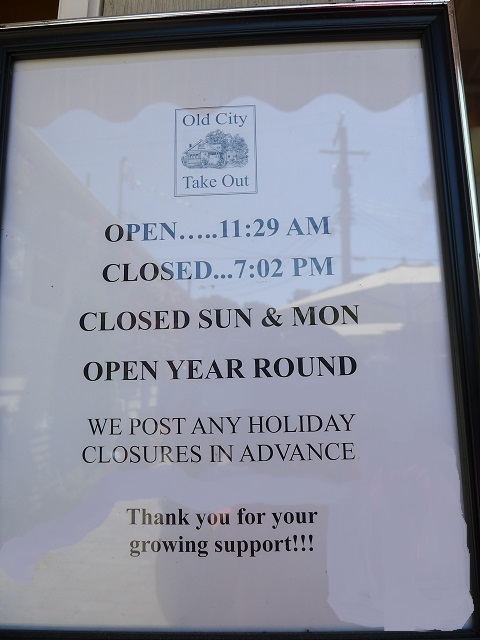 When I saw the Old City Take Out opening hours I knew I had to eat here. They sound like my kind of people. Easy-going folks, that don't take things too seriously, and have a sense of humour.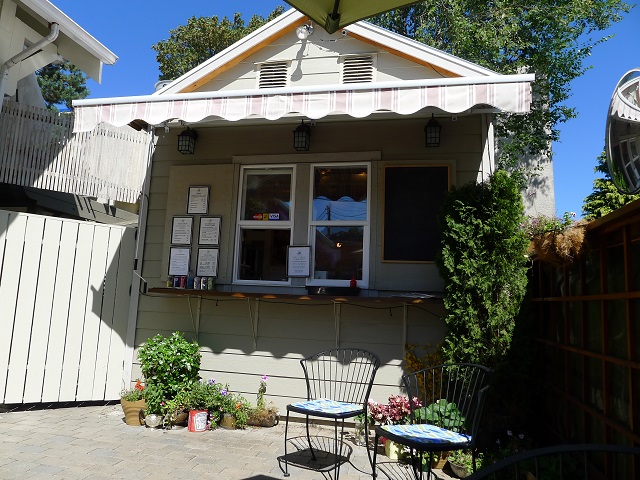 The Old City Take Out is located at the end of the "drive way" of a well kept character home on Prideaux Street just off Comox Avenue in Nanaimo. Doesn't it look like the perfect place to sip lemonade?
So quaint!
Ice Tea ($2.50)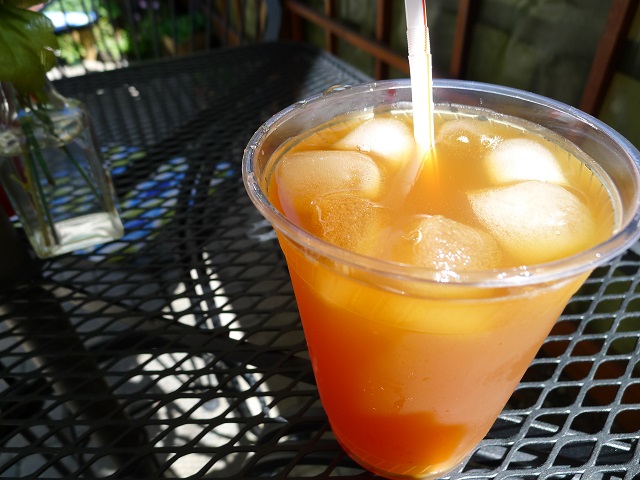 They offer homemade ice tea so I opted for their ice tea instead, and forgot about my prior lemonade dreams.
Here's the drawback of not having an eating partner. I have to decide Fish or Burger. It's either or, not both this time. Darn it. The two dudes ordering in front of me couldn't decide either and they decided to get one of each. I'm a little jealous, because the burgers sound good.

What's in this newspaper wrapped package?
One Piece Halibut and Chips ($12.95)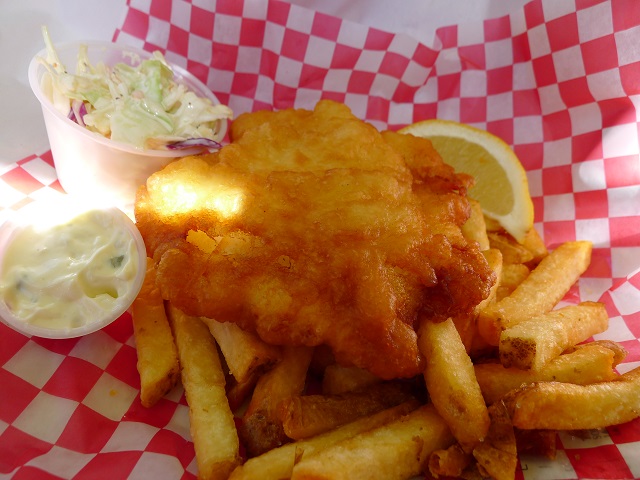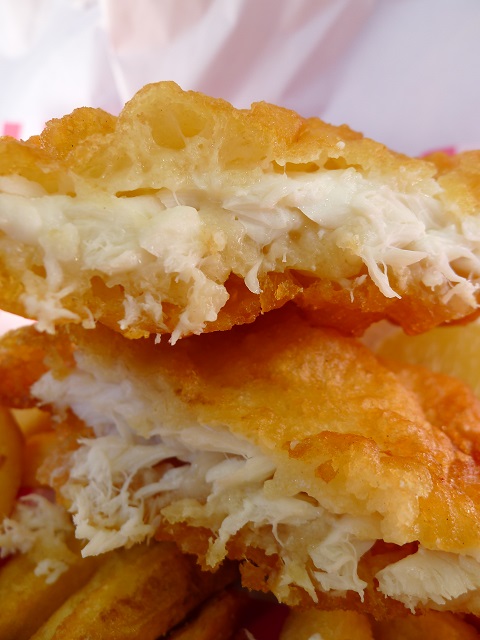 It looks a bit like bannock, no? However, this golden coat has flakey fish tucked inside. The batter is crisp and a little thicker and crunchier around the edges. The Old City Take Out provides both malt vinegar and the clear-stuff for your chip enjoyment. I prefer malt. How about you?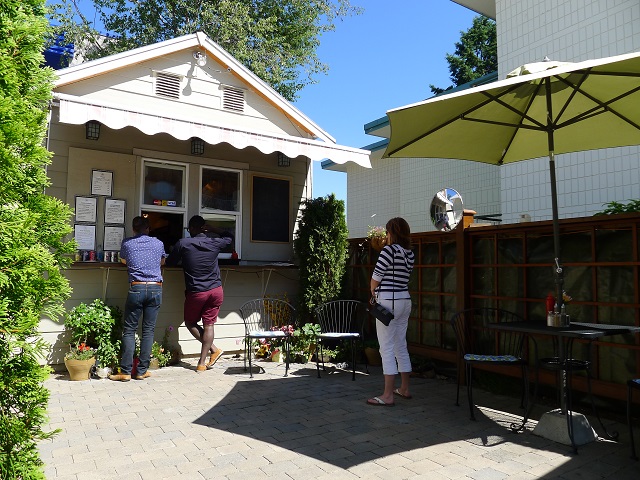 The Old City Take Out is tucked-in well back from the street, in a mostly residential area. You'd kinda have to know it was there to get here. Unlike the two dudes in front of me claimed. These two alleged they were just driving around and stumbled upon it. Please, they were right behind me in their vehicle, through several must-know turns and promptly parked directly behind me like they knew where they were going. And who's driving around haphazardly looking for eats in a residential neighbourhood? I'm just sayin'.
(Before you hit send: I am aware this area is technically zoned for mixed residential-commercial...)
Listen, no matter how you get here, the service is welcoming and conversational; the food ain't bad either.
Old City Take Out website click here
Old City Take Out Facebook click here
Locations
Old City Take Out
54 Prideaux Street
Nanaimo
,
BC
V9R 2M5
Canada