Reply to comment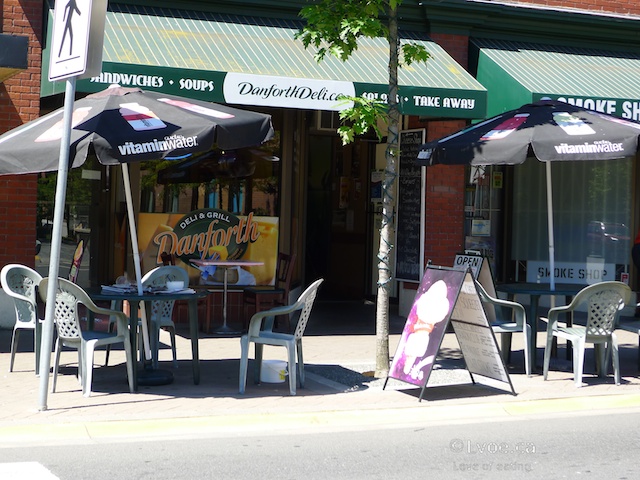 **UPDATE 2014: Danforth Deli is now closed. I'm so sad about this.**
It's burger time at Danforth Deli. Have you been here yet? I think I'm smitten. It's become a fairly regular place for me to grab a meal since setting up a temporary home in downtown Nanaimo. Danforth Deli is giving their shop a little TLC this week and "implementing a new menu" too. I hope this just means they are expanding their menu and not taking away some of the favourites. It's like when you're dating someone and they decide to change their whole wardrobe. Will the new style still jive well between us?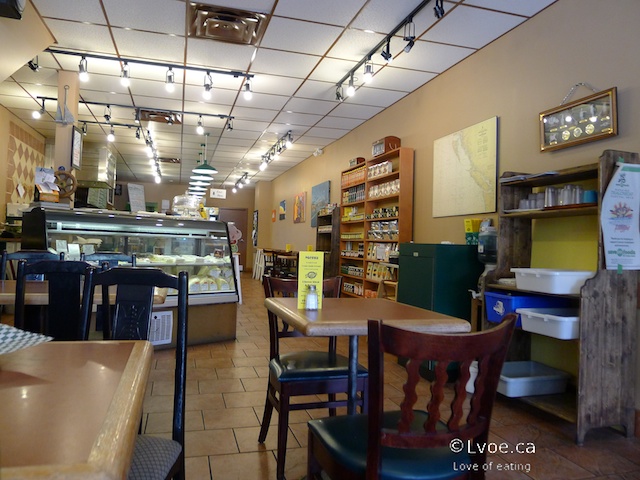 The last time I posted about Danforth Deli I had their Philly Cheese Melt and an amazing smoky Nanoose clam chowder. (Click here to re live that chowder.) Their burger descriptions sounded so tempting. I promised myself I'd come back on a hungry day for a burger or two.
Volcano Burger ($14.00)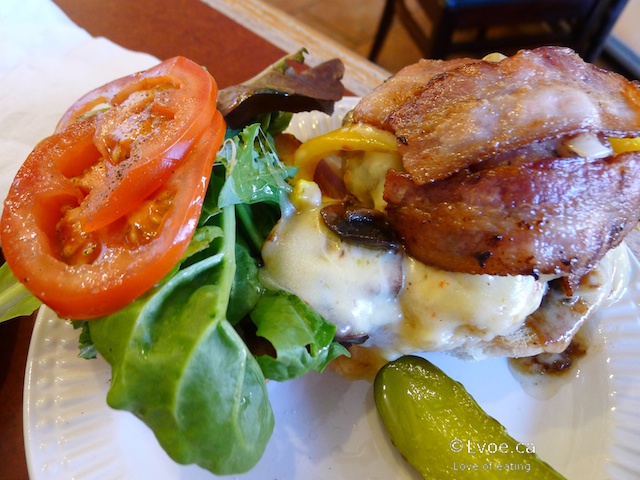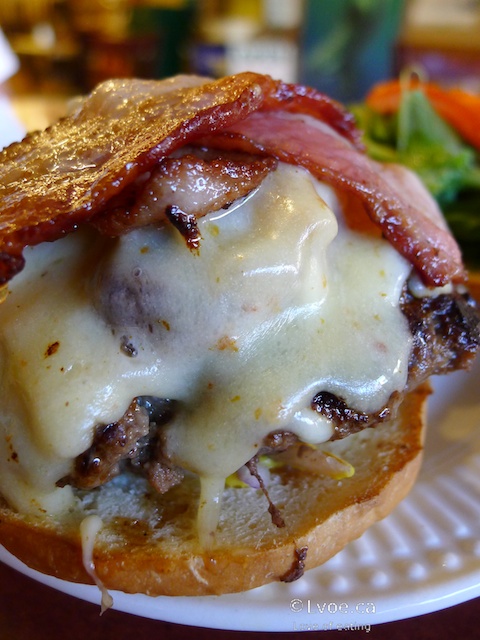 The Volcano Burger's thick patty is topped with thick bacon grilled onions,and organic smoked habanero cheese, some cheddar and a slice of dill pickle. Juicy and excellent.
Godzilla Burger ($12.00)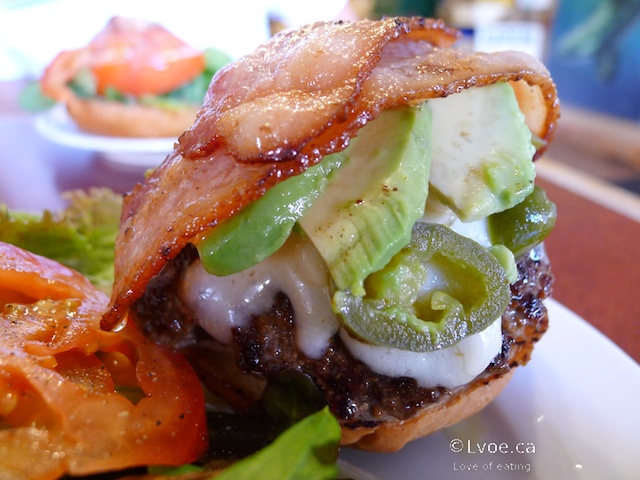 This is a giant monster indeed. The burger features jalapeño jack cheese, avocado and the same thick bacon as above. The Danforth Deli invented "Gojira sauce" on this burger is my favourite part: it's marmalade-ish sweet with a bit of a kick.
Both hand formed patties are thick and juicy and rest on house made buns. I love that Danforth Deli uses a sprinkle of Nanoose Edibles mixed salad greens instead of the standard leaf of lettuce. The habanero and jalapeño cheeses are from Gort's Gouda in Salmon Arm. A healthy wedge of both these cheeses followed me back to my temporary home-away-from-home.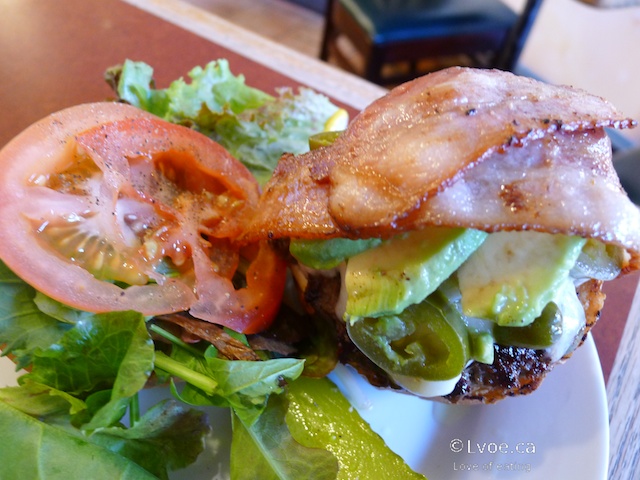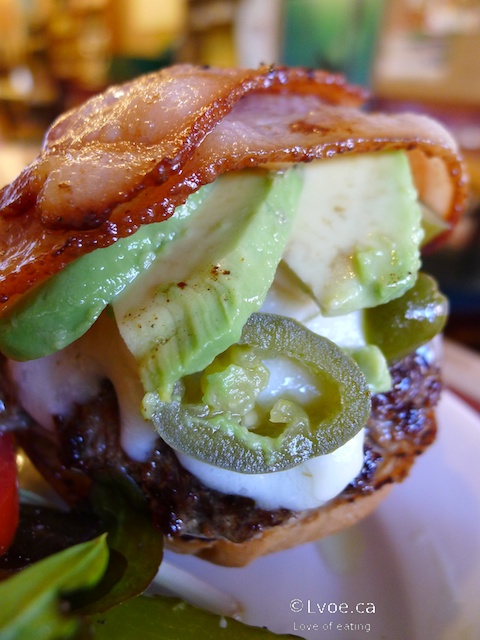 A burger's a burger, right? Sometimes. But these ones are made with care using quality ingredients. They're such a treat. The burgers are deceptive, because they look relatively innocent when they arrive on the table on a smallish side plate. But the thick beef and ample toppings make for a filling meal. Danforth Deli continues to be community minded with their choice of exceptionally fresh, local seasonal ingredients. (Except maybe for that avocado...I'm guessing that's not local.)
We are both stuffed. I had big plans for ice cream afterwards, but there was no way I could fit anymore food in me. Did you know Danforth Deli offers Island Farms ice cream too?
Now, I know the prices may appear to be a bit dear, but I think these burgers are totally worth it. House made buns? Check. Hand formed 100% beef patty? Check. Local and organic veggie toppings? Check. BC organic cheeses? Check. Excellent service and mindfully prepare food? Check and check.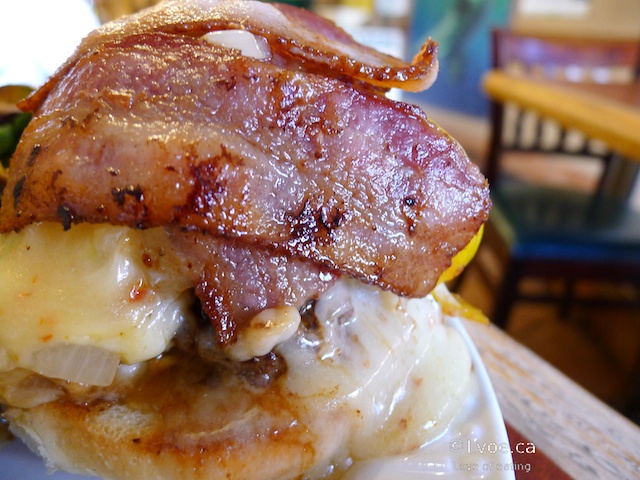 I think I've developed a bit of a diner crush on Danforth Deli. Y'know when you meet an eatery and it continually woos you with unexpected good things. Soon you develop special feelings for them, and you want to see them again and again. This is me and Danforth Deli.
Am I the only one that has a soundtrack, of Ronan Keating's version of "Nothing at All," playing in my head as I enjoy a tender burger moment with my latest diner crush: Danforth Deli?
This is normal right?
Oh Danforth Deli! I hope we never break up. But if we do, I'll probably get all Taylor Swift on your ass and we'll read about it here. For now, things are good. We're still holding hands...
I'll be back later for my ice cream.
Danforth Deli website click here
Danforth Deli Facebook click here
Locations
Danforth Deli
39 Commercial Street
Nanaimo
,
BC
V9R 5G3
Canada