Reply to comment
The Pizza Hot Spot is the newly opened pizza shop in the village of Lytton. To enter the village you need to exit off Highway 1 either take a left (if your heading north) between Kumsheen Secondary School and the Esso or take a right (if you're heading south) just past Skihist Provincial Park. The village is small yet very pretty in the summer time. It's always filled with friendly locals.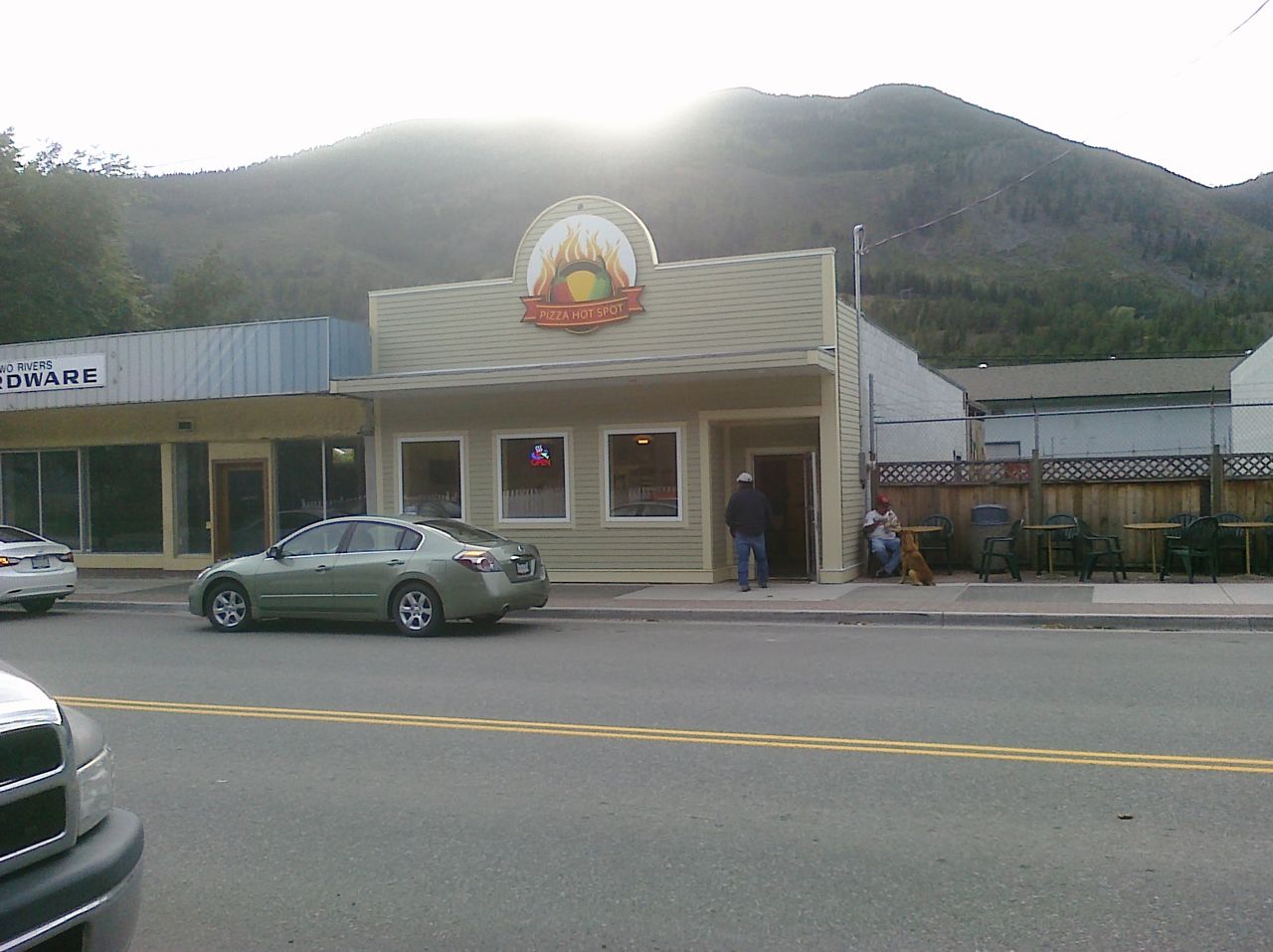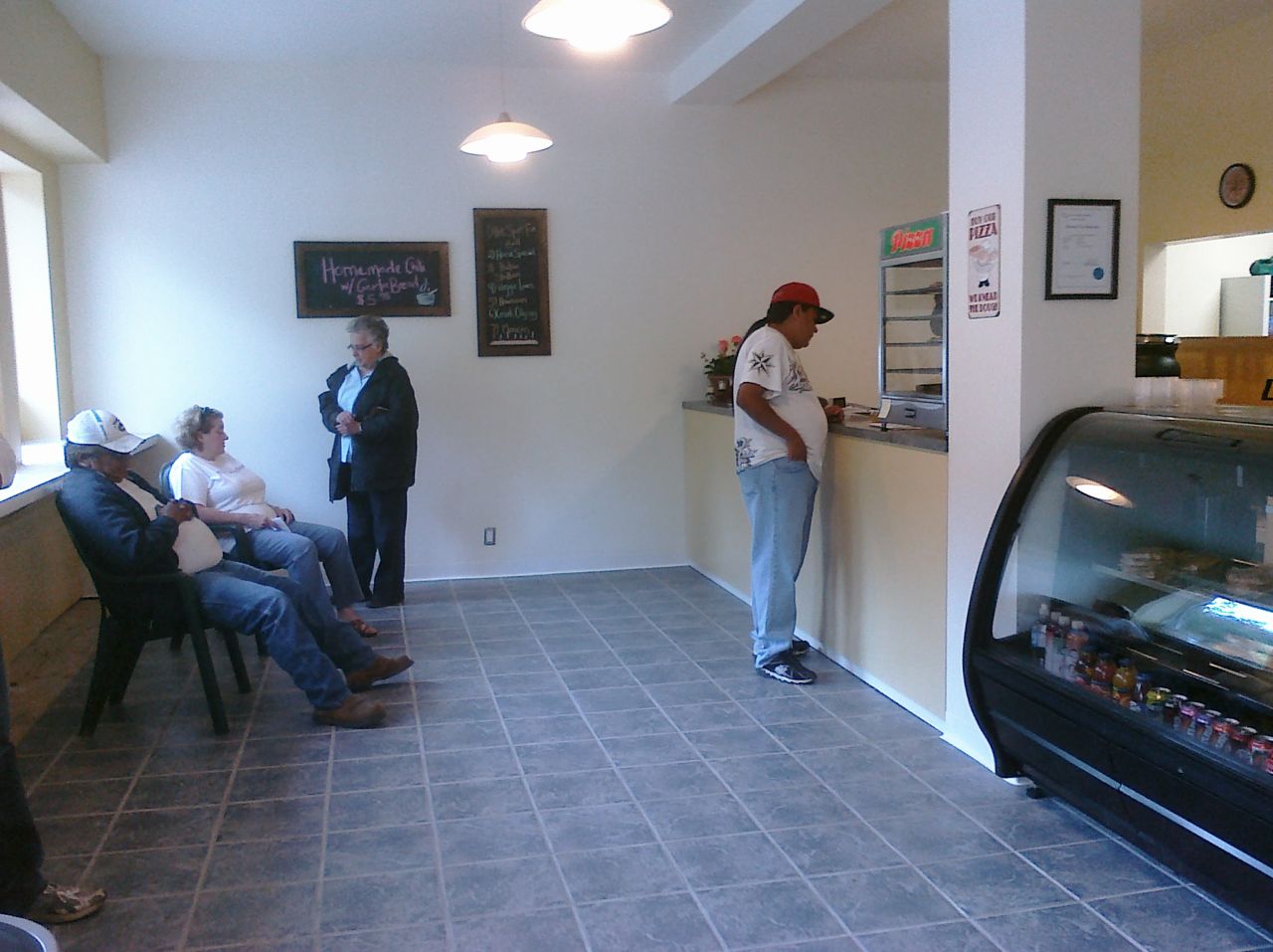 The building for Pizza Hot Spot has been undergoing renovations for some time, perhaps a year? The doors finally opened during Lytton's River Festival this past Labour Day weekend. The finishing touches are not yet complete; however it is clean and uncluttered. At this time the menu is limited to house made pizza, chili and a few sweet items.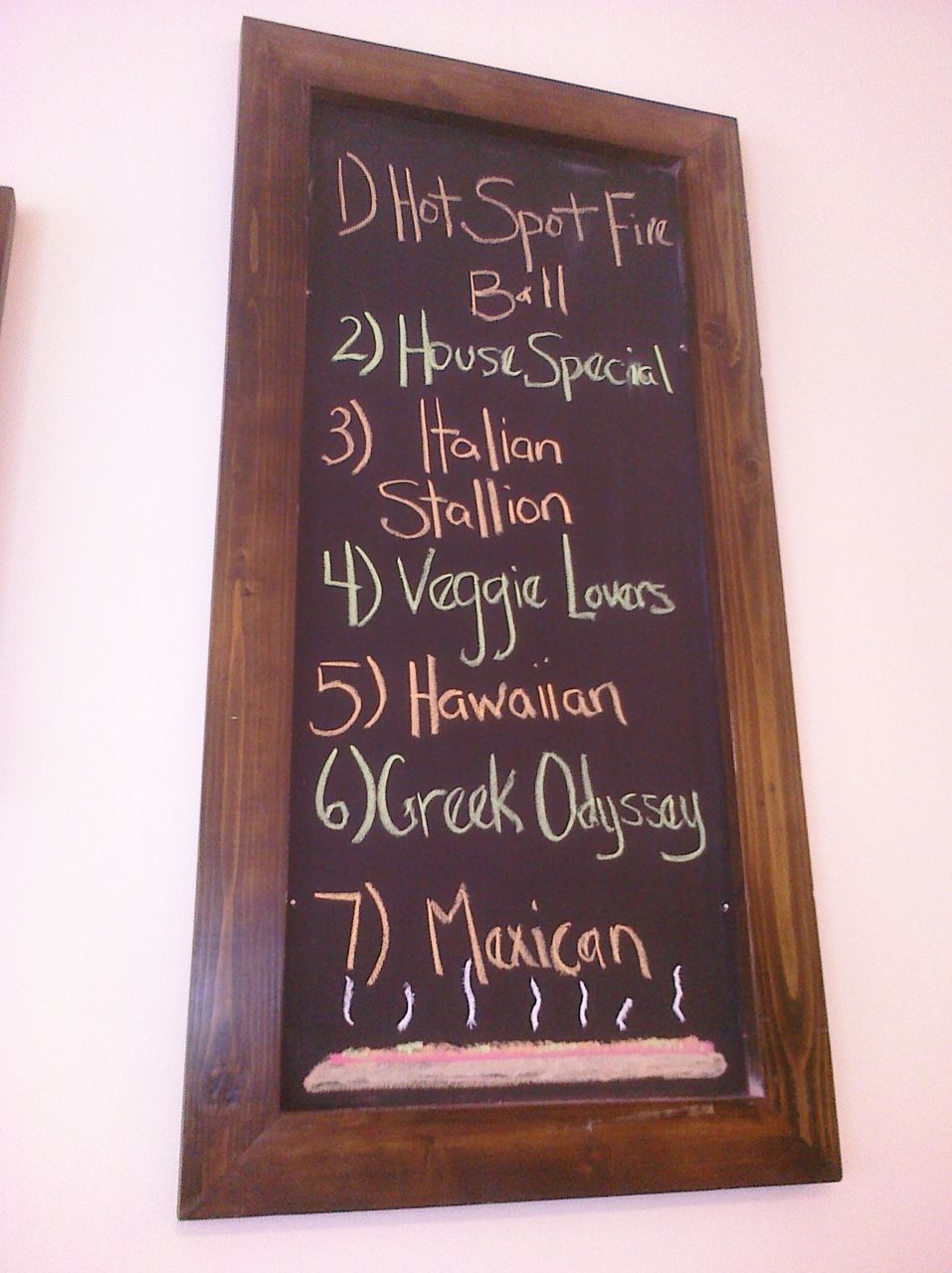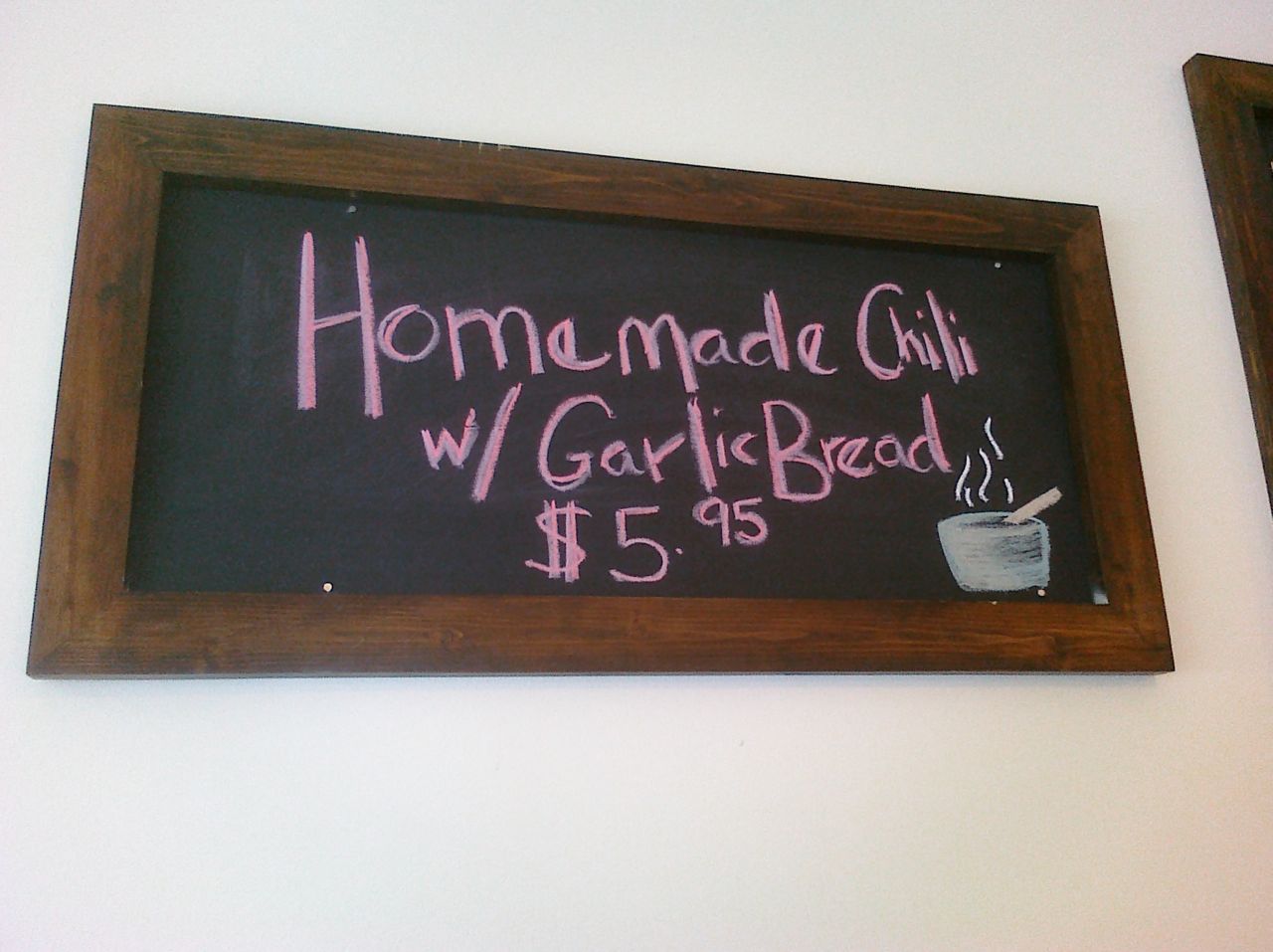 They open shop at 4pm and I think they close at 8pm; closed on Sundays. The lovely lady behind the fabulous food is Mavis; she is well known and well loved in the village.
We ordered two medium pizzas.
House Special ($19.95)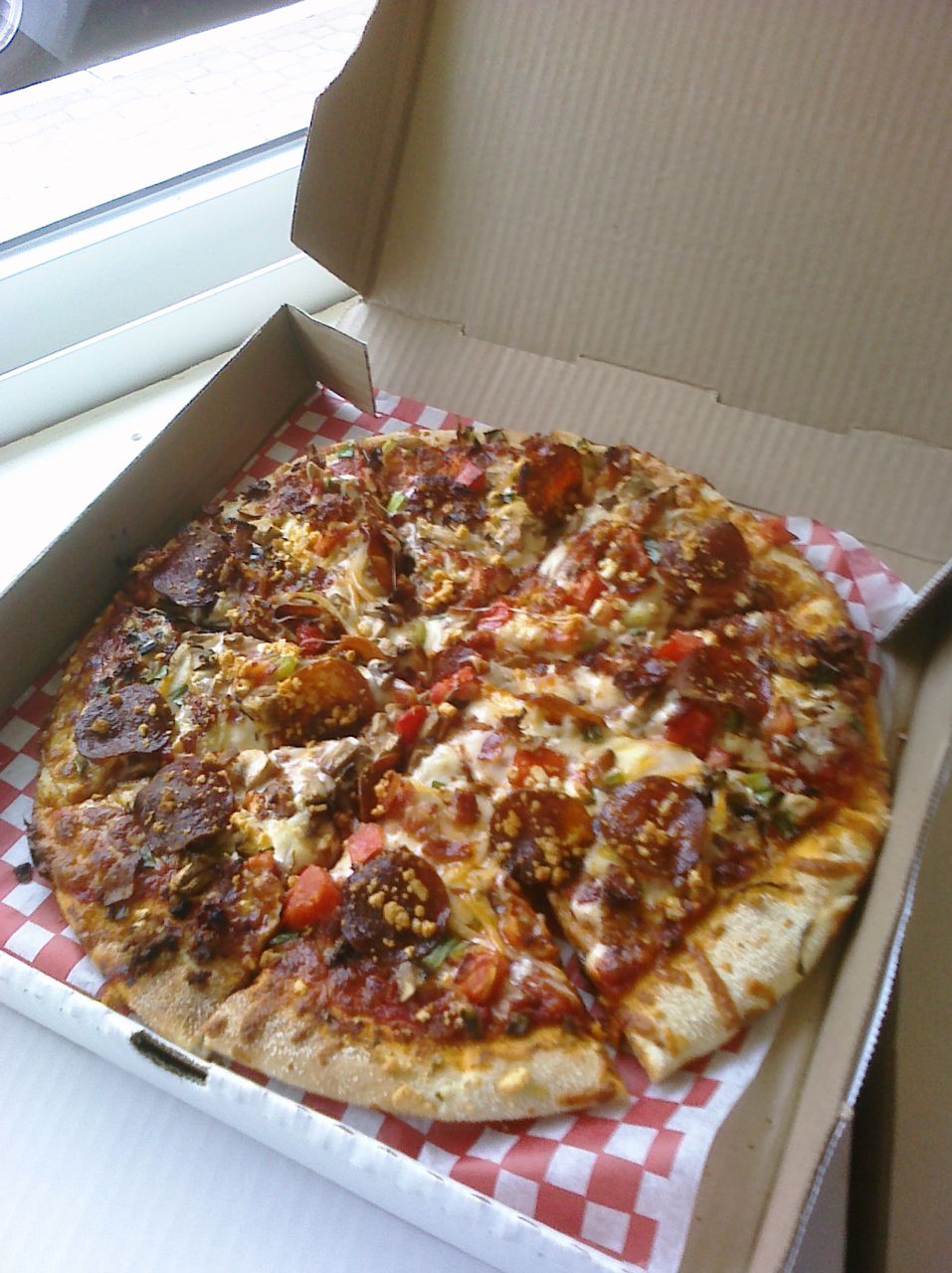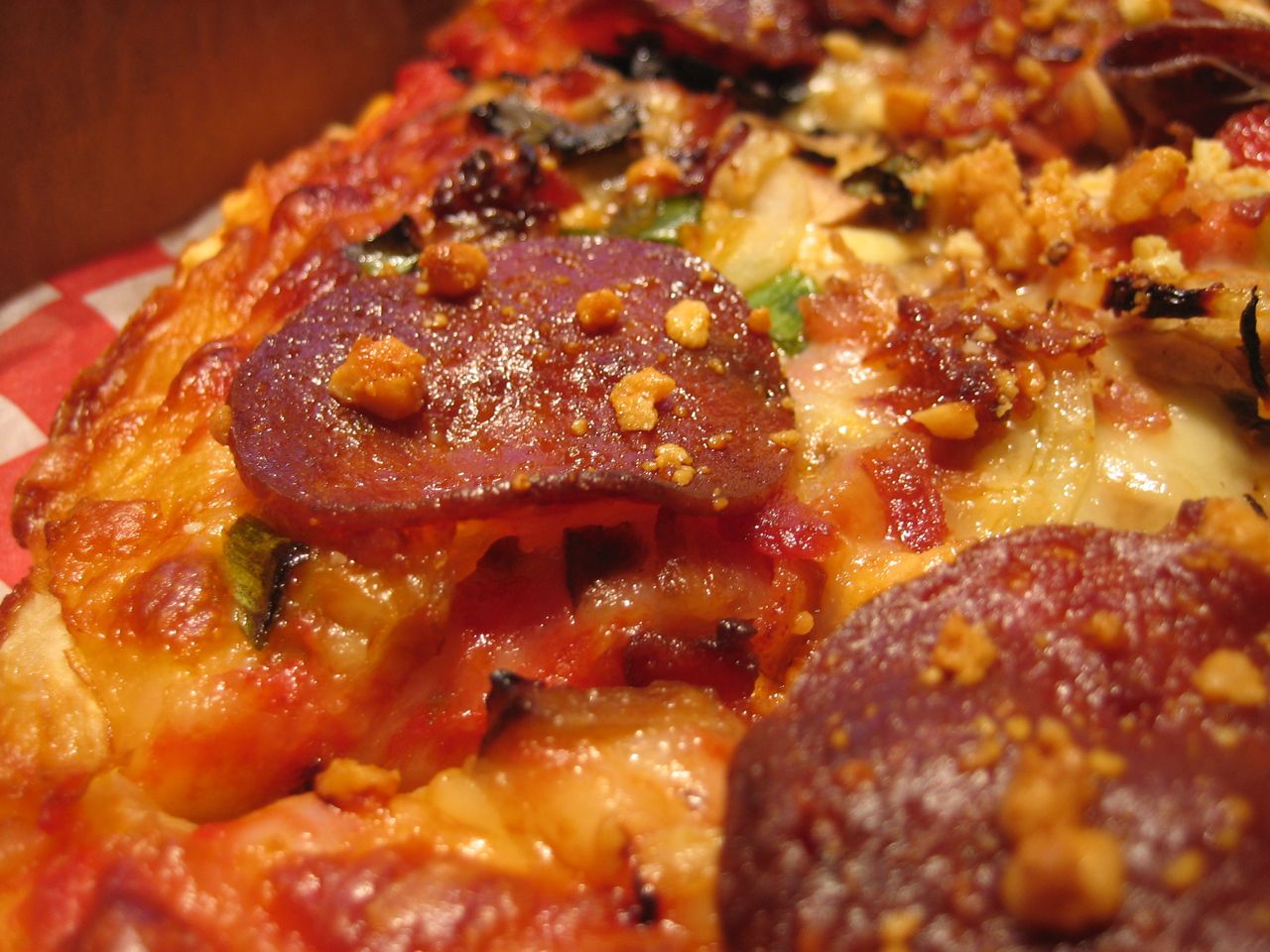 The vegetable toppings were super fresh. The sliced tomatoes, 'shrooms, onions and green onions were all looking and tasting like they just came from the Friday afternoon farmers market. The real bacon was crispy and sprinkled generously throughout the pizza. I thought the pepperoni made the odd bite a smidgin' salty but it in no way took anything away from the rest of the pie. There were little bits of charred caramelized onions and whatnot here and there, which gave every second bite an appreciated smokey flavour. My eating partner detected what he thought was a distinct hint of garlic. This may have come from the base tomato sauce(??) I didn't taste any garlic but truth be told, I was famished at the time of eating my slices and wasn't pausing too often to detect the very subtle flavours.
Mexican ($19.95)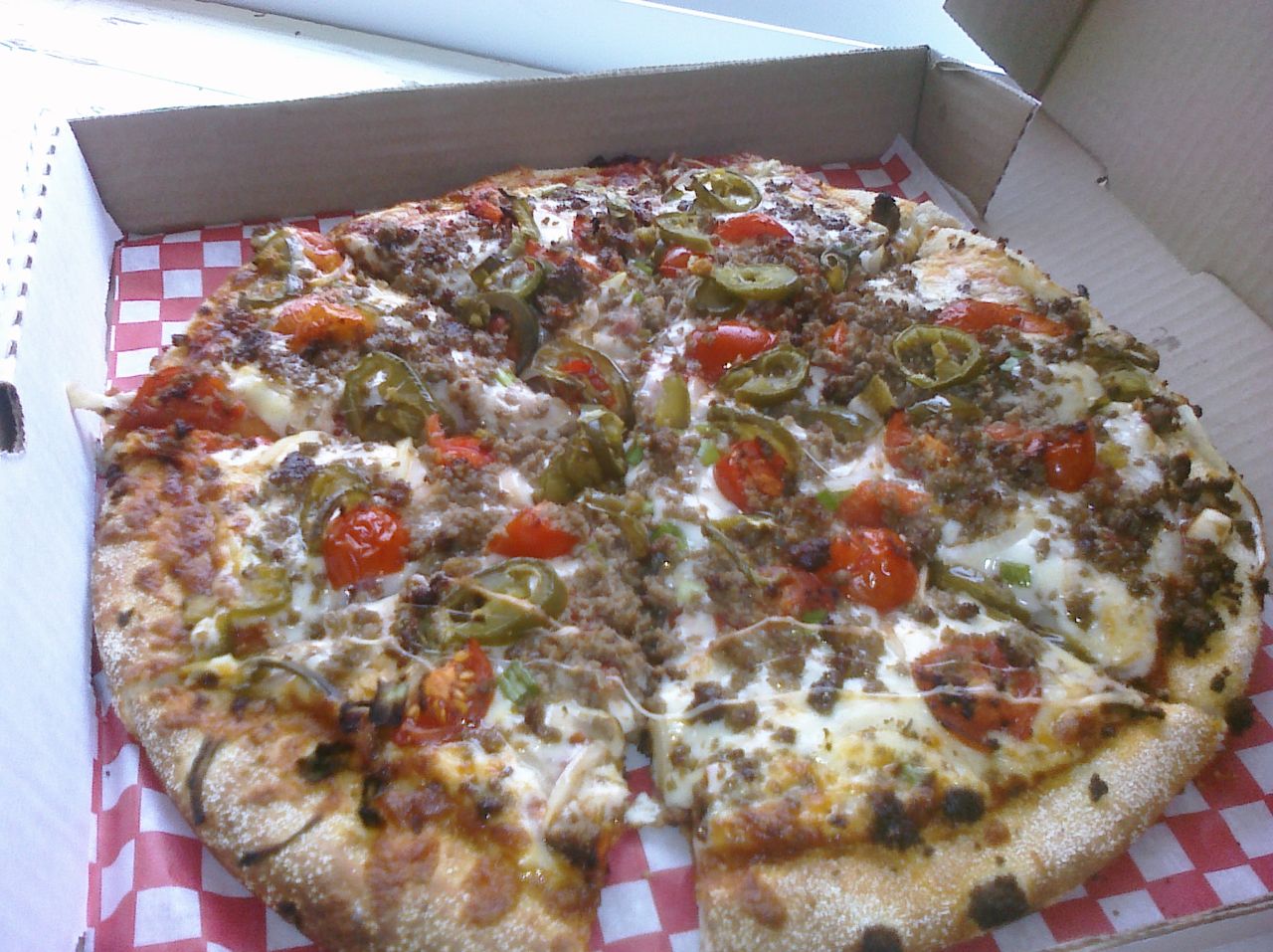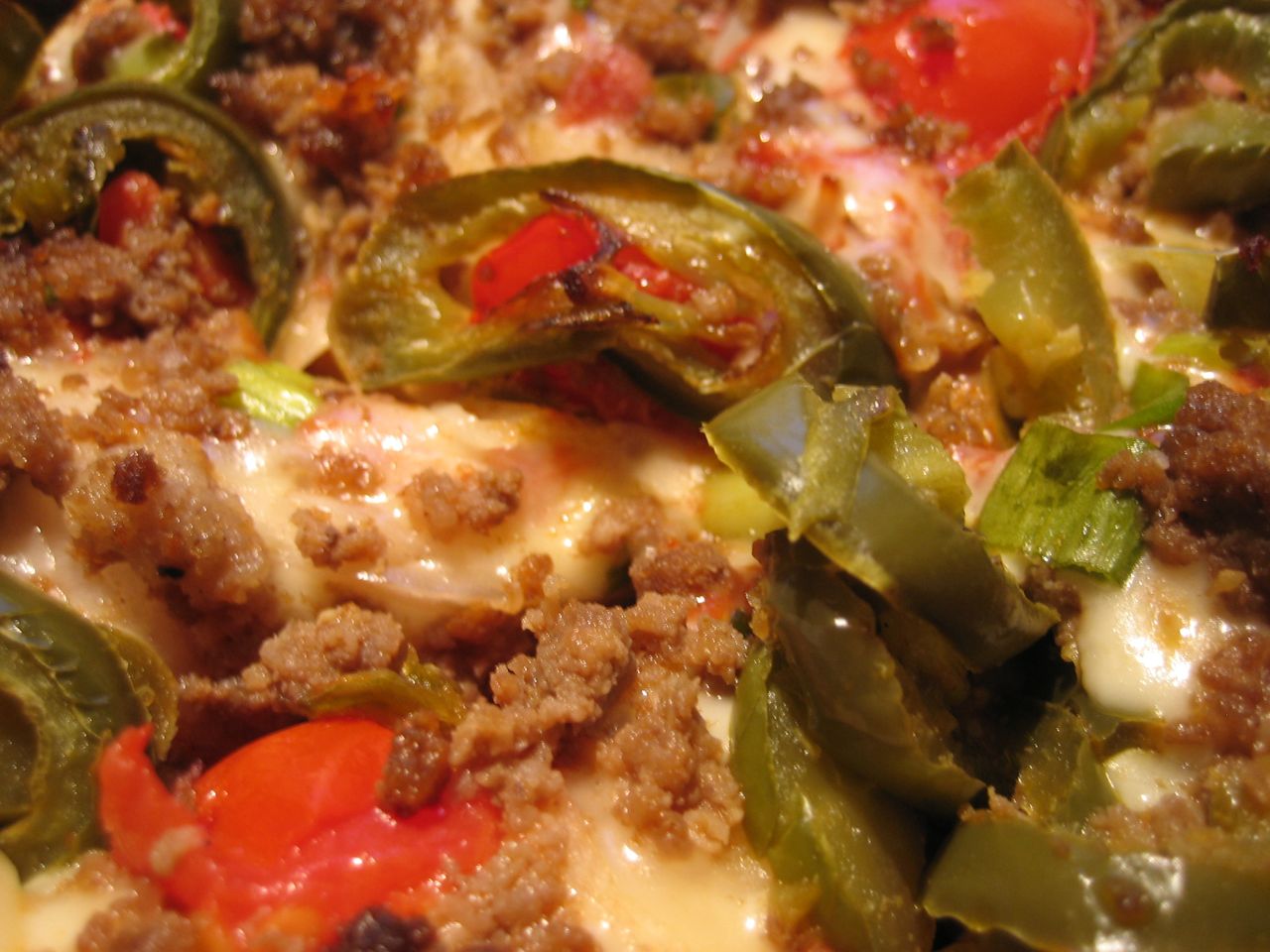 The Mexican consisted of fresh sliced cherry tomatoes, onions, ground beef , cheddar and jalapenos. On both pizzas there was a good proportion of cheese. Y'know how sometimes you get a pizza and it's just a body clogging brick of cheese? Pizza Hot Spot puts more toppings than cheese on the pizza, and that's a good thing in my book. The ground beef could have used a tad more seasoning and the jalapenos were very mild; so if you are expecting a spicy kick it's not to be had. However, if you don't use sriracha on a regular basis, the Mexican pizza may be just right spice-wise. Over all the pizza was still pretty darn good.
The crust. Mavis' house made crust is arguably one of the best medium crust we've had lately. It had a bit of chew, without being overly thick, the bottom was nicely crisp as well as the edges. No "hard" spots. Our two medium sized pizzas came to $44.69. It's a bit pricey for pizza, but pizza is only a "sometime" food in our house and it was damn good. So I would not mind paying this price again if the quality remains the same. Pizza by the slice is also sold here. I'd take Hot Spot pizza over any of the chains out there anyday. Below is the "opening menu," I'm sure it will be tweaked and perhaps other items added as they get comfortable with their new business.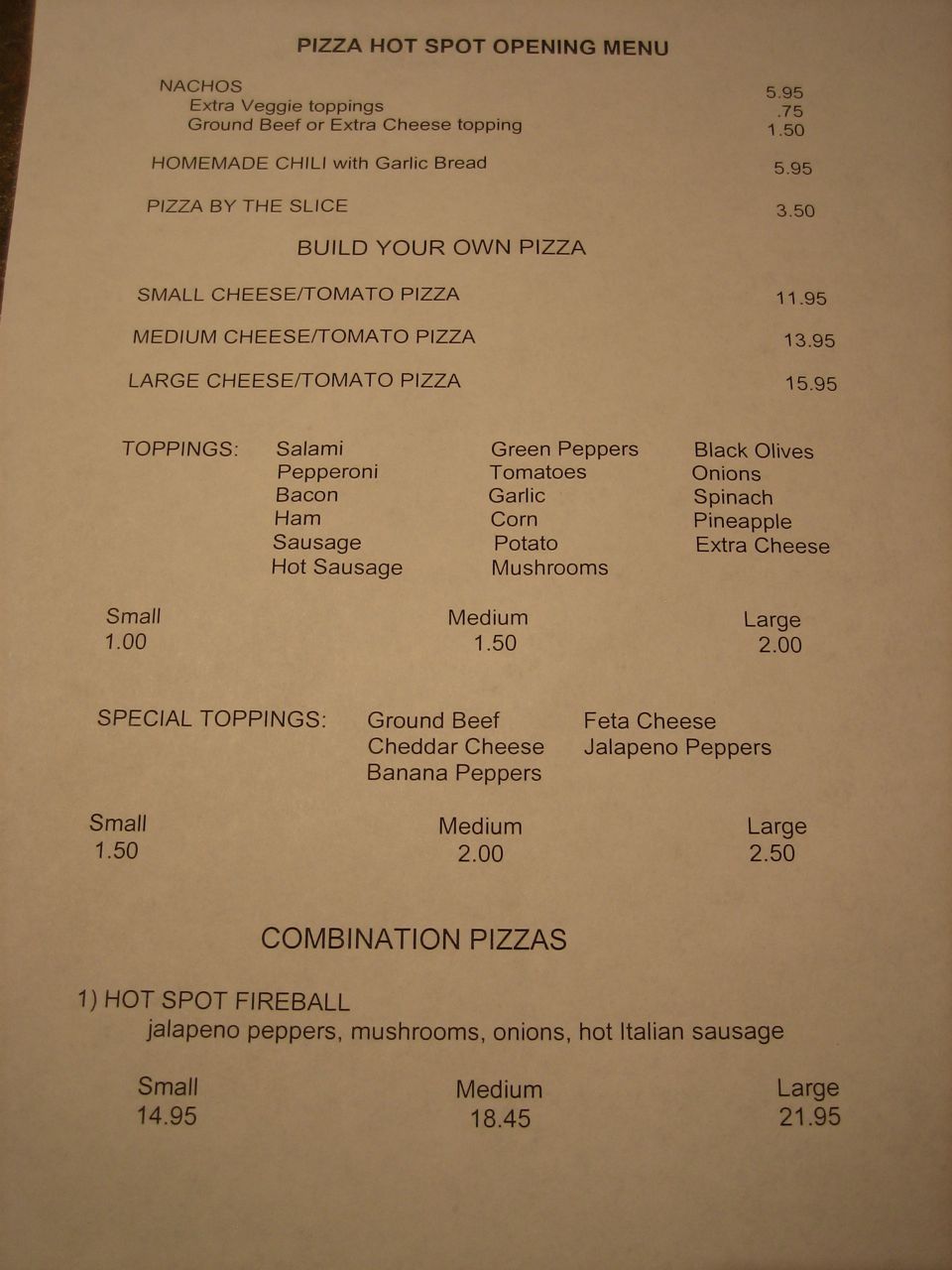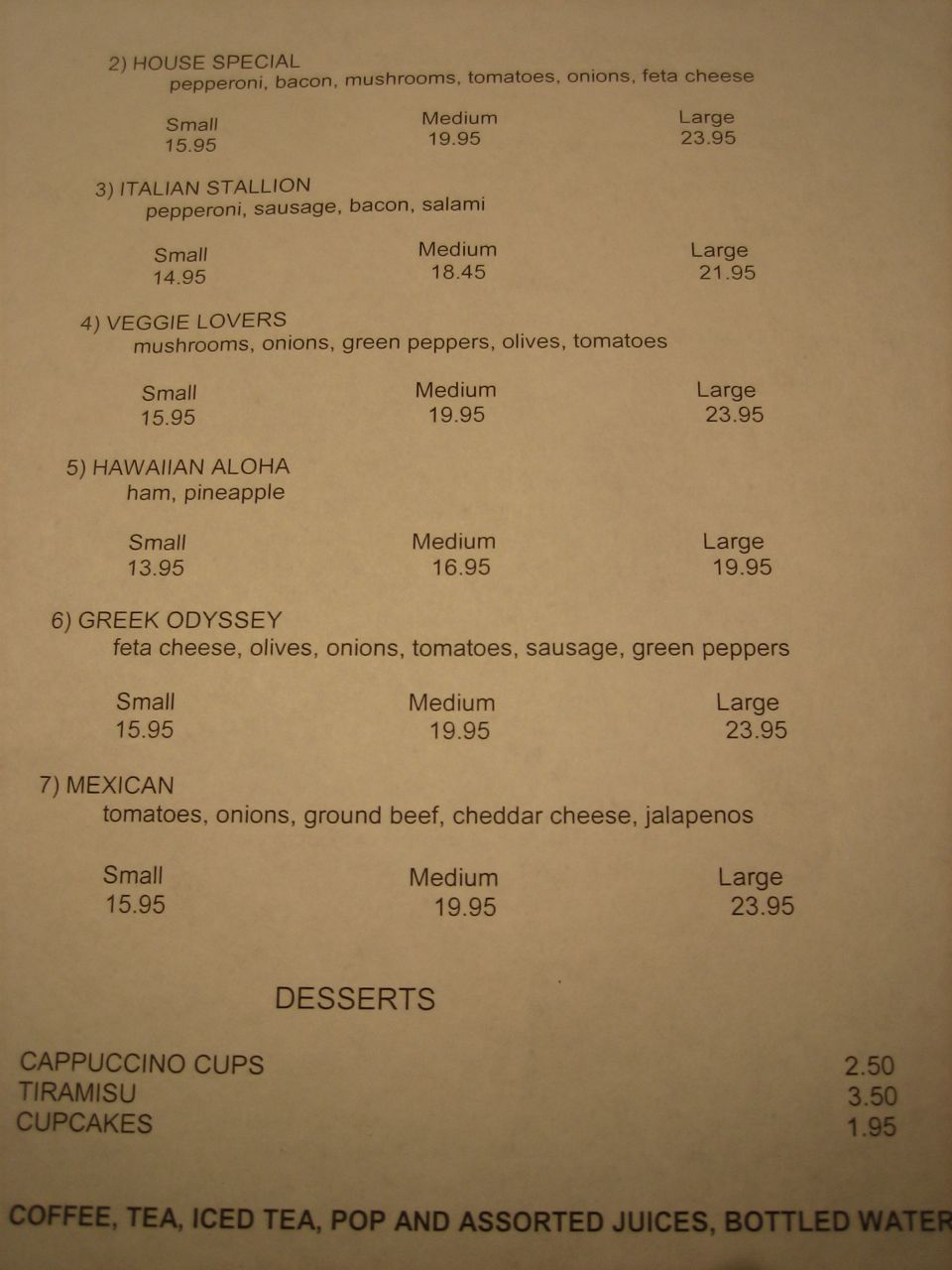 Lytton's previous source of pizza was the defunct Acacia Leaf Cafe. The village hasn't had a pizza place for a couple of years, and what it has now is heads and shoulders above what the previous pizza place cranked out. Pizza Hot Spot should be a welcome addition on Main Street. We were there on a Friday evening and a constant stream of customers made their way in and out ordering and picking up pizza. Their phone was ringing frequently as well during our wait. I think Lytton has a winner here. Mavis' mad cooking skills have made Pizza Hot Spot a must try if you're coming through the canyon. Drop by and try her pizza for yourself.

Location
Pizza Hot Spot
300 block Main Street
Lytton
,
BC
V0K 1A0
Canada