Reply to comment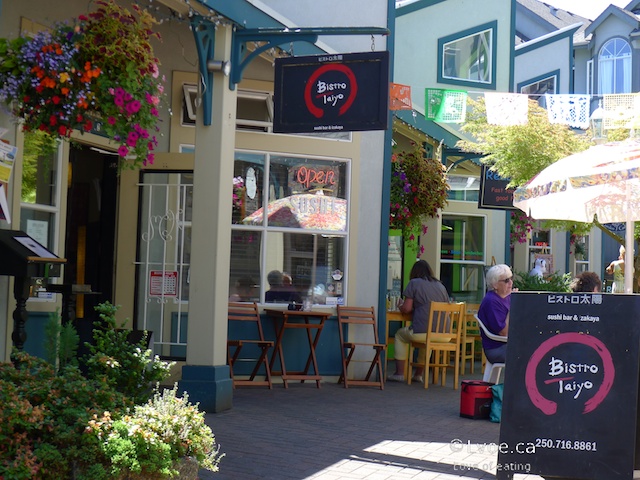 The last time I was at Bistro Taiyo it was a little Japanese home-style café with a hand drawn menu adorned with a cartoon sunshine staring back at you. That was a while ago. Now Bistro Taiyo is a sushi bar. The restaurant is tucked in the Heritage Mews in the Old City Quarter just off of Wesley Street. It's right next to 899 Kitchen. Click here to read about my 899 Kitchen noodles.
Green Tea ($1.50)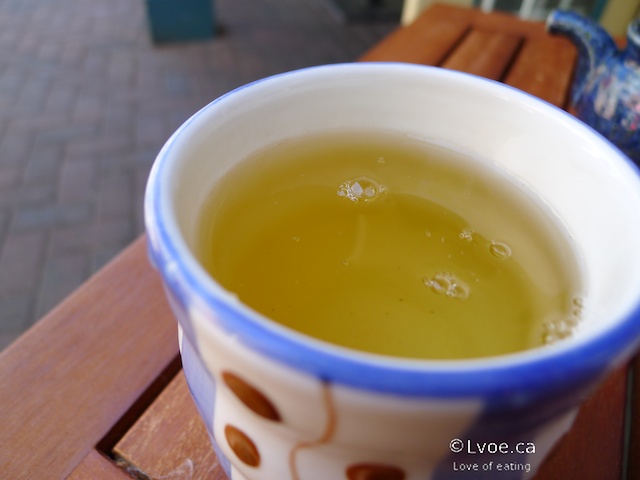 I grab a seat beside a table of knitters. No, actually I think they are crochet-ers. (It's hard to tell some of them have needles and others have hooks.) It must be a club or something because it seems there is some sort of mentorship. Service is pretty fast and courteous. The tea comes out with the menu and I'm left to peruse.
Salmon Oyakodon ($16.95)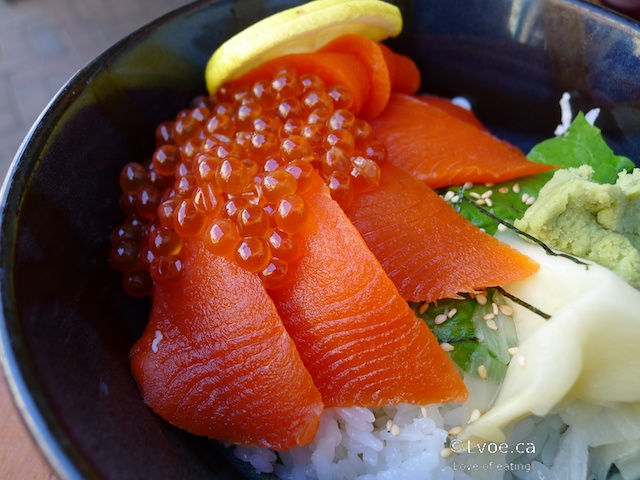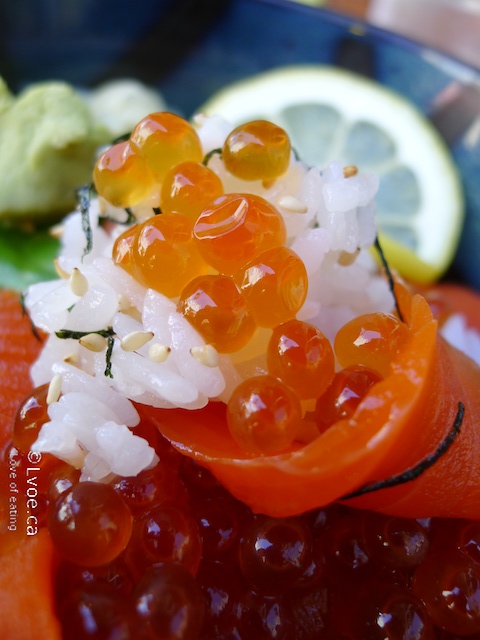 So instead of chicken and egg, the "oyako" here is salmon and roe. The beginning and end of the salmon life cycle sure are delectable. The donburi is filling but that didn't stop me from ordering up a roll too. The Crochet Club is pretty intense. (No, wait. They are knitters...I think.) The junior* member is concerned about the fact that she chose a pattern that is well beyond her capabilities. Her mentor swoops in with encouragement, and quells junior's fear of pattern choice, "Take a breath, I'll be right here beside you." Wow, it's like she learning to drive for the first time or something.
*Note when I say "junior member" the knitter is still well past retirement age.
Miso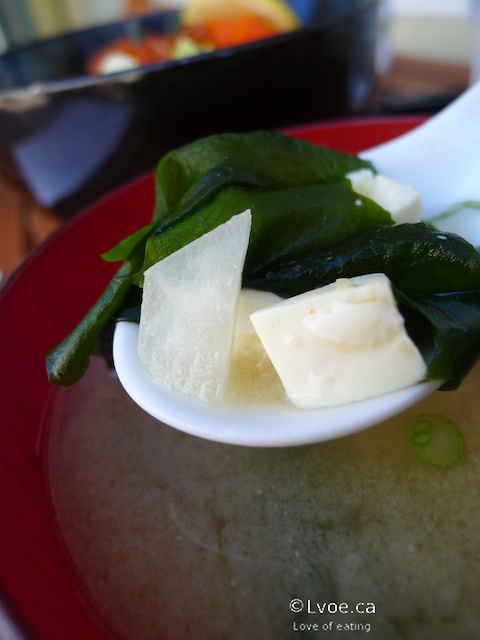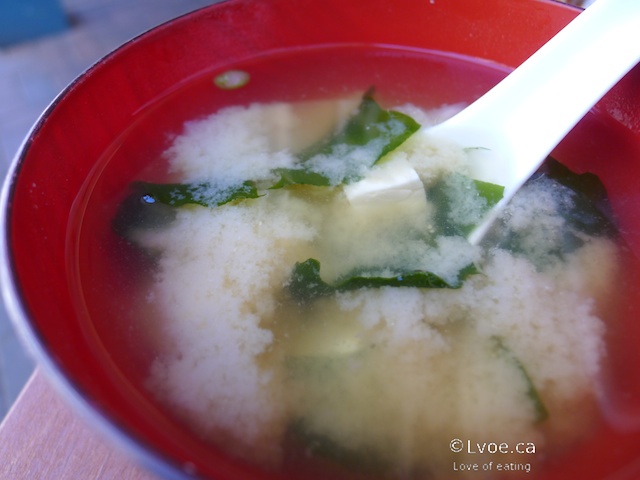 I've never been a huge fan of miso soup, but Bistro Taiyo version is "heartier" than others, if "heartier" can be a descriptor of miso soup. There is ample tofu, and daikon resting at the bottom with wakame and scallions floating on top. Is this Purl Pack the type of folk that take part in yarn bombing? Is it these bad ass seniors beside me that go around town in the wee hours to tag public places with their textiles, all gangsta styles? A.L. documented this action in Kamloops back in the summer.
Taiyo House Roll ($9.45)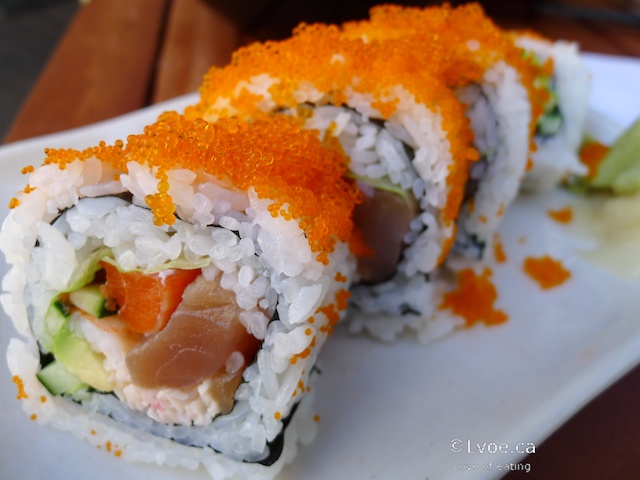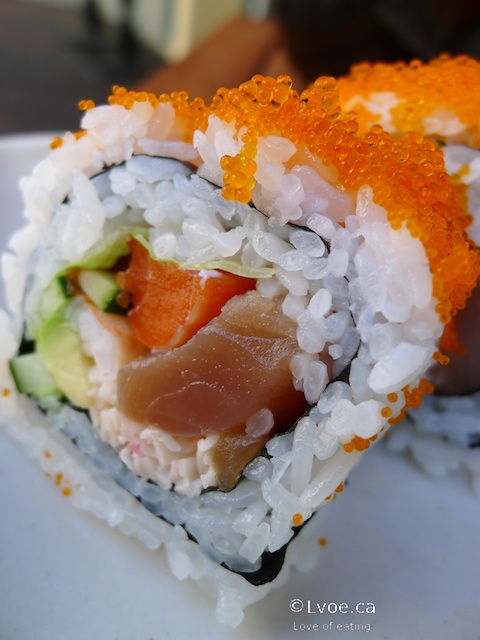 The Taiyo House roll appealed to me at the time of order, because it I couldn't decide what I wanted in a maki today. The Taiyo rolls has Tuna, salmon, ebi, crab, avocado and tobiko covered; since it has five different seafoods in one roll, I figure it'd be the logical choice.
Have you ever received those knitted or crocheted dish towels? They look like little quilt squares. I received some from my well meaning knitting friends, and these "dish towels" remain unused in my kitchen drawer. I appreciate the thought and the work that went into making them, but seriously, these do not work like a normal dish rag or kitchen towel! There are a few of these squares in the staff kitchen of one of my work locations and it is always the nastiest looking thing near the sink. Even the clean ones, never seem clean... Am I missing something?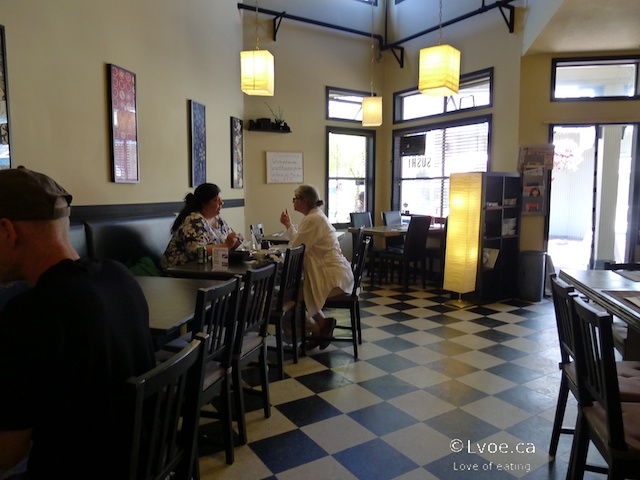 Taiyo Bistro has decent sushi offerings and the service is young and super friendly. Although the restaurant has changed hands and cuisine style over the years, it nice to see that it still remains in the Heritage Mews and seems fairly popular too.
Bistro Taiyo website click here
Bistro Taiyo Facebook click here
Locations
Bistro Taiyo Sushi Bar and Izakaya
321 Wesley Street, Unit 2
(Heritage Mews)
Nanaimo
,
BC
V9R 3A7
Canada