Reply to comment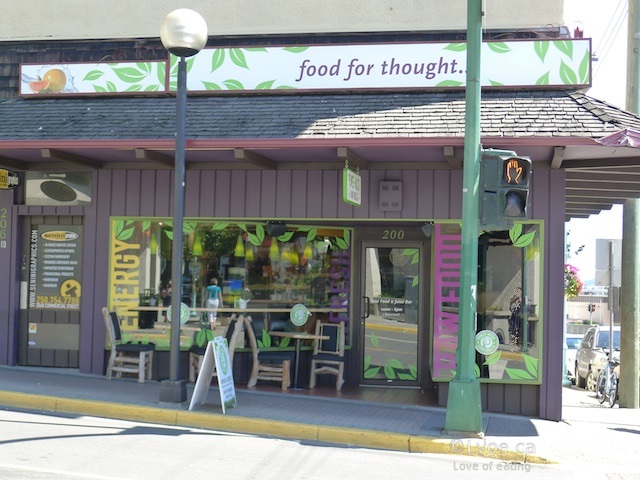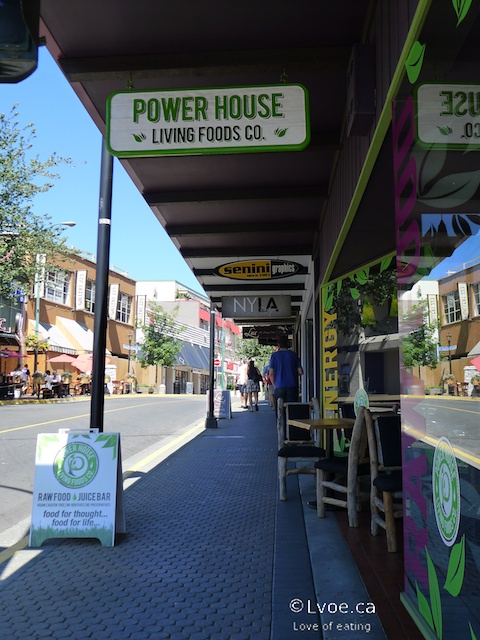 The days are slipping away on me! It's been awhile since my last post, and it's already December! This weekend I tagged along with a hyper-organized friend of mine, while she finished her holiday shopping. To my relief, the stores were not as busy with shoppers as I thought it would be.
So on a different note, I was chatting with a colleague a while back, and she told me about a great vegetarian pizza she had recently. I am intrigued. Oh, and did I mention said colleague is a vegetarian? I know what you're thinking:
"How can we possibly be friends?"
It's possible, I do enjoy some vegetarian selections, and most vegetarian people.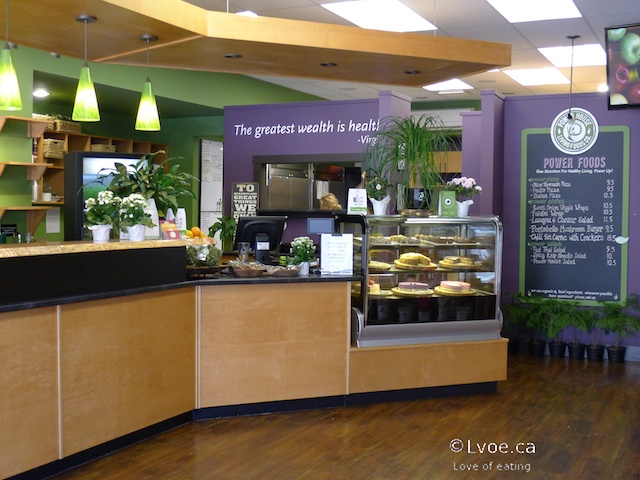 My colleague's veggie pizza is what brings me to Power House Living Foods. It's a raw foods eatery. Hmmm, my stealthy peer conveniently did not mention that this "vegetarian pizza" would be from a raw foods restaurant. Have I been bamboozled?
Somewhere in Nanaimo today, my friend is having a little chuckle to herself.
My last raw foods post on Love of Eating was three years ago, when Pure Cuisine was still open in Kamloops. Click here for my Pure Cuisine "burger" and "pasta n' cheese." I think it takes a bit of creative savvy to make a savoury "cheese sauce" out of some nuts!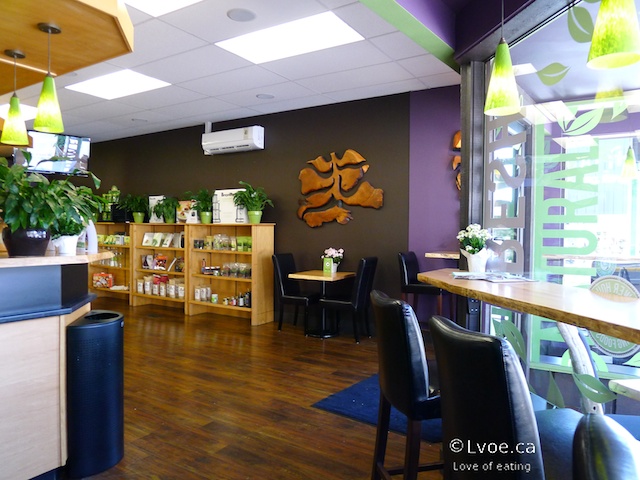 Power House Living Foods has been around for two years. (Almost to the day as their opening anniversary was two days ago.) There are two locations in Nanaimo: Downtown and North Nanaimo on Metral Drive.
As I peruse the drink menu, I decide that the Power House smoothies sound excellent!
Monkey Business Smoothie ($7.50)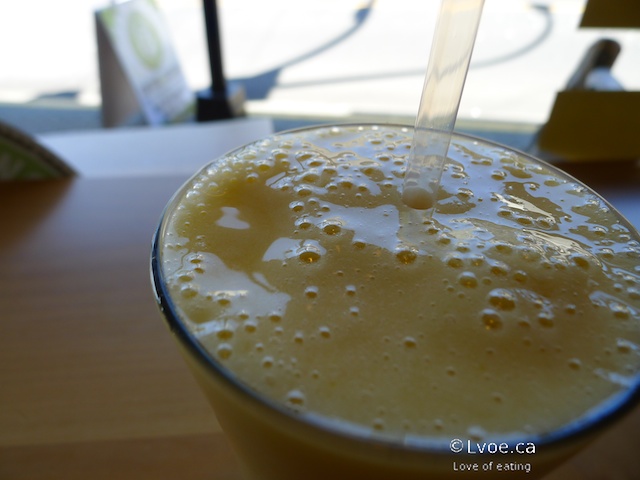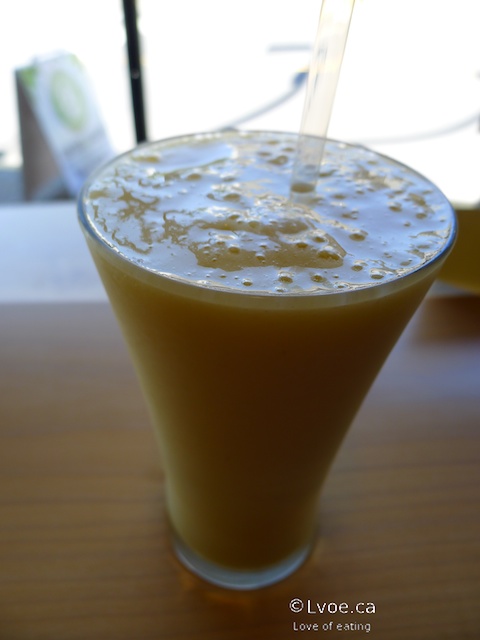 Power House offers two smoothie sizes: 16 or 24 ounces. I opt for the smaller of the two, as I often find smoothies to be quite filling. Monkey Business is a thick blend of pineapples, mangoes, and of course banana. The drink is sweetened with agave,and coconut water makes the viscosity perfectly straw-suckin'-friendly.
I tend to avoid public places as much as I can during the holiday shopping season. Especially retail places. It's all just too much. Apparently, my Organized Friend and I are on the look out for an ice fishing tent.
Olive Tapenade Pizza ($9.50)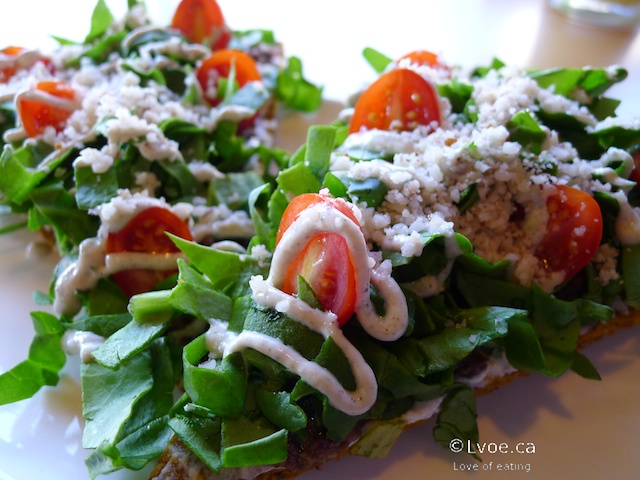 Okay, I need to go at this not so much as a "pizza," but as a salad on a cracker. And for a salad on a cracker, it's not bad. The cashew "ricotta" and the olive-packed tapenade create the "pizza sauce," upon which fresh baby spinach and cherry tomatoes rest. I love olives, so I do enjoy the tang and zip of the tapenade.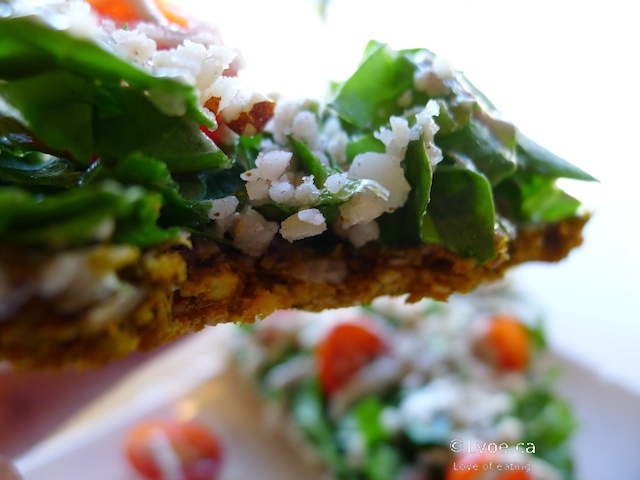 The "crust," in this case, is nutty and hearty; it's like a soft pressed cracker/thin bread type thing. The extra "dressing" drizzled on top is a cashew based ranch dressing and Brazil nut "parmesan."
Found the Ice Fishing tent! It's so much bigger than I imagined. Do you ice fish? I've never been. This 3 person tent makes it seem like it could be fun.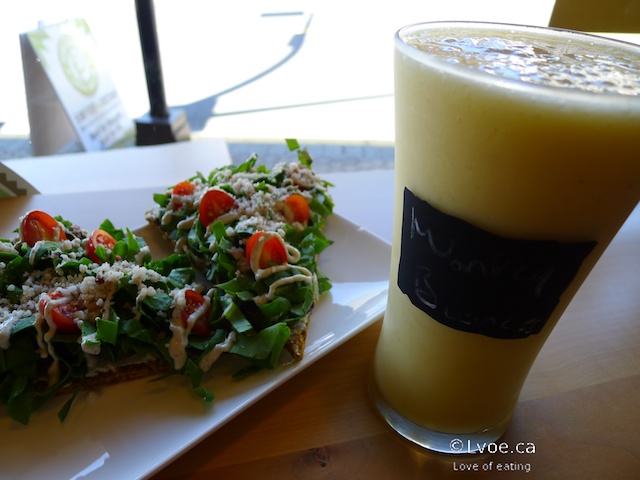 This is a refreshing clean tasting meal. I'm leaving feeling pretty full and satiated, I'm not sure if it was due to the smoothie or the salad...erm "pizza." Power House Living Foods also has very tempting dessert selections in the display case today too. I'll have to save dessert for another day.
But still, I think I need to have a follow-up chat with my Selective-With-the-Details colleague...
Power House Living Foods hours:
Open everyday 10am to 6pm
Power House Living Foods website click here
Power House Living Foods Facebook click here
Locations
Power House Living Foods
200 Commercial Street
(intersection of Bastion and Commercial)
Nanaimo
,
BC
V9R 5G6
Canada