Reply to comment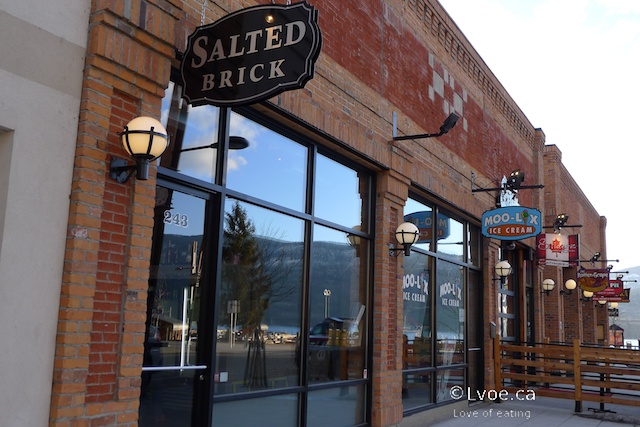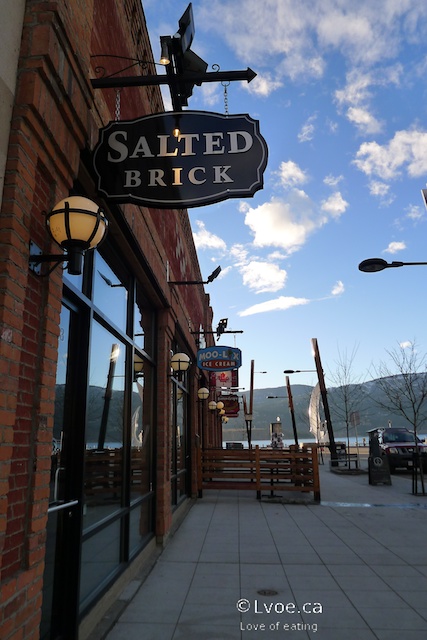 I find myself at Salted Brick, which is a walk-by discovery for me. I'm trying to cut down on my cured meat intake, but I love simple charcuterie. Salted Brick is located on Bernard Avenue between the Paramount Theatre and Moo Lix Ice Cream.(Click here for my Moo Lix visit.)
The space is open and the service is welcoming and casual. It's the perfect choice if you want to have a little wine and some lovely eats with companions to chat about current events...such as, where has that plane gone?
Blue Cheese and Dates (.50 cents each)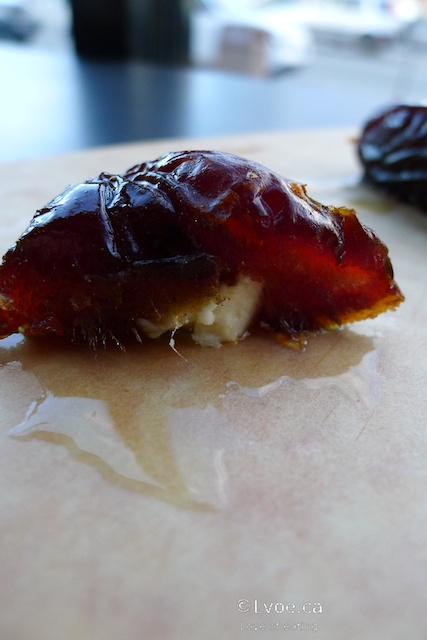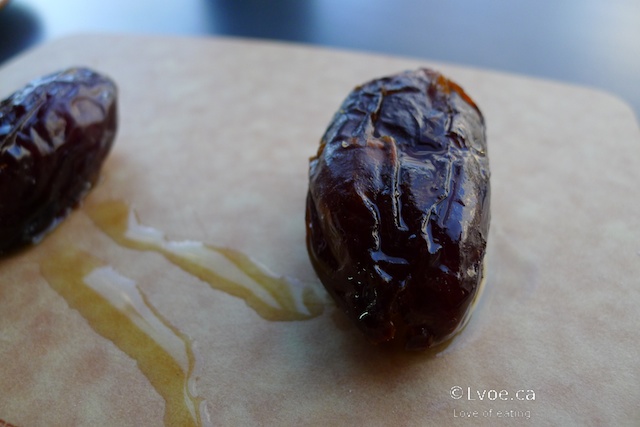 These are so delightful! The dates are soft and sweet until I get to the sharp salty hit of blue cheese. I love sweet and savoury combinations and these lil' nuggets make me want to stay to see what else I can order from the menu.
Albacore Tuna Pig Head Endive Salad ($10.00)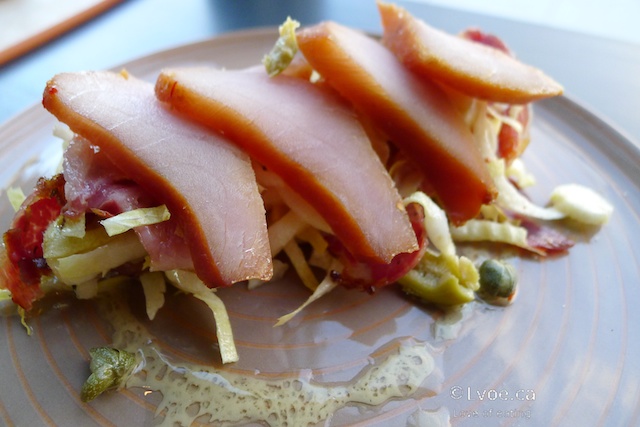 I'm not one to get jizzy over salad, but put some pork face and fish on a plate and I'm all over it. I used to live with a family in Italy who had these amazing grandparents that grew/raised and made virtually everything they ate from their small farm. I remember watching Nonni's sundried hands prepare porchetta di testa. It's literally a rolled up pig face...and it's delicious.
But seriously folks, where is that plane?
Duck Rillettes ($6.00)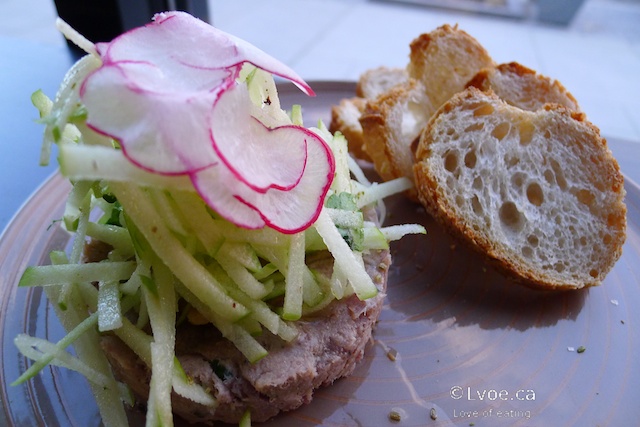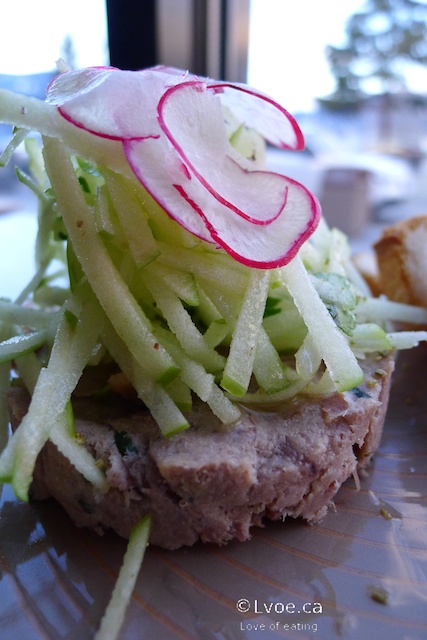 So much fresh flavour here. Rillettes is a good alternative for folks that like the flavours of pate, but prefer a different texture. Slivers of granny smith give the shredded duck meat an interesting mix of textures, and eye catching colour contrast. Super.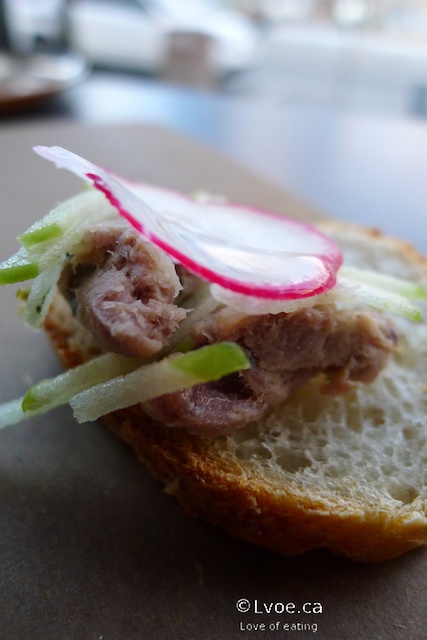 Artisan Cheese and House Cured Meats ($14.00)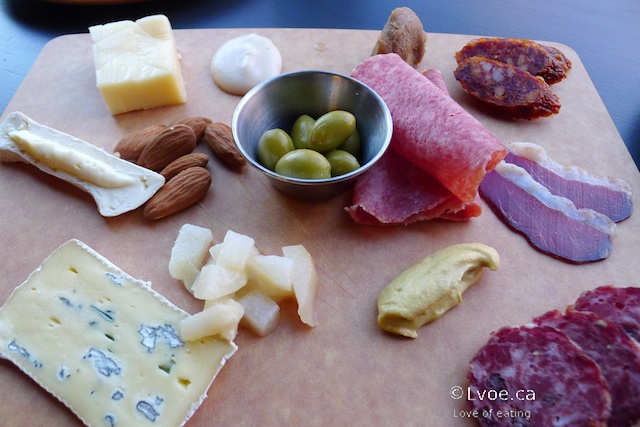 Doesn't this board of awesomeness look like it just wants the eater to relax and enjoy? Good bread, good cheese and good cured meat are all I need. Aren't these the basics in life?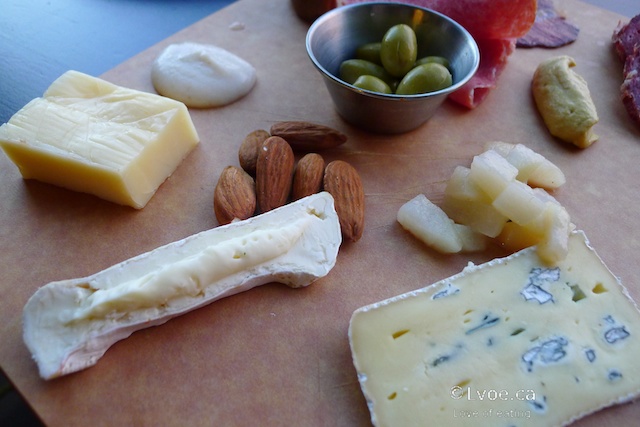 From left to right: we have a small brick of cheddar next to a dollop of apple compote; a slice of Camembert next to some whole almonds; the server called this next one, "blue cheese camembert" and above it is a small mound of pear salsa.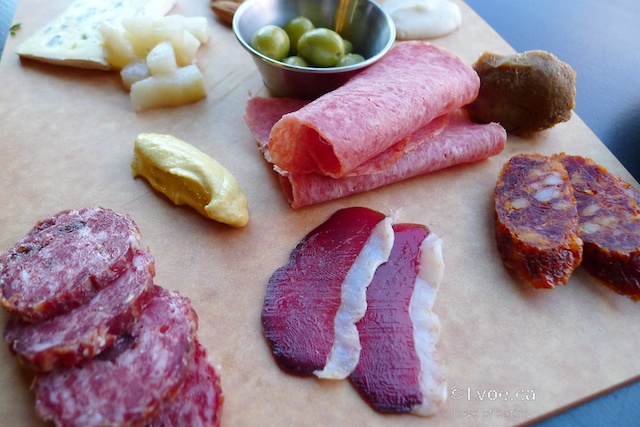 Now the charcuterie, again from left to right: Venison Cranberry salami, a dollop of mustard and under the container of olives lies some folds of salami. Please check out the brown blob next to the salami. This, my friends, is onion jam, and onion jam... is the jam! So good! Front and center we have Duck Prosciutto and to the right of it is chorizo.
I love eating like this. Experimenting with different flavour combinations and finding some favourites.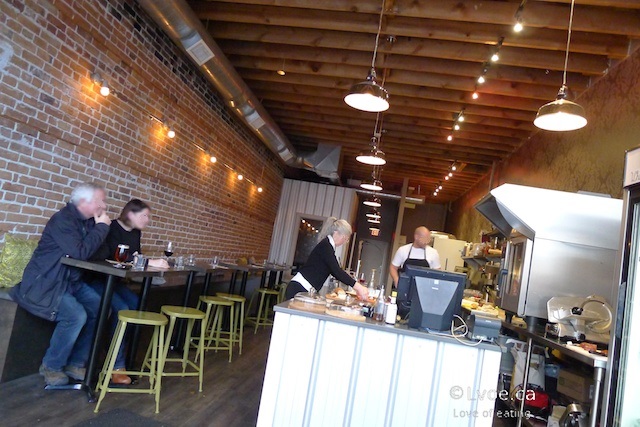 Most news outlets have moved onto other news, but I'm still wondering about that plane.
As I'm pondering the plane, a knowing customer comes in and orders a sandwich to go. Hey, I didn't know Salted Brick did take-away sandwiches too? The Knowing Customer also inquired about the soups while he waited for his sandwich. Soups too, Salted Brick? I already had a crush on you from your house cured meats, but if you are offering up hot soups as well, this innocent crush may turn into full on lust. I must return to investigate these further.
Salted Brick has an ever changing fresh sheet menu so all the more reason to return. Here is what was available on the night of my visit:
Salted Brick hours:
Sunday to Tuesday 10:00am – 6:00pm
Wednesday to Saturday 10:00am – 10:00pm
Salted Brick website click here
Salted Brick facebook click here
Locations
Salted Brick
243 Bernard Avenue
Kelowna
,
BC
V1Y 642
Canada