Reply to comment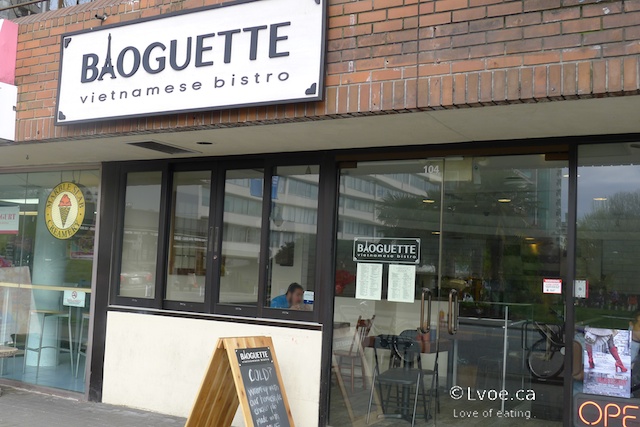 I've been back and forth to and from the coast for the past several weeks, and it seems it will be this way for the next little while. I figure I'll throw in a coastal entry or two; otherwise I won't be penning anything for weeks!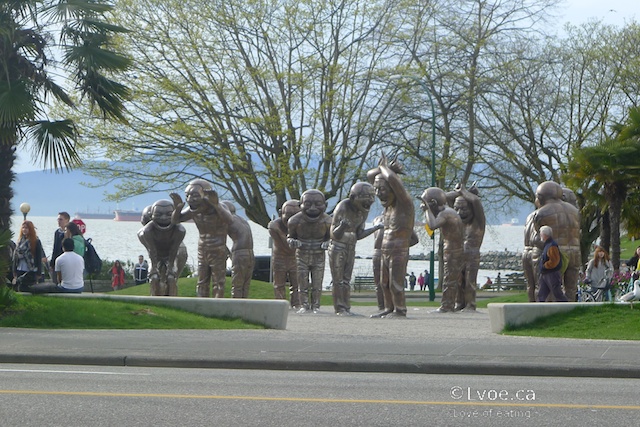 Baoguette is a little Vietnamese eatery on Denman and Beach Avenue. It's right across from the wildly popular art installation: A-Maze-ing Laughter or "Laughing Man Statues."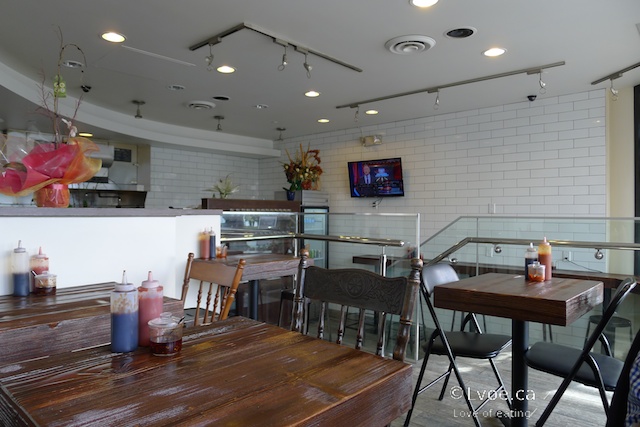 Baoguette's space is clean and contemporary…especially for a pho place.
House Special Roll ($5.25)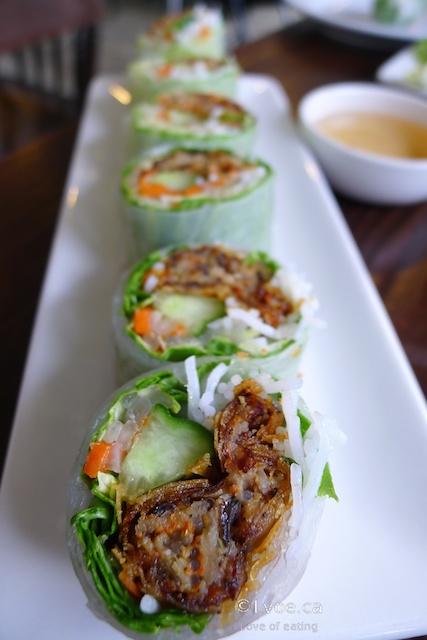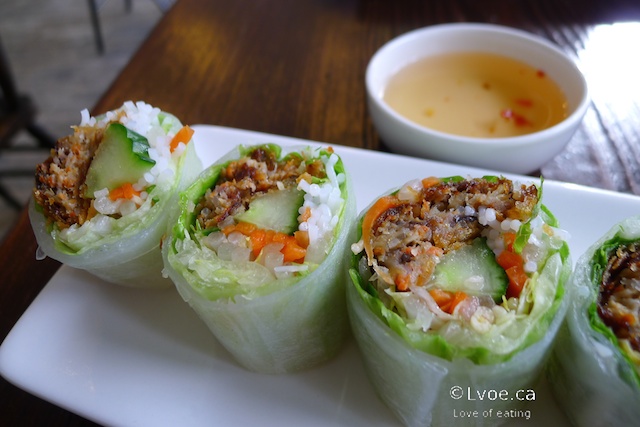 The last time I had one of these was at Pho Tin Tin in Nanaimo. It's a crispy spring roll that is wrapped inside of a salad roll. I like this Roll-Within-A-Roll idea. It's like the Turducken of salad rolls. I haven't really looked for this item in other Vietnamese eateries, but I think I'm going to start seeking these out. I quite enjoy the contrast in textures and temperature.
Goi Cuon or Shrimp Salad Rolls ($5.75)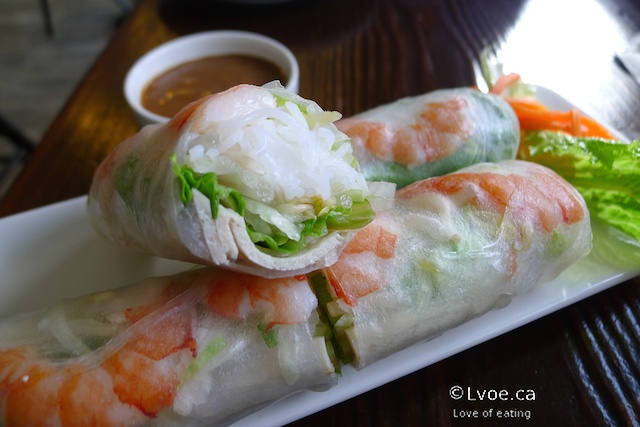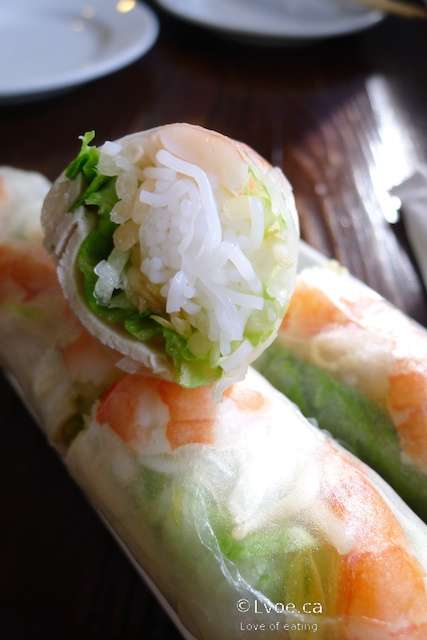 The chubby rolls are some of the fattest I've had in a while. Both the Special House Roll and Shrimp Salad Roll are neatly put together and didn't fall apart when dipping and noshing. This is important to me. I hate fishing pieces of vermicelli out of the nuoc mam cham, or having the roll fall apart as I attempt a bite. Y'know what I mean?
With my cheeks chipmunk-chubby full of shrimp roll, I peer out the window and spy loads of folks waiting their turn to strike a pose with the grinning bronze statues. Everyone has a goofy smile on their face.
Grilled Lemongrass Chicken ($?)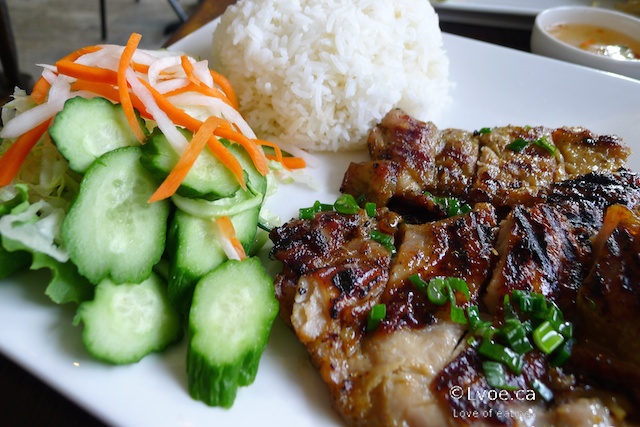 There's something so comforting about grilled meats and a warm sunny day: they just pair together so nicely. I really enjoy the aroma of the grilled chicken; the flattened meat has just the right amount of char. I also like that Baogette is not heavy handed with the seasoning. It's rare that I order a non-noodle dish when I go out for Vietnamese food, but lately I've been trying to branch out.
Pho Dac Biet ($8.50)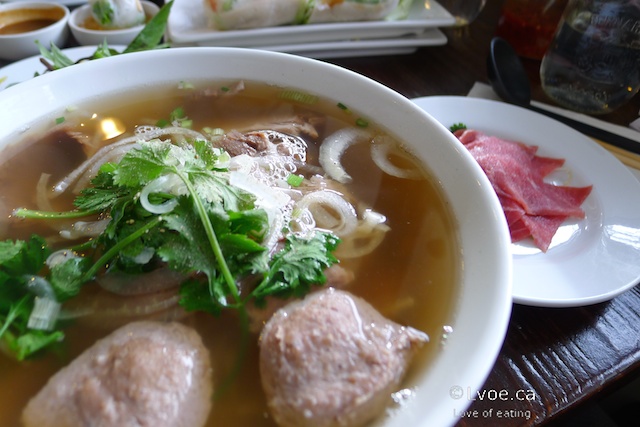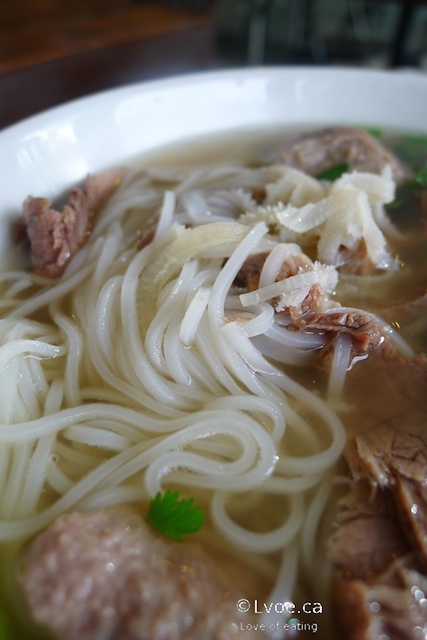 Clearly, I can't seem to branch out too much though. Here's my predictable order of the house special beef noodle soup. The noodles are tender with a bit of bounce and chew. I'm getting pretty satiated at this point so the broth is all a blur to me. I know, that's not helpful is it?
Service is easy and fast. The table spaces fill up quickly as I watch late comers head down a few steps to Baoguette's bar style seating. There is still a mound of people having a great time with the statues as I leave Baoguette with my own goofy grin upon my face.
Baoguette Facebook Click Here
Locations
Baoguette Vietnamese Bistro
104 - 1184 Denman Street
Vancouver
,
BC
V6G 2M9
Canada