Reply to comment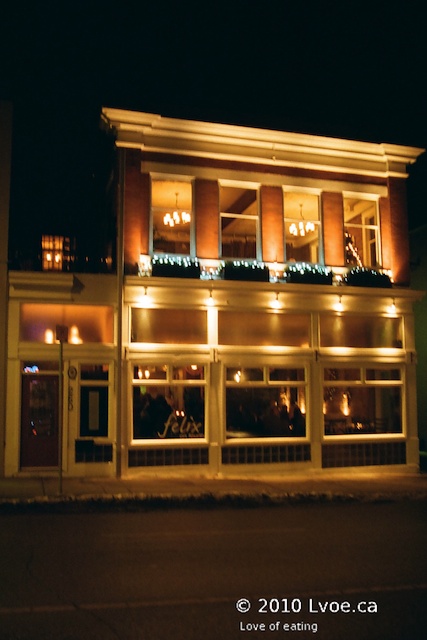 **UPDATE 2013: Felix on Fourth is now closed. Quattro Restaurant now fills the space**
Oh, the holiday season is officially upon us. It was the opening of A Christmas Carol at the Sagebrush Theatre this past weekend. The day was also busy with the official arrival of Saint Nicolas in Kamloops. The bah humbug in me opted to avoid this planned traffic fiasco and we decided to enjoy a dinner rather than a lunch downtown. I don't really know how bad traffic gets in Kamloops, but I've experienced far too many devilish traffic snafus due to the jolly fat man on the coast to take that gamble. Santa does after all have a more sinister anagram...
The evening turned out to be a beautiful night, cold but dry. Perfect time to stop in at Felix on Fourth for some eats before the play. With a 7:30 front-of-house call at the Sagebrush, we had ample time to enjoy a three course'er. Felix's is a relatively small, casual style bistro located in downtown Kamloops, just off of Victoria Street. On Fourth. Ob...viously (in your best Severus Snape voice.)
The cozy space quickly filled to capacity, and had already turned over some tables within the first hour. Popular little place.
In the beginning...
Tartar ($11.00)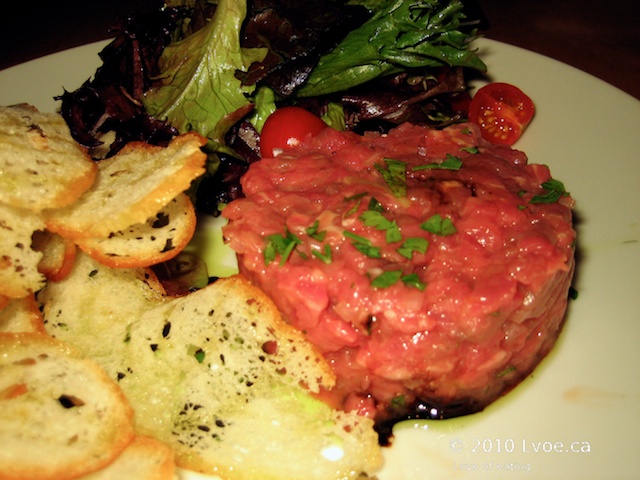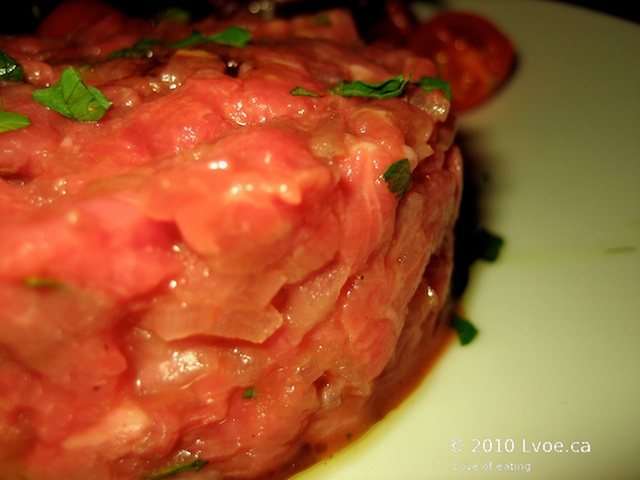 There is a choice of tuna or steak tartar (or tartare, for the sake of this post I'll use the spelling on Felix's menu.) I went with the beef. Just what is it about raw meat? I adore the stuff. I still daydream about the butter beef dish at Phnom Penh on east Georgia Street. Any type of Carpaccio, tartar, yook hwe, or beef sashimi…I can't say no. Felix's tartar is pretty solid and straight forward. There are no extra accoutrements that adorn the steak, but that's okay with me as the tartar itself is well seasoned with a nice tang. Their version of crostini is wildly thin, almost like a potato chip. Thin enough that it added a crunch but didn't interfere with the star performer. It is the perfect vehicle to get the beef in my belly, without feeling like I'm eating a loaf of bread.
Crab rolls ($13.00)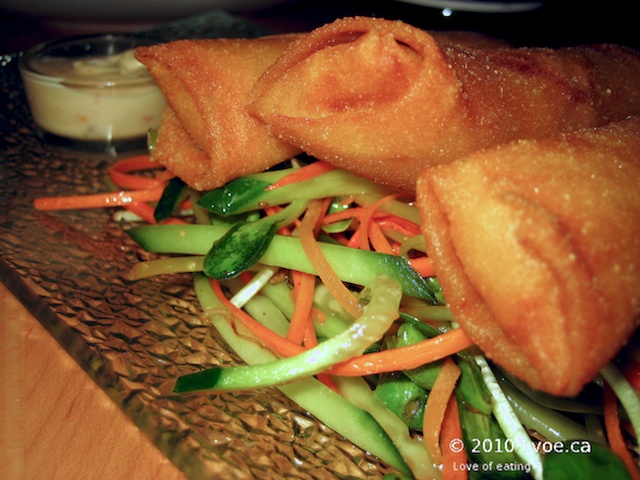 DL enjoyed the soft crab cake-like interior with the contrast of the crispy exterior wrapper. DL's all about the dips, and the sweet chili mayo sealed the deal. I, on the other hand, only took a bite of one of these rolls. Y'know how fresh crustaceans are supposed to taste sweet and mild without that seafood-y taste? Well to me, these are a bit "crabby" tasting. It's that kind of taste that would make my mother wrinkle her nose and no matter how great everything else in this meal turns out to be, this one unfortunate thing would be the lasting impression. Tough crowd, I know.
For fun...
Feature Martini ($9.00)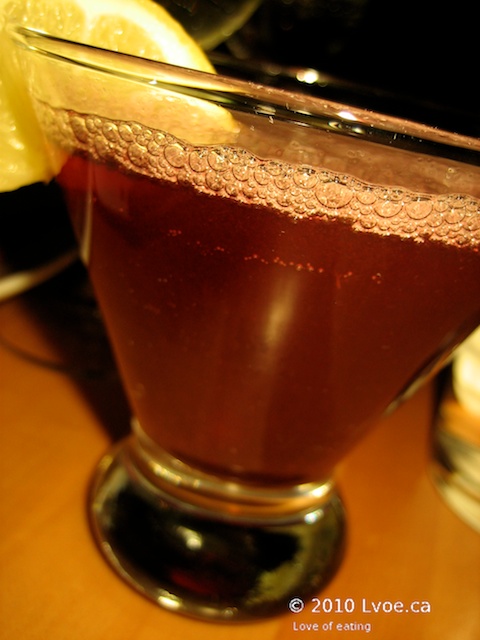 This martini has no official name, it is just a combination of ingredients that happen to be yummy together. Some of those ingredients are vodka, cranberry juice and a house made sage jelly. I wasn't planning to indulge in any cocktails tonight, but I spied the other tables around us having a rousing good time with this feature martini. I am curious. It is much sweeter than I imagined. Delectable. A great after dinner or dessert drink.
In the middle...
Cod ($29.00)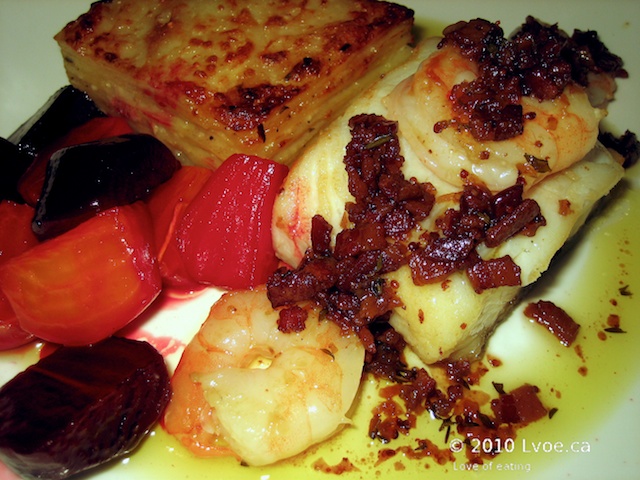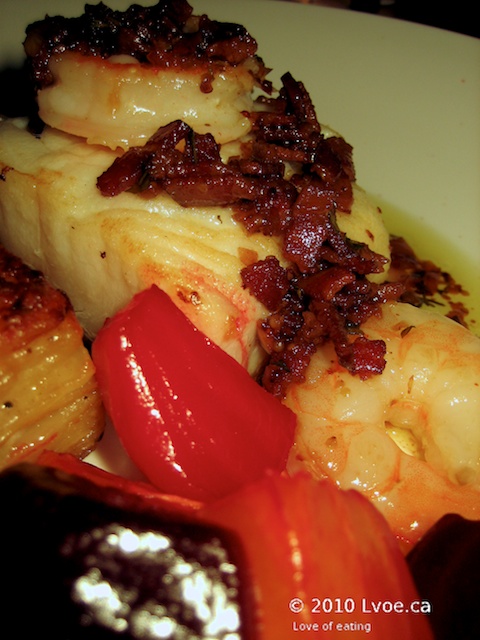 When I think of cod, I think of Emerson Cod in his fish-print raincoat. Did you ever watch Pushing Daisies? Apparently nobody did, as this charming show was cancelled after 22 episodes. Shame. Back on topic…I'm starting to relax about eating seafood so far inland. I hate wasting a good meal on badly prepared critters from the ocean. I've sacrificed too many meals to dry, overcooked pieces of fish in the past. However, I wanted to mix up my proteins a bit tonight and cod was their feature; so why not? Wow, this is heavenly. The flesh is voluptuous, flavorsome and so freakin' moist! Is it poached in oil? (I realized later in my notes, my steno didn't denote how the cod was prepared. Curses!) Oh yes, and there are three prawns included with the cod that I'm sure would receive approval from the elder crustacean eater mentioned previously above. No nose wrinkles here.
Chicken ($22.00)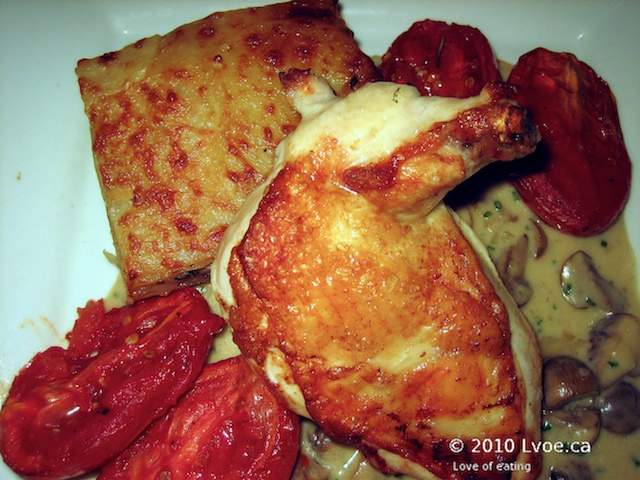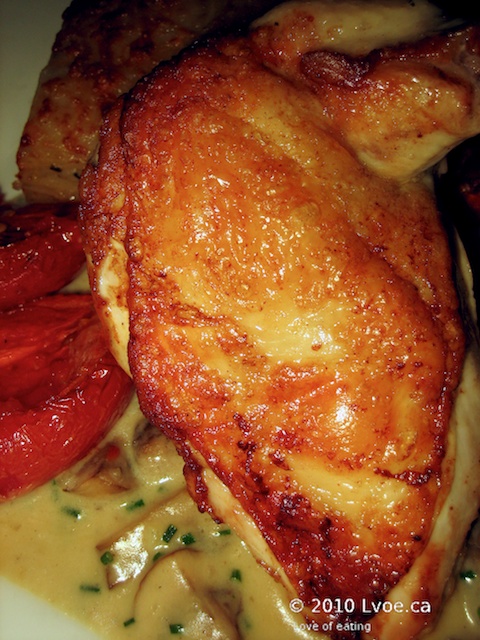 This chicken is very tender and juicy, and the golden crispy skin is an added bonus. I heart places that aren't shy to leave the skin on, and values what fat can contribute to a meal. Both the mains came with a side of neatly presented scalloped potatoes that are creamy smooth, but not so much that you can't taste the potato. See those tomatoes on the side? So innocent looking aren't they? You wouldn't expect these simple fruits to smack your face full of tomato packed goodness. DL is not one to get excited about tomatoes, but DL didn't stop yammering on about these.
All aspects of the first and main courses were mindfully seasoned. Getting the correct seasoning is so pivotal when it comes to enjoying or not enjoying a meal. The portion sizes were more than satisfying. We relished our initial two courses so much that we knew we had to see what they had in store for dessert.
In the end...
Lemon tart with vanilla gelato ($3.00)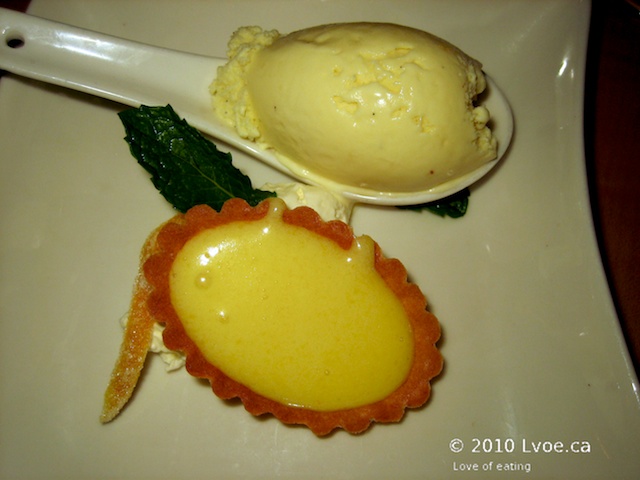 Perfect portion size. The lemony filling is tart, creamy and warm. It distinguishes itself nicely against the sweet, creamy and cold vanilla gelato. Super.
Honey and Thyme Crème brûlée ($3.00)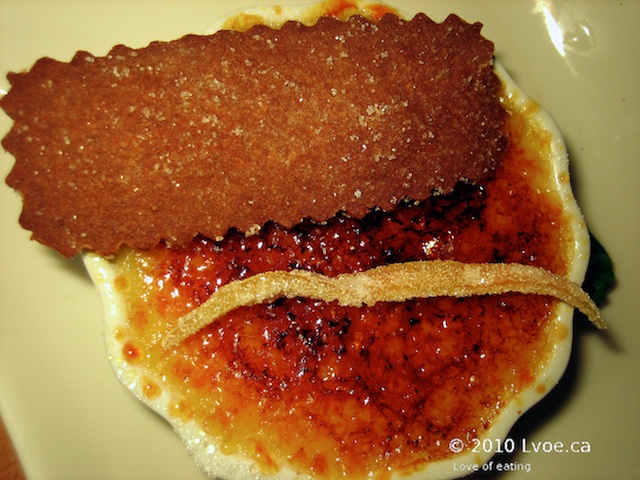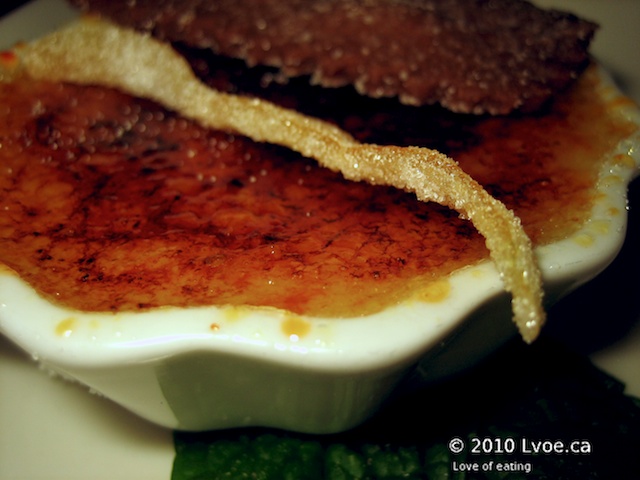 Honey and thyme what a great combination. As soon as we heard "honey and thyme" as our server recited the dessert offerings, it became a race to see who could order it first. That left the other person, who is too slow, to go with a second dessert choice. The glassy caramel is thick enough to get a good crack in with your spoon. The cool luscious custard is sweet and silky. Effortless to eat. Again the portion size is right on for a single person.
Service is a bit spotty. Although our server was friendly and apologetic, she forgot a couple of fairly major things during the course of the meal (eg: flatware, beverage order.) Considering we had three courses with generous sized starters and mains, I think the value is pretty decent,if not slightly better, compared with other establishments that are similar in atmosphere and menu choice. The above meal came to $107.52. This includes $6.00 for Pellegrino, I know crazy eh? I think this is the first time I've actually had to pay for water. It's been comp'd at previous places I've been to, especially when having three or more courses. Oh well, I do enjoy my fizzy Pellegrino so much.
Overall, I'm pretty delighted with the food tonight at Felix on Fourth. I've had many eats in the area where the sides are fantastic but the main attraction falls flat. I think this may be the first proper dinner I've had in town where the sides and the main protein are executed equally well and all three of my course selections kept me smiling throughout the meal.
Locations
Felix on Fourth
260 Fourth Avenue
Kamloops
,
BC
V2C 3N5
Canada