Mountain High Pizza Inc. - Kamloops, BC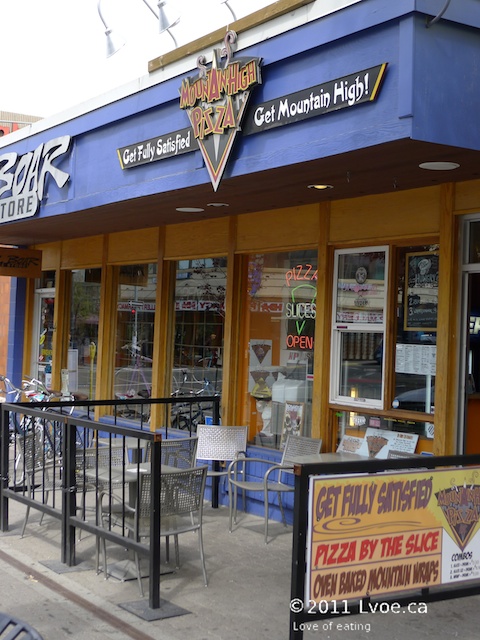 I had just put a loonie in the meter, only to find out my planned destination is closed this afternoon. Very annoying as I had called less than 24 hours ago and a staff member confirmed they would be open. So with 2 hours on the grey lollipop I decided to take a more leisurely stroll down Victoria.
After all this meandering through the shops, I need a snack and Mountain High Pizza looks like a quick fix. It is more DL's choice to have pizza today than it is mine. Mountain High has a two slices and a drink deal so we went with that.
Hot n' Spicy Pizza Slice ($8.75 two slices and a beverage)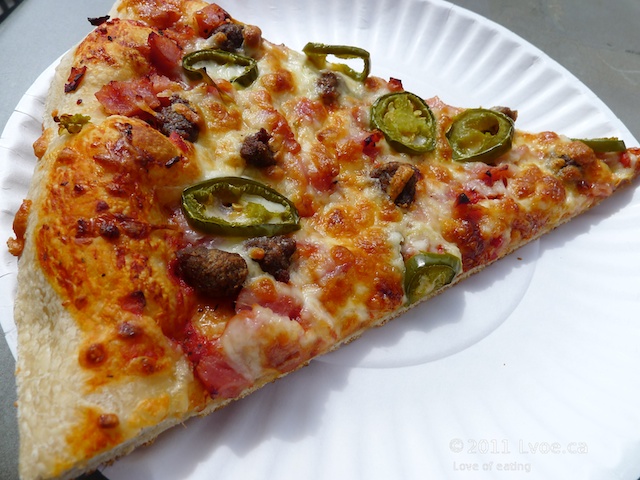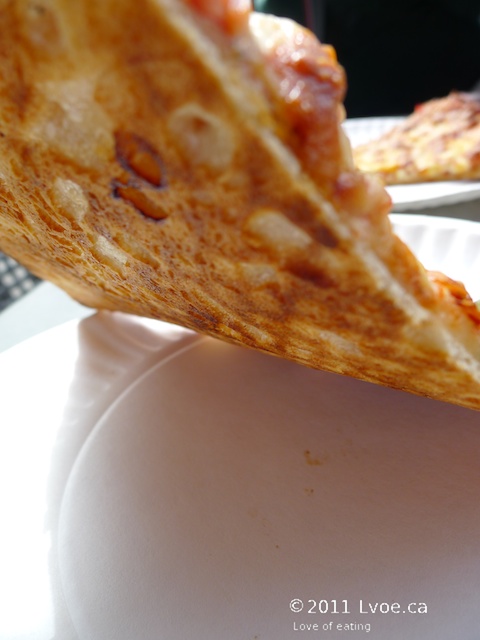 The toppings on this include ham, ground beef, jalapeño and mozzarella. The Hot n' Spicy has a nice heat to it. I appreciate that they are not shy with the jalapeños. It's a neat and tidy slice to eat. There are enough toppings to get the point across but it's not overflowing.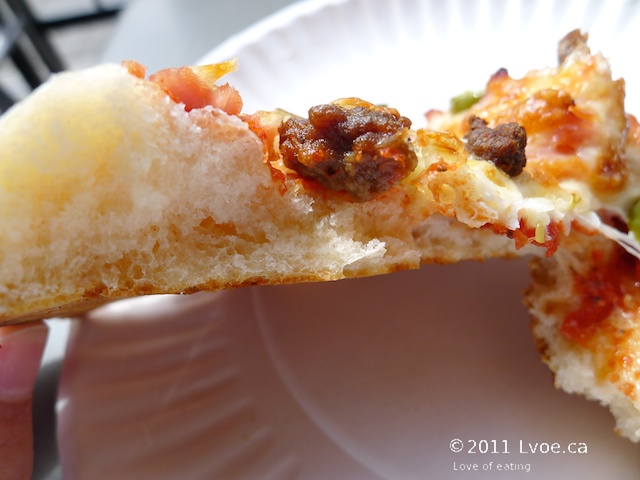 The crust is not exceptionally thin, but it's definitely not thick. The bread is non greasy and has a soft chew to it.
Pepperoni Pizza Slice ($8.75 two slices and a beverage)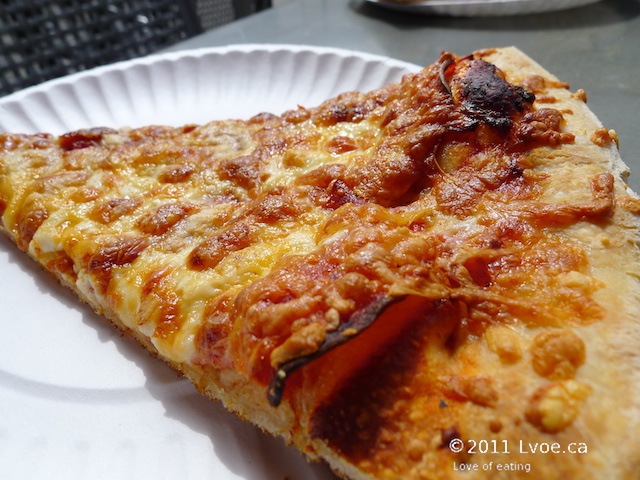 Pretty straightforward toppings. The pepperoni is nicely seasoned. Sometimes I find pepperoni to be very salty. There is a good ratio of cheese and pepperoni. (Keep in mind, I like the less-is-more approach when it comes to toppings on my pizza, and minimal cheese.) Crust is the same as above.
This "pizza-by-the-slice" style of selling pizza has never really appealed to me. I think it's the "not knowing how long the pizza has been sitting under the heat lamp" issue that deters me. Don't get me wrong, there was a time when, late at night after the clubs let out, the only food available off Granville Street was that dodgy 99 cent slice. And during those times that questionable slice tasted damn good.
Mountain High did the job I needed it to do, and that was to provide my belly today with a snack. DL likes dry food in general, so the fact that the 'za is on the less-moist side made it very appealing. The topping combinations are a bit more interesting here than at some of the other places in town, and I Iike that they go pretty easy on the cheese. DL is easily sold on Mountain High. I suggest that we try Mountain High the next time we want a whole pizza so I can compare a fresh from oven wedge with the heat lamp slice.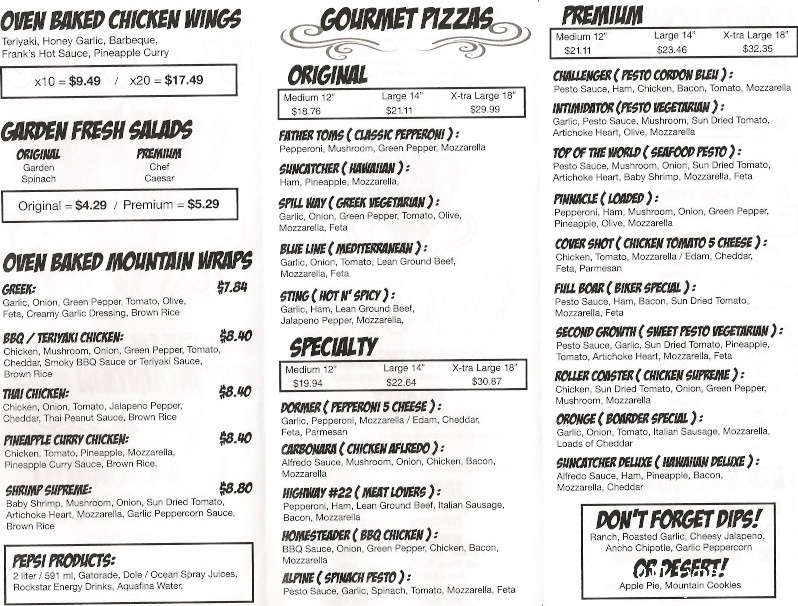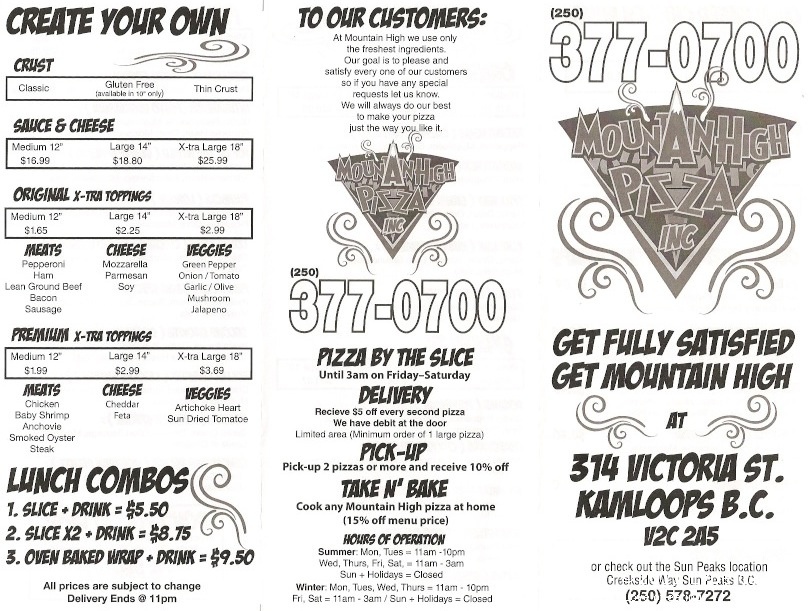 Locations
Mountain High Pizza Inc.
314 Victoria Street
Kamloops
,
BC
V2C 2A5
Canada