Rocksalt Restaurant and Bar - Kamloops, BC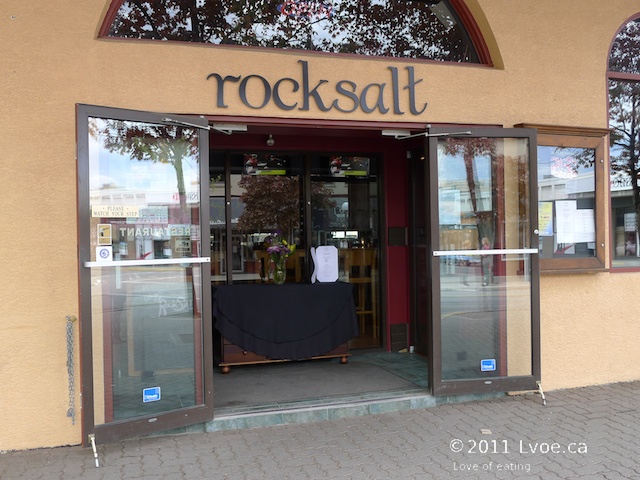 **UPDATE 2012: The Rocksalt is no more. After a renovation, The Plaza Heritage Hotel has re-vamped their restaurant space into The Fireside Steakhouse and Bar. Click here for my Fireside visit in 2013.**
Rocksalt is housed within the Plaza Heritage Hotel on Victoria Street in Downtown Kamloops. The space is large and the ceilings are high, but there are no bodies occupying the room. The only staff member visible is on the phone, and shouts from behind the bar, "the server is in the back, she'll be out in a minute...seat yourselves!" (??) Al...righty then.
It's damn cold in here. It seems as though there is a stream of cold air coming through an invisible vent near the window. I decide to leave my coat on until I truly need free movement of my arms.
DL orders tonic water. The server tries to pass off fountain soda water for tonic water. She eventually opens a can of the quinine laced beverage. (I love tonic water even without the gin.) I grab a coffee to warm up and peruse the lunch menu. The steam off my coffee billows sideways from this mysterious interior wind.
Beef Dip on Ciabatta Bun ($12.00)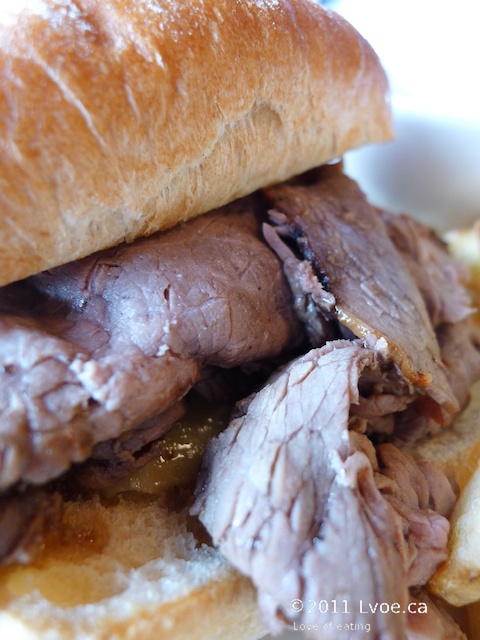 The beef dip is pretty good with many of slices of cow and a generous side of jus. When the dish came, my eyes turn to the fries; they looked like they are going to be good. Indeed. The fries are perfectly crisp down to the last one. I always feel a bit silly when I comment on how much I like a restaurant's fries. I know they're just deep fried potato sticks and most places don't even cut their own, but I think it's worth noting for my fellow potato lovers out there.
I haven't come across many places that serve well prepared beefeater fries. Why is this? Is it too much potato for the average fry eater? I used to work in a hotel in central London and the hotel restaurant made these addictive beefeater fries. When done right, I like them so much. (I think it's because the beefeater style has more surface area, so I can use it like a ladle to scoop the mayonnaise or choice dip into my mouth. This is just a theory.) I would sneak a plate of these up to hotel-reception during slow nights. Classy, I know.
Reuben on Marble Rye ($12.00)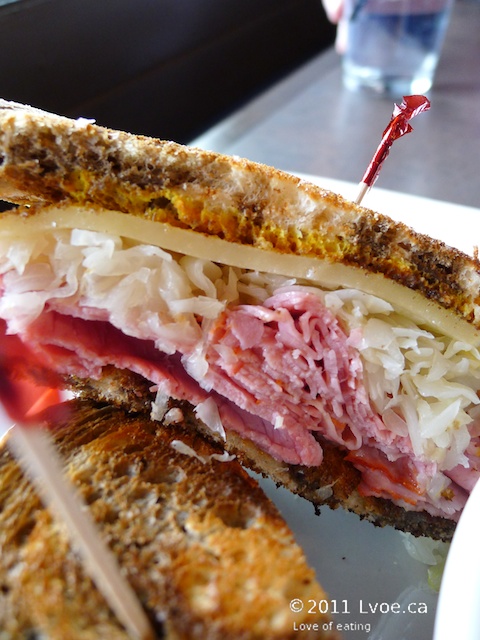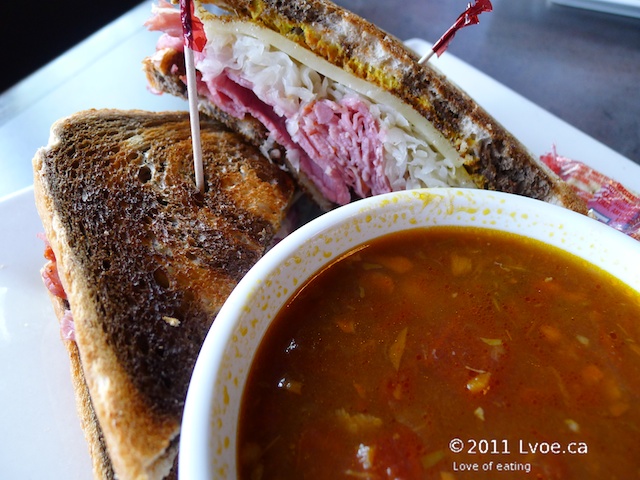 This grilled sandwich has a humble handful of pastrami and a moderate amount of sauerkraut. Which is fine with me. I like sauerkraut, but I don't love sauerkraut. A bit more pastrami may have balanced out the tang a bit better. The menu states that the spread is Dijon mustard, but in reality it arrives with yellow mustard. The accompanying soup is Tomato Beef. The soup is hearty and beefy. Loads of chunky tomatoes hiding at the bottom of the bowl. I appreciate the warmth it gives.
Rock salt over charged me for my Reuben, or they weren't careful with their menu editing. As you can see my receipt charges $12 for the Reuben, yet on the menu the Reuben is $10. What's up with that?
Menu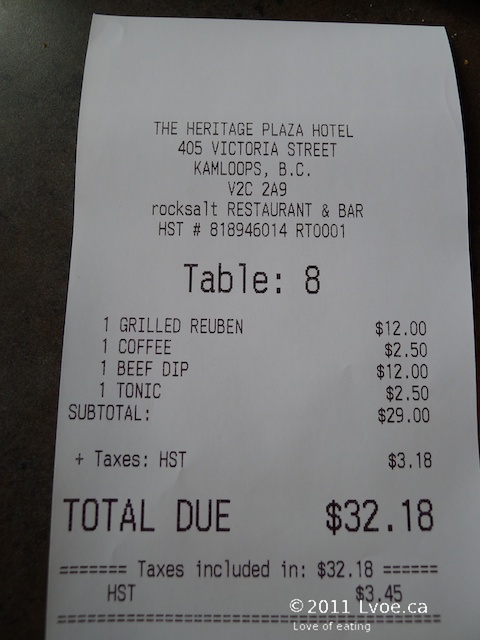 I must mention the service, because it's odd. Firstly, this I'm-too-busy-to-get-off-the-phone welcome is a little unorthodox, but who am I to assume this staff member isn't making important life or death decisions at work? Secondly, although it is not busy (only two deuces during the entire time of my visit) our server seems preoccupied with something else. Sure, she performs the bare minimum server duties, but the service is curt.
It's the kind of service that one may experience when its 20 minutes after close and the servers are trying to flush out the campers. I found the service surprising since the Rocksalt is a hotel-restaurant and often they're a little more tourist/people friendly. Know what I mean?
The food at The Rocksalt Restaurant and Bar serves typical hotel fare and it's acceptable, but the disenchanted service leaves me a bit miffed.

Locations
Rocksalt Restaurant and Bar
405 Victoria Street
Kamloops
,
BC
V2C 2A9
Canada