Gary's European Sausage & Deli - Kamloops, BC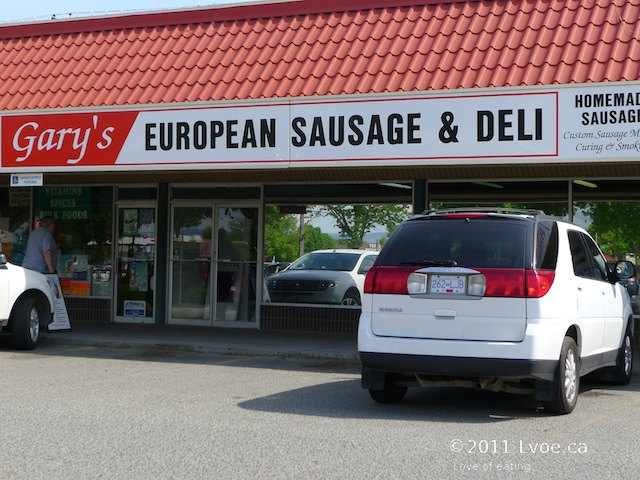 If you ever move to a new place and want to know where to get good sausage my advice is to chat with local hunters. That's how I first heard about Gary's European Sausage and Deli. Not that I hunt or anything...
I've been meaning to visit Gary's European Sausage and Deli for some time now, but have been taking my sweet ol' time getting to it. Recently, a Love of Eating reader commented that he spotted malt beverages there. Well, I put my visit on fast-forward and made a visit on route to the garden centre.
Not only did they have Vitamalz but they also had another brand, Karamalz. I realize I need to grab a shopping basket...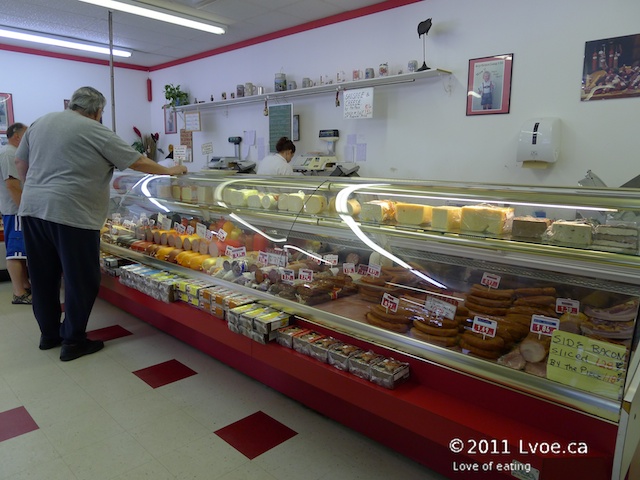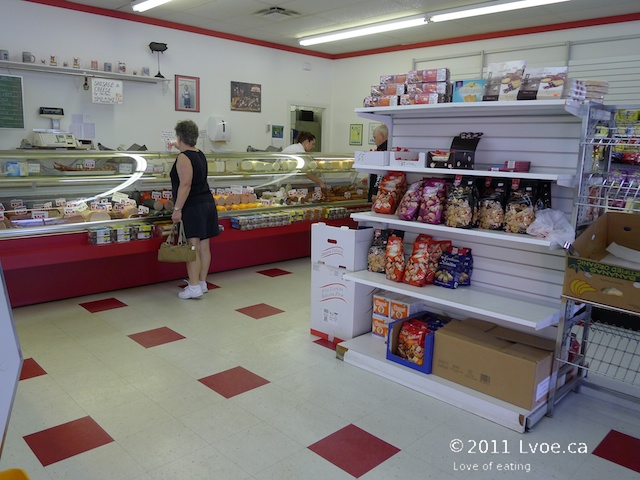 Gary's Deli smells like smoked meats. It's lovely, if you fancy smoked meats. There is a small grocery section as well. I pick up a few things before heading to the deli counter.
Karamalz ($1.65)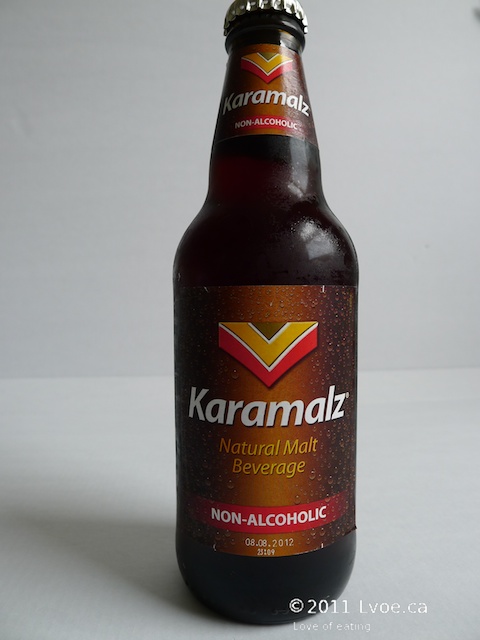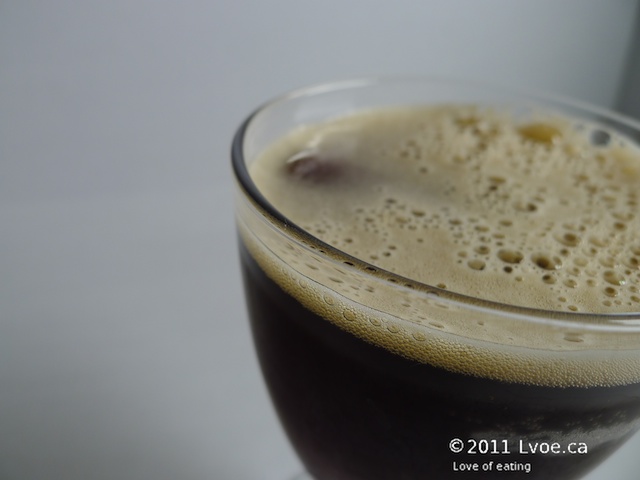 According to it's website:
"Karamalz – the non-alcoholic malt drink invigorates body and mind and is ideal if you want to get things done at work..."
Hilarious, no? How much workplace intoxication do they have in Deutschland?
I think I like Karamalz better than Vitamalz. It's a little stronger in that dark brew malty flavour. If you've been reading this blog you will know that I've been singing the praises of malt beverages ad nauseum here and here and here.
At times I feel like an obsessed fan; the stalker-type. My fixation has not worn off yet. I still love the frothy, hoppy, goodness. It's my elixir. I am so delighted that I still have a bottle of Karamalz waiting for me in the fridge as I type this.
I've also emphasized that malt drinks are a love it or hate it thing. I have a feeling if you enjoy real beer; you may not take too kindly to malt beverages. Karamalz, Vitamalz, and Maltextrakt are all basically very sweet, non alcoholic brews.
Degan Beley, who pens the Vancouver blog Ethnic Eats, has an amusing different opinion on Karamalz:
"This drink is seriously disgusting. It has a skunk, malty fermented smell as soon as you open the bottle and that taste follows through with slight flavours of sweet caramel. Like cotton candy stored in a dank basement, or old socks with butterscotch candies stuck to them."
Ahahaha...snort. After reading this, I immediately grab my glass of Karamalz and inhale deeply; trying to summon the skunkiness out of it. I didn't detect any old socks or Pepé Le Pew, but keep in mind...I like durian, and durian flavoured desserts. So there's that.
Will you give it a go?
Horseradish cream ($2.35)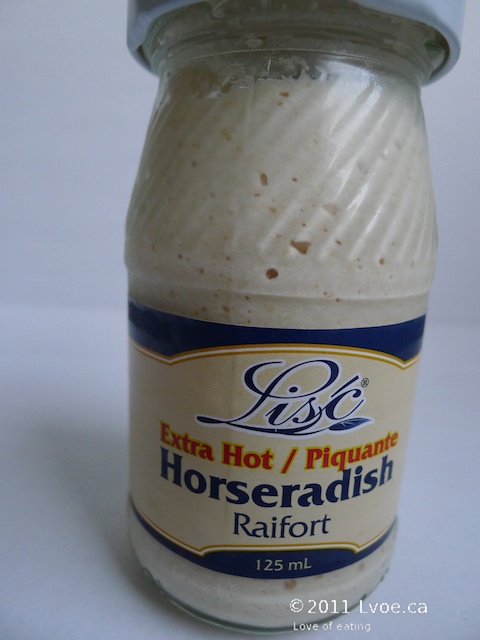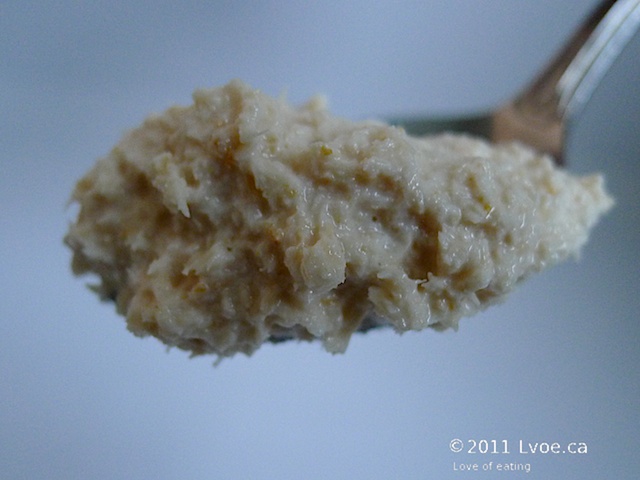 I buy horseradish cream only because there's a meatloaf recipe that calls for it. Otherwise it doesn't get much attention. I like horseradish, but horseradish cream seems unnecessary. Why can't one just use horseradish?
Red Cabbage Sauerkraut with Apple ($3.35)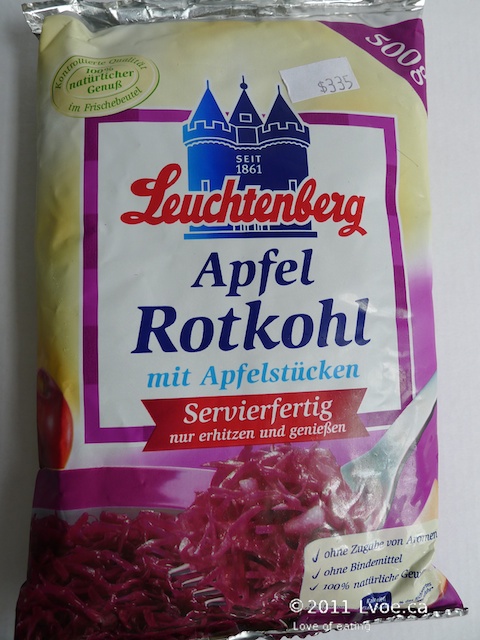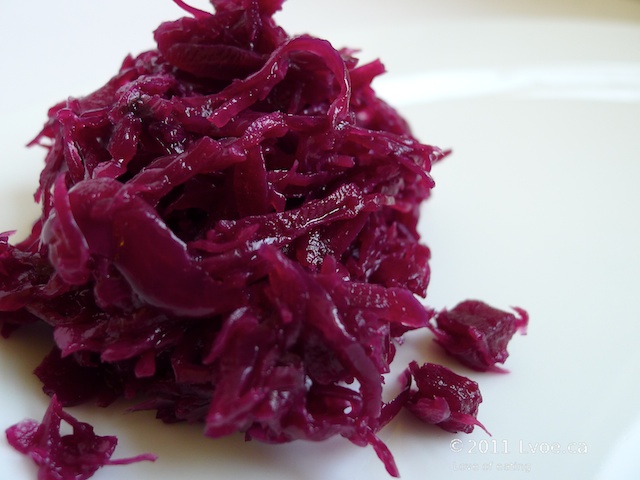 For a person who isn't crazy about sauerkraut, I seem to have a lot of it around.
Mild Wine Sauerkraut ($2.65)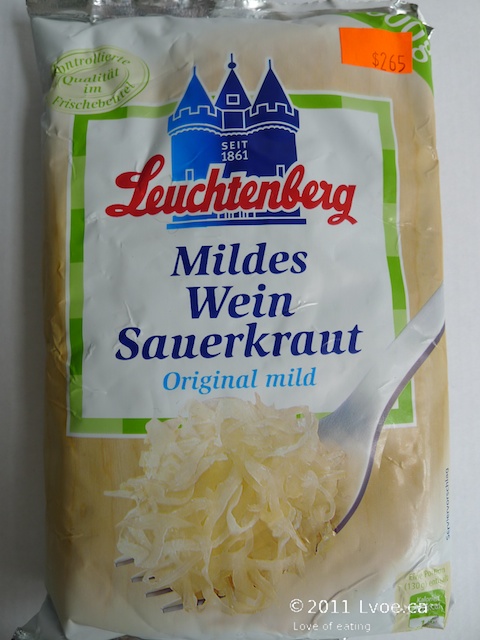 With homefry's suggestion of the jalapeño and cheese smokies fresh in my brain, I queue up at the counter. There are two people in front of me. The gentleman orders 10 jalapeño cheese sausages. What? Ten! My heart flutters a bit as the girl behind the counter snatches one wurst after another from the tray. As you can see in the photo the tray is almost barren.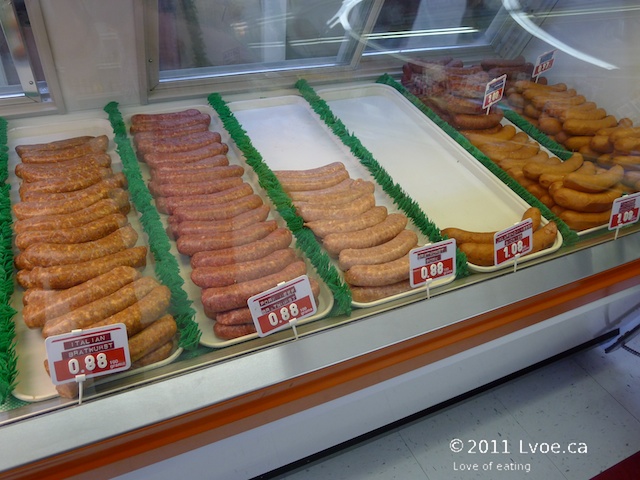 Phew, still two left after the ambush. On the outside I'm cool as a cucumber, but on the inside I'm holding my breath that the woman in front of me doesn't scoop up the last two JC wursts. I breathe a sigh of relief when she only orders a stick of pepperoni.
Jalapeño Cheese Smokies and pork wursts($1.08 per 100grams)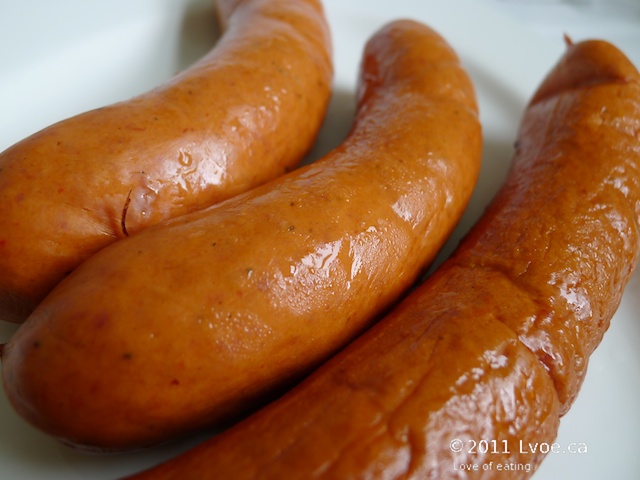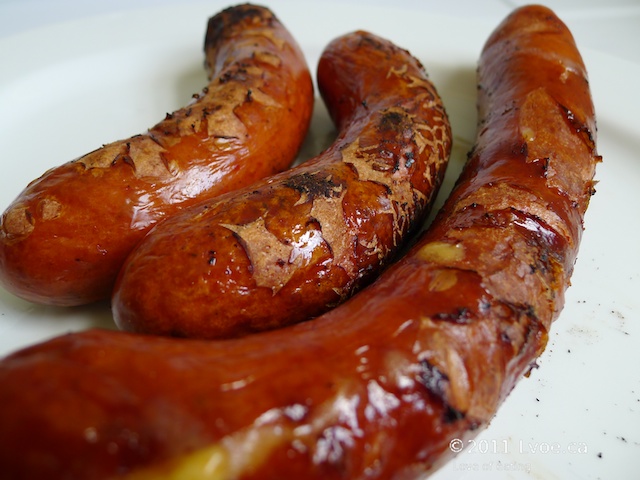 The other two non jalapeño sausages are just as lean as the ones from Keely's Chop n' Block. The cheese makes the jalapeño sausages a bit juicier than the other two wursts. I can see why one would want ten.
Weisswurst ($1.19 per 100 grams)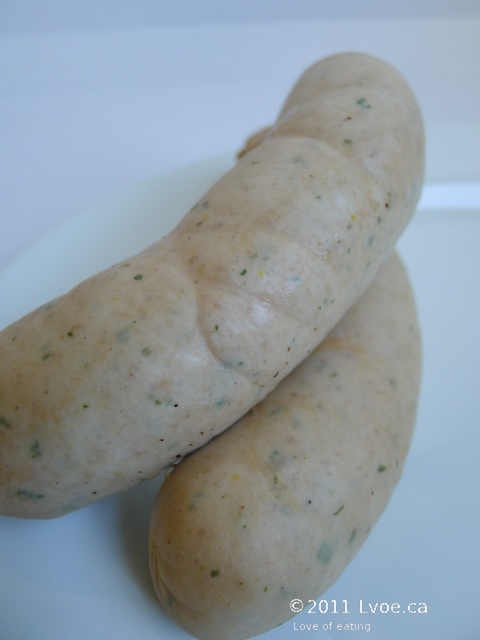 With a few bakeries in town providing fresh pretzels, a Bavarian breakfast can be had with Gary's Weisswurst! (A.L. Smithey has a series on the local lye bread here.) I must check next time if Gary's Deli carries sweet mustard.
Gary's European Sausage and Deli has a plentiful selection of various wursts, and they're good. I understand why the little shop is so busy. It is also my new regular stop to stock my fridge of Karamalz.
Locations
Gary's European Sausage & Deli Ltd
#10-750 Fortune Drive
Kamloops
,
BC
V2B 2L2
Canada