Sanbiki Japanese Kitchen - Kamloops, BC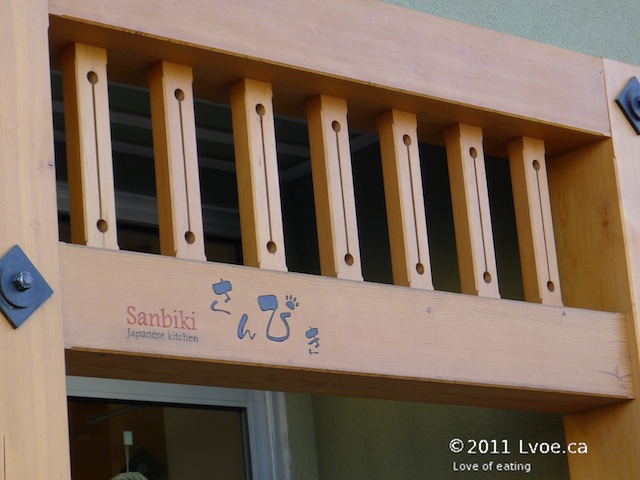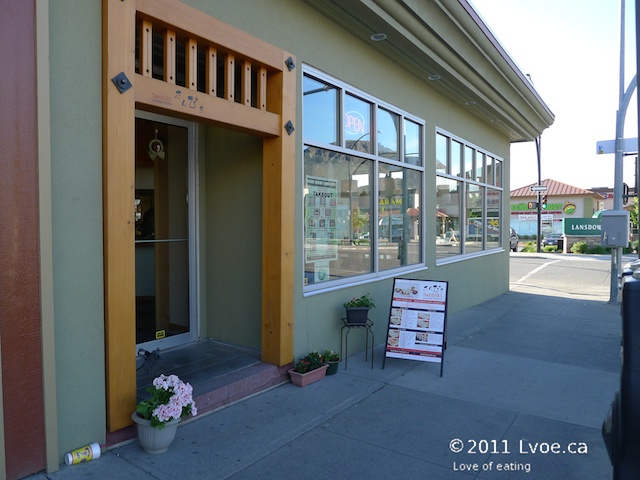 I have to return a rental car downtown today and discovered some people don't know the concept of "merging into traffic." Afterwards, I find myself on Lansdowne Street needing some eats. I've been to Sanbiki Japanese Kitchen in the past and it's been good. However, I've only ever had their maki rolls and nigiri.
My intentions are to have something other than sushi today, but when seated, I realize I'd rather have small bites of different things rather than a bowl or plate of one thing. So sushi it is.
Hot Appetizer Platter ($9.00)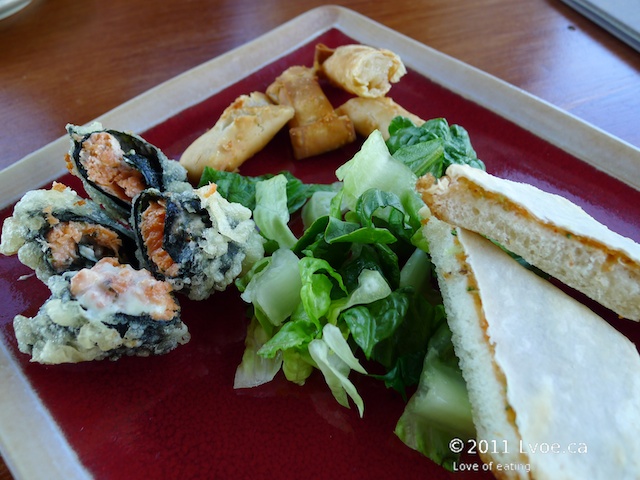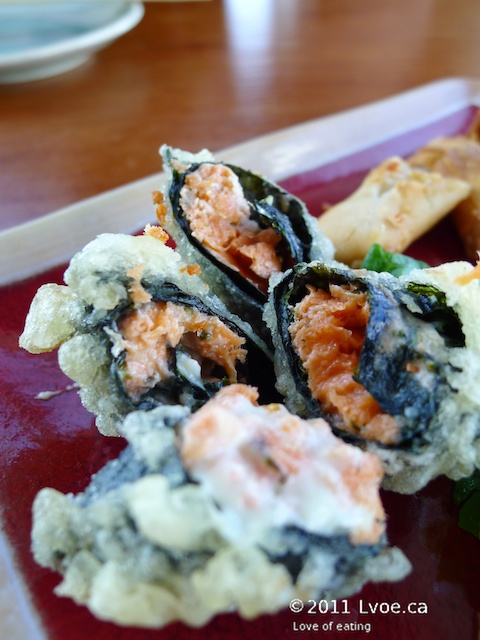 This consists of shrimp toast, salmon isobe age and a potato and cheese taquito-type thing. The shrimp toast is crispy, but I think it tastes more like salmon. Perhaps I am mixing the flavours too much with the isobe age? The salmon isobe age is basically a deep fried salmon maki without the rice. It's a nice change with the added crunch. DL enjoyed the potato cheese things. I feel they're a little plain and remind me of frozen supermarket appies.
I've never ordered the sashimi at Sanbiki so I thought I'd give it a go tonight. I went with prawn and toro sashimi.
Amaebi Sweet Prawn Sashimi ($11.00 for 3 pieces)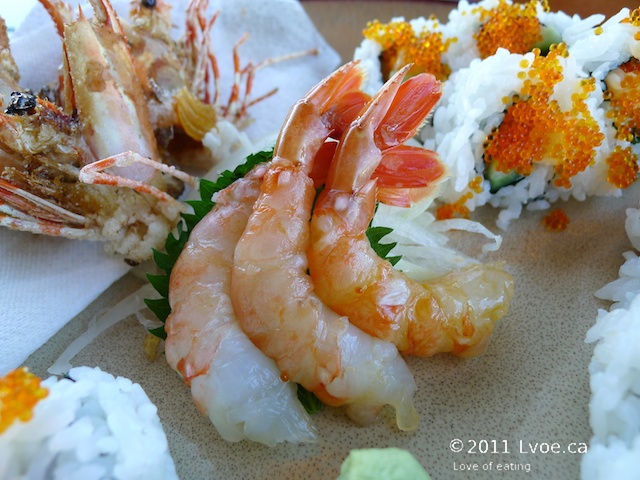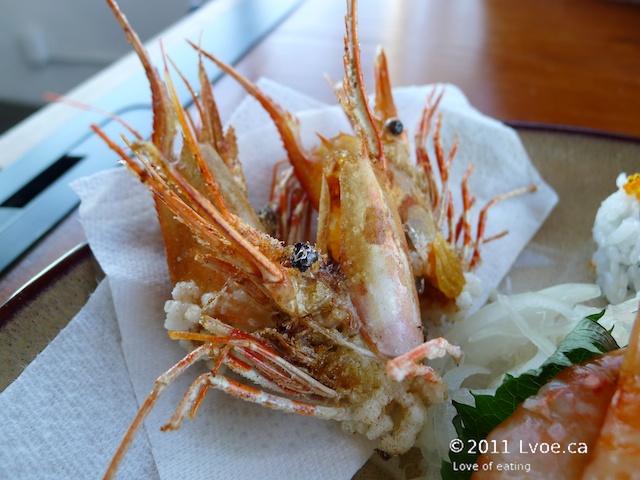 Yes, three prawns is the serving size for the above price. You can pull your jaw up now...
These are not bad; I'm not sure why the one on the far right tastes like it was dipped in sesame oil or something(?) Generally I quite enjoy sweet prawn sashimi. I'm glad Sanbiki serves them complete with the heads deep fried with a little seasoned salt. The heads are my favourite part! It's like a cracker.
Albacore Tuna Belly Sashimi ($17.00)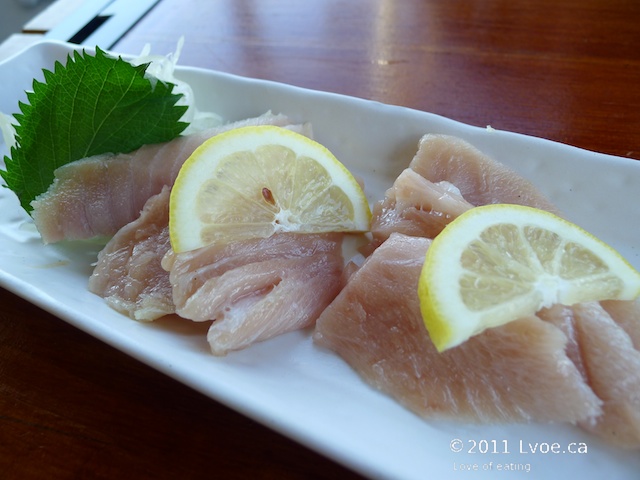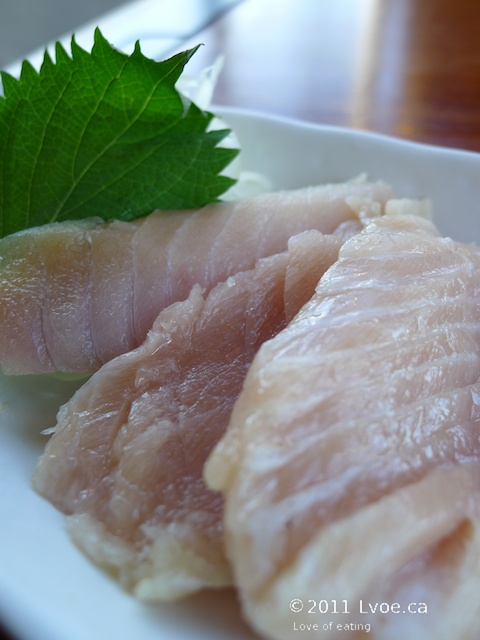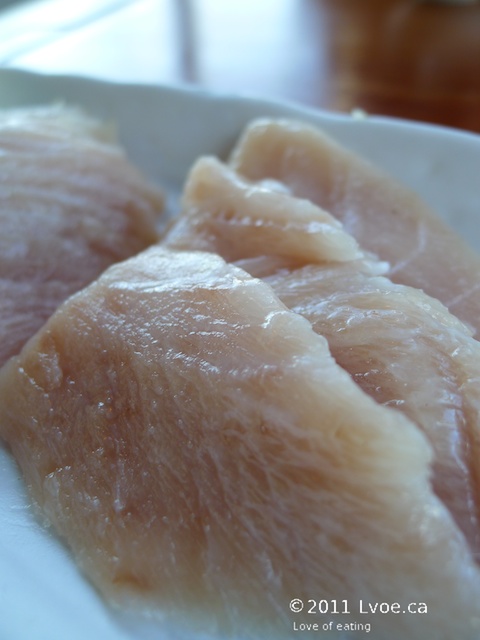 What's up with the brown fish in Kamloops? This is the second time I've encountered brown tuna in the 'Loop. This is not good toro, or tuna for that matter. As you can see the flesh is not supple and doesn't hold together well. It's literally coming apart at the seams. The texture is mushy and has a slight seafoody aroma. I only ingest one piece. I decide I'm not going to let brown belly being passed off as toro ruin my meal.
I can understand it may be difficult to obtain and maintain fresh toro here, but if that is the case, why serve it? Why serve something that is so off putting to toro lovers? (Not to be confused with lovers of Miyazaki's woodland spirit, Totoro.) I put this behind me and move on...
Red Tuna sashimi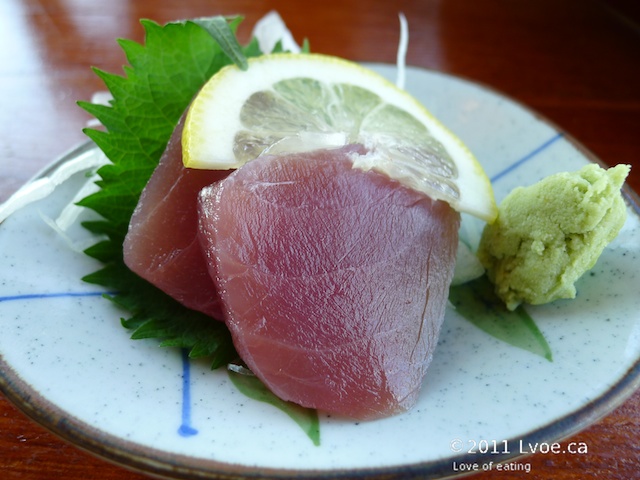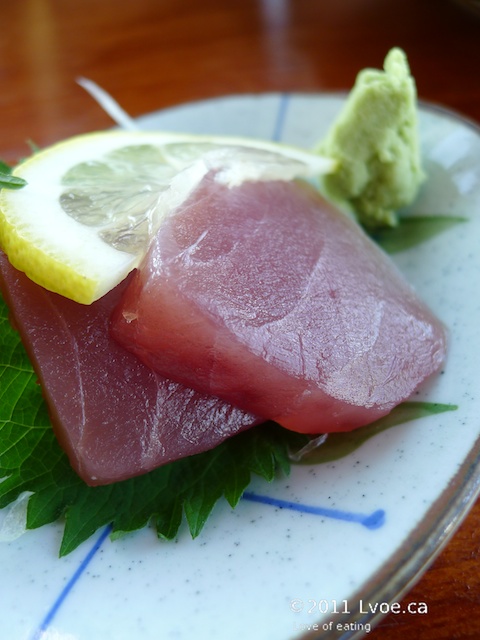 These came out after the toro issue. The red maguro is cool, firm and clean tasting. It's a fine slice.
Maki rolls:
Sanbiki Seafood Roll ($10.00 for 4 pieces)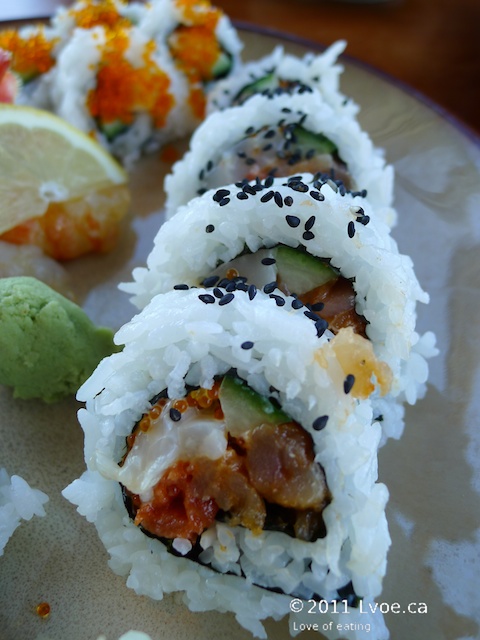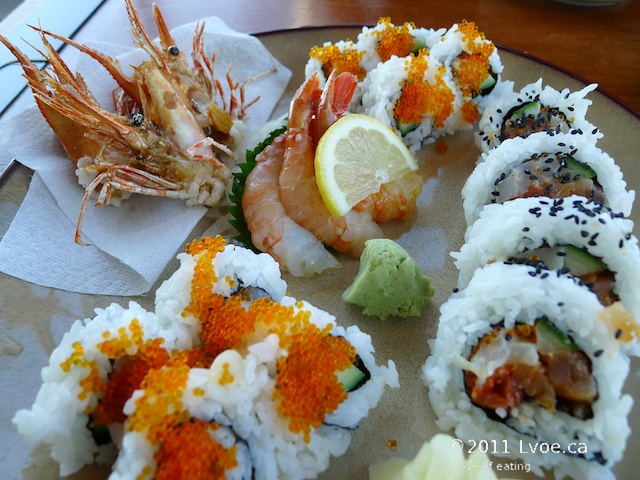 The big rolls are sometimes hit or miss with me, but I very much like this one. It is packed with scallops, salmon, tuna and tobiko. A little hint of spiciness finishes this roll off. Very easy to enjoy.
Chopped Scallop Roll ($9.00 for 8 pieces) and Smoked Salmon Roll ($8.00 for 8 pieces)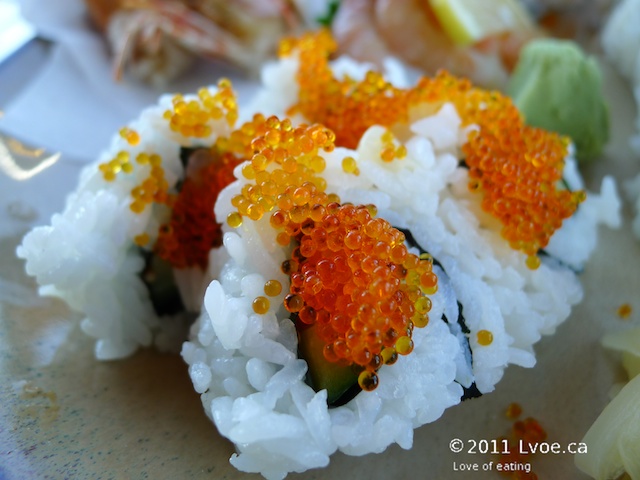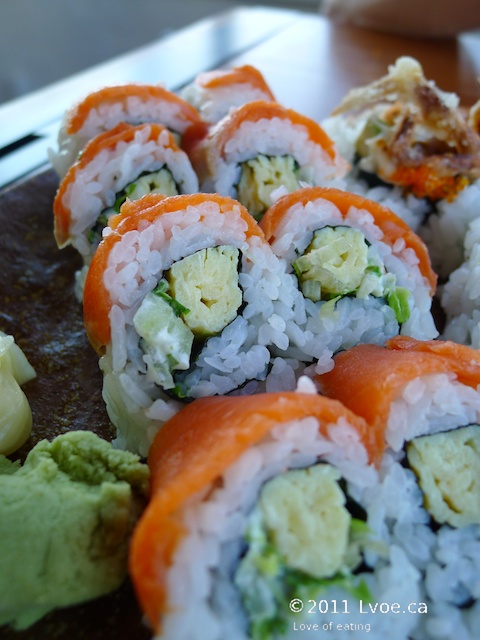 The chopped mollusk is mayonnaise-y with a little crunch from the cucumbers. The tobiko is very good tonight, bright and clear; giving a "pop" with every bite. The standard smoked salmon roll is simple with the smoked fish on the top and tamago, the sweetened egg, on the inside.
Sanbiki Spider Roll ($14.00 for 4 pieces)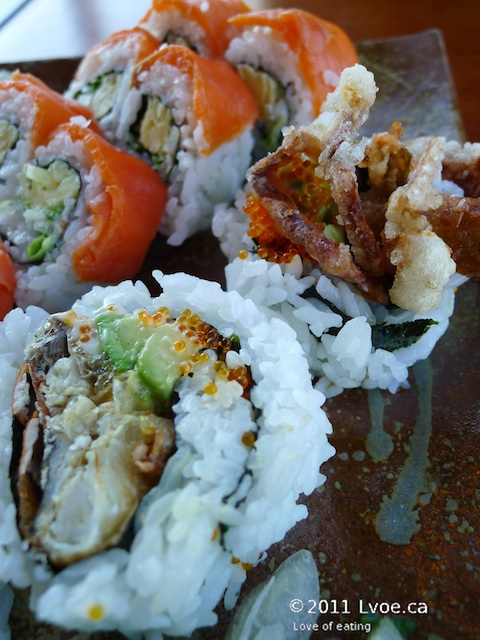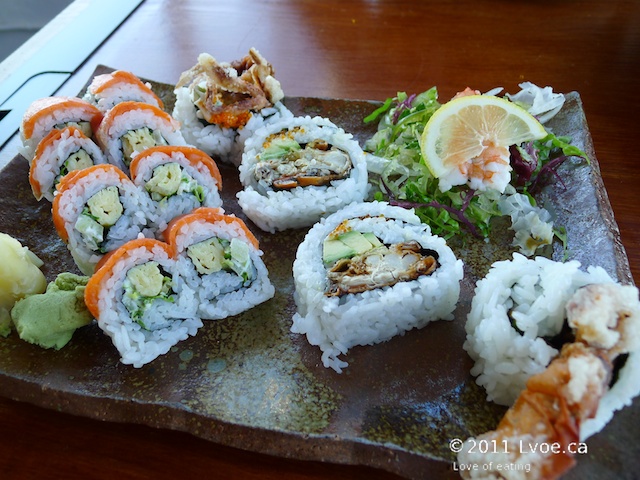 This may be my favourite out of tonight's choices. It's a typical deep fried soft shelled crab roll, but it is "meaty." Often tempura crab can be more of a texture sensation rather than a taste experience, but Sanbiki's soft shelled crab is decidedly meaty. Sometimes eating these little guys can be like eating the fried prawn heads: lots of crunch but not much fleshy bits. The legs are surprisingly substantial and very well seasoned. The avocado adds a velvety smoothness which counters the crunchy parts of the crab wonderfully.
We agree to have a sweet ending at Sanbiki rather than making a hurried additional stop at Scoopz down the street.
Mango Ice-cream ($4.00)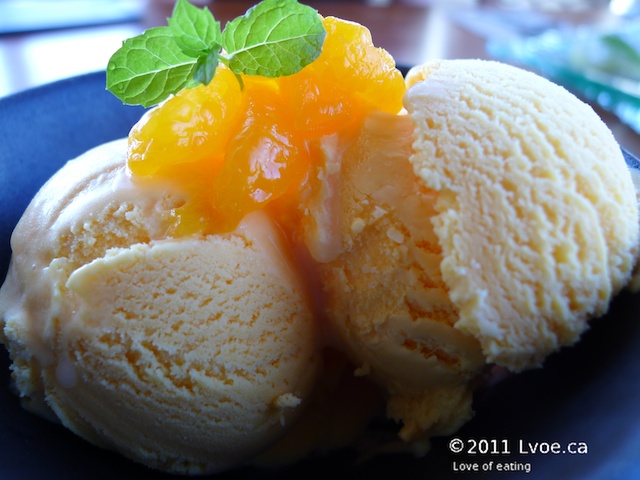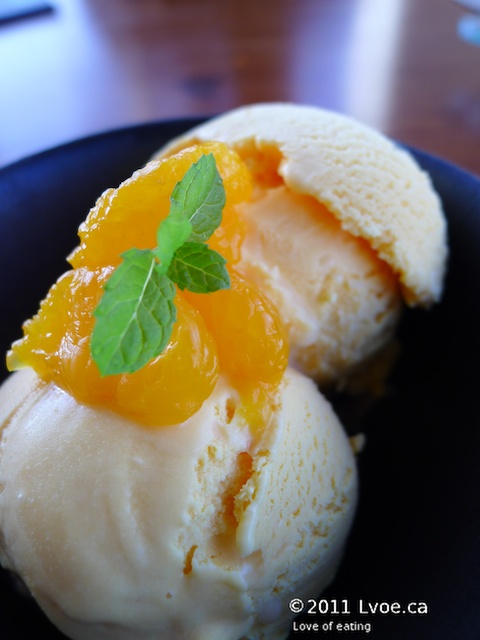 Subtly mango-y, smooth and not too sweet.
Green Tea Ice-cream filled Mochi ($5.00 for 3 pieces)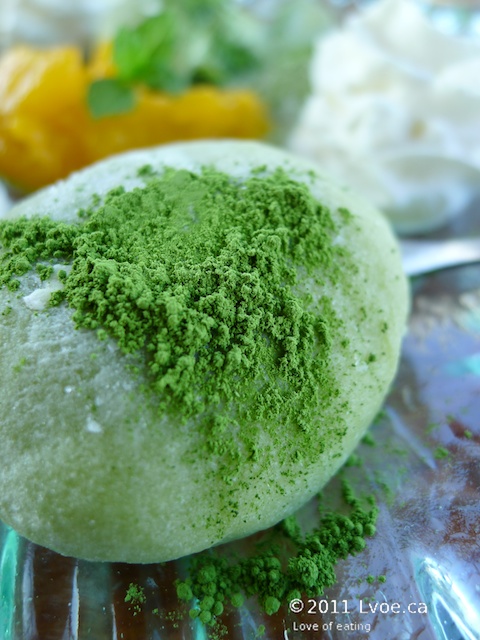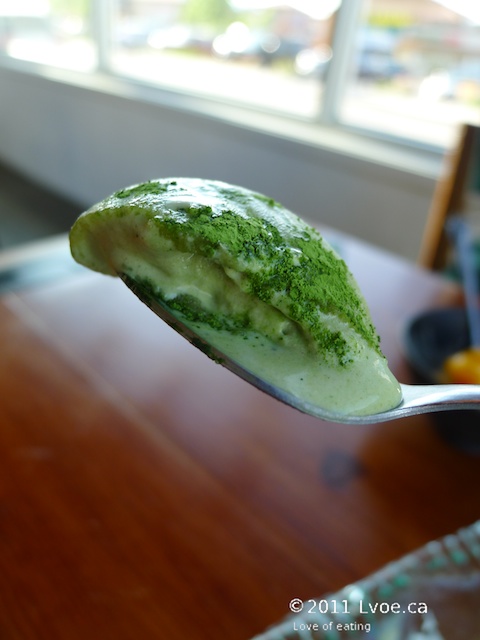 Cool and chewy. Again, a subtle green tea flavour and not too sweet. I like to put the whole thing in my mouth and delight in an ice-cream explosion. Squeeee...!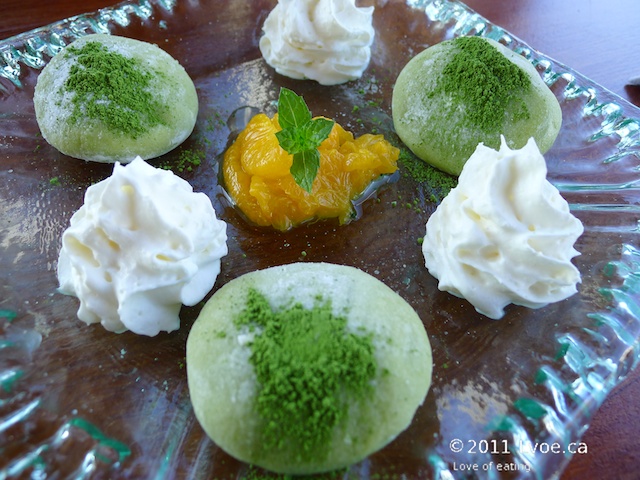 I eat regular mochi more than I care to admit. I have multiple packs of daifuku in my pantry right now. In my days of living in Richmond, I bought the ice-cream filled mochi from Yaohan Center fairly regularly. Mochi, whether in daifuku or ice-cream form, is dangerous stuff to have lying around. And I'm not talking about it being a choking hazard. (Which it is, by the way. But that's another story...) The petite mochi ball presents itself so innocently. You think you are only going to indulge in one or two dusty bites...but in a brief moment you'll look down at those pricey wee bon-bons and find that they're all gone-gone. Gah, the devil, they are!
Sanbiki Japanese Kitchen is located on the corner of Landowne Street and 5th Avenue in downtown Kamloops. I like the space. The rooms are bright, airy and spacious. I appreciate why Sanbiki's sushi menu is very basic. The rolls are straightforward and low on innovation, but they're decent. I can see the advantage in keeping it simple to maintain a high turnover on the more commonly ordered rolls. Clearly, not many judgy people are ordering the tuna belly sashimi.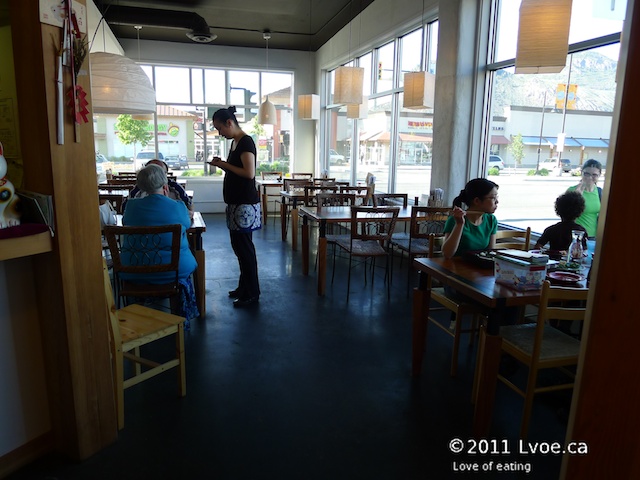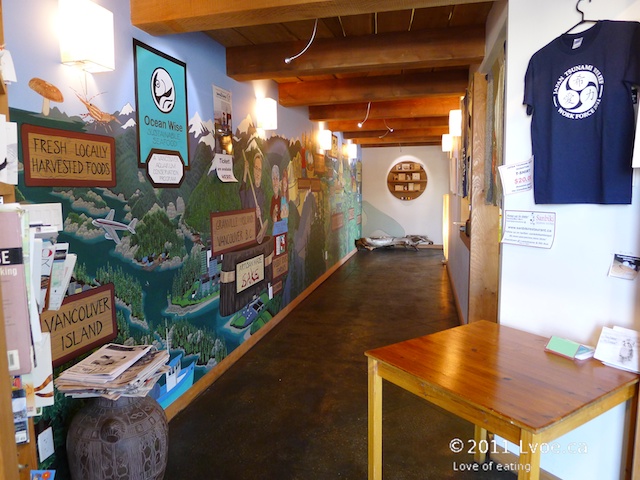 We've discussed Sanbiki's price point a bit in the comments section on Love of Eating. The above selections came to just under $98 without beverages.
Do I think Sanbiki's prices match a quality and a freshness one hopes to find in any establishment serving raw fish? No. (Please see tuna belly issue above.)
However, I don't know what the obstacles are, if any, for a restaurant to obtain and maintain fresh seafoods in Kamloops. Are there difficulties? From what I've experienced in Kamloops so far, it seems there are difficulties.
Do I think Sanbiki has a bit more going for them compared to other sushi places I've been to in Kamloops? Yes, by a slight margin.
I have always maintained that I have a soft spot for restaurants that make some effort in using local products. Sanbiki Japanese Kitchen attempts to incorporate local products where possible and have supported and taken part in community events. I like this.
If I have a hankering for a lil' ikura nigiri nosh, that can't wait, I wouldn't rule out a return to Sanbiki Japanese Kitchen for the small bite. In addition, I still have yet to try their hot foods. Has anyone tried their non-sushi menu lately? What are your thoughts?
Finally, I think it's fair to say Kamloops has a bit of a "captive audience" when it comes to certain food choices. Perhaps some restaurants will accrue the incentive to produce better if we, the customer, expects better. Please for the sake of good eats, let's all expect better.

Locations
Sanbiki Japanese Kitchen
120 5th Avenue,
Kamloops
,
BC
V2C 3P8
Canada