Scott's Inn and Restaurant - Kamloops, BC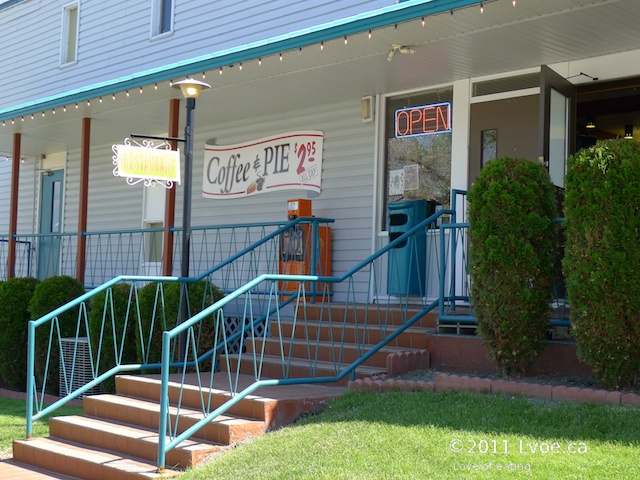 I'm so very happy the warm weather is starting to show up. Looks like a great morning to sit out on a patio today. I've heard a lot about Scott's Inn and Restaurant for some time now, and I think it's about time I try it. It's the morning hours, but the heat of the sun makes it feel as though the day is later in the afternoon.
Scott's Inn and Restaurant is busy, not to capacity but still buzzing. It's smaller than I imagined it would be. Even with the dark carpet and furnishings, the dining area is bright with natural light from a wall of large windows.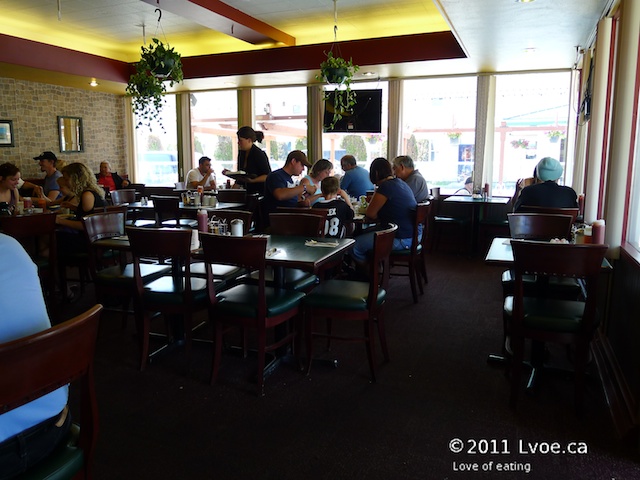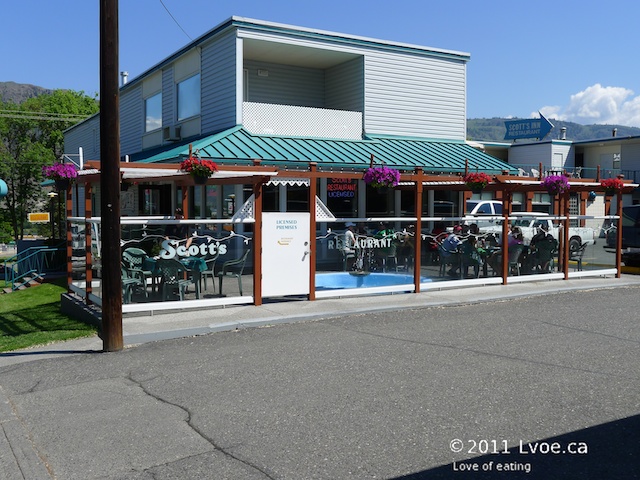 We snake our way through the line-up of people waiting to pay and seat ourselves as instructed by the hostess at the helm. We find a deuce outside on the patio and get comfy on the prosaic plastic green lawn chairs. There's some sort of kerfuffle across the street that involves a late model Ford F series and a tinted out police SUV. Many curious patio goers are rubber necking, but I chose a table behind a shrub. I decide it's not worth a Charley horse in my neck trying to peer around the cedars.
French Toast Special ($8.95)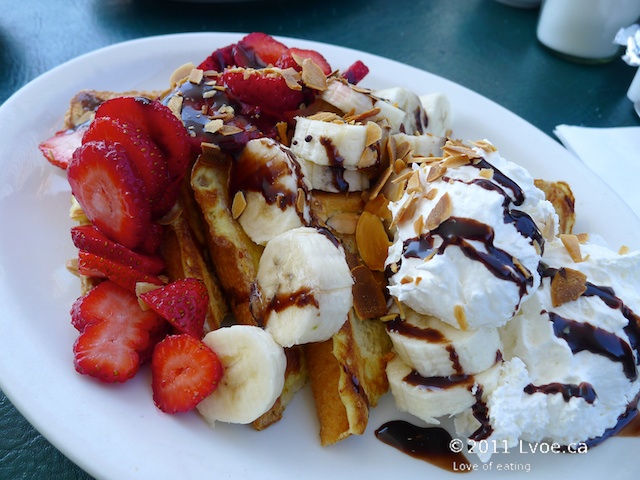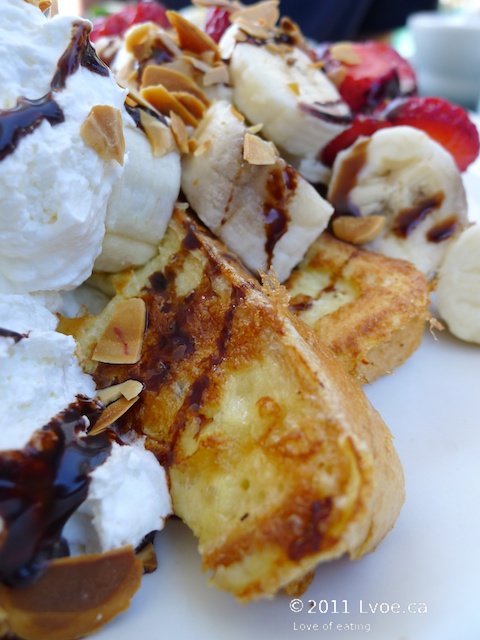 This is reminiscent of DL's banana split at Scoopz, no? Strawberries, bananas, whipped cream, toasted almonds and chocolate sauce. Chocolate sauce! I see a delirious smile of content wash over DL's face. It is indeed smile-inducing. I'm a more of a savoury breakfast lover but the thick eggy French toast and almonds won me over. Yes, there is French toast under all of that fruit and dairy. I'm not sure if I could eat a whole serving in the A.M. but that isn't a problem for my eating partner. After the sweet special is safely in DL's tummy I hear, "Wow that was so good I didn't need syrup." Uh yeah, that's because it's covered with chocolate sauce! (Eyeroll.)
Salmon Eggs Benedict ($11.95)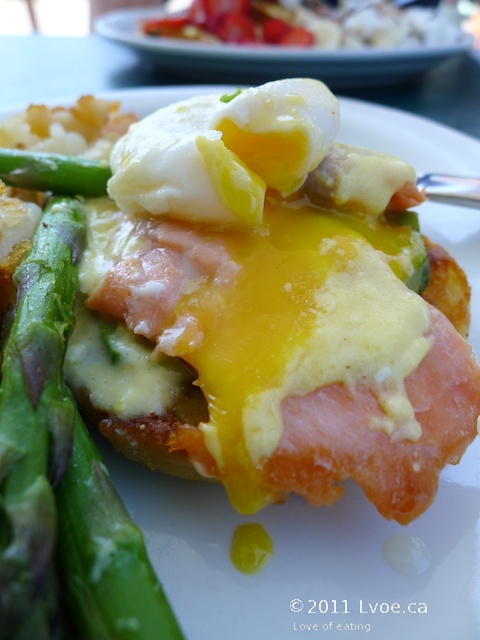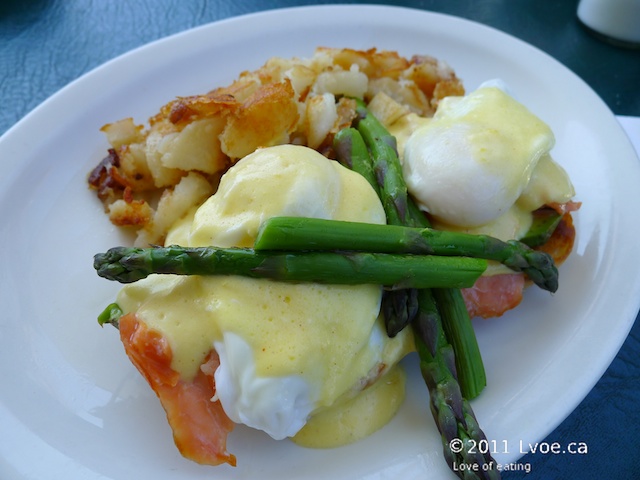 How can I go to Scott's Inn and not try one of their Bennies? There are a few Love of Eating readers that have mentioned they enjoy this popular egg dish with Scott's homemade hollandaise. The Benedict today is soft poached with smoked salmon and finished with the buttery sauce and some spears of asparagus. The foundation is, I believe, an English muffin. The flat muffin seems crispier than most and is easy to cut; even with the butter knife that I am given. (I spy the other Bennies at the table next to me are all served with steak knives. Hmm... whatever. ) It is thankfully, not a biscuit. Have you come across this? Some places I've encountered make Benedicts with a biscuit. It's just not the same.
The breakfast today is pretty solid. I can see why Scott's Inn and Restaurant is well received in Kamloops. The service is friendly and apologetic, but not exactly prompt. I don't know if they're understaffed today or what, but there are long delays in between each section of service. (This is why I didn't bother to inquire about a more appropriate cutting utensil for my Bennie.)
There is a vacated table next to us that remains un-cleared for the past 15 minutes. A party of four young guys or dudes*, if I may, sit down at this table littered with the remnants of what the previous party of four enjoyed. I suppose they are determined to take advantage of this sunny day and patio seating. Their server finally hands them menus and even sets the menus atop the dirty dishes. Tee, hee, hee. I love watching people's facial expressions. The looks on each of the men's faces make for pure comedic gold! I'm not even going to attempt to describe it in words. Gold! Eventually, the grey kitchen tray appears and their table is bussed.
*Of course one dude is sportin' a fedora. Isn't one always sporting a fedora? Remember,the fashion rule: Limit one fedora per group.
From my observations, everyone on the patio this morning is in the same boat of slow service. So at least we're in good company.
I'm not in any kind of a hurry today so I remain in good spirits, and leisurely finish my hearty meal. Hopeful that by the time we leave, DL's sugar rush will have subsided.

Locations
Scott's Inn and Restaurant
551 11th Avenue
Kamloops
,
BC
V2C 3Y1
Canada