Dee's Country Corner Cafe - Kamloops, BC

It's almost summer-time, yippee! I hope all you fathers out there had a good weekend. Did you take advantage of the free fishing? What a great idea for a community/family event.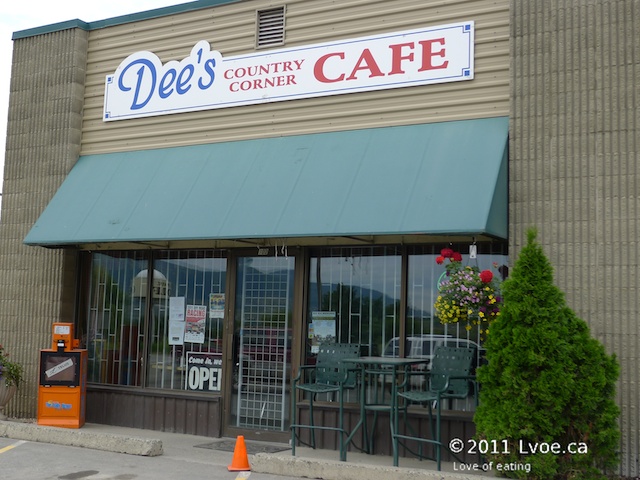 What a busy week! It seems I've been on a breakfast kick, no? Since I don't actually write about every place I dine at, sometimes this will occur. Apologies, as I don't always keep track of my blog posts; so it may take me awhile before I realize that I've been penning a hash brown diary for weeks!
From my observations, I see that rodeos are a big deal out here. I understand Barriere, Merritt and Armstrong all have significant rodeos in September. This past weekend the village of Ashcroft put on their 49th annual Ashcroft Rodeo. I did some looky looing around the Ashcroft Rodeo on Father's Day weekend for photography purposes.
Do you own western style boots? Or what we city slickers call "cowboy boots?" They look good on pretty much everyone that I've seen wear them. Almost every person I know out here has at least one pair (albeit for some, they are hidden deep in a spare-bedroom closet.) I'm intrigued. I find myself doing some browsing and contemplating at The Horse Barn in the Mount Paul industrial park. Have you been here? It smells so good. It smells like leather. I never thought I would ever be browsing at The Horse Barn, but here I am. Who knew that there are so many styles, heels, and toe options! I left empty handed today, but I may put a pair on my wish list.
Kitty corner to The Horse Barn, I spy a little diner called Dee's Country Corner Café. I love alliteration! So I swing in after ogling the leather goods.
Dee's Café must have a regular tight-knit clientele. I get that strange why-is-everyone-staring feeling that I got when I went into Taylor's Breakfast Nook in Ashcroft. I don't know why I get so self conscious sometimes…
Workin' Man's Breakfast ($9.50)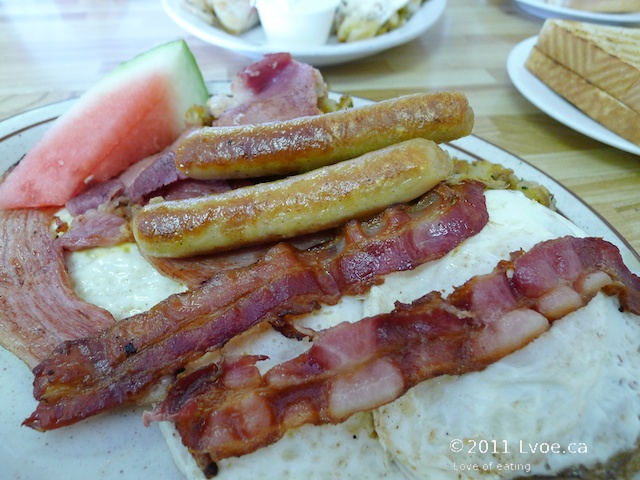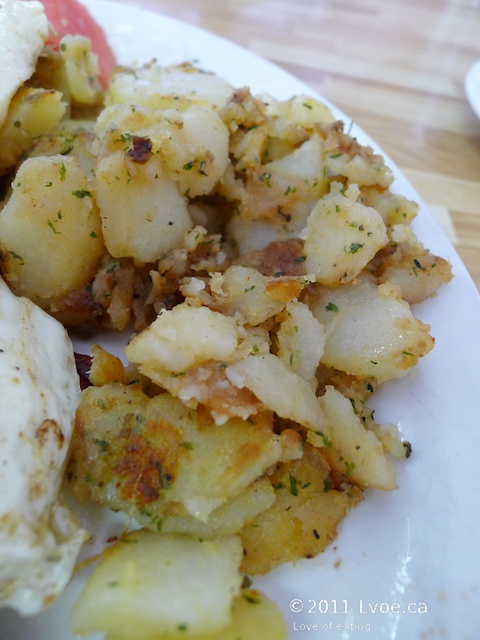 I ordered this purely due to the name. An employed male eats this: three eggs, two sausages, two rashers of bacon, a slab of ham, a pile of hash browns and two slices of toast. It is a typical diner breakfast. The meats are pretty good. The bacon is crispy-flexible. The ham is the thinner-type but super tasty, sort of like a meatier bacon. Sausages are a standard pork brekkie sausage, but longer than most. Dee's Country Corner Café makes their hash browns in-house. The potatoes are sliced and sprinkled with a dash of herbs.
Farmer's Platter ($9.95)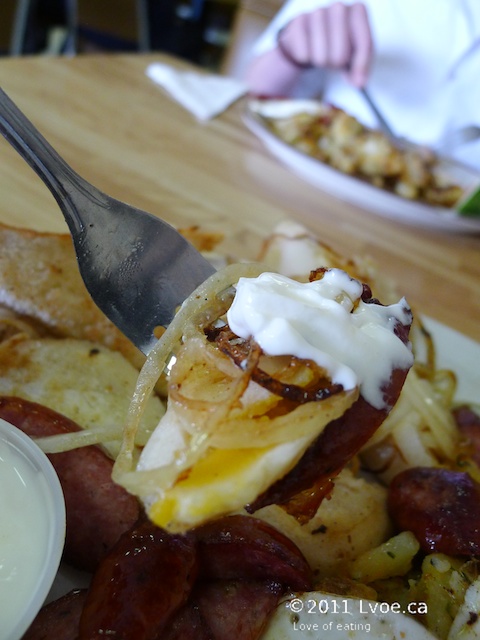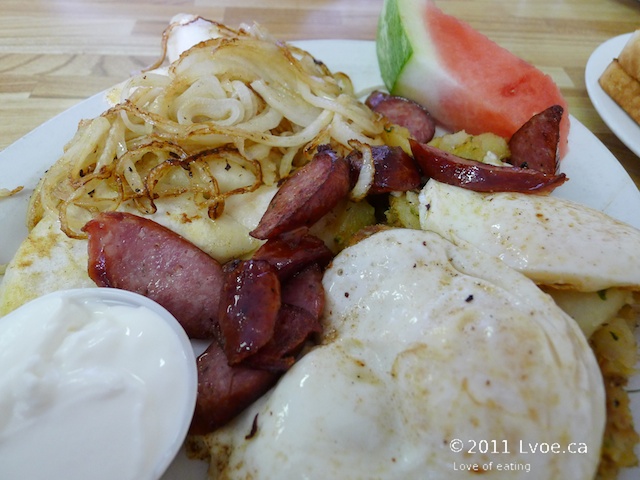 This is what a farmer eats: cheddar and potato perogies, with caramelized onions, a sliced farmer's sausage, two eggs, a load of potatoes, and two slices of toast. I'm guessing the perogies are commercially made as they are esthetically too perfect. I didn't ask, so I don't really know. They're good though. Dee's Café gives a generous helping of noodle-ly onions. There is a mix of dark caramelized onions and sweet sautéed onions. The farmer's sausage is very much like the sausage you may get at Gary's Deli. It's lean and smoky.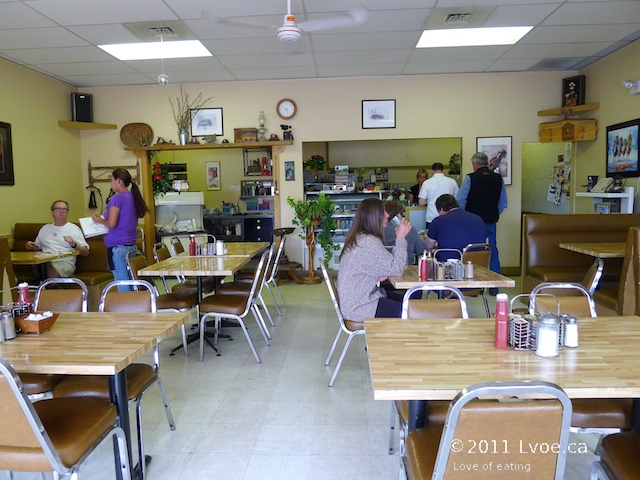 Dee's Country Corner Café is a DDE through and through. The service is brisk and to the point. Our server acknowledges most of the clientele by name. The furniture in Dee's is retro, coffee-with- cream coloured vinyl diner-chairs, and matching booths to the side. It's clean enough, that I can eat comfortably. The utensils are well worn, so it's hard to tell if they're dirty or if they've just been around for the long haul. Some of the platter dishes are chipped and mismatched. But it's a DDE and, I must say, the look and ambiance works here. From the looks of it Dee's Country Corner is fueled by regulars. Dee's customers today settle happily into the familiar surroundings and talk about the HST and their offspring's graduation.
Locations
Dee's Country Corner Cafe
702 Mount Paul Way
Kamloops
,
BC
V2H 1B5
Canada