Oops Café - Kamloops, BC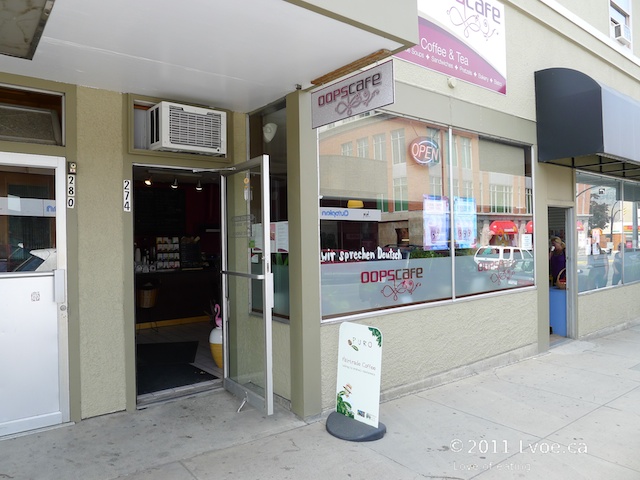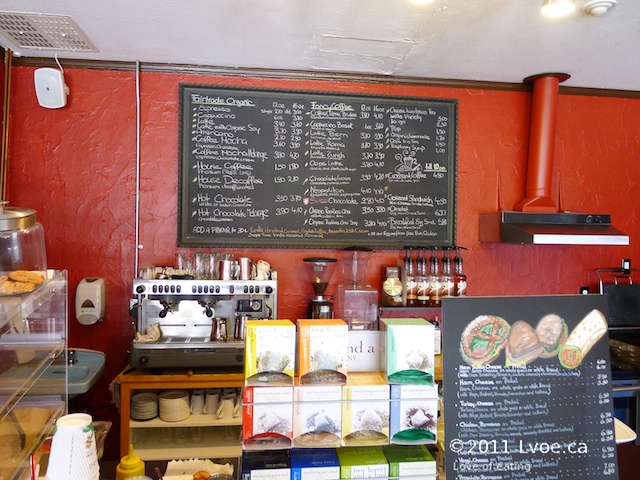 I don't often have an opportunity to actually sit and eat at Oops Café. I either only have time to grab a coffee or it's closed by the time I can get there. But not today. Fist pump!
Oops Café is an excellent lil' restaurant in Kamloops to grab a light lunch. I'm usually at work during the café hours, however today I am taking advantage of a sporadic, sunny summer's day. Oops Café updates their daily menu on their Facebook page click here for a look.
Neapolitan Coffee ($4.10)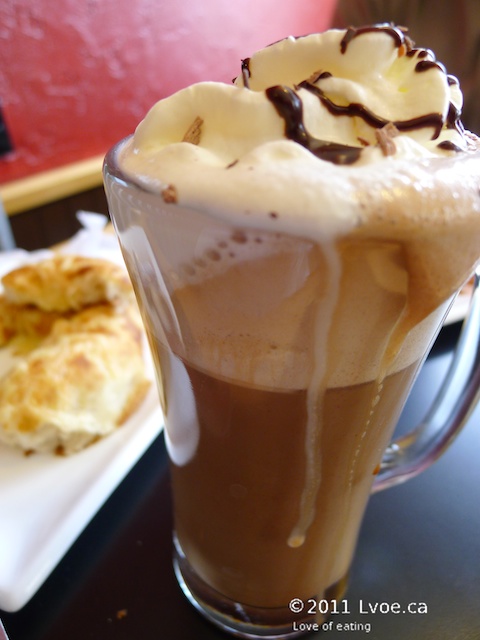 You will need a sweet-tooth for this one, trust. The coffee is laden with syrup shots of raspberry and vanilla before finishing it off with whipped cream and chocolate. Very much a dessert latte. The proprietress warned me about the syrupiness of this drink, but I went ahead with it anyways.
Curried Chicken Pretzel Sandwich ($6.90)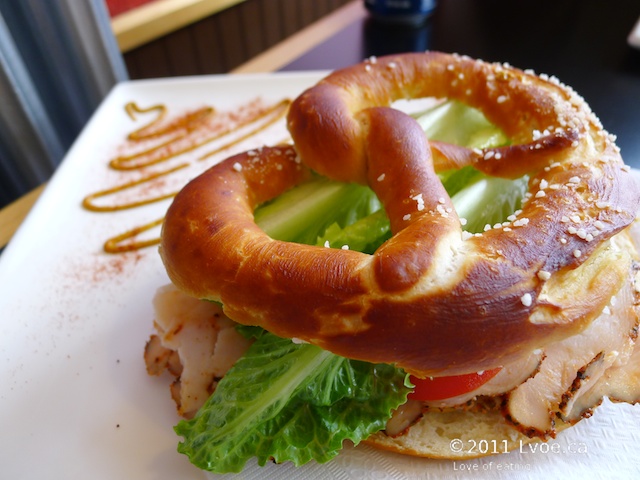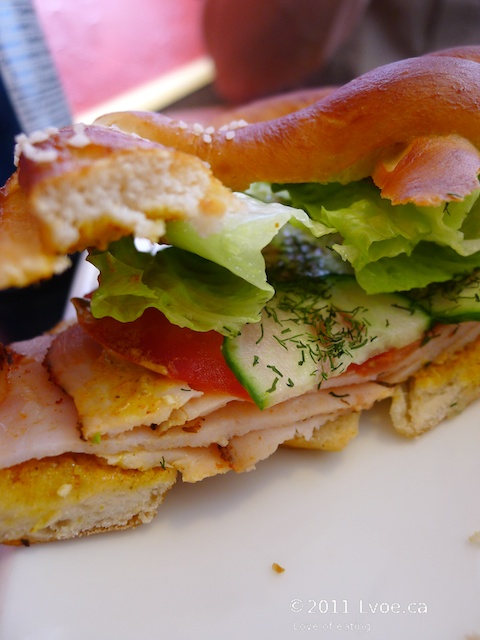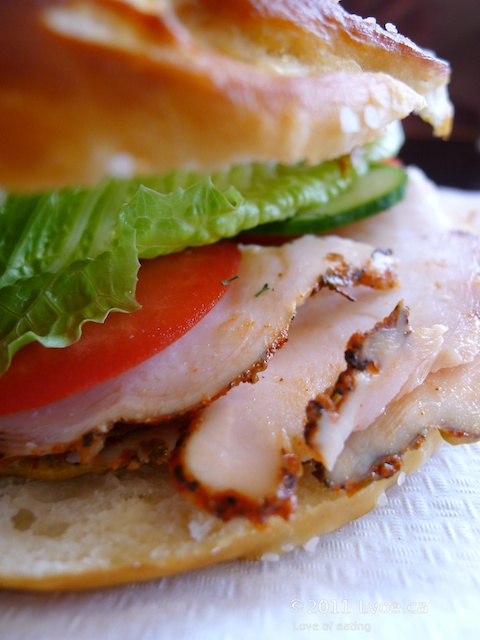 A good sized sandwich, no? The veggies are simple, but very fresh and crisp. The pretzel is dense, yet soft with a forgiving chew. The sauce on the deli chicken is a standard turmeric-based mild curry. It works.
Cheese Pretzel ($3.00)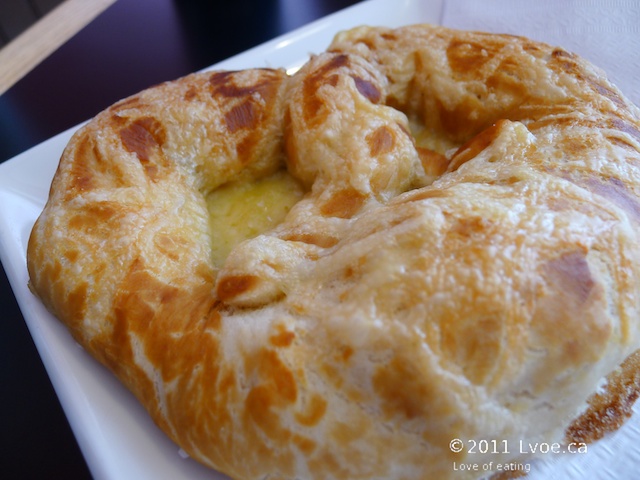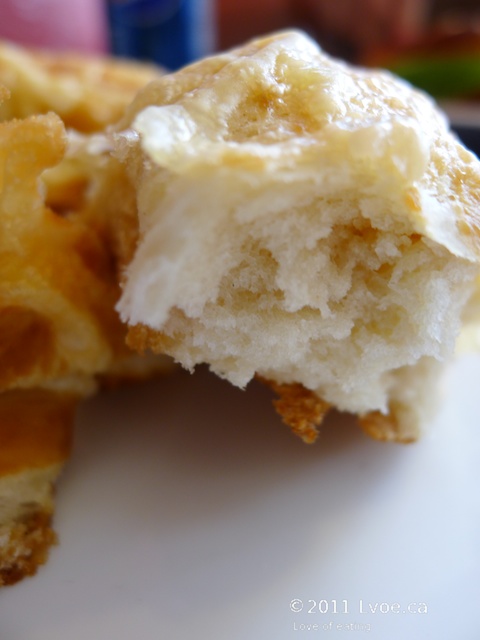 There are no more regular pretzels left, so I order a cheese pretzel instead. It seems "fluffier" than the original pretzel and softer too. More like a cheese bun in texture. The fromage gave the twisted bread a sharp salty cheesy bite, which helps to cut the sweetness of my Neapolitan beverage.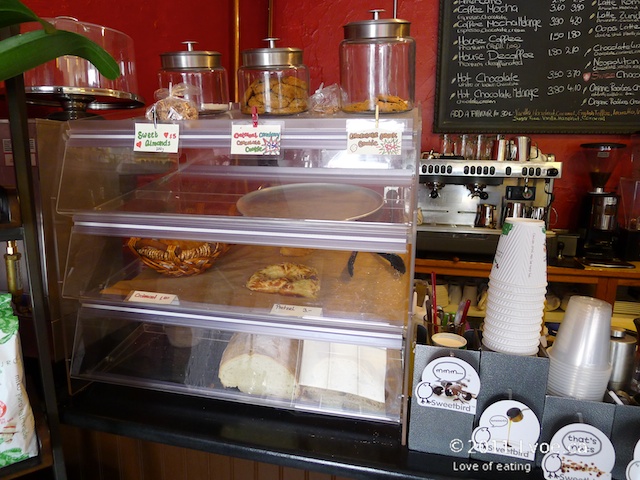 There is only one lonely looking cheese pretzel left in the showcase, so I decide to take him home with me for snacking later. While I am hanging out at the display case waiting to pay, a few other items followed me home today as well.
Chocolate Stick ($2.00)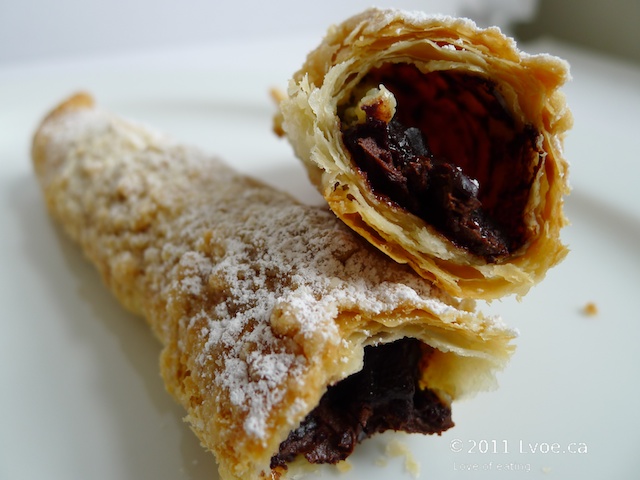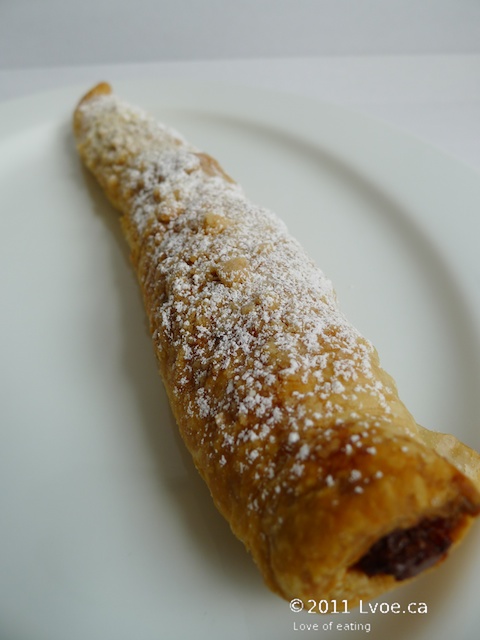 Super cocoa-ness going on inside these sticks. The pastry filling is dark chocolate, so it's chocolatey without being cloyingly sweet. I warmed these a little in the oven when I got home so the chocolate innards became perfectly gooey.
Almond Croissant ($2.00)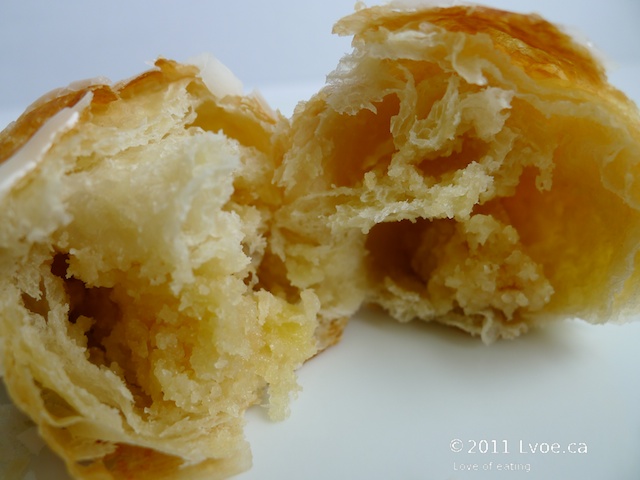 The croissant yields an ample almond aroma. Very buttery, moist and flakey. Pairing this sweet treat with a strong coffee would be ideal.
Sweet Almonds ($5.00 for 200grams)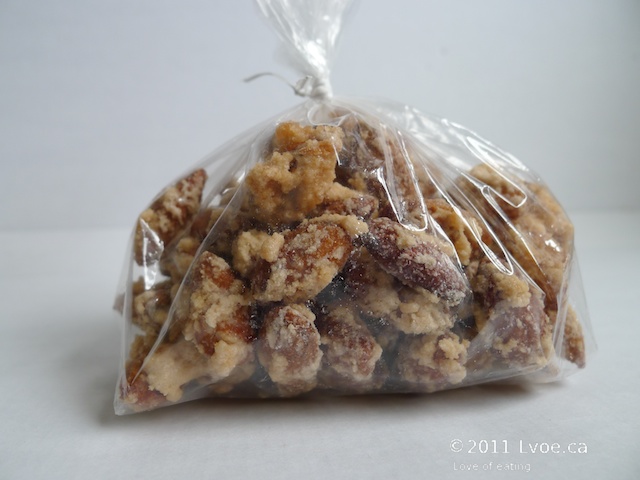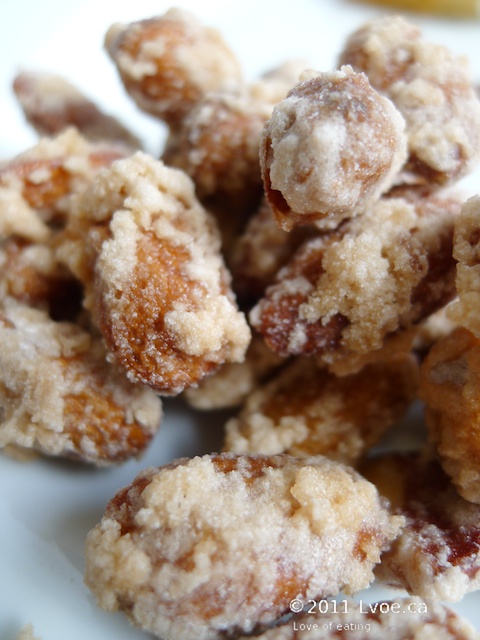 The almonds are pretty simple. The nuts are coated with a thick granular, vanilla-ish, sugar coating. I couldn't taste the almond very much under all that. I was hoping for a more toasted almond flavour with the candy crunch. I ate these on the way home; I still have a few left on my kitchen counter.
Despite it's name, Oops Café is not a mistake. All of the baked products, including all the sandwich breads and yummy pretzels, are proudly made in-house every morning, and it shows. Now if I can just get this Britney Spears tune out of my head...
Locations
Oops Café
374 Third Avenue
Kamloops
,
BC
V2C 3M3
Canada