Bellevue Café - Penticton, BC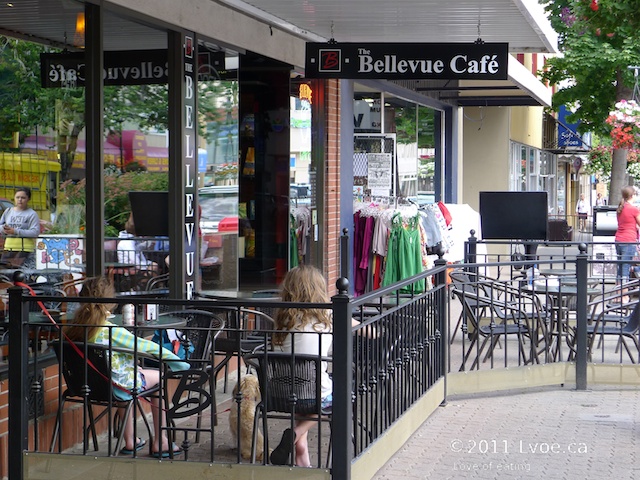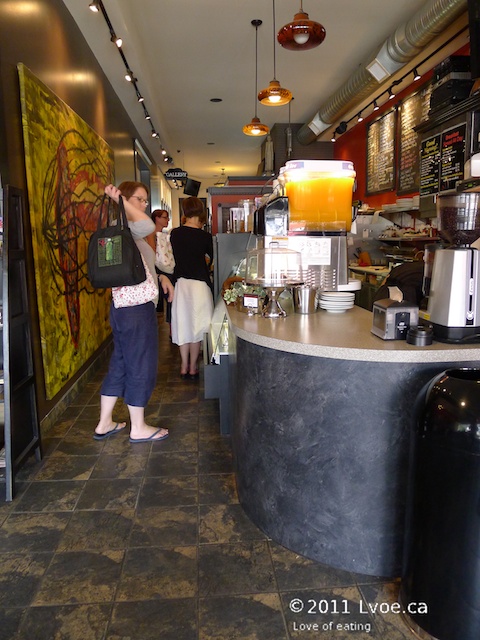 When I walked past the Bellevue Café earlier today, it seemed too cramped and loud at that time. I knew I wasn't in the mood to jostle for a table while grinders and frothers drill at my aural senses. Ah, it's quieter now, so I slide in for some eats. Although it's quieter now than at crazy-time a few hours ago The Bellevue Café still enjoys a steady stream of customers. Many of them having more than a beverage to go.
Lemonade Matcha ($3.00)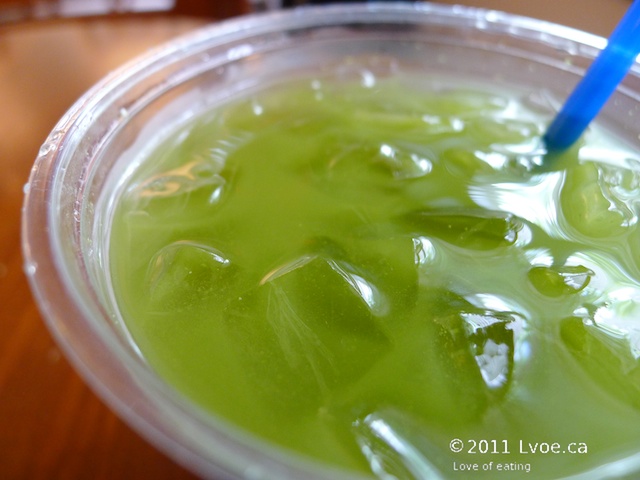 I've already had way too much coffee, so I go with a thirst quencher: Lemonade Matcha. The drink is iced lemonade with green tea matcha, and it's sweetened with cane sugar. If you enjoy items with matcha powder, you will likely enjoy this. The up-front flavour is mostly green tea matcha, with that ubiquitous tannin-like mouth feel, but then the beverage ends on a sweet lemonade note.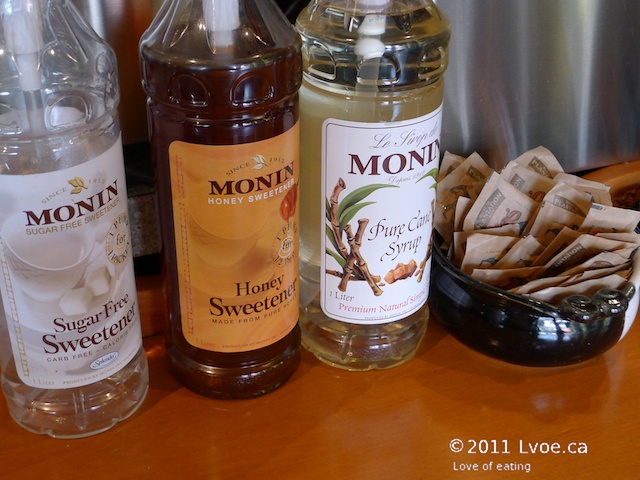 Here's a little touch the Bellevue Café provides that I think is super. They offer their guests liquid sweeteners for their ice cold drinks. Two natural sweeteners, cane syrup and honey, and one…um, not so natural. I like that they offer cane syrup as an alternative to the typical 50/50 simple sugar syrup. I didn't need to use any of these today, as my matcha is perfectly sweet for me.
Roasted Chicken Thin Crust Pizza 9" ($10.95)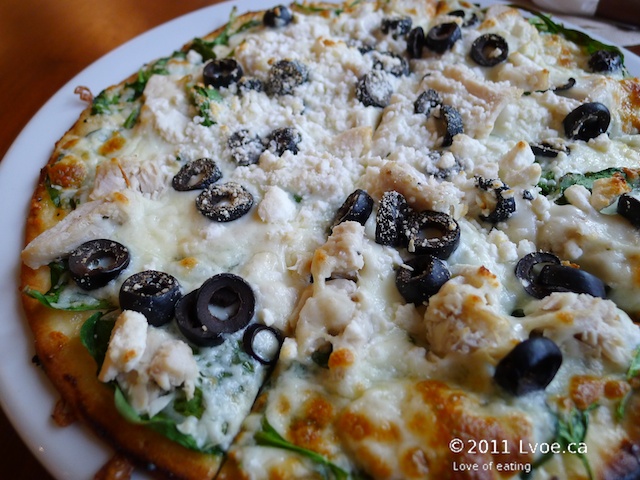 There is a bit of a wait for this. The server brought it out with an apology for the wait. My pizza took about twenty minutes. The wait didn't faze me. When I ordered my pizza, I watched a staff member over-seeing someone else's pizza in the petite-size ovens located behind the counter. I had anticipated it may take a little while for mine.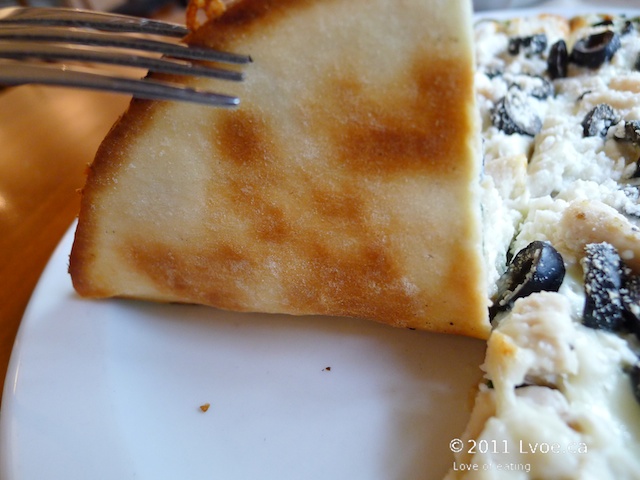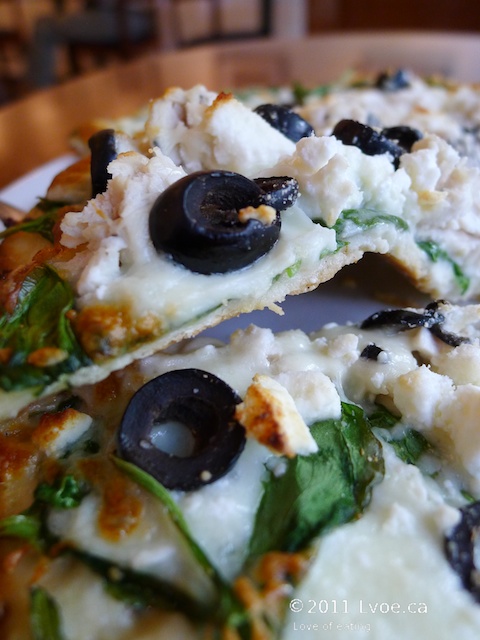 The crust is indeed thin, like a cracker. A flat-thin crust, as opposed to a bubbly-crackly-thin crust. The toppings are not over the top, which is my preference. The chicken breast, baby spinach, olives and feta all held their own atop a béchamel-like sauce. The cheese got a little salty on my tongue after the first half of the pie. (I know, half the pie! ...Oy.) The 9" diameter is large enough to share with one two others, if you only want a snack. I paced myself and enjoyed the six slices as a meal. Thanks god for this cracker thin crust. Otherwise eating this entire pizza would've felt like I inhaled a loaf of bread.
Apricot Almond Slice ($2.75)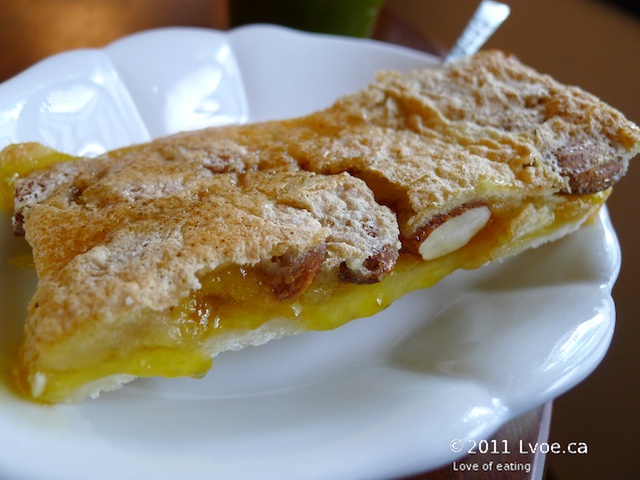 Crumb crust bottom with a sweet apricot jam layer and whole toasted almonds throughout. A sugar crumb top rounds out the slice. It's very sugary.
The Bellevue is fairly large. There is a sidewalk patio, a long narrow main space, and a few steps up takes you to a smaller dining gallery, before heading out to a garden patio at the backside of the café.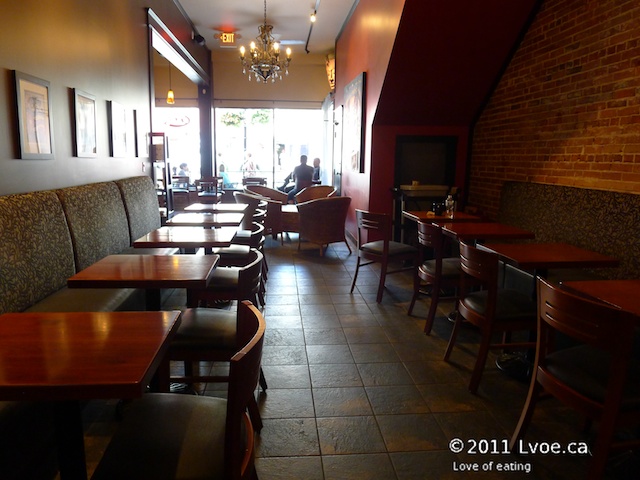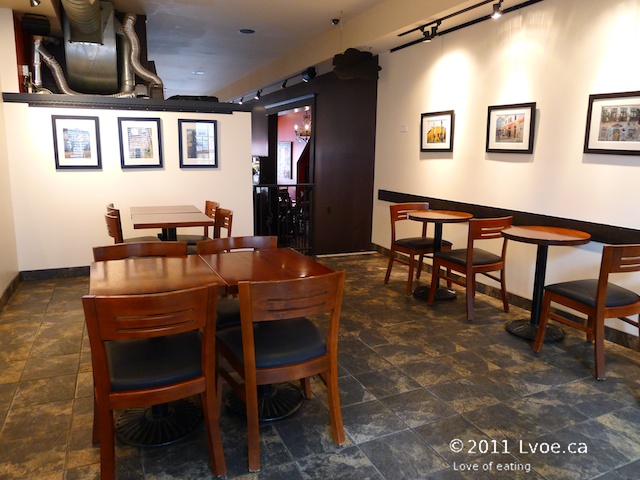 The Bellevue Café serves up better than average coffee shop fare. Food-wise it's more like a café. They take advantage of those compact ovens behind the counter, by making a solid selection of oven baked wraps, Panini, quesadillas and even nachos. The ambiance is decidedly more "coffee-shop" than anything else. The artwork, music, and general vibe are like that found in a typical modern chain, like Starbucks or Café Crêpe. Still a nice place for a quick bite or coffee.
Locations
Bellevue Café
245 Main Street (Northbound)
Penticton
,
BC
V2A 5B1
Canada