Okanagan Grocery Artisan Bread - Kelowna, BC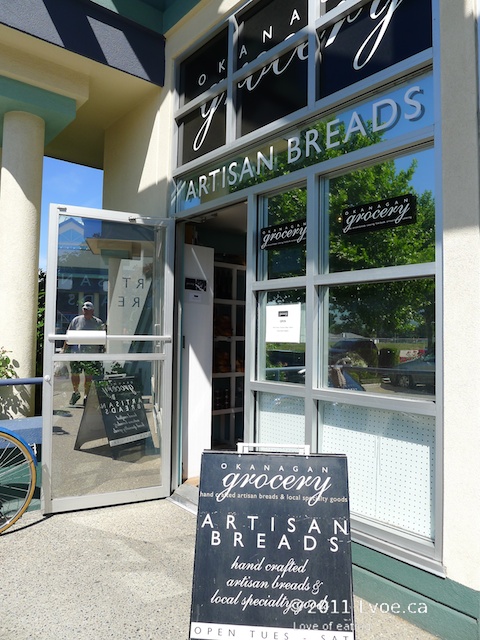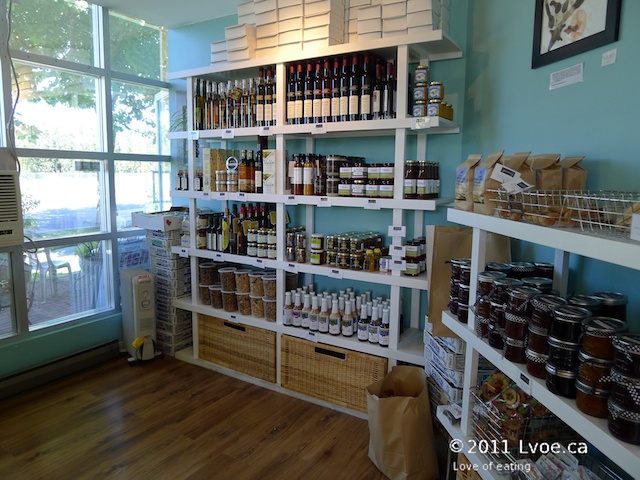 Petrol stop! I swing into Kelowna's Guisachan Village and I spy two well dresssed ladies using their teeth to tear into some brown bagged loaves of bread from across the parking lot.
These women are clothed in their Sunday best. Unfazed by my open-mouth stare, they rip apart the bread with their canines, as a shower of crust remnants cover their blouse fronts; then onto the asphalt. Hmm...what kind of crusty baked good would make these seemingly prim-n'-proper ladies turn into the Cookie Monster's less furry cousins?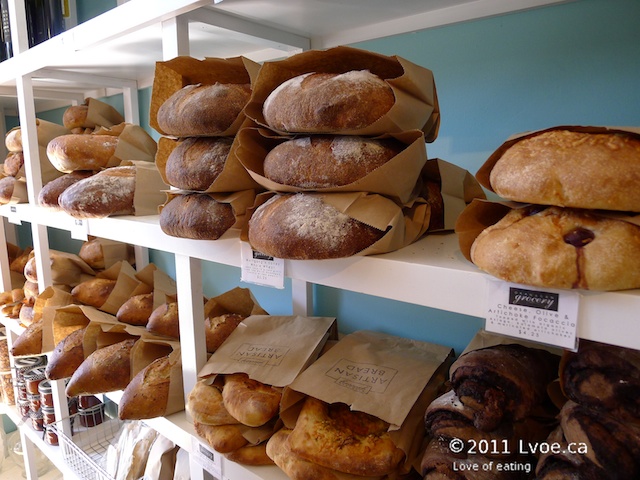 I wander closer into the Kelowna condo shopping village, and there is a small stream of people heading into the Okanagan Grocery. The little shop has that Martha-Stewart-Donna-Hay look to it: glossy white details on the robin's egg blue coloured walls.
I pick up some carbs for today.
New York City Cheesecake Cookie ($2.95)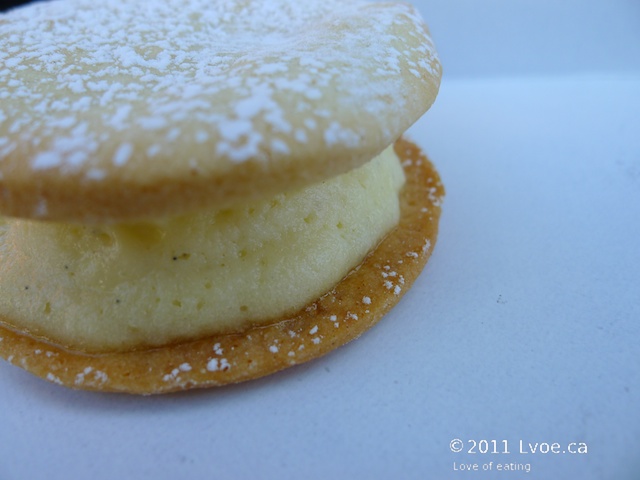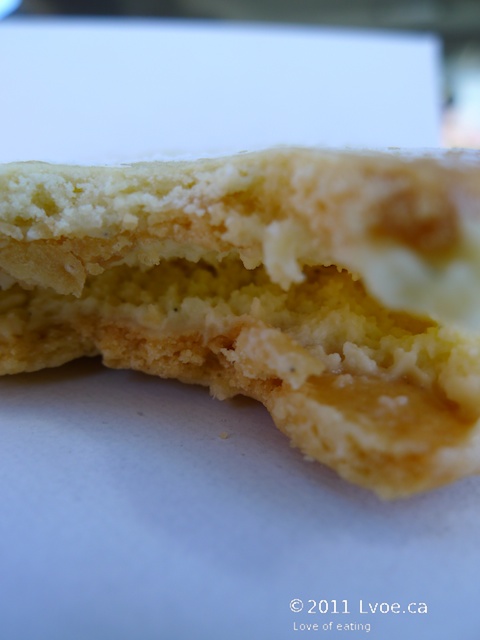 Vanilla. Such a simple flavour. The cheesecake part of this cookie sandwich is light and fluffy with a soft creamy texture. No frustration in eating this as the cookie part of the treat is delicate enough to bite through without squeezing all the beautiful filling out the sides. Clever interpretation of a cheesecake even if you're not a cheesecake lover.
Sticky Bun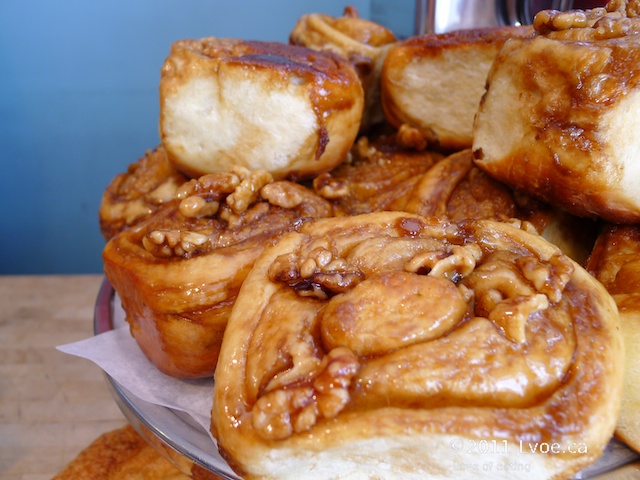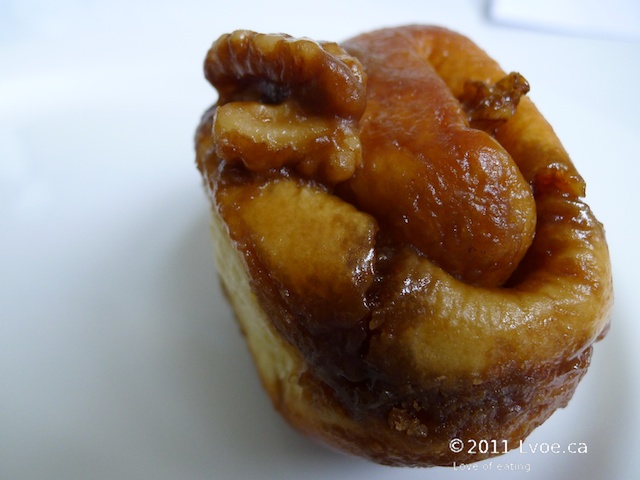 The wonderful staff behind the counter had a bun too wee to sell and gave it away as a sample. The sweet dough is pillow soft with enough brown sugars and butter to candy the walnuts and insure there is enough stickiness throughout.
Callebaut Chocolate Loaf ($5.95 per loaf)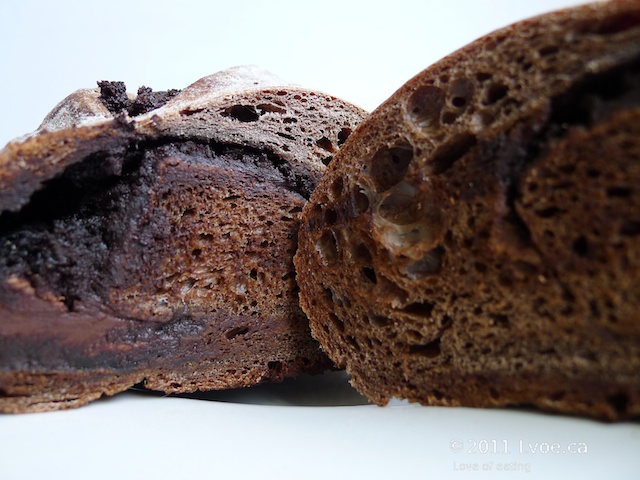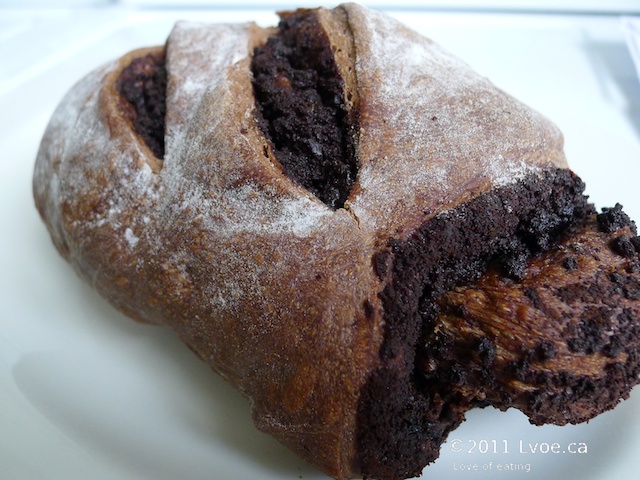 Damn. This is more like a lush dessert than bread. There are substantial pockets of lovely, rich deep dark chocolate interlaced all through this flattened football of a loaf. So incredible.
Asiago and Black Pepper Loaf ($5.25 per loaf)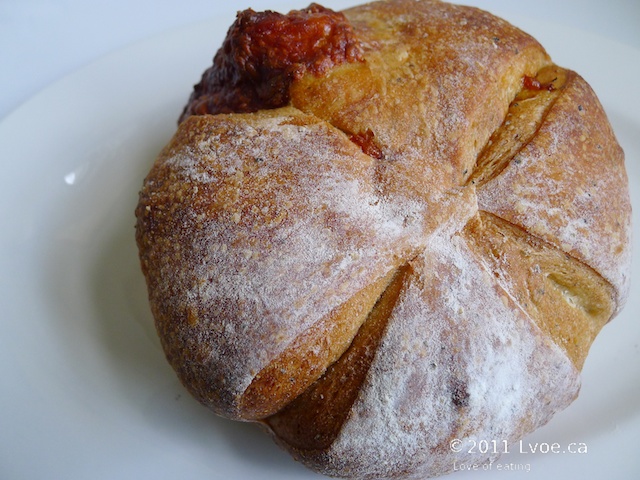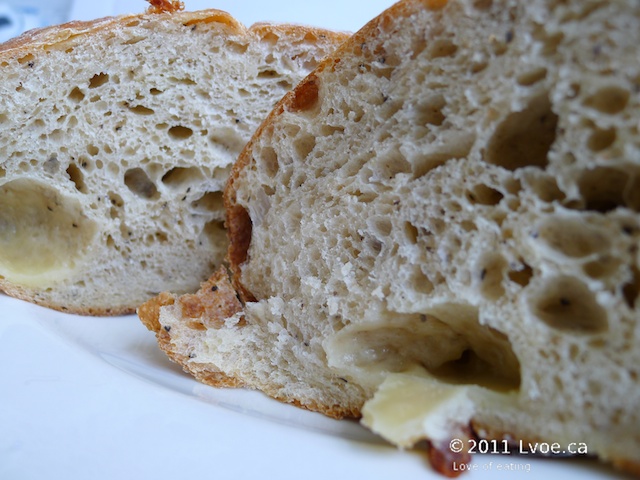 Just like the chocolate loaf above this bread has very sharp distinctive flavours. Super pronounced pepper and asiago aromas with each chewy bite. Initially I had grand plans to use the Callebaut bread for a part of a sweet breakfast dish, and then use the Asiago Pepper bread as part of an appetizer platter with gerkins, cheese...blah, blah, blah.
I couldn't do it. These loaves are far too tasty and fresh to be wasted on anything else other than eating them straight up. Both loaves ended up at the bottom of our bellies in less than 24 hours from the time I plucked them from their cozy stack within the Okanagan Grocery.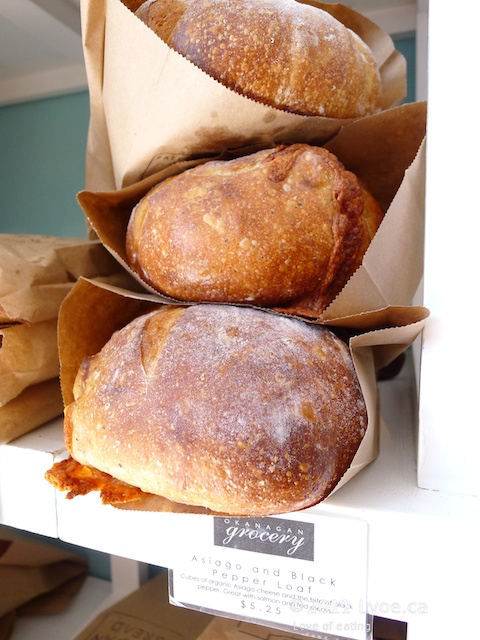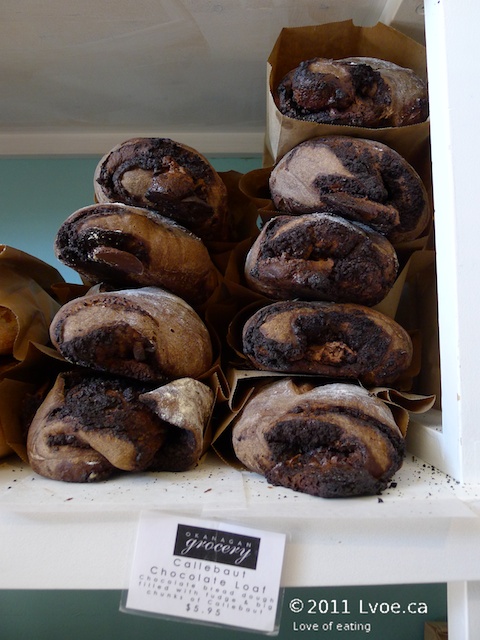 What makes this visit even better? Both the loaves I purchase today are still warm when I take them from the shelves. There is nothing like hot bread just out of the oven. I imagine Okanagan Grocery regularly sells out of their daily offerings well before the loaves grow cold. I get it now, why the two ladies threw out any type of public decorum, and ripped into their brown bagged breads before reaching their vehicle.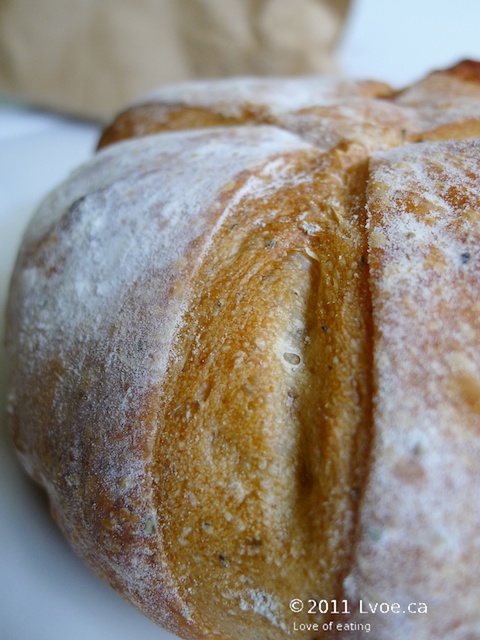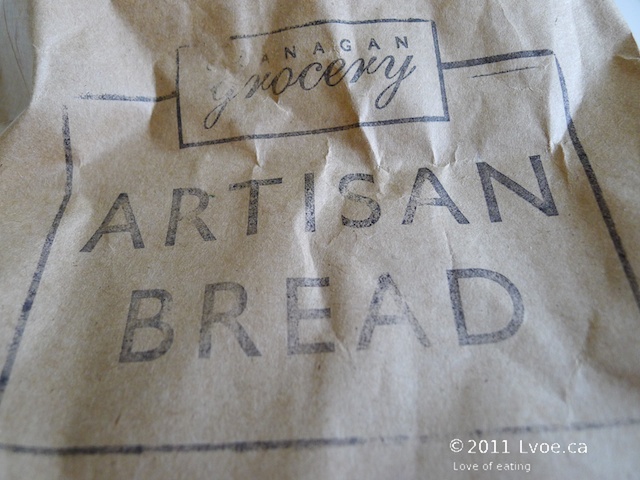 Okanagan Grocery Artisan Breads can be easily missed if you're just driving by. They share the building with a seafood store called Codfather's. (Yes, you read it right…) But the signage for the fish place overwhelms the building and if you weren't looking for it, you'd never know there is a kick-ass bakery tucked in the corner. Look for it the next time you stop for gas at Guisachan Village in Kelowna.
Locations
Okanagan Grocery Artisan Bread
2355 Gordon Drive
Guisachan Village
Kelowna
,
BC
V1W 3X7
Canada