Le Plateau Bistro - Kelowna, BC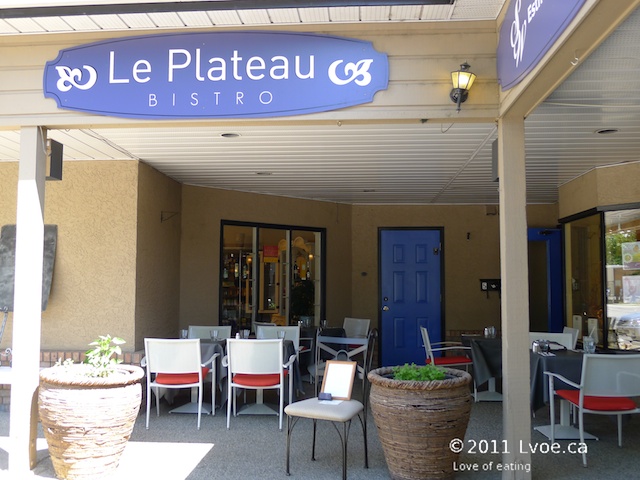 **UPDATE January 2013: Sadly Le Plateau Bistro has closed:(***
There's a farm in Kelowna that sells a vast selection of heirloom seeds for local gardens. Since we have to be out here in the Okanagan for other matters, I thought I'd kill two birds with one stone. There's not a huge selection of eateries as we blaze our way down to the farm, but there is Le Plateau Bistro.
In the far corner of Tutt Street Square, at the end of a small row of shops, sits this very casual French bistro. The owner is mopping the floor when we arrive, so we take advantage of the sun and seat ourselves on the patio. The menu is compact with straightforward, French-country style fare.
Le Plateau Dips and Roasted Olives ($8.00)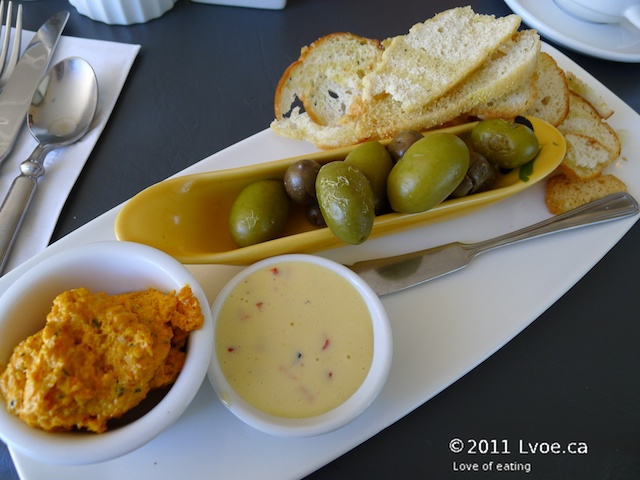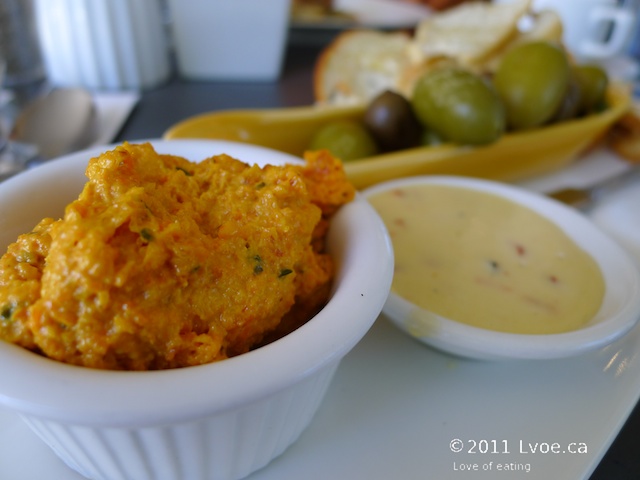 A selection of imported olives, house made crostini and this carrot emulsion. Oh the carrot emulsion! So tempting to scoop the carrot concoction up with a spoon and eat it like pudding. I can't even recall what the other dip is...
Sweetbreads ($10.00)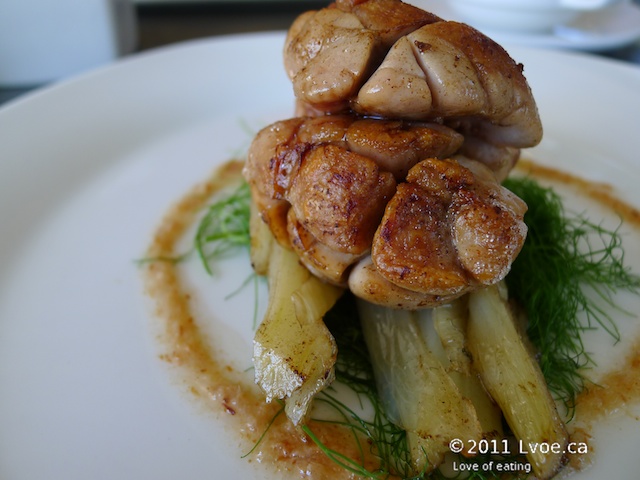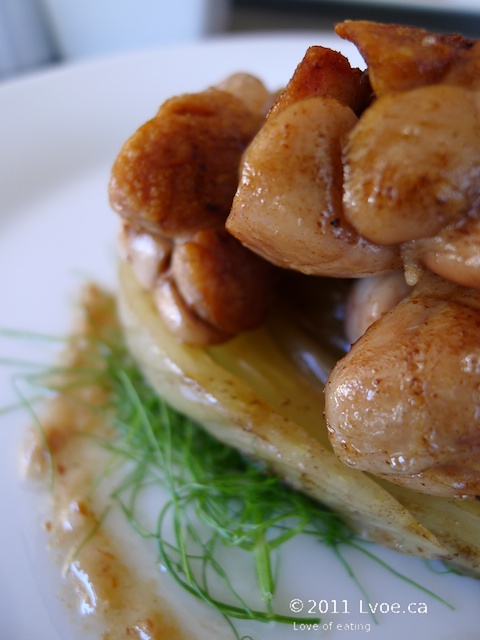 Do you like sweetbreads? I like sweetbreads. Sometimes it's tricky to find restaurants (even French ones) that will attempt sweetbreads. The gorgeous glands have a great caramel coloured sear on the top. I love the crispy texture it gives to the softness of the nasty- bit. I haven't had sweetbreads since moving inland; so I'm delighted to see Le Plateau offering these tender morsels.
*Sidenote: DL brought to my attention something I've never noticed before:
Sweetbreads = Popeyes Chicken
For reals. If you close your eyes and put a bite of Le Plateau's sweetbreads in your mouth, it tastes like Popeyes fried chicken. I couldn't believe it!
Today the chalkboard tells me the quiche de jour has honeycomb with it. I am very torn, because I heart honeycomb... I even consider ordering the quiche as an extra main, but I deem this neither the time nor place to pull a Takeru-Kobayashi-moment.
Braised Boneless Short Ribs ($15.00)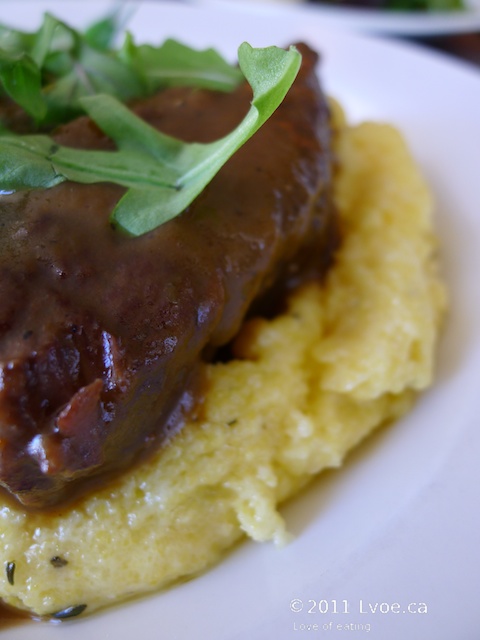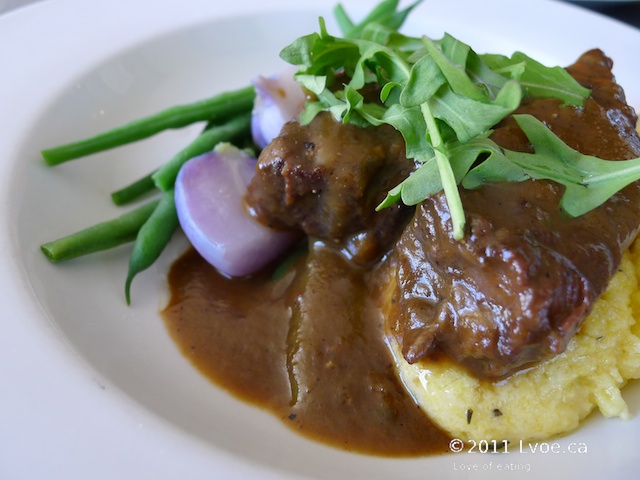 I let go of my honeycomb craving and go with the braised meat. Don't you love it when things are simple, but at the same time taste pretty darn incredible? The beef just sits atop of a bed of cream corn polenta. The short ribs are so very tender that I didn't need a knife. Braised meat regardless of type is always comforting, no?
Chicken Confit Baguette ($11.00)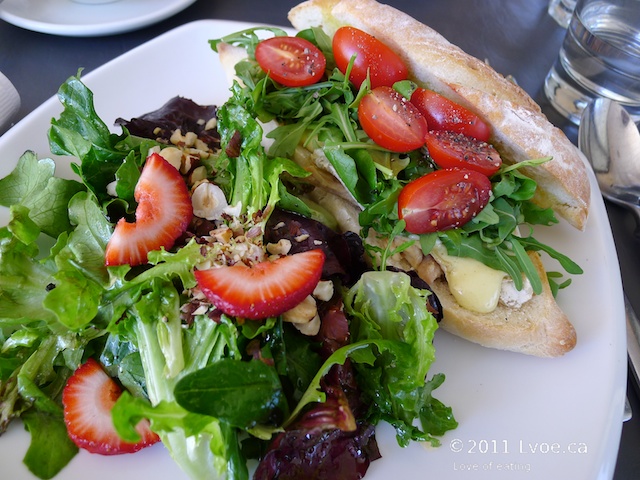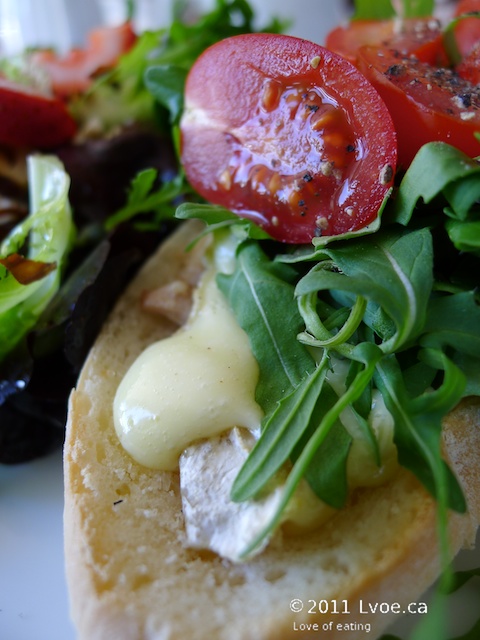 Y'all know how much I love confit. I daydream from time to time, about the various things one can confit. The chicken, that hides itself underneath the generous brie, is tender and well seasoned. Sweet grape tomatoes and fistful of rocket tops this baguette. Finally, the bread is finished with a drizzle of olive oil. Get a load of those garden greens! I am not a salad freak, but this pretty mélange of local strawberries, nuts and leafy edibles is enough to make any carnivore jizzy.
Baguette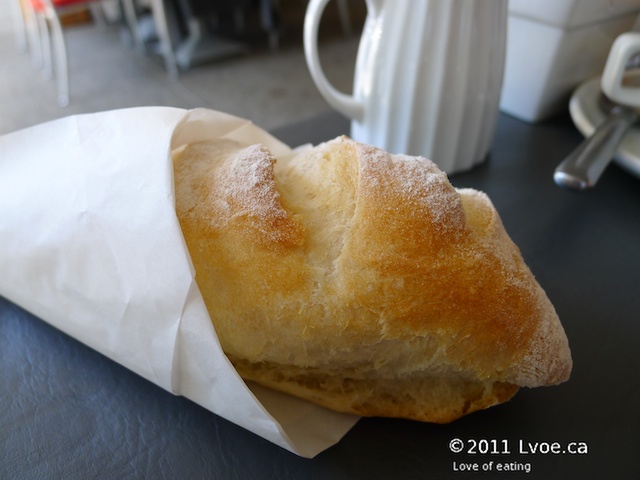 The warm baguette, along with all the bread at Le Plateau, is freshly baked in-house. Perfectly crusty and chewy.
Strawberry Shortcake ($6.00)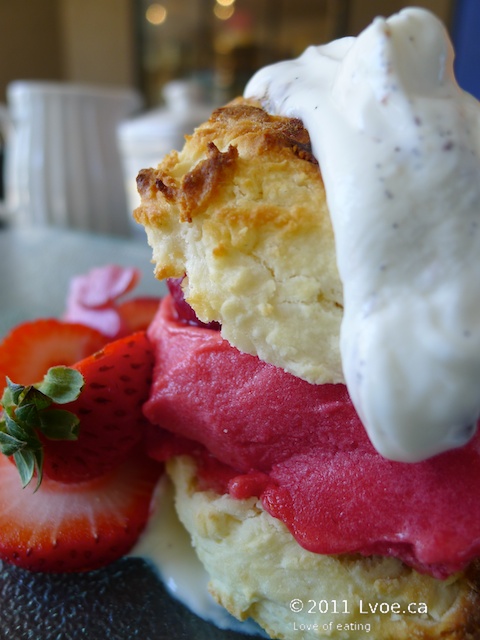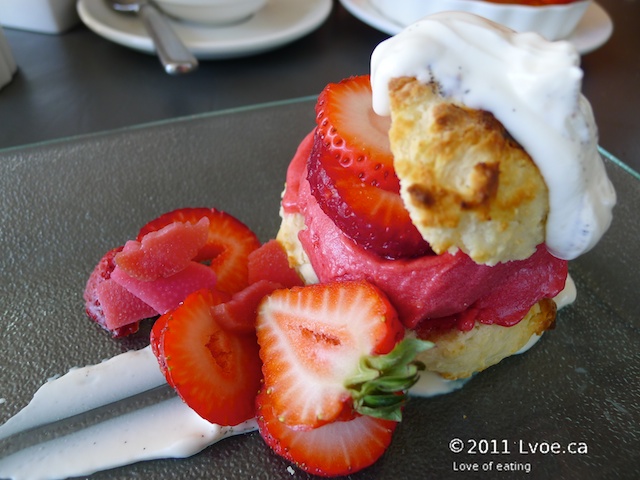 Not the run of the mill shortcake, but a unique take on the traditional. It's a fine cold sorbet-like medium sandwiched between a buttermilk biscuit. The strawberry rhubarb flavour is natural and wickedly sharp, almost tangy. Oh, and just to guarantee that your eyes roll back into your skull, they give it a dollop of vanilla crème fraîche.
Vanilla Bean Crème Brûlée ($6.00)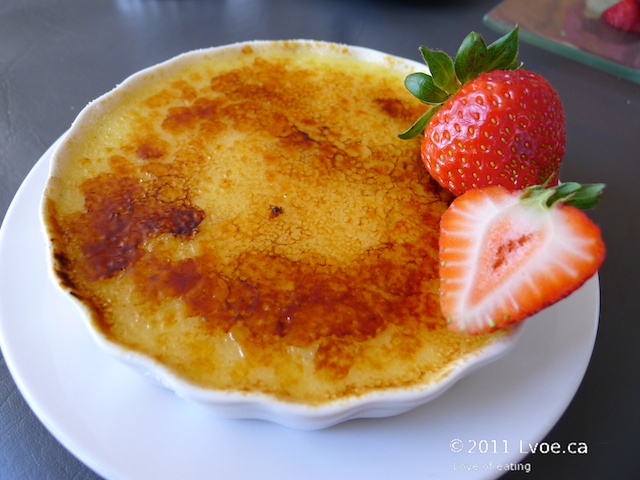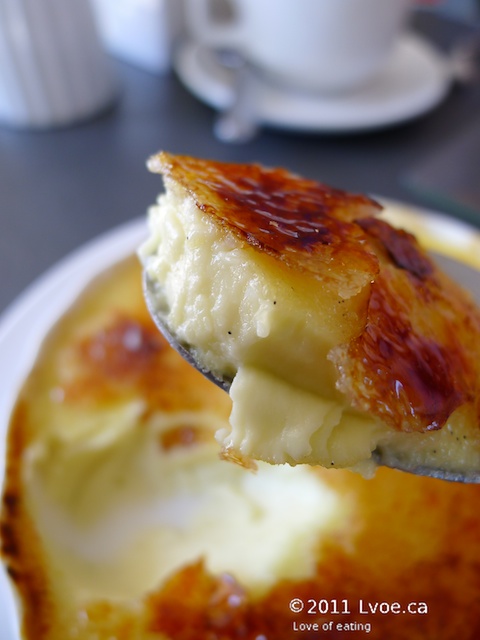 Crème brûlée is a must-have whenever I spy it on a menu. The crackle is important to me. The colour and the thickness of the crackle are lovely here. No frills, no gimmicks, just a solid, candid crème brûlée.
It is quiet today at Le Plateau, to say the least. In fact we are the only patrons the entire time of our leisurely visit. I know this is not great for business, but it was indulgent to have the entire restaurant and service all to ourselves.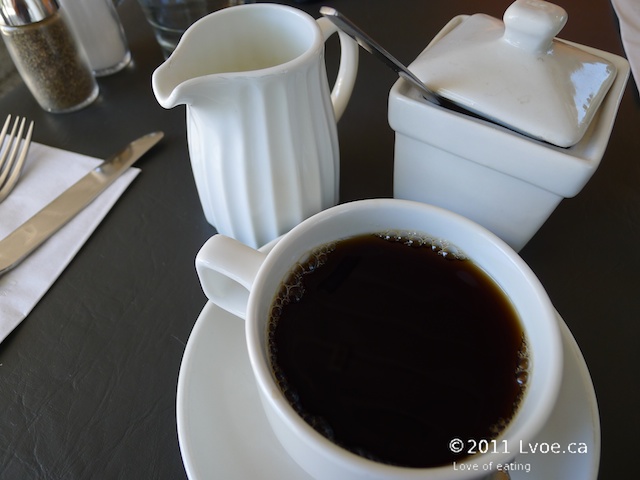 Can we talk about the pricing here? Le Plateau Bistro produces heart-fully made food, using mindfully sourced ingredients, at a more than reasonable rate. We each had a three course à la carte meal with knowledgeable, thorough service for less than $34 per happy diner. Seriously, it's difficult to find even a decent table d'hôte menu nowadays, let alone à la carte, for under $35. And how much did I pony-up for my last mediocre restaurant burger? Gah, don't get me started on burger prices these days...
My point is: Le Plateau Bistro is affordable. Its places like Le Plateau that can put all those try-hard restaurants out there to shame. Shame!
Locations
Le Plateau Bistro
#5 - 3045 Tutt Street
Kelowna
,
BC
V1Y 2H4
Canada