Mon Petit Choux Café and Bakery - Nanaimo, BC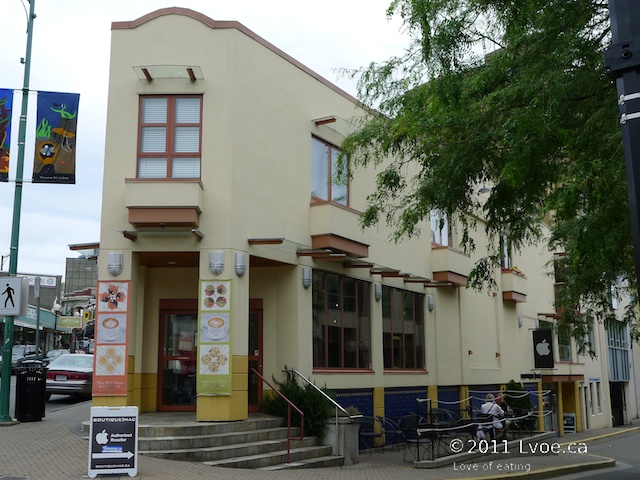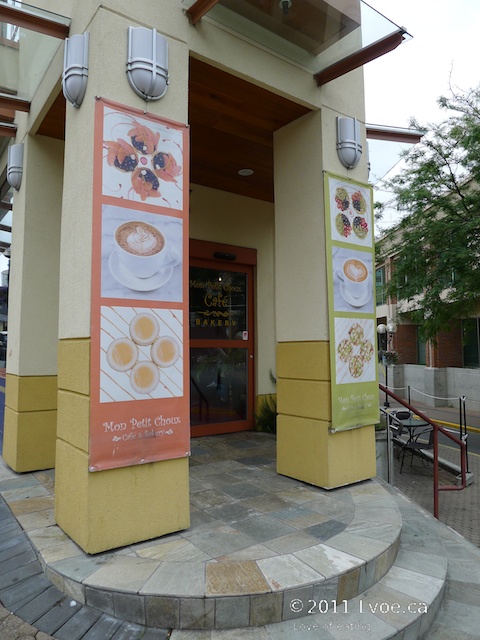 Mon Petit Choux Café is a cute place to grab a coffee and a pastry. The café is located in downtown Nanaimo, near the waterfront, next to the city's conference centre and public library.
They have a small but visually pleasing array of delicate pastries. Today there is still a good variety of breads and croissant to choose from as well. All the treats are made on-site. The service is young, but eager to please.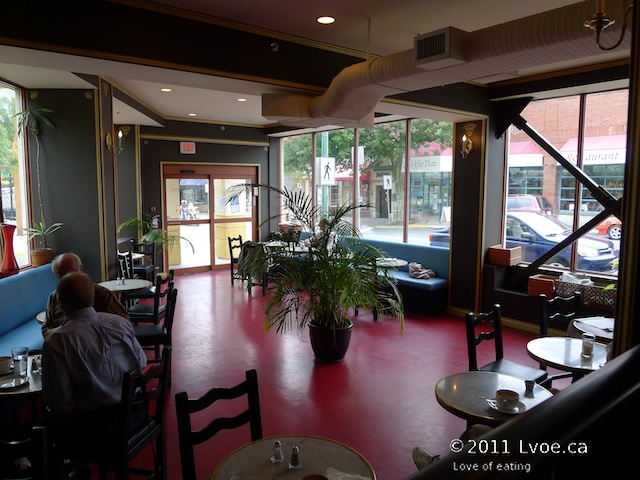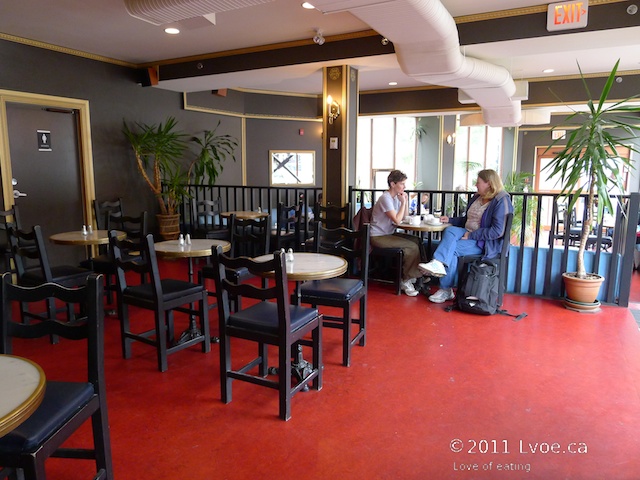 The dining space is fairly large, featuring high ceilings with a windowed eating area and a smaller mezzanine near the service counter. The service counter and patisserie area is very petite. It can get quite cramped with less than six people ordering. Mon Petit Choux offers table service too, if you want to avoid this elbow to elbow action up at the service counter.
Along with my coffee this morning, I choose one of the beautifully finished tartes.
Coffee ($2.25)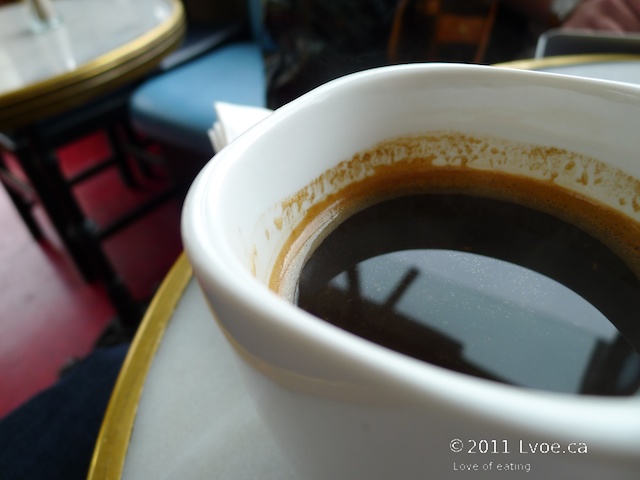 The coffee service is civilized. Even the most basic brew is served with unrefined sugar and a proper coffee appropriate cream on the side. I can't help but notice that both the beverage and pastry are served in chipped ceramic ware. Pity.
Lemon Curd Tarte ($4.25)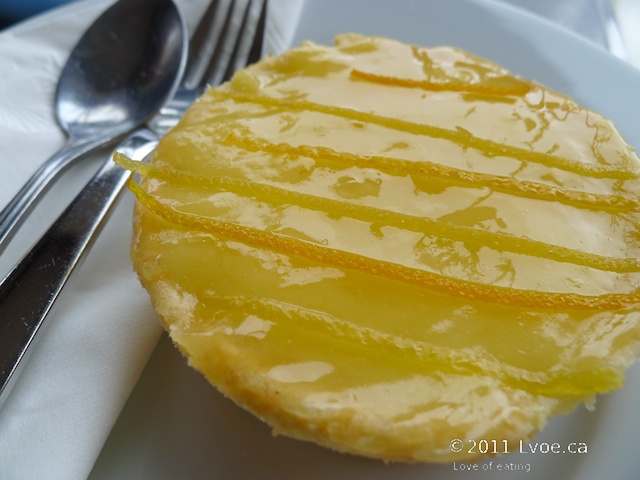 After the counter server mentions the Lemon Curd Tarte is "very lemony," I immediately choose the Lemon Curd Tarte. That's a no brainer. Under a thin layer of glaze, the deeper yolk coloured curd is lip puckering tart and tangy. It is thick, smooth and velvety on the tongue. The crust however lacks delicateness.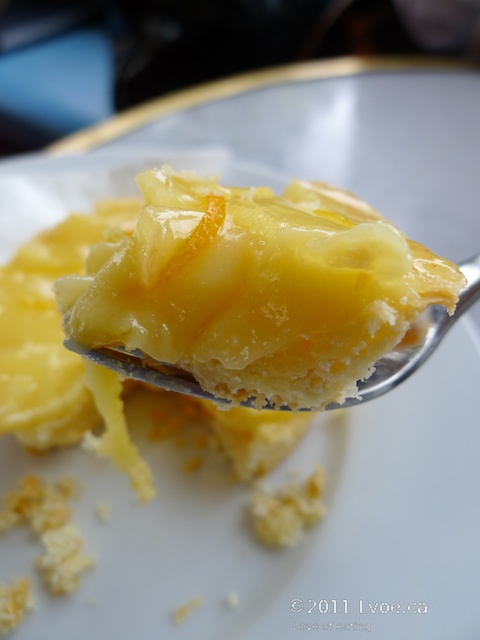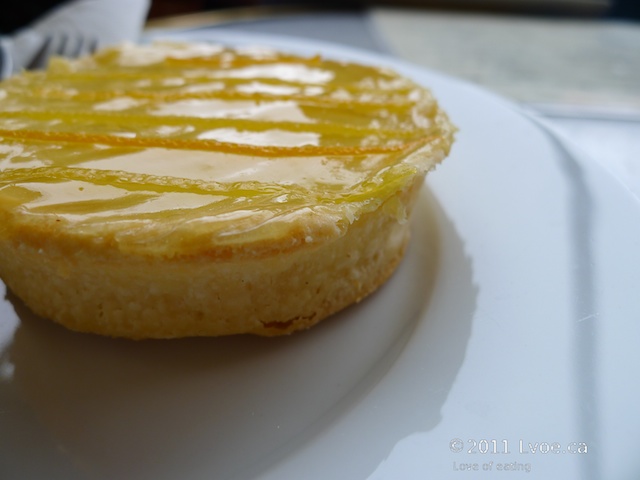 The tarte is too large to pick up and eat with one hand, so it requires utensils. My fork effortlessly cuts through the citrus curd, but then it hits this thick unforgiving crust. I need to drive the prong end of my fork and engage a good grip and firm force to break a piece of tarte off. Before each successful bite of tarte there is a loud clank of my fork on the plate. Not the most dignified way to enjoy a pastry. Taste-wise the tarte is enjoyable once it's inside my mouth.
Mon Petit Choux has a great location, as it is on Commercial Street which is Nanaimo's downtown core, just a few steps away from the Nanaimo Harbour. Many that live in Nanaimo tend to flock to north Nanaimo, which is filled with bland, predictable, American owned big box businesses. Nanaimo's downtown core is a much more interesting place to people watch and browse the shops. You'll find heaps more character (...and characters) down here in this bustling area where the Mon Petit Choux Café is found.
Locations
Mon Petit Choux Cafe Bakery
101 - 120 Commercial Street
Nanaimo
,
BC
V9R 5G6
Canada