Cuckoo in Coombs Restaurant - Coombs, BC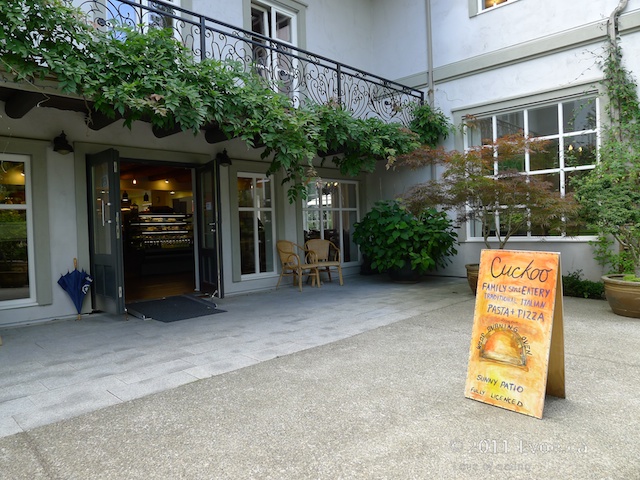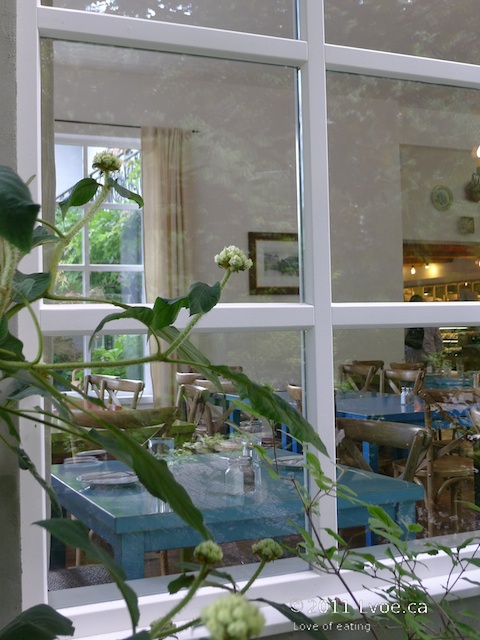 At the end of an afternoon in Coombs we head over to Cuckoo in Coombs Trattoria and Pizzeria. It's the farthest building back on the lot next the Old Country Market Garden centre.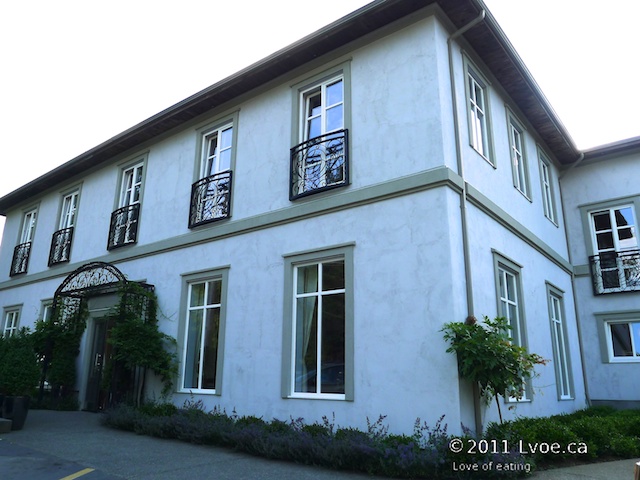 They refurbished one of the original farm house buildings on the Country Market property and turned it into a casual family restaurant. Nice idea, seeing as how Coombs is such a popular destination in the summer.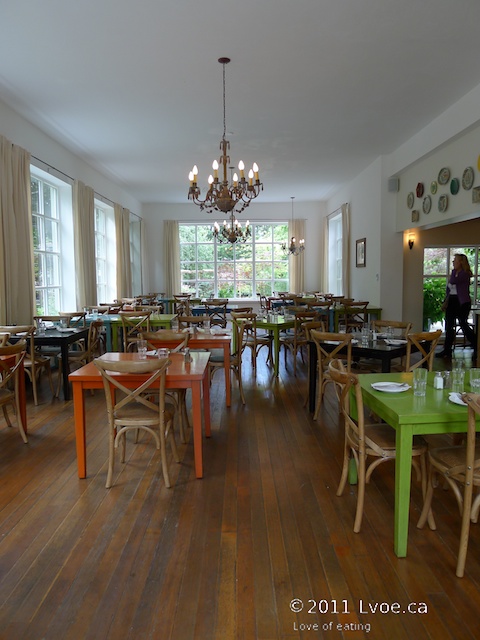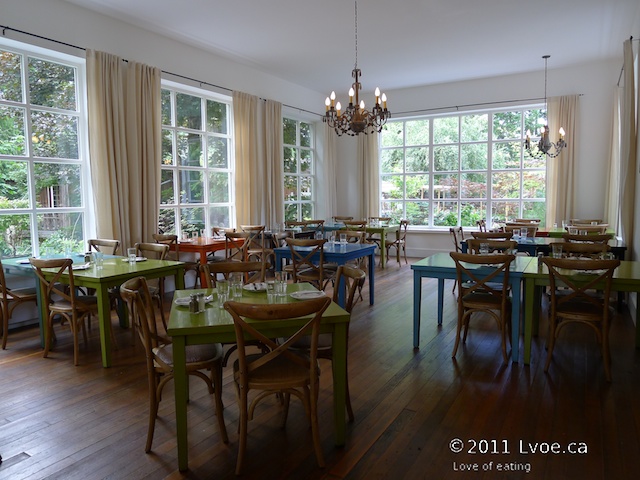 The space is fantastic. The huge windows let in enough light to make the tall walls and dining area bright. Outside an equally spacious patio awaits. Of course we choose a seat next to bees busily procuring pollen from the planted flowers next to our table. Isn't that always my luck?
The menu offers some identical items from Pacifico Pizzeria in Vancouver. Which has me wondering: if Fausto Bellicini is going Cuckoo in Coombs, then who's running the show at Pacifico?
After much debate we decide to take part in the family-style Mangiacake deal. It's $15 per person with our choice of two pizzas, a salad and pasta. There's some other additional charges too, but more on that later. In addition to the Mangiacake we order one additional appetizer and desserts.
Spicy Meat Balls ($10.00 not part of Mangiacake)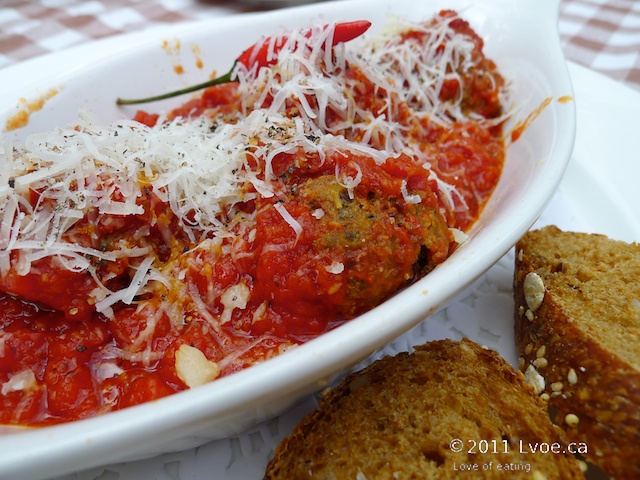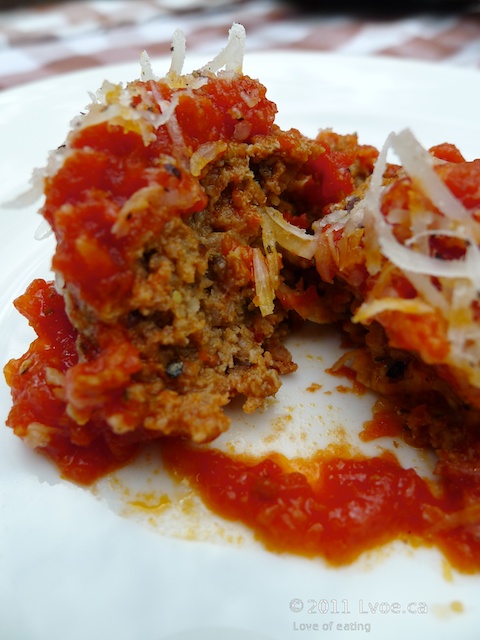 The meatballs are moist and tender. They're not really spicy, other than the Thai chili on top, but it's very flavourful with an in-your-face tomato sauce.
Spinach Salad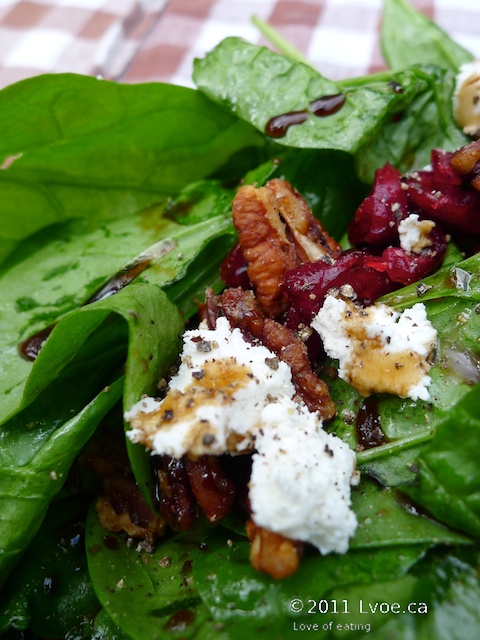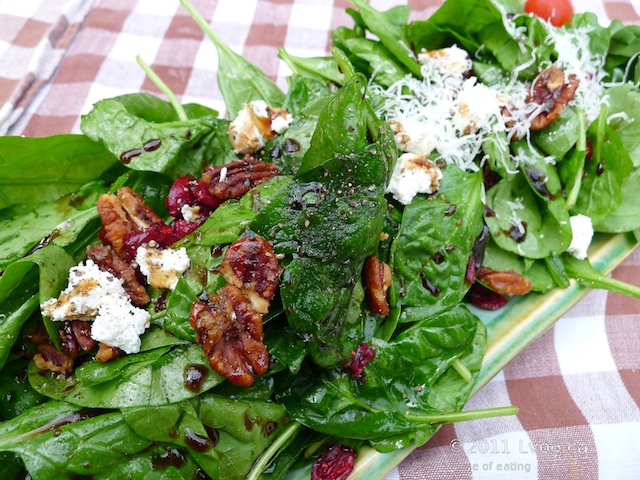 The cranberries and honey pecans give this spinach plate a nice sweetness and crunch. The goat cheese is good and strong too. Do you notice a theme in my salad eating? It tends to be sweet and savoury all the time, no?
Linguine Pescatora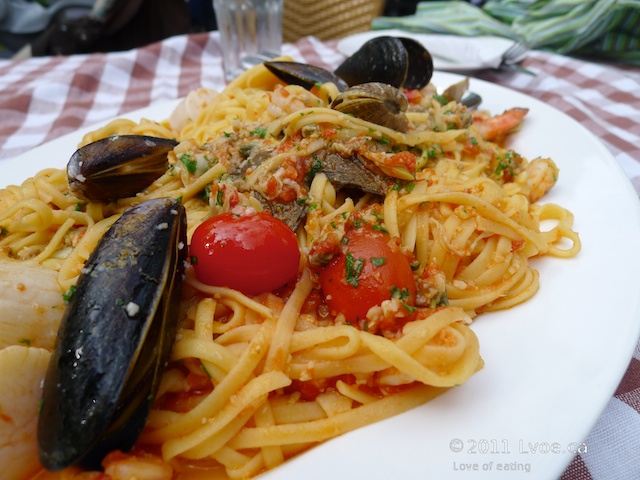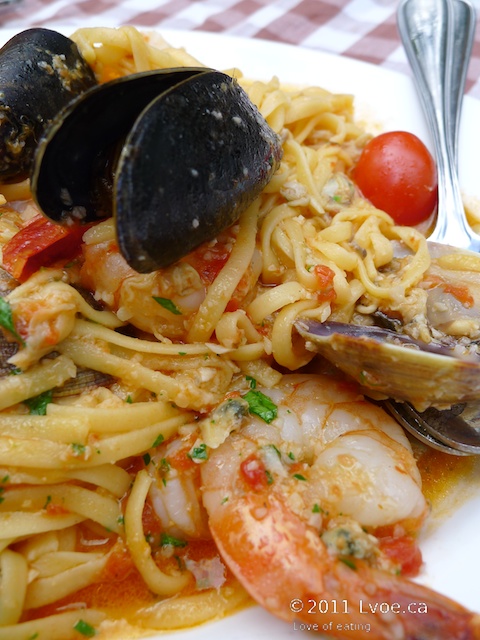 The flavours again are intense, but balanced. I really like the taste of this dish, even though it's probably the least popular at our table tonight. It's heavier on the pasta and a little leaner on the seafood end. There still is a good helping of clams, however. A few varieties of clams in fact, some shelled, some not. The dish is somewhat scant on the other seafood; containing a meticulously rationed four of each: mussels, prawns and scallops. The scallops are a little over done, not to the point of rubber, but they weren't exactly tender.
Vesuviou Pizza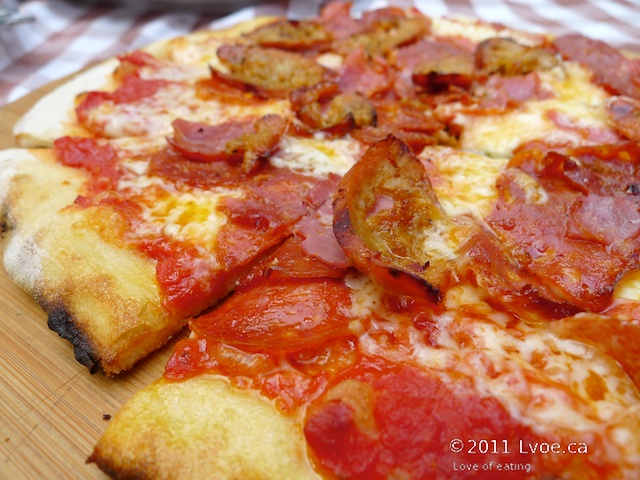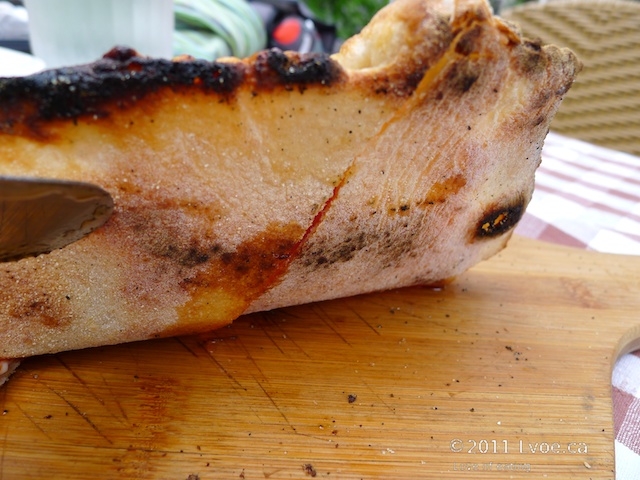 This is a hit among all of us. The toppings are the spicy meats: pepperoni, Italian sausage, salami and capicollo with chili garlic sauce. It's not a lingering spice, so those that "don't like spicy foods" may still like this. The spiciness is there in a few bites but disperses quickly. The crust is thin and crispy with an esthetically pleasing amount of char.
Capricciosa Pizza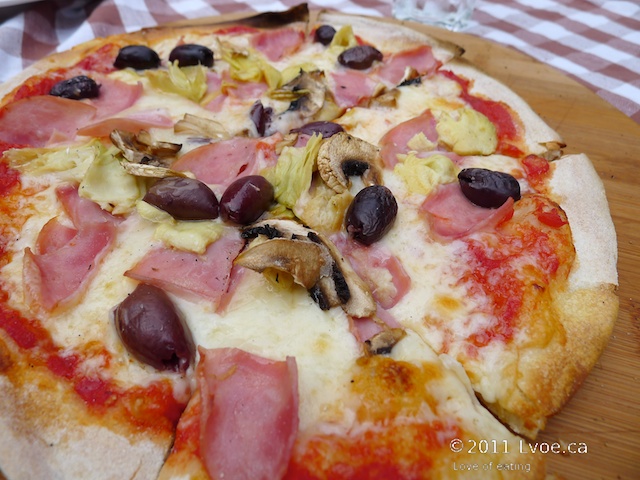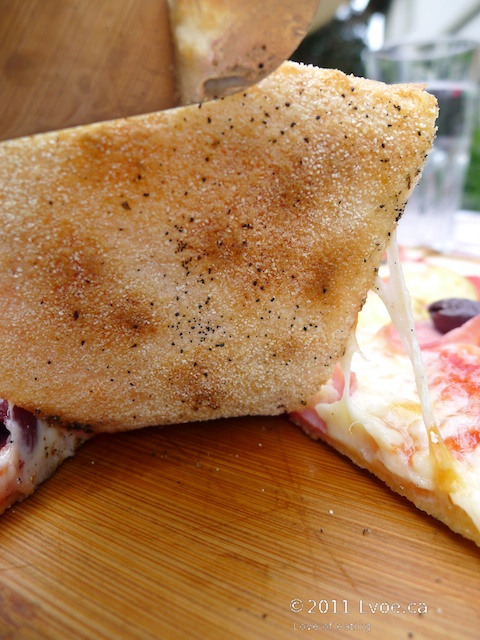 Wingardium Capricciosa! Swish and flick. Or is that leviosa? This is a nice contrast to the spicy meat pizza above. Cuckoos builds a solid Capricciosa pizza with mushrooms artichokes, ham and olives. I love the use of whole olives on this pizza and the thick cut mushrooms. The crust is much like the one above, but with less char.
Assortito ($16 at $4 per person)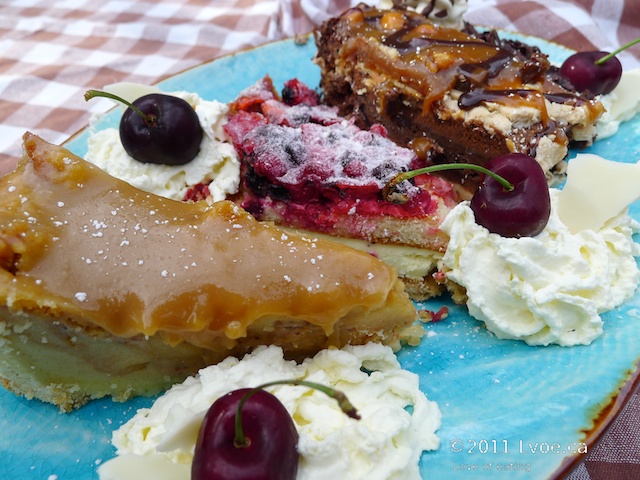 DL volunteers everyone at our table to go with the assortment share platter, and quickly orders it. Gah! This is before I have even looked at all the dessert options. I'm a little irked, but I roll with it. The Assortito is a selection of four desserts at $4 per person. Our server shares with us that the Assortito selections come from the bakery at the Old Country Market. I can't recall the names of all of the desserts, but I'll try to be descriptive in my re-naming.
Caramel Apple Pie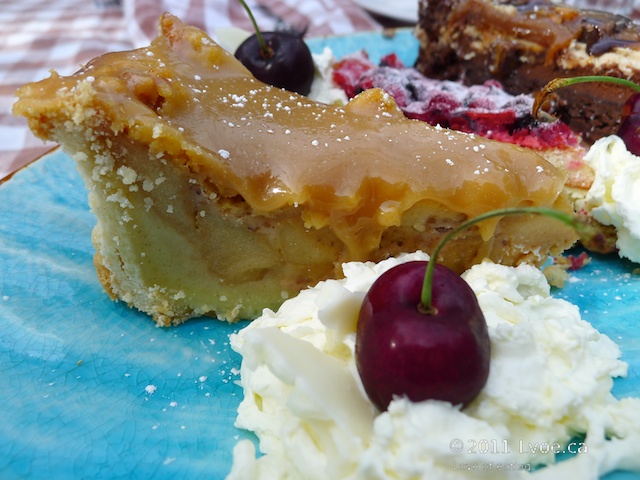 This may be my favourite. Just like an apple pie with more of a crumb crust and a thick topping of caramel. Eyeballing the caramel, I think certainly my teeth will ache, but the apples keep enough of their own tartness to make it just right.
Triple Berry Cheesecake Tarte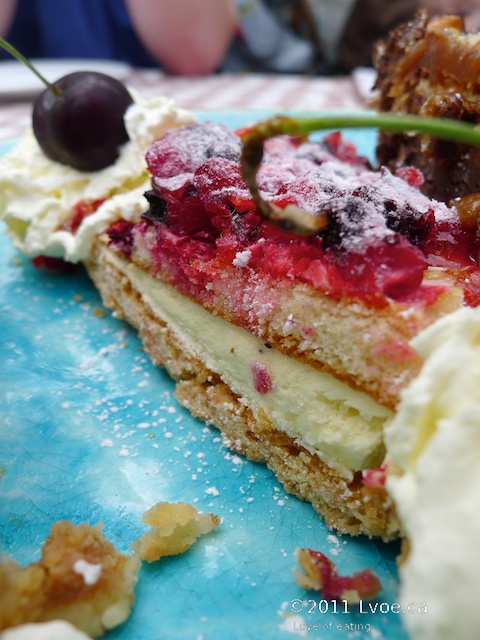 This seems straightforward. Berries on some sponge cake and cheesecake-like base. I ask our server if it is indeed a cheese cake base. Her answer isn't very confident, "Yeah, something like that." Okay… It's good though. In sweetness and in density, this is probably the lightest dessert of the four.
Peanut Butter Chocolate Layer Slice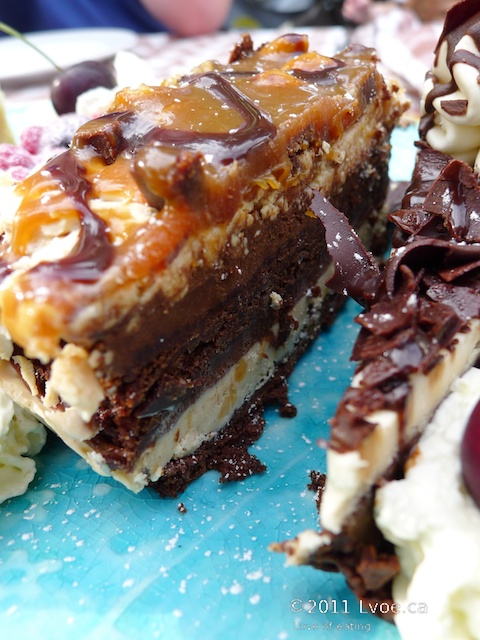 I have written about how peanut butter is not a favourite of mine. Never has been. But at the same time, I'm finding so many peanutty items that I really enjoy. This is one of them. It's feels like a decadent caramel brownie with creamy smooth layers of chocolate and peanut buttery goodness in between. But that's not all. There's a crispy factor tucked in here too. Rice crisps perhaps? Whatever they are, they work well at keeping the slice from becoming too sticky sweet.
Chocolate Nemesis


This is incredibly rich and dense. Very much like a chocolate pâté. The chocolate nemesis wedge is a good one to have with a coffee if you like to tone down the richness.
I notice one of the cherries on the plate is half mushy brown and less than appetizing on the non-display side. Doesn't the kitchen staff inspect the fruit before it goes to pass? I didn't say anything to my table when I noticed it. I guess I should have, because someone at my table ate it. Oops.
Coffee ($2.50)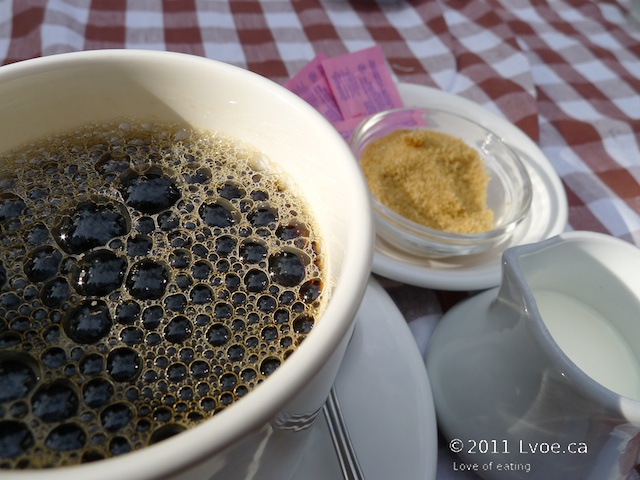 I've had positive past experiences with the baked goods down at the Old Country Market, so I knew the desserts wouldn't disappoint. However, now knowing the Assortito selections came from the market, if there is a next time, I would rather try the Cuckoo kitchen created desserts that are specific to the restaurant.
Note:
If you are in a party of four or more, the server will talk-up this "Mangiacake deal."
Beware. Or be AWARE, because it's not necessarily a deal. Depending on what you prefer to eat.
In the Mangiacake deal you choose a salad, two pizzas, and a pasta dish for $15 per participant. Sounds okay right? There is an extra $2 per person charge if you want seafood pasta, and the lasagna and cannelloni are not included in this "deal." This leaves you to choose among Spaghetti and Meatballs, Macaroni or Gnocchi for pasta without receiving additional charges. Let's compare how our dishes add up:
Mangiacake Deal:
Spinach Salad
Vesuviou Pizza
Capricciosa Pizza
Linguine Pescatora ($8 extra for seafood pasta)
Total: $68
The exact dishes if we had ordered family sized a la carte:
Spinach Salad $14
Vesuviou Pizza $15
Capricciosa Pizza $15
Linguine Pescatora $27
Total: $71
We saved a whopping $3.
As some of you may already know: I'm not a huge salad fan. So having to eat salad to save three loonies isn't a deal to me. Sure I'll eat salad, and often I'll enjoy it, but I'd rather skip the veggie course for an extra main or appetizer. I am eating with some dear friends tonight, and they're normal folks who eat salad. I'm really here to enjoy their great company. It's wrong to snatch the salad course away and insist on another protein, thus depriving my friends of a balanced meal, right?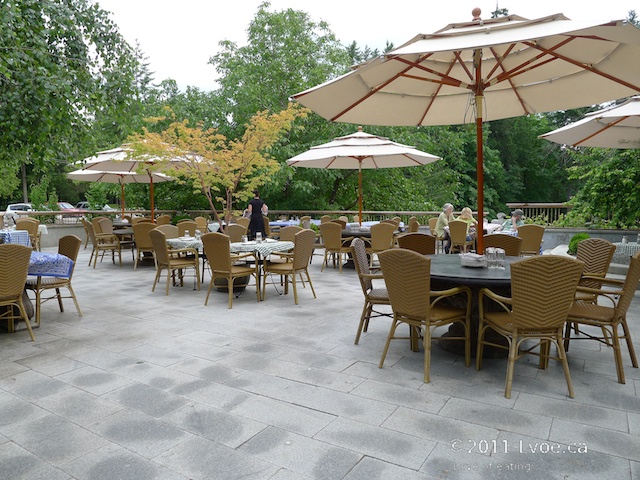 Even with all my whinging about this Mangiacake dealio, the individual price points at Cuckoos are wallet-friendly. The food is pretty decent at Cuckoos too. Cuckoo is casual family fare. It's definitely tastier than some other family fare options in the vicinity. The pizzas are good. I would order the pizza again. If you're already spending the day out here browsing through Coombaya, then Cuckoo in Coombs is a convenient option for dinner before heading back on the road. Their summer-time patio space is comfortable and the setting is beautiful and peaceful. It's the kind of outdoor space that makes you want to have a slow paced meal and linger over dessert and coffee. Even with the bees.
Locations
Cuckoo in Coombs
2310 Alberni Highway
Coombs
,
BC
Canada