Vyanjan Fine Indian Cuisine - Kamloops, BC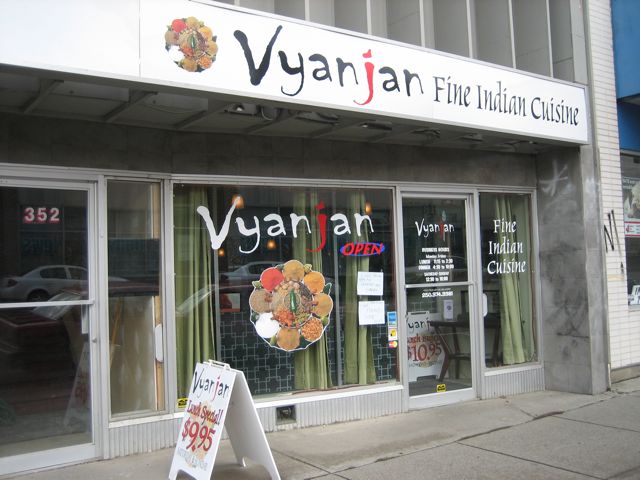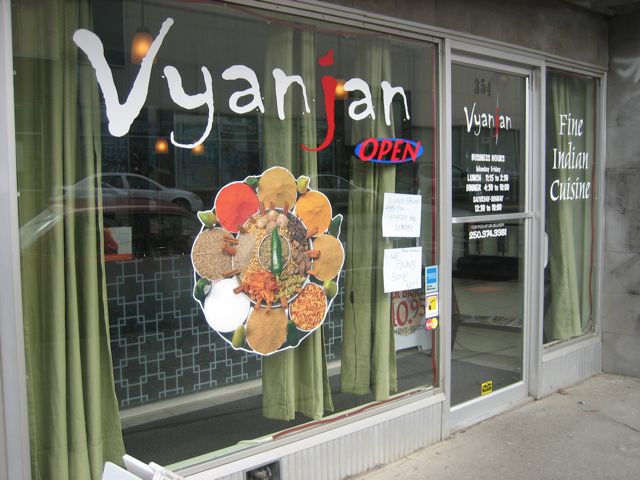 Finally had a chance to try Vyanjan. If you have been reading this blog you will know that we have tried to eat here on other occasions, however they were always closed. The last time we were met with closed doors, we ended up at the north shore restaurant, Spice, which was a happy find.
We made reservations at noon. Clearly reservations were not needed.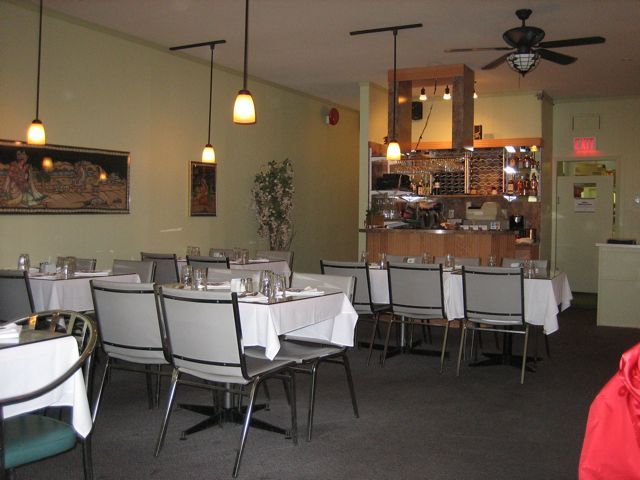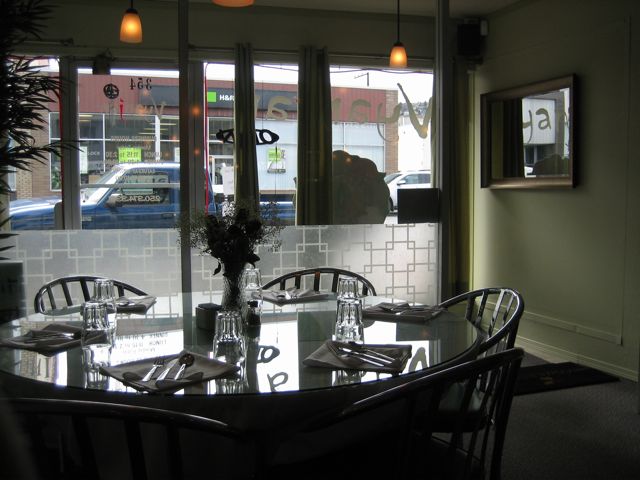 We were the only patrons in the restaurant for some time. A couple came in near the end of our meal. The space was clean and well kept. Vyanjan could have chosen more comfortable chairs other than office furniture from the 80's.
Mango Lassi ($2.95) and chai ($1.95)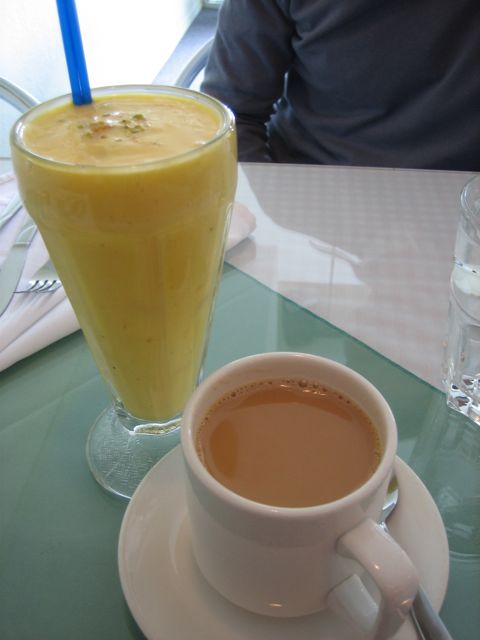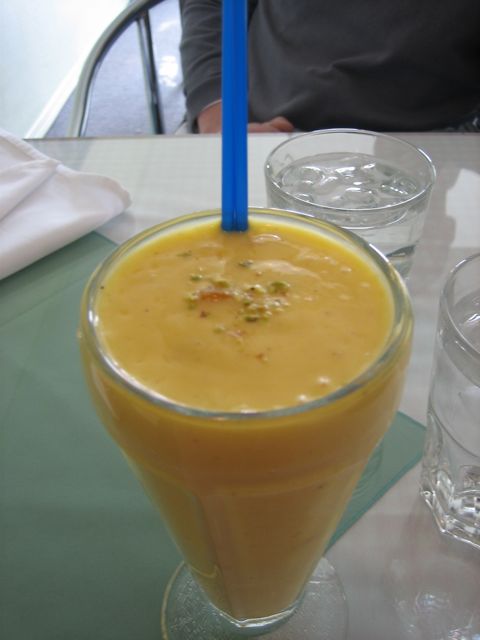 The lassi was creamy in texture (however there was some odd ice chunks that didn't get pulverized) and had a lot of mangoey taste. Everyone has their own recipe for chai and Vyanjan is no different, it has very warm aromatics with cardamon and a hint of cloves (?)
Our friendly server brought out some papadums.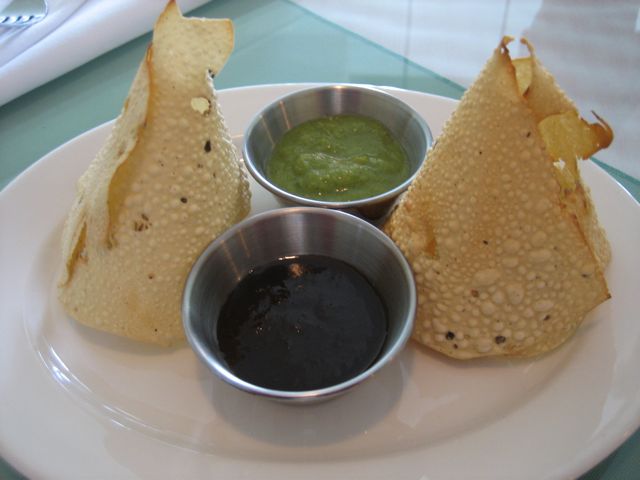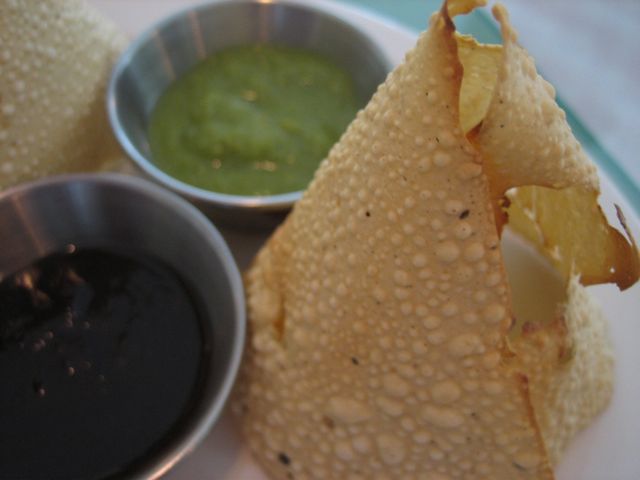 These were served with the proverbial mint and tamarind chutneys.
Curried Mussels ($8.95)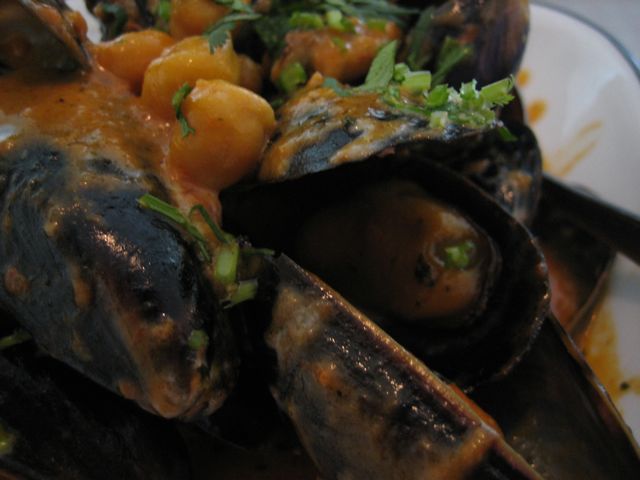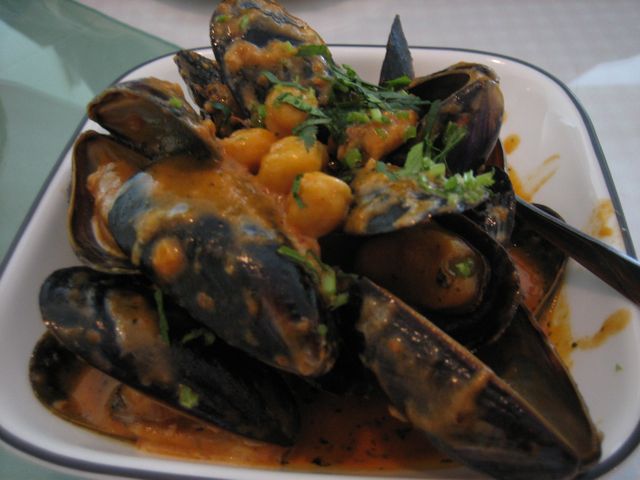 The mussels were sauteed in a garlic curry sauce. The mussels were a little tricky to eat without getting down n' dirty with the fingers. The garlic curry was fantastic. Creamy with a reminder of garlic that didn't overpower the mussels. You will find this on the appetizer section of the menu, however I wouldn't hesitate to order it as a main. It even comes with naan.
We had to order extra naan anyways. Basmati rice.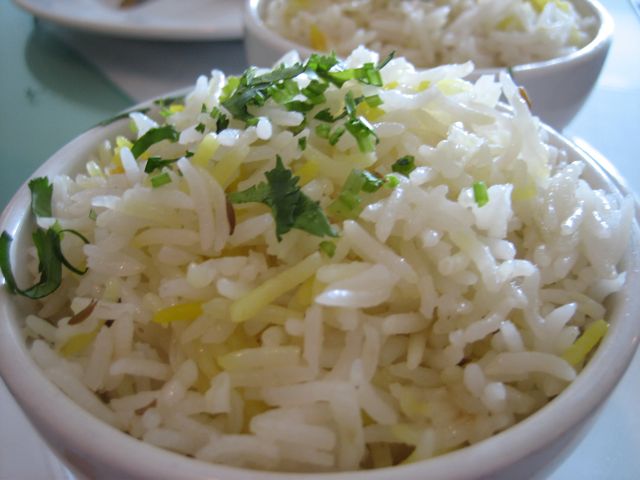 The naan here is pricey at $2.50. As I've mentioned in other posts, naan should be cheap and is at most places. But not so much here in Kamloops. Naan is bread. It's just a filler, it's the vehicle to get the goods into your mouth; thus it should be under the $2 mark. The bread here was okay. I like my naan to have a bit more char to it.
Butter Chicken ($13.95) and chef specialty Murg Shandaar ($24.95)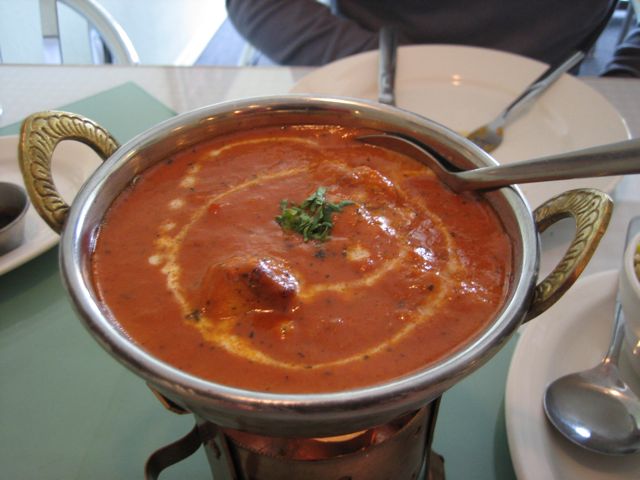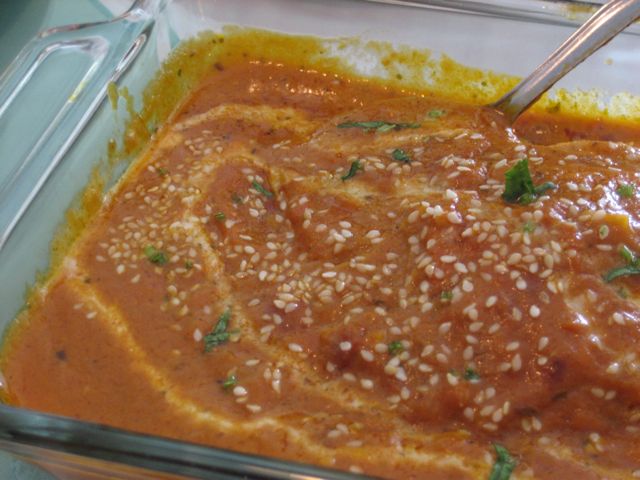 The butter chicken is the best in town...so far. It was smooth and tomatoey, but still being able to taste some subtle spices. The Murg Shandaar is described as a, "mint flavoured chicken breast stuffed with dry fruits." The nuts and fruit added a nice contrast and gave the savouryness of this dish a nice balance. Now that being said,the only thing I would have to critique about this dish is... I'm pretty positive the chicken was not cooked all the way through. It was very hard to tell with the sauce all over the chicken, but I ended up leaving the chunk I was originally eating. We didn't eat much of it as we were stuffed from the appetizer and butter chicken, but we took the rest home. At home my suspicions were confirmed. I figured we could re-cook it thoroughly later.
Vyanjan is probably the best tasting South Asian/Indian cuisine that we've tried in Kamloops. It is also the priciest.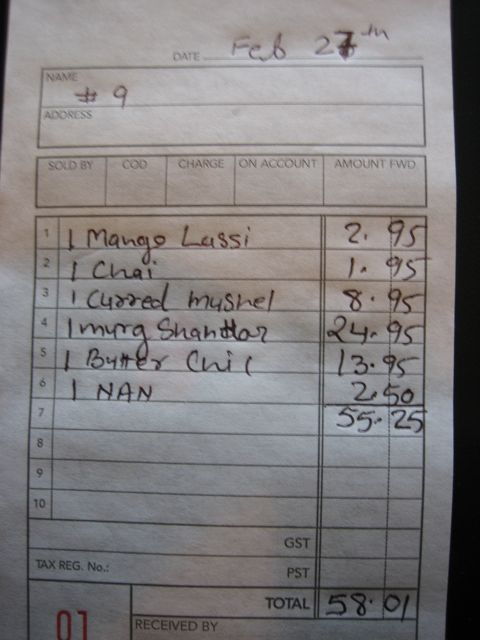 They have given more thought to the flavours here, and the flavours seem to have more depth. Service was friendly and fairly efficient. Bathrooms were clean enough to use comfortably.
Is it a date place? Well, if the screaming baby in the kitchen is still there, then no. But maybe if you went in the evening you could miss the little darlings vocal gymnastics.
Apparently, they opened a mere 4 months ago, I also noticed they were still looking for a chef months ago...interesting. I hope they end up with someone experienced in the kitchen as they have potential to do very well.

Location
Vyanjan Fine Indian Cuisine
354 Seymour Street
Kamloops
,
BC
V2C 2G2
Canada