Ajisai Sushi - Vancouver, BC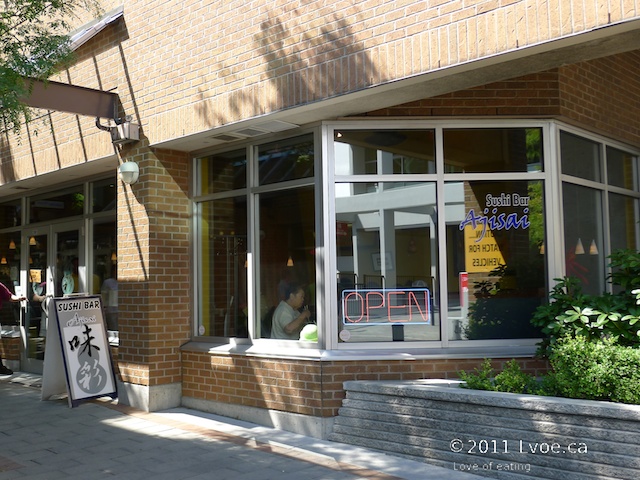 I've been cooling it with sushi lately, but due to an extended stay in Vancouver I find myself in Kerrisdale. Well now, I decide to treat myself to a roll or two. Ajisai Sushi is a compact Japanese restaurant. The floor space is a bit awkward but it works. It's elbow to elbow in here today, but I find bar seating in front of the window.
Assorted Sashimi ($16.00)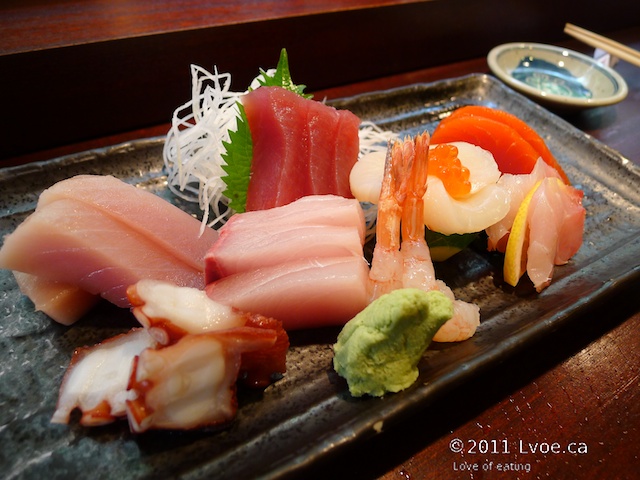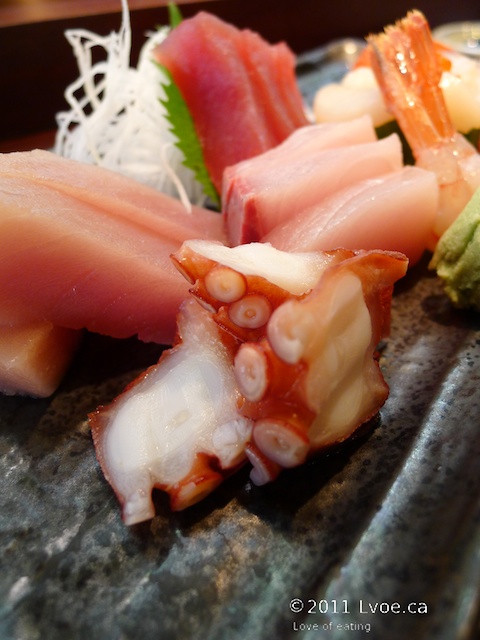 All the seafood is bright, fresh tasting and cleanly presented. I'm not a huge fan of octopus sashimi, but it came with the assortment. The morsels are tender and not rubbery.
Albacore Tuna, Yellow Tail, and Red Tuna (background)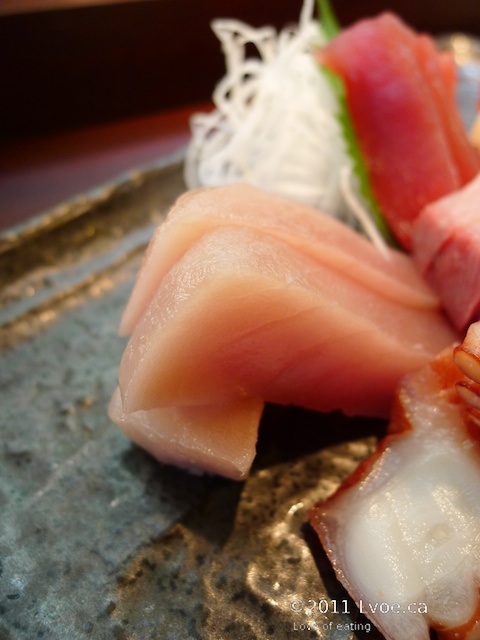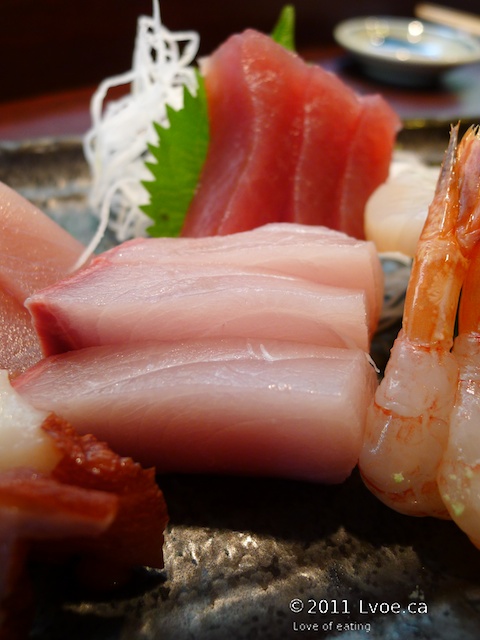 Uni and Ikura Nigiri ($3.00 each)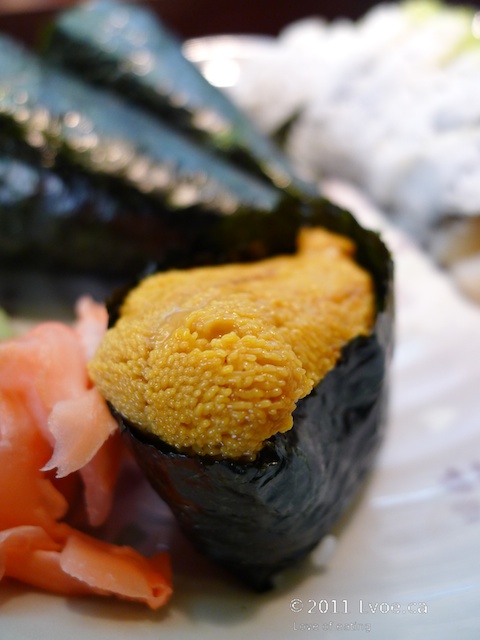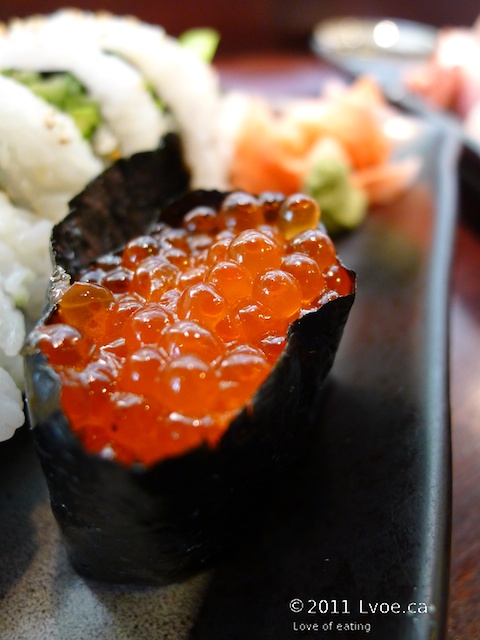 Roe, roe, roe your boat... The sea urchin roe is sweet and velvety. It's quite a contrast to the saline pop of salmon roe.
Albacore Toro Sashimi ($18.00)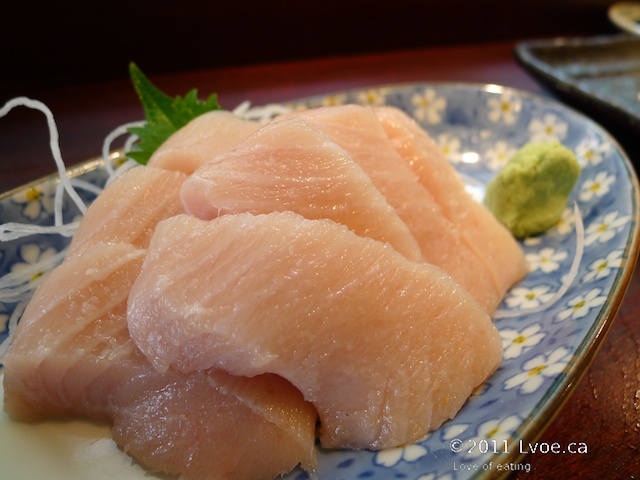 You'd think I'd be sashimi'd out, but there's always room for belly in my belly.
Salmon Cone ($2.80) and Squid with Natto Cone ($3.00)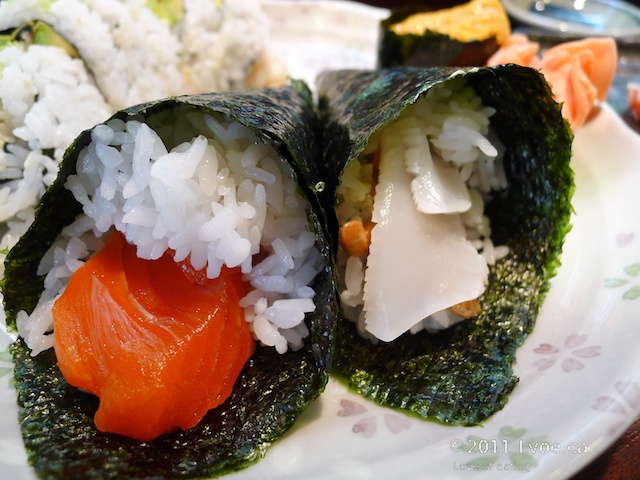 Do you eat natto? It's fermented soybeans. The texture may not suit everyone, but it has a unique smoky flavour to it that's different from anything else. The texture is like eating cheesy beans with the stringiest buffalo mozzarella in the universe.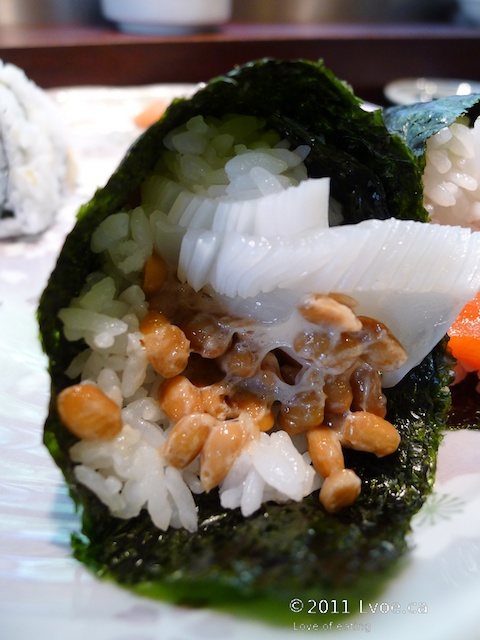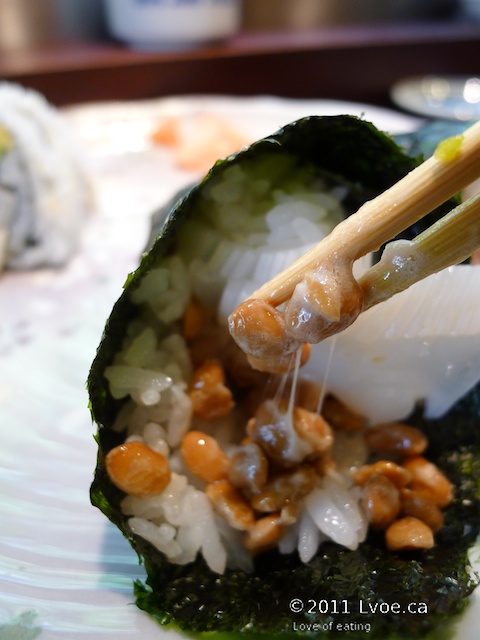 Sometimes I get a little annoyed with the stringiness of it all. I always end up getting some on my hands! So, for the next few minutes I look like I'm desperately trying to rid my fingers of cobwebs. Meanwhile, DL looks away and pretends not to know me...
Spicy Dynamite Roll ($4.50)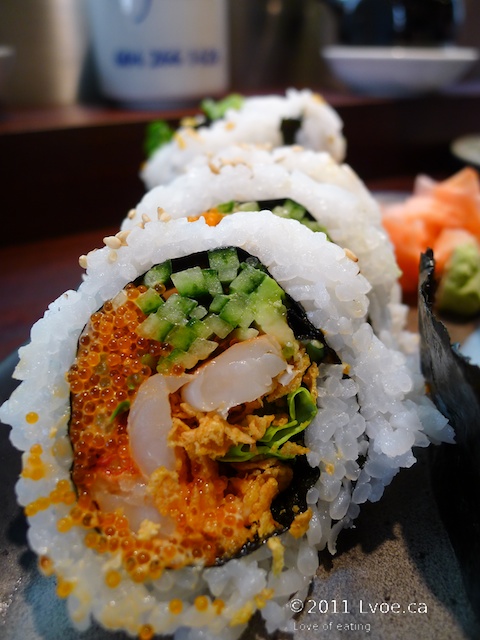 The Ajisai-style dynamite roll uses regular prawns instead of tempura fried prawns. To get the crunch factor they roll corn-flake-like crunchies in with the lettuce, cucumber, avocado, tobiko and prawns. Since it's the spicy version, there is a mild mustardy heat with each bite.
Special BBQ Unagi Roll ($6.00)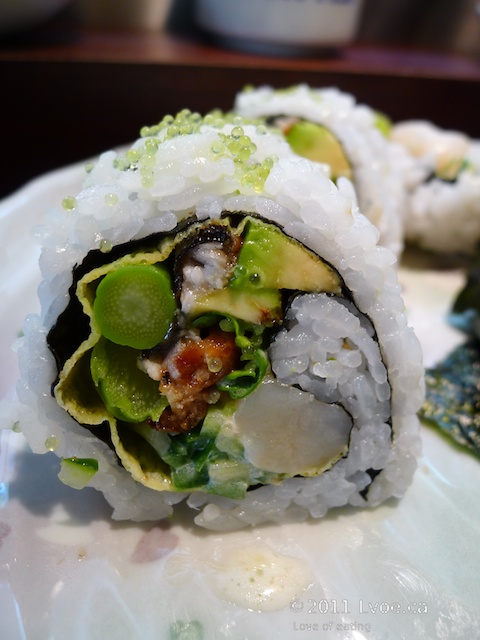 I see that this roll has asparagus in it so I figure I should order it for, y'know, my veggies. This roll consists of avocado, asparagus, barbeque eel, chopped scallops, cucumber, lettuce, egg and is finished with green tobiko. The mix of scallops and bbq eel is interesting. This roll is milder in taste when compared to the spicy roll above, but still a solid roll.
The Ajisai Sushi Bar is tucked into a retail-office-space complex that's open to pedestrian traffic only. It's located off West 42nd Avenue near East Boulevard in Kerrisdale. Ajisai is also accessible by foot from 41st Avenue, but you can't do a "drive-by" as the restaurant is not visible from the street. There is free underground parking, but if you don't mind feeding the grey lollipops, street parking is often available at this end of 41st Avenue.
Locations
Ajisai Sushi
2081 West 42 Avenue
(Kerrisdale)
Vancouver
,
BC
V6M 2B4
Canada