Shandhar Hut Indian Cuisine - Chilliwack, BC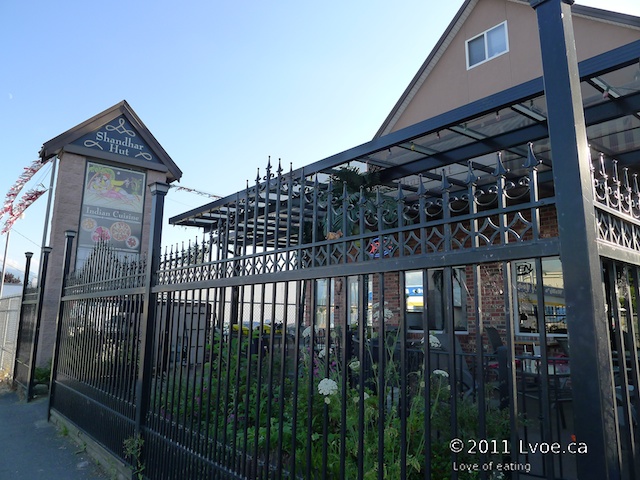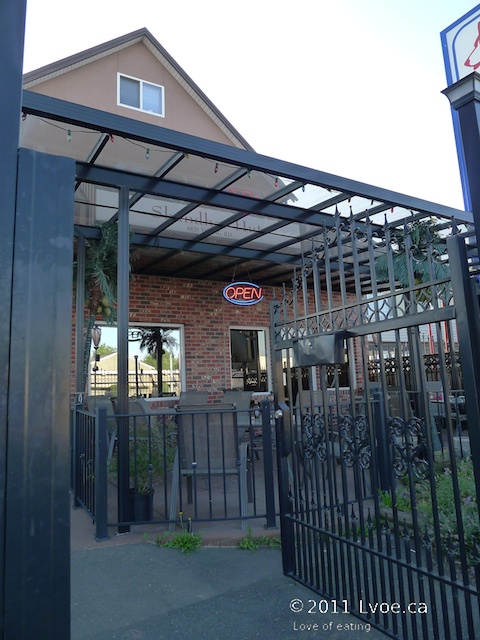 On my way home. Thank goodness. My stay in Vancouver was made much longer due to some unexpected (...and major) vehicular issues.
Wow, what's going on with Chilliwack? There have been some decent eateries cropping up here in the past few years. This makes me happy, because Chilliwack is a convenient place to stop, and stretch the driving legs before heading onto the Coquihalla or into the Canyon. The Shandhar Hut is located on a busy stretch of Young Road, beside the Husky Gas Station. (Just a heads up, if you click the link their website includes music.)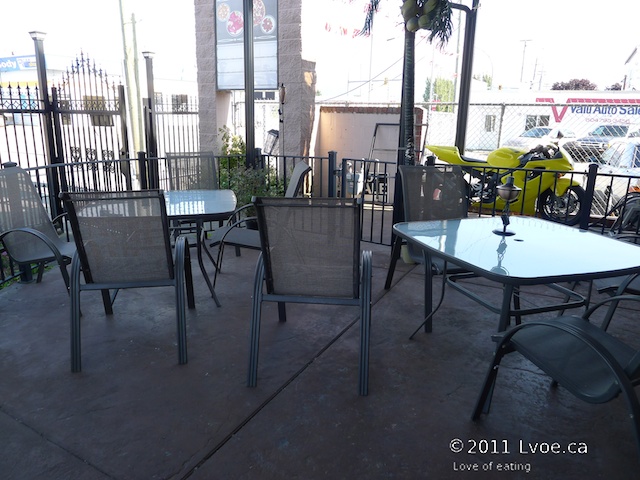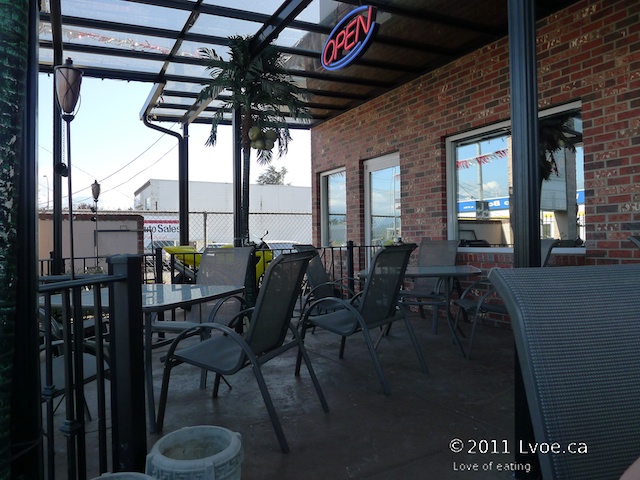 We settle into our seats on their small outdoor patio facing the street. It is loud out here. The trucks and motorcycles that whizz by seem to all have ear-busting exhaust systems. The party at the table next to us couldn't stand the noise any longer and moved inside.
Papadums with Mint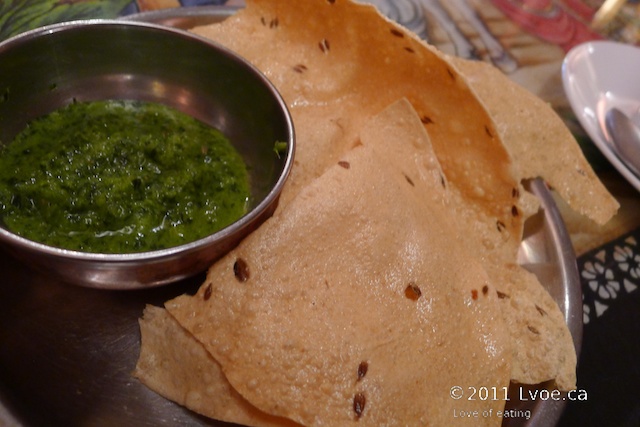 These are some complementary crackly lentil flour crisps. The mint chutney on the side is brilliant. Very sharp and fresh mint flavour.
Mango Lassi ($3.50)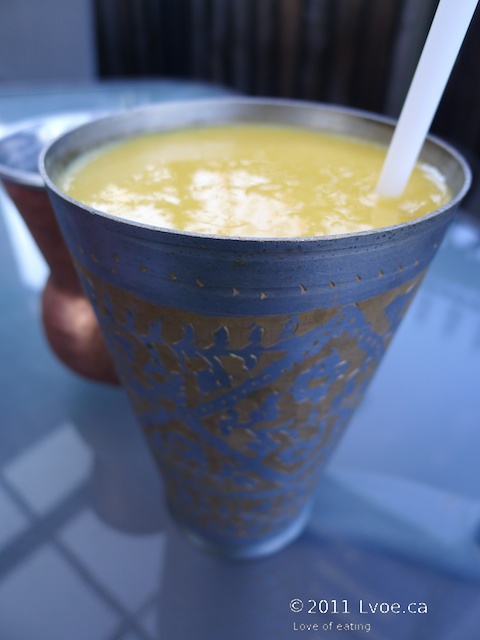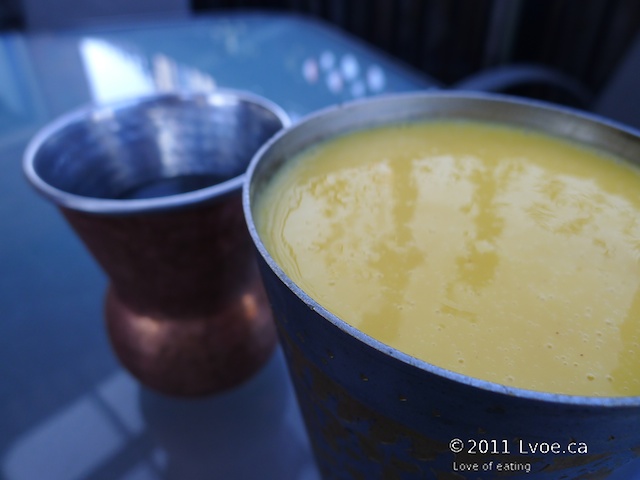 Smooth, tangy and creamy. I save some of this yoghurt drink for dessert.
Shai Samosas ($2.00 each)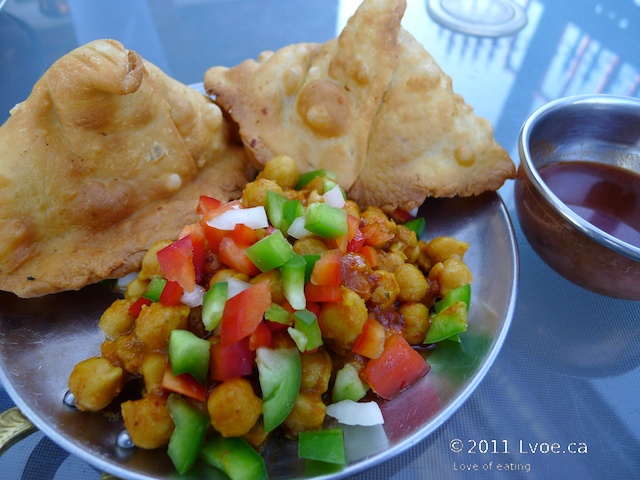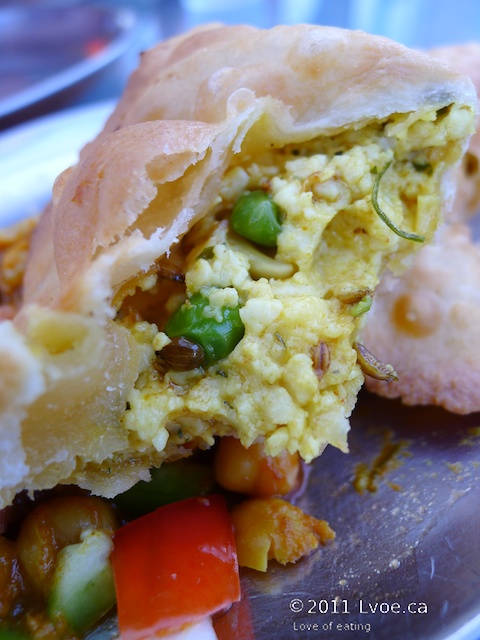 These samosas are quite large and filling, they could be a small meal onto to themselves. Chubby with cashews and Indian-style cheese, the samosa filling absorbs the tamarind chutney well. There are golden sultanas in these samosas, which give the pudgy pockets a tinge of sweetness. It's a super samosa.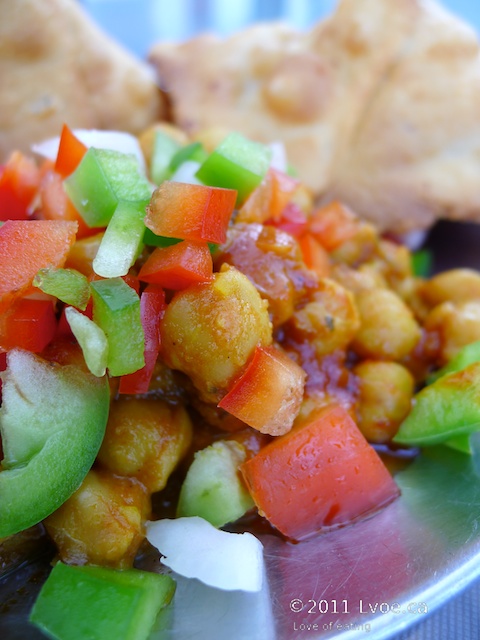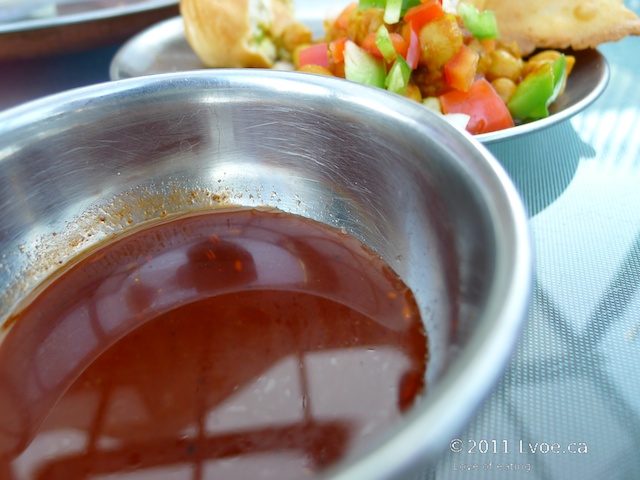 The chickpea with vegetables that accompanies the shai samosa is very fresh and bright. I really like this little side dish.
Lamb Madras with rice ($12.99)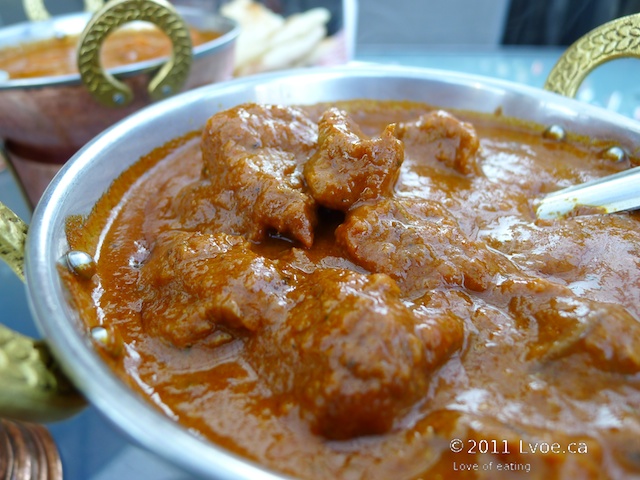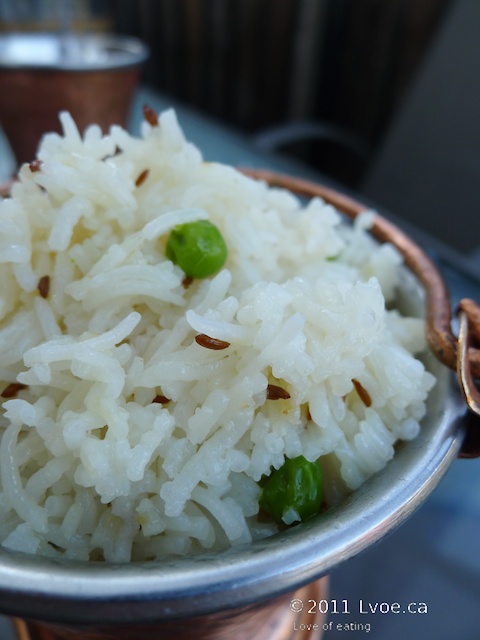 I like the heat of the spice and the coconut base of this dish. The meat is tender and plentiful.
Butter Chicken with rice ($12.99)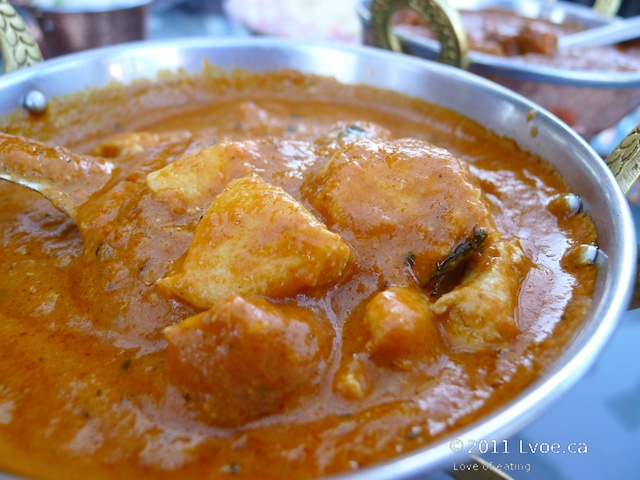 Very tomatoey and creamy. Y'know how some places use tandoori chicken to make this dish? Just an FYI if you happen to have a preference, the chicken meat here didn't look or taste like it was tandoori'd first. It's still good.
Lamb Korma with rice ($13.49)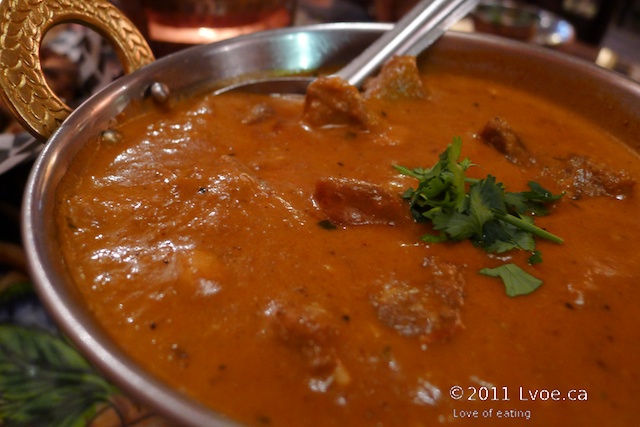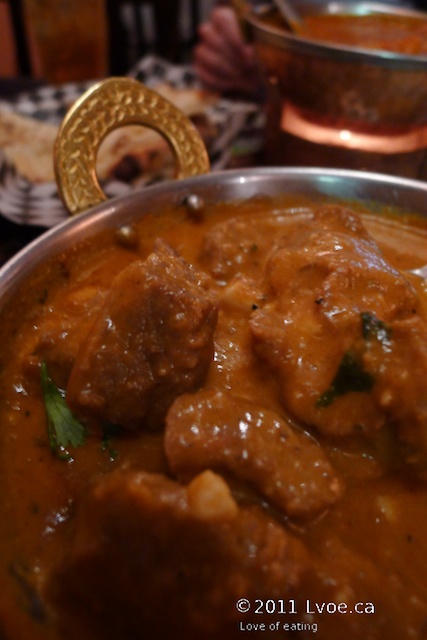 Creamy coconut base with crushed cashew nuts present throughout the curry. I like seeing nuts in my korma!
We are both really enjoying Shandhar's curry dishes. Ever since our former favourite Indian restaurant on Scott Road became so-so in our last visits, we've been on the lookout for another place for butter chicken and korma. Shandhar Hut has filled this little void. The flavours have a complexity that keep it interesting for my tastebuds. I've actually been here a few times now, with all my driving to and from the coast, and it's been very good each time.
Plain Naan ($2.00) and Parantha ($1.75)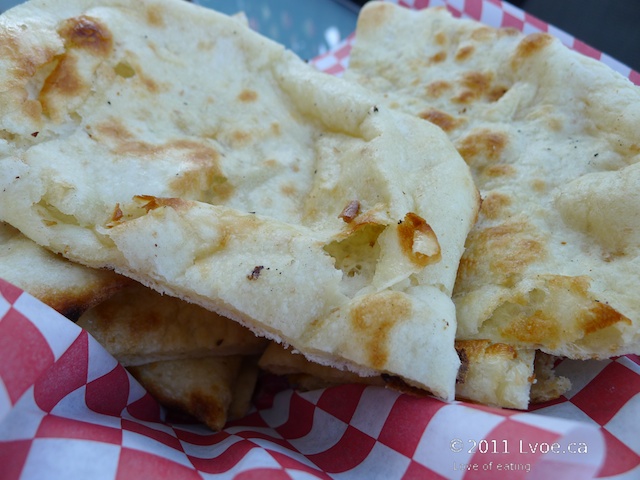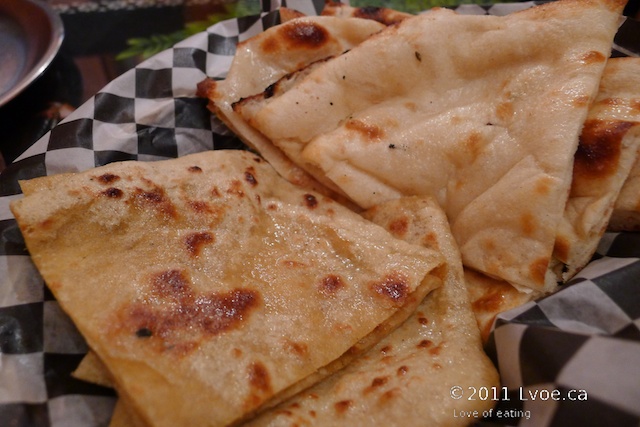 We always order extra breads because there never seems to be enough rice. Oh the gluttony!
Kheer ($4.50)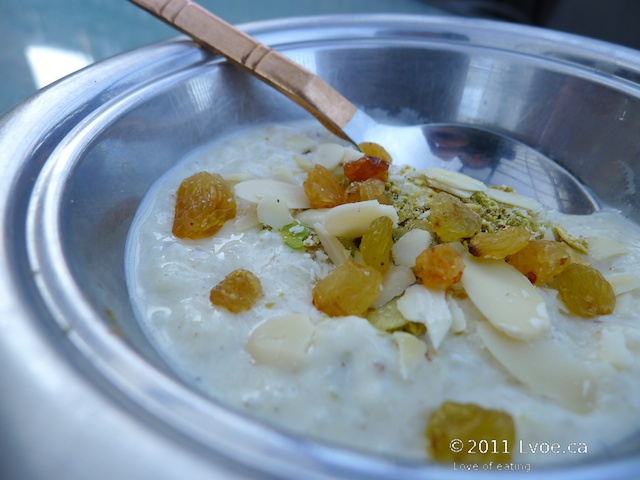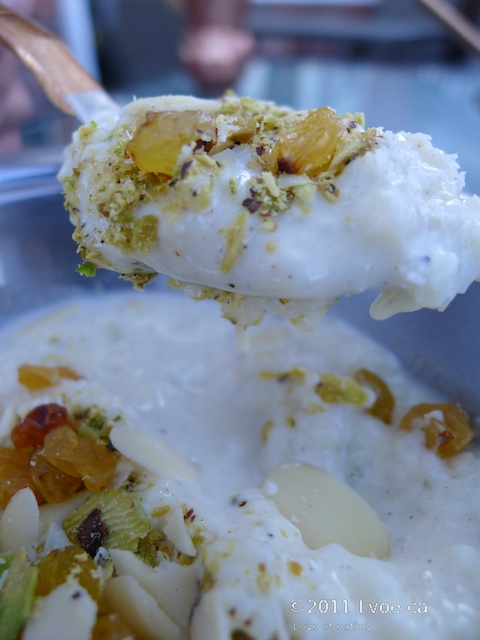 This is Shandhar Hut's rice pudding. I heart cardamom. This subtly sweet coconut and rice dessert has a mild mix of cardamom, cinnamon and fennel.
Ras Malai ($4.50)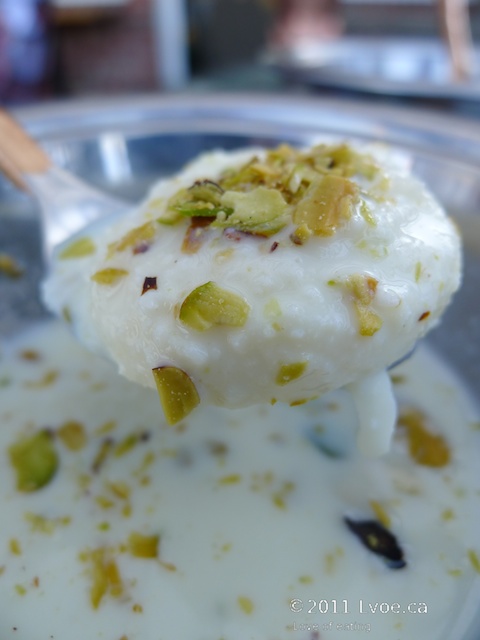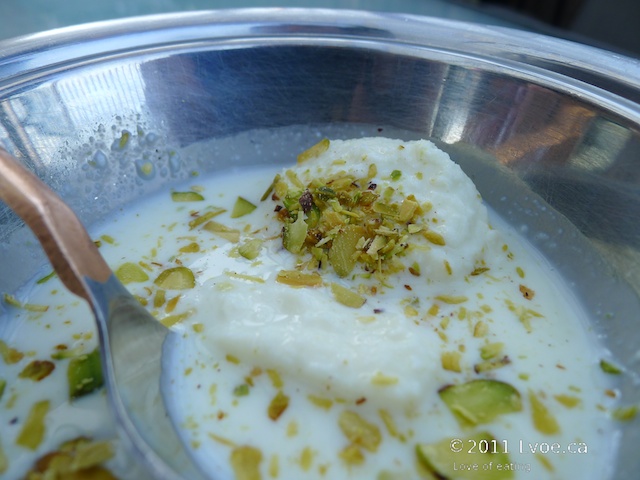 The "cheesecake" component to this dessert is the two Babybel-size rounds of paneer-like cheese immersed in a sweet milky soup. DL preferred the rice pudding, but I fancied the Ras Malai more. I like that it is a smidge sweeter than the rice pudding and it is finished with crushed pistachios.
Chai ($2.25)


We end up being the only customers willing to sit out on the Shandhar Hut patio today. During our meal two other parties are seated outside, but moved inside shortly after a handful of trucks and Harleys passed by.
Looking for parking? There are about twenty designated parking spots behind the restaurant that are accessible from either Rowat or Tretheway Avenue.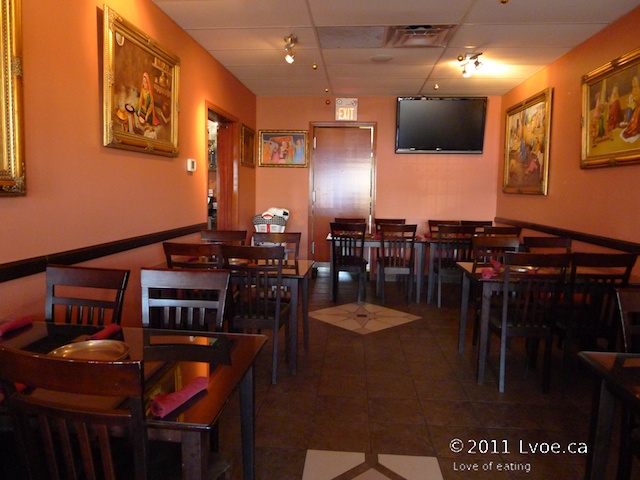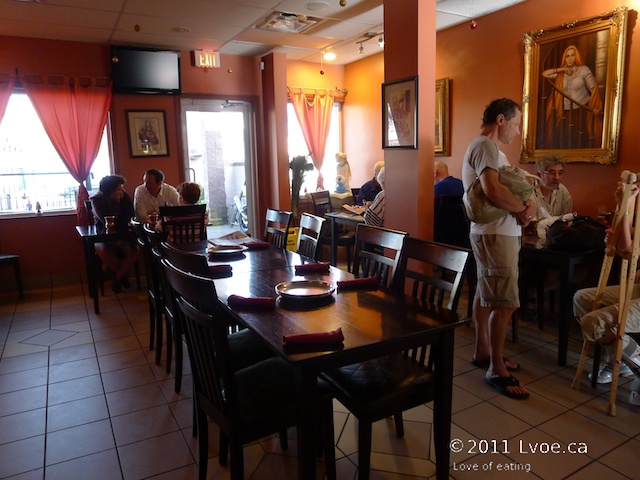 I wish I wasn't so dependent on a car. I was lucky enough in the past to be able to walk to work or carpool with a colleague. Those days are gone, and today I finally get to head home with a healthier sounding engine, but unfortunately a much a lighter wallet.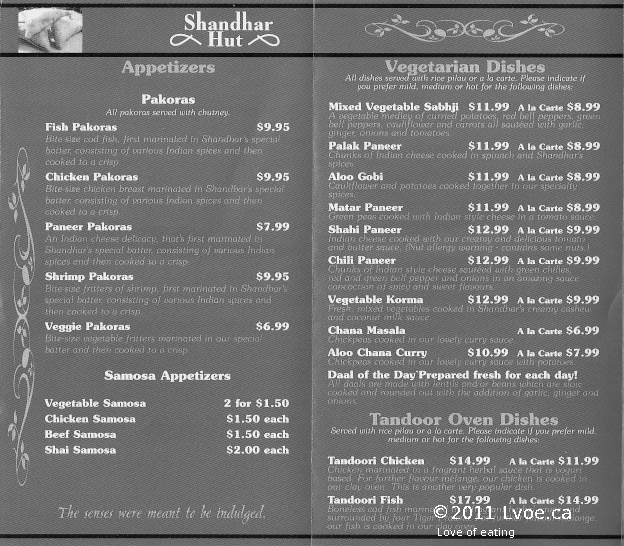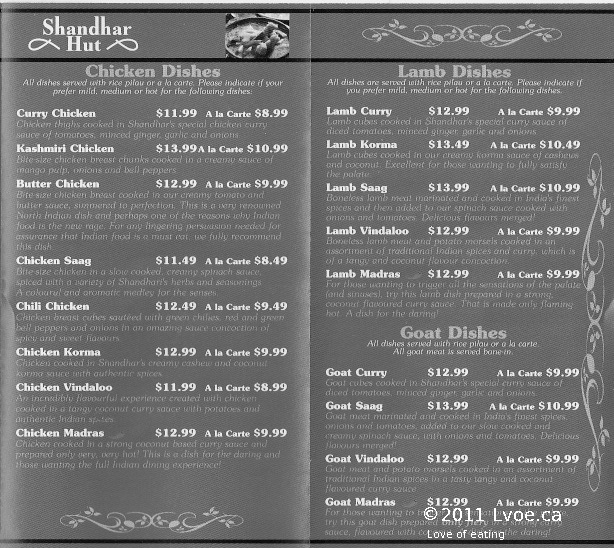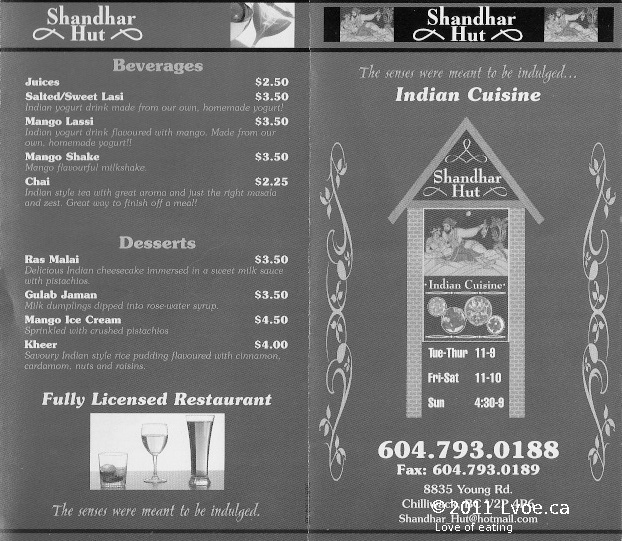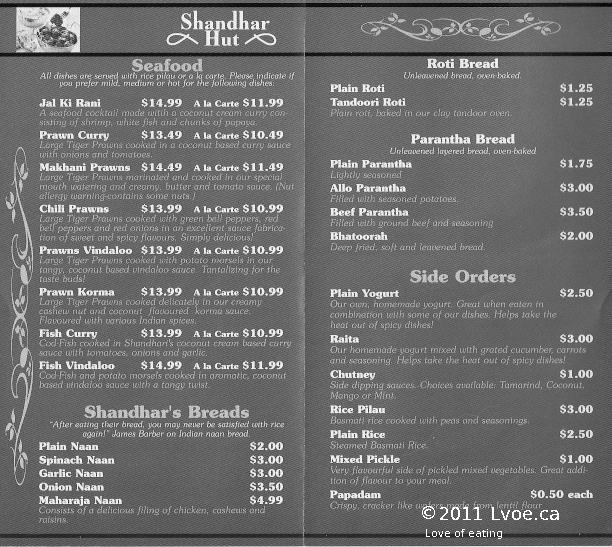 Locations
Shandhar Hut
8835 Young Road
Chilliwack
,
BC
V2P 4P6
Canada