Nonya Kaya Coconut Jam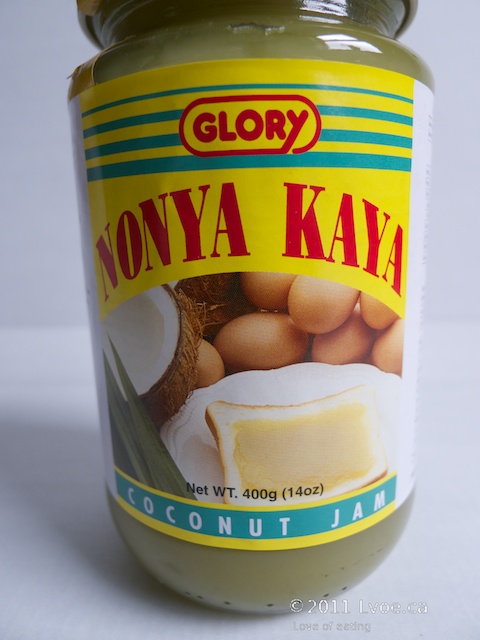 Nonya Kaya or coconut jam. Have you tried? Do you like?
I was picking up some specialty items in the Osaka Supermarket at Yaohan Centre a few weeks ago and I spied this on the shelf next to the coconut milk. Coconut Jam! I impulsively grab a jar and place it in my rolling basket. (Seriously, all supermarkets should have these rolling baskets. It's a hand-basket with an elongated handle with castors on the bottom. Freakin' genius, I say!)
Nonya Kaya Coconut Jam ($4.69 for a 400g jar)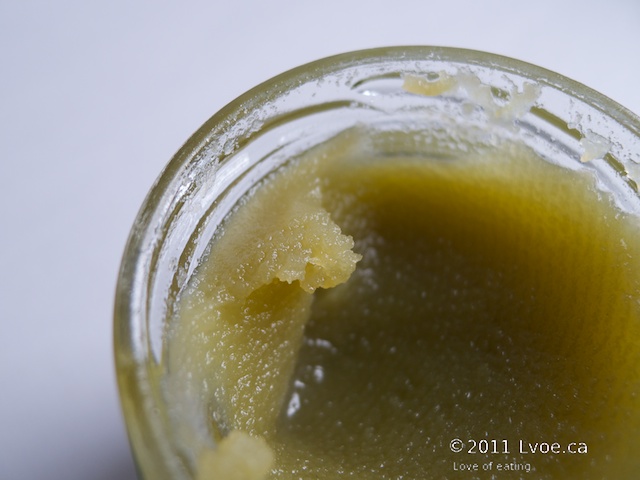 I can't recall the price exactly, but it's in the neighbourhood of $4.69. The coconut jam is made with coconut milk, eggs (duck or chicken), sugar and pandan leaves. The egg yolks and amount of pandan will give it the yellowish green colour you see here.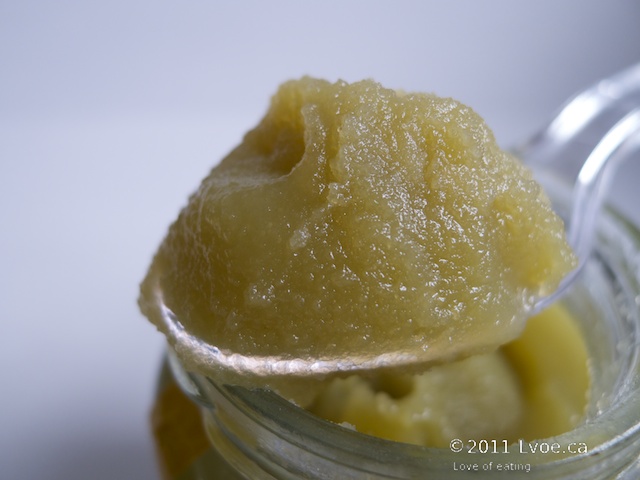 Just four ingredients and this lovely spread is the result. Y'know when you bust open a coconut? That's what the jar of jam smells like. I know there are no nuts in the jam, but the kaya has a nutty aroma to it. The egg-based custard jam is sweet, rich and smooth.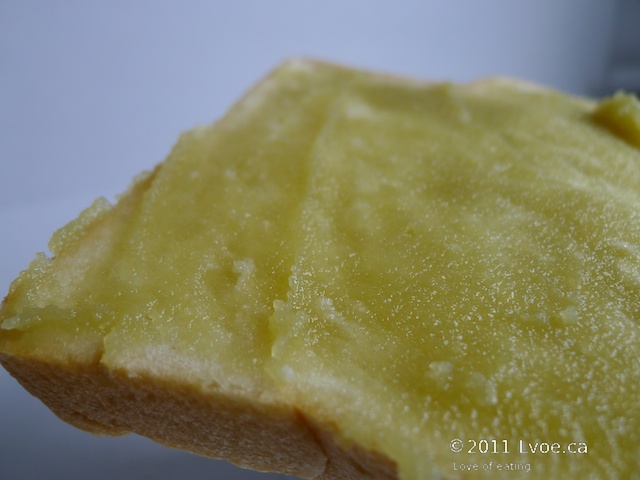 I know, it's not at all photogenic. It's green. Not just any green, but an ugly phlegm green. I can understand if you may want to pass on this, but I may have found a new obsession. I paired the spread with some thick cut bread. Have you ever had bread from an Asian bakery? The bread is almost always baked Pullman-styles, giving way to perfectly square slices. Also, it's much 'sweeter' than other bread. It's like eating cake. So when I pair up this soft, dense chewy bread with the nonya kaya, it's a little slice of heaven.
I didn't noitice coconut jam the last time I was in Cheng Kwong Grocery or Eastuff Grocery in Kamloops, but I will make a point of checking next time. I can't see myself making it at home, but if you can, then here's a coconut jam recipe that uses a bread-maker machine to do the hard work.
Locations
Coconut Jam can be found at Osaka Supermarket
Unit 1000 - 3700 Number 3 Road
(Yaohan Centre)
Richmond
,
BC
V6X 3X2
Canada