Amerigo's Nuraghe Italian Cuisine - Kelowna, BC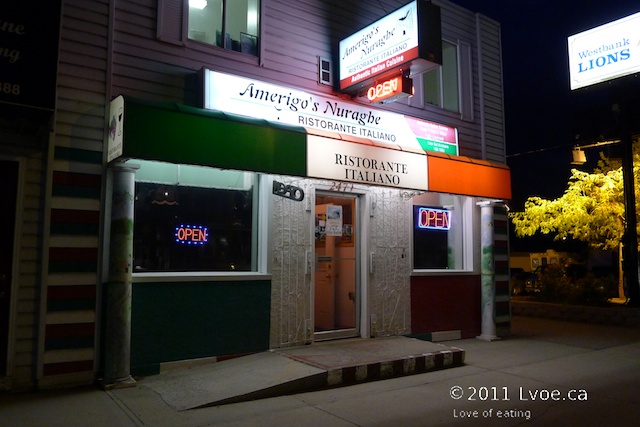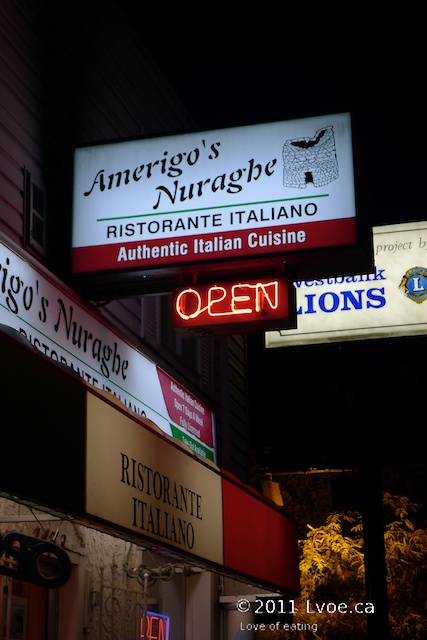 **UPDATE MARCH 2013: Amerigo's Nuraghe Italian Cuisine has closed. Los Jarros Mexican Restaurant now occupies this space.**
I roll into Kelowna late and hungry. I stop at the first Italian looking restaurant I see: Amerigo's Nuraghe Italian Cuisine.
From the exterior, it's totally a DDE. Inside, it's a home-style diner-esque restaurant, complete with Sardinian themed décor and checkered tableclothes. It's pretty quiet. There are only two other tables occupied, but a few people come in to get take away.
Scallops in White Wine Sauce ($10.95)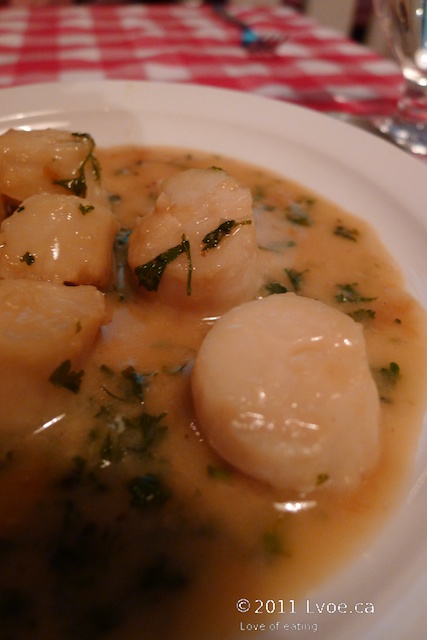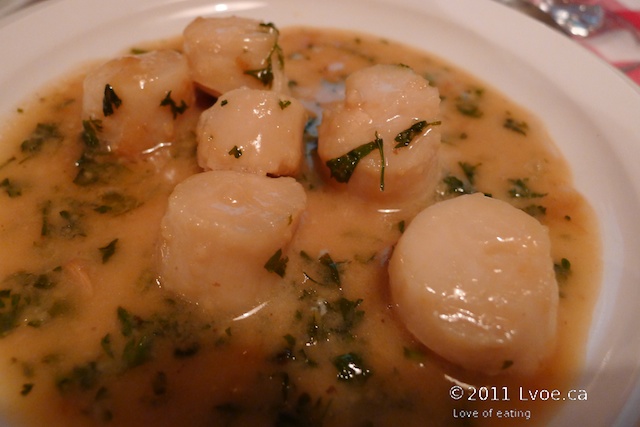 I forgot where I was for a second, and ordered two seafood appetizers. It took a few seconds, but reality hit me as the server walked away with our dinner order. There are six baked bay scallops. When it arrives I give it a serious side-eye, but DL claims the white wine sauce is strong in flavour and the scallops are baked off alright.
Mussels ($16.95)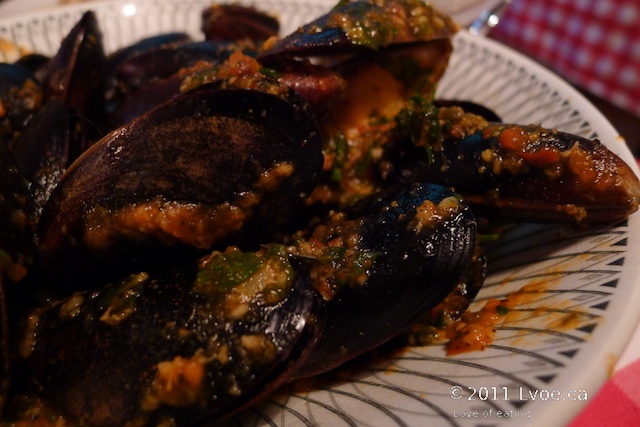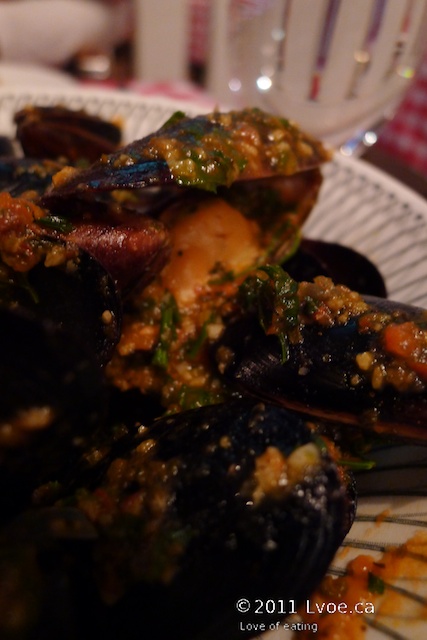 My ears hear the server say something about "mussels," and without thinking I immediately order it. I had initially wanted a non seafood soup for a starter. I like the sauce more than the mussels. The mussels are, well, not the greatest. The mussel flesh range from one or two plump ones to a couple of downright dry ones. Howvever, I really enjoy the saucy bath these mussels are resting in. It's tomatoey, peppery, and again strong in flavours. I end up pushing aside some of the mussels, in order to spoon up the sauce. I finished the sauce, but not the mussels.
Spaghetti Bolognese with Meat Sauce (16.95)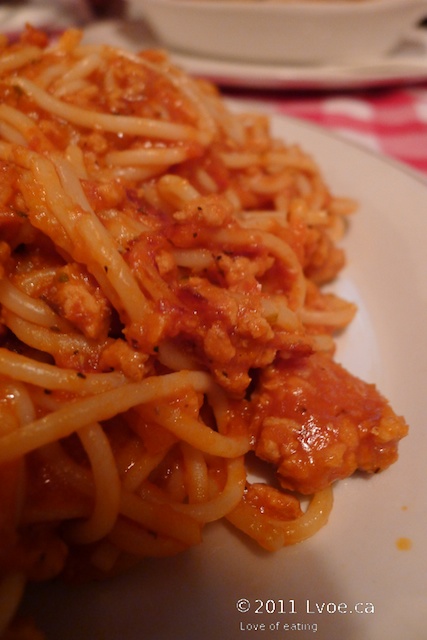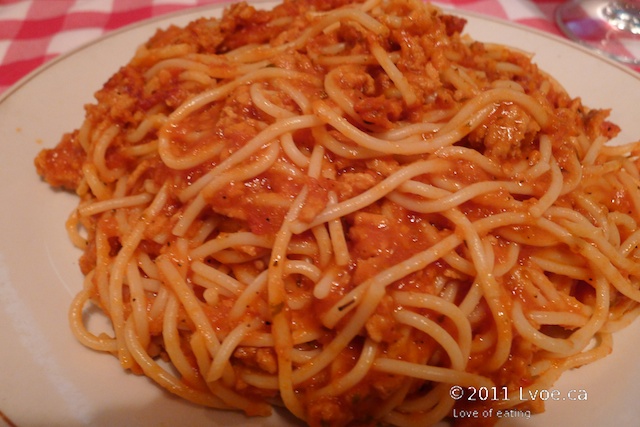 It hits the table steaming hot. The spaghetti is thick with tomatoes and meat sauce. The sauce is mild, which is a nice contrast to the appetizers. It's a fairly large portion that makes it perfect for sharing.
Veal Cannelloni ($14.95)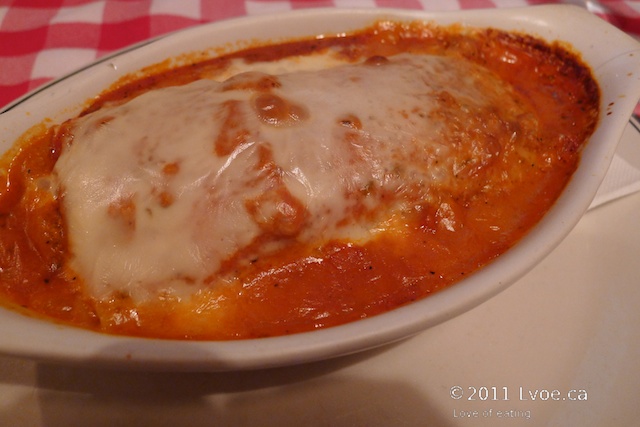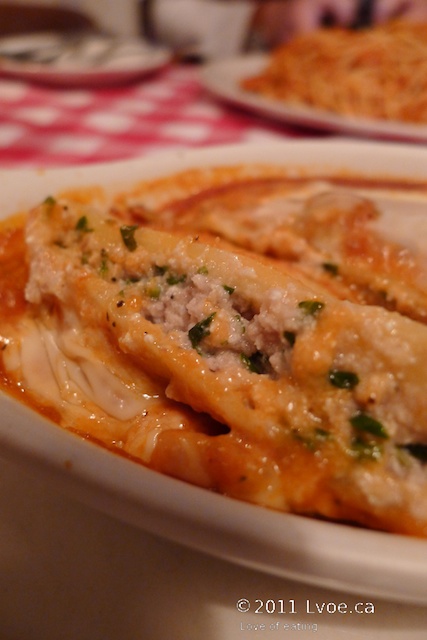 Straight from the oven and screeching hot. The ground veal has a pleasing texture, and the tomato sauce has a creaminess to it much like the creaminess in a butter chicken dish. It's nice; the milder sauce is, again, a welcome contrast to the previous stronger sauces in the appetizers.
Italian Coffee ($6.50)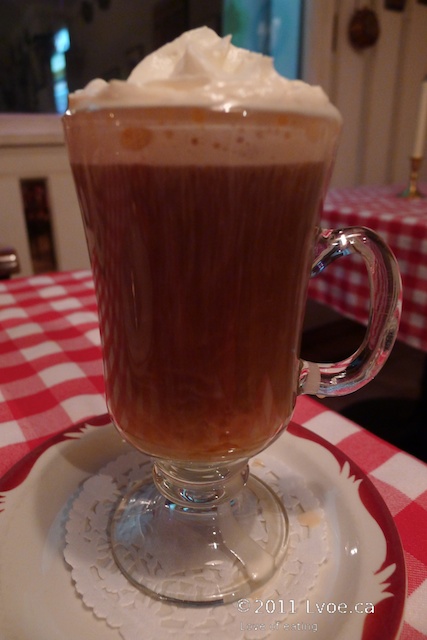 Let's end the evening with Sambuca, shall we? Some Sambuca and Italian brandy join the proverbial after dinner coffee and is finished with a cap of whip cream.
Ice cream Pear ($7.25)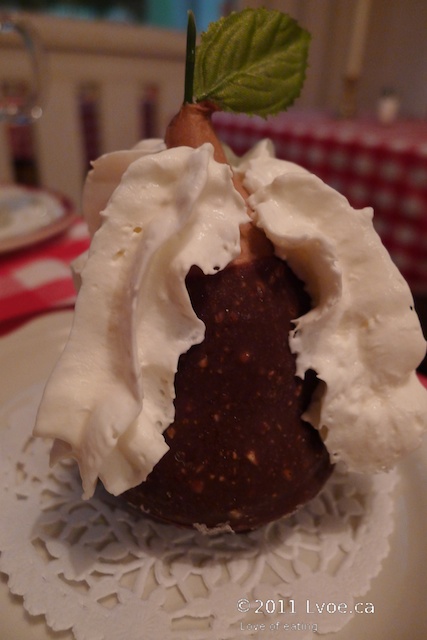 This is hazelnut ice cream shaped in a pear. The fruit shaped dairy is then dipped in chocolate with torrone pieces. It tastes much like frozen Nutella. Amerigo's ice cream desserts come from Mario's Gelati.
Chocolate Mousse ($7.25)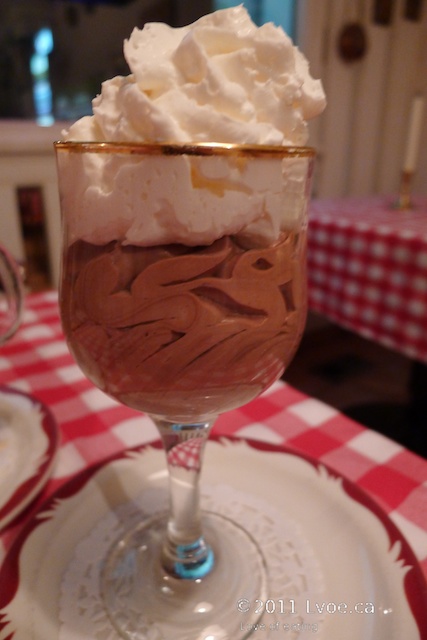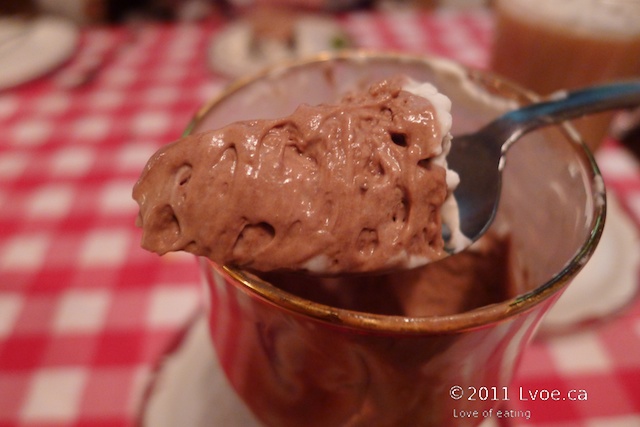 This is my favourite of the night. I haven't had chocolate mousse in a long time, years actually. The dessert is very rich and luxurious with Belgian chocolate and hints of Grand Marnier.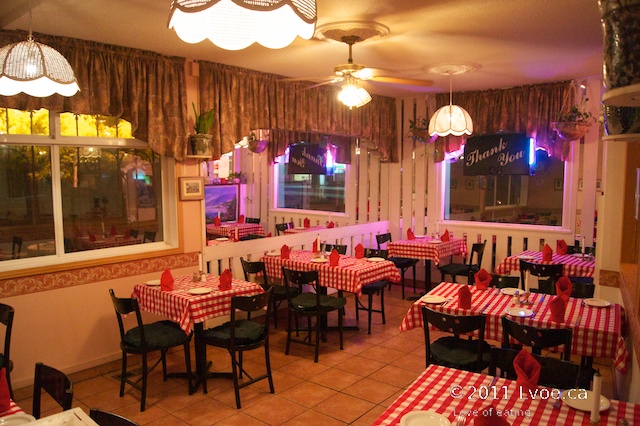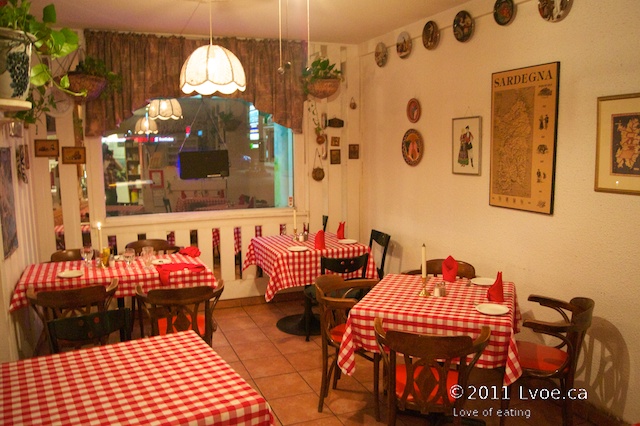 Amerigo's Nuraghe Italian Cuisine is a mom and pop type of restaurant. It's not fancy, but it's homey. Service is gracious and soft spoken. When I went to the front desk to settle my bill I notice that they re-use calendars. I love this idea! Amerigo's has an old 2005 calendar hanging at the cash desk, and it continues to give accurate reference of the date in 2011. I'm going to dig around for an old Batz Maru calendar I kept for no apparent reason, and check When Can I Reuse This Calendar?

Locations
Amerigo's Nuraghe Italian Cuisine
2470 Main Street, Highway 97
West Kelowna
,
BC
V4T 1Z1
Canada