Sips & Sweets Candy and Coffee Shop - Chilliwack, BC
***UPDATE 2013: Sips N' Sweets is now closed.***
Some friends had moved to Chilliwack and they were giving me the grand tour of their new neighbourhood. I haven't been this far down Vedder Road for a long while. There seems to be so many more businesses and small shopping complexes down this stretch than the last time I ventured way down Vedder. My friend points out some popular places on our driving tour.


***UPDATE 2013: Sips N' Sweets is now closed.***
How smile inducing is Sips & Sweets? I feel like I am one of the lucky five that found a Golden Ticket. I love the wall of jars loaded with lollies behind the counter. Sips & Sweets is a candy store, containing cavity creators from around the world; more on those later. There is a café tucked in the back. I'm here for some lunch.
Pumpkin Soy Latte ($4.60 Large)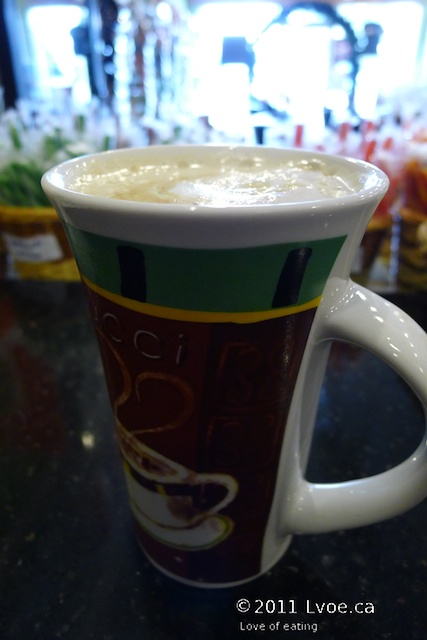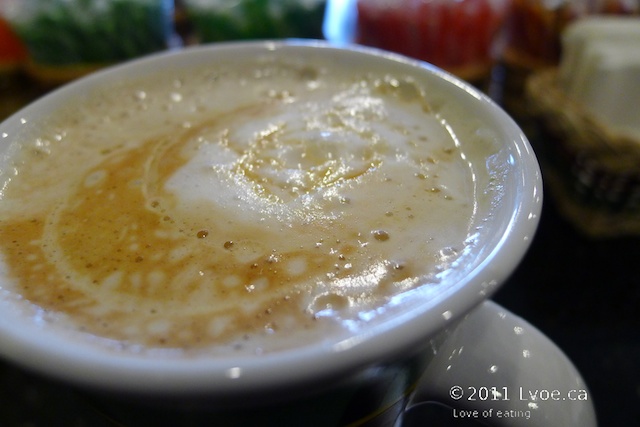 Smooth, frothy and creamy. The mug is big and filled to the brim.
Old "Cranny" Crêpe ($5.95)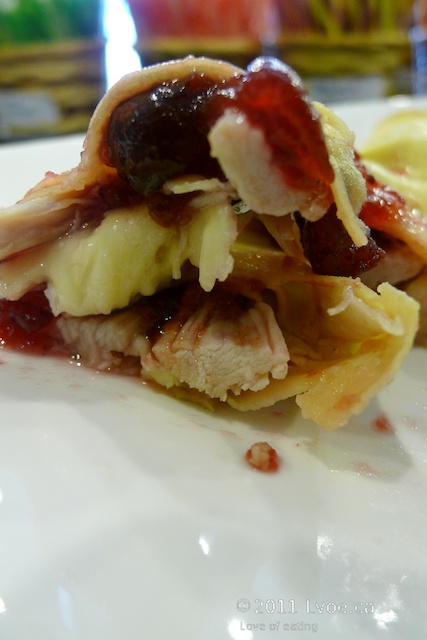 Initially I was going to order this as a sandwich but I wanted to eat with a fork and knife so I opted for the crêpe. Chunky chicken bites with warm brie. The meat is moist and the cranberry adds that touch of sweetness which goes so well with this type of cheese.
Chicken Chili ($5.50)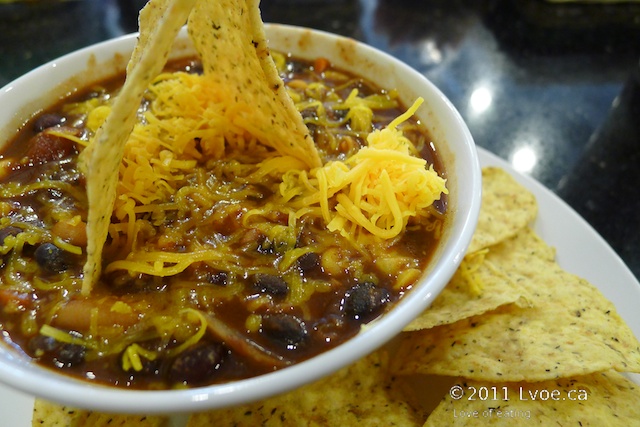 This is the kind of chili that has beans, for those of you that participate in the Great Chili Debate. It's hearty, and hot enough to warm your tummy in a few spoonfuls. The base is a little runnier than other chili, but the bowl makes for a satisfying lunch. The homemade chili is finished with cheddar and a small side of tortilla chips.
Berry Delicious Crêpe ($4.95)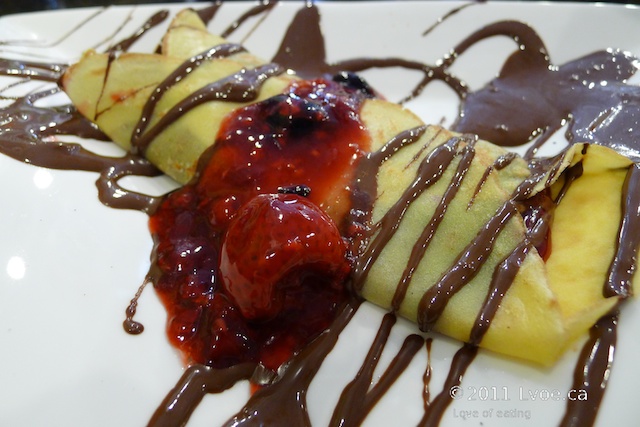 This is a straight forward mixed berry crêpe. With tons of chocolate!
The café proves to be a popular lunch spot as the tables behind us fill up very quickly. I over hear a staff member inform a customer behind me that most items are made to order so there is often a short wait for the food. My order didn't take too long at all, but I had a big ol' latte to keep me busy while I waited.
I had my sip, now let's see if I get some sweets...
I don't have that much of a sweet tooth but when the opportunity presents itself I can indulge with the best of 'em.
The lolly that I'm hoping to find is not here: Milk Bottles. Have you had these? Milk bottles are a soft, white coloured, vanilla-ish and milky tasting gummy. I discovered them in England, as an impulse buy item, while I was waiting to pay for my groceries at Marks and Spencer's. A few years ago, I found some in a candy store on Denman Street in Vancouver, but these particular ones tasted like they were a few years old. Hard and sad.
The lovely lady behind the counter informs me that Sips & Sweets does indeed carry Milk Bottles, but are sold out at this time. We'll check again the next time we come through.
I did, however, find Beer Bottles!
Malt Bottles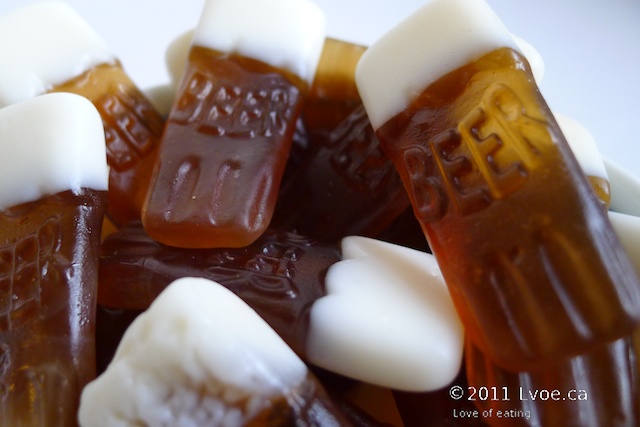 I can't remember what country these little pints of beer flavoured gummies are from. Gummy candies with a Lager likeness, are a love-it or hate-it thing. The tiny pints smell like lager. I was hoping they might taste like a gummy Egils Maltextrakt. No, not so much. They taste like a super sweet chewy gummy that has beer-ish aromas. I find them interesting. I quite like them. I haven't seen these in other candy stores.
Salt Water Taffy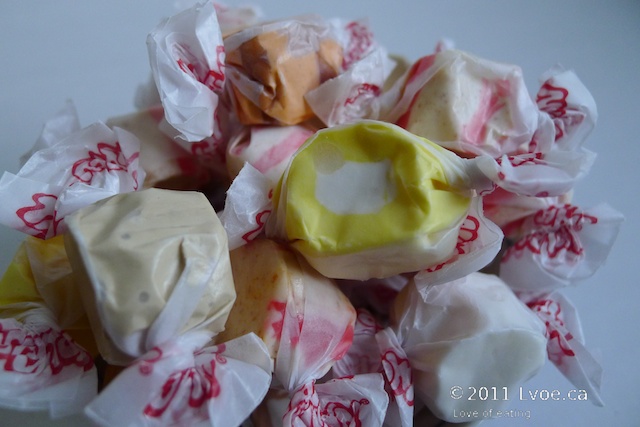 Sips & Sweets carries several flavours of taffy to choose from, so we just grabbed a handful each of our favourites. Some pieces turned out to be softer than others, but I guess that's the chance you take with taffy. There is a spicy red hot one that I liked the best.
Chocolate Covered Gummy Bears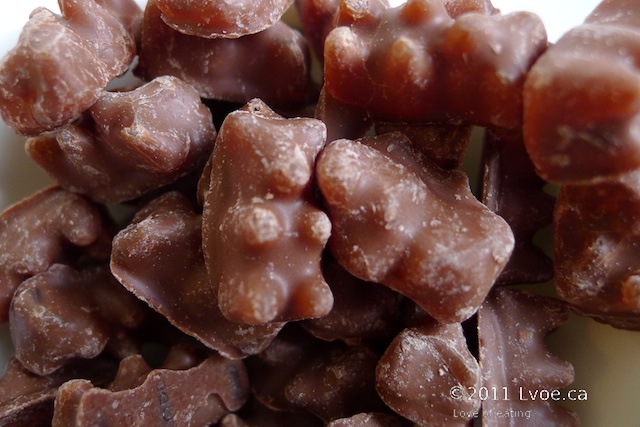 The first time I ate these was at the Hells Gate Airtram. Yeah, the Hells Gate tram in the Fraser Canyon. Totally random, right? How can one go wrong with Fruity bears dipped in chocolate?
DL picked up a few things due to nostalgia:
Fun Dip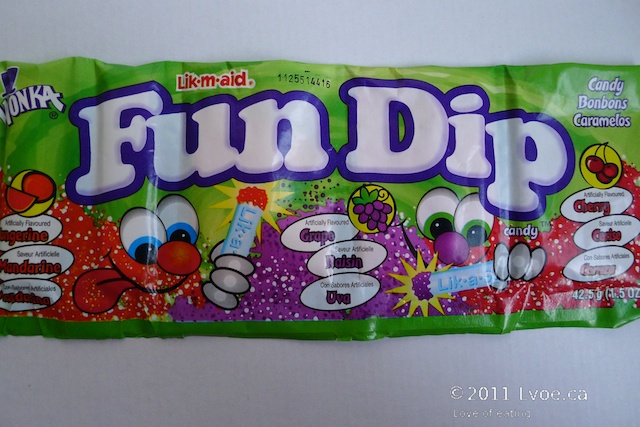 This is pure sugar and food dye, and they give you a hard candy stick to get it into your mouth. Do you remember just dumping the powder into your mouth, and eating that wretched "candy" stick afterwards? I think I only had this once as a kid. That's all I remember. I'm watching DL enjoy this little trip down memory lane, but I find it gross now. It's double dipping at its worst.
Popeye Tasty Candy Sticks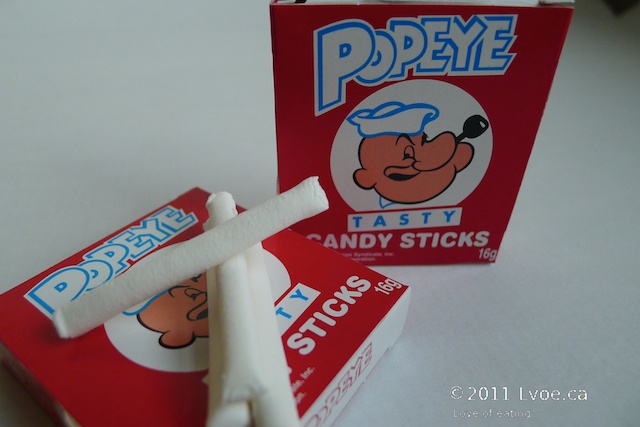 Do you remember when these were clearly labeled on the package as "candy cigarettes," and had the red coloured ends to look like a burning cigarette?
Double Lollipops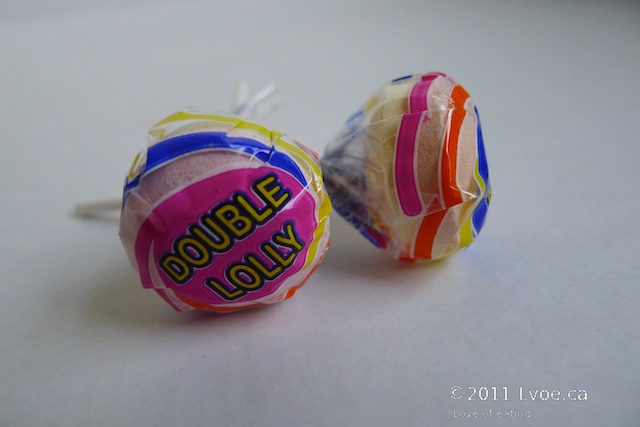 I recall getting these during Halloween trick or treating. I never liked these as a kid. I thought they tasted powdery back then. I was more of a Tootsie Pop kid. However, one of us is fully enjoying a stroll down memory lane with the double pops.
Toffee Crisp ($1.99)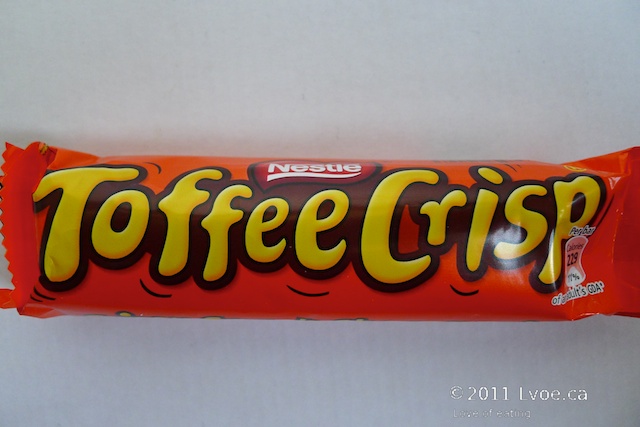 An old flatmate in London introduced me to Toffee Crisp. I got a bit obsessed with it. (As you know, this is not unusual for me.) I must've had one each day for weeks. It was only a 28p daily treat at that time. Chocolate bars were so cheap! Are they still this cheap in the UK? Toffee Crisp is rice puffs covered with caramel and milk chocolate. Sounds basic right? It's so much more when I bite into it. So many memories and good times. I clutch my half eaten chocolate bar against my chest with both hands, close my eyes and give it a gentle squeeze, like I am hugging a long lost stuffed animal. Is this what DL was feeling while eating the above sugar granules and powdery sticks?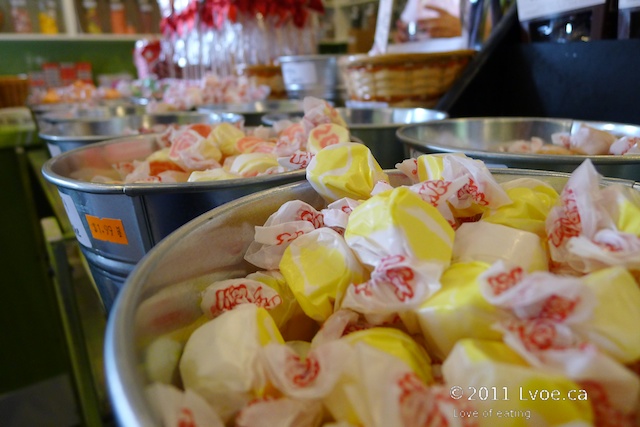 Sips & Sweets is a bright and cheerful place to check out a variety of candies, gummies, and chocolates from different parts of our globe; or to stop for lunch with a coffee. This family-operated candy shop gives friendly and welcoming service in both the café and the candy store. You will not find yourself plummeting down a garbage chute, even if you're a bad egg. If you are just passing through Chilliwack, it is a bit of a drive away from Highway 1, but if you have the time, why not? Charlie Bucket would.
Locations
Sips & Sweets Candy and Coffee
103 - 5658 Vedder Road
Chilliwack
,
BC
V2R 3M9
Canada