KURO Asian Cuisine - Chilliwack, BC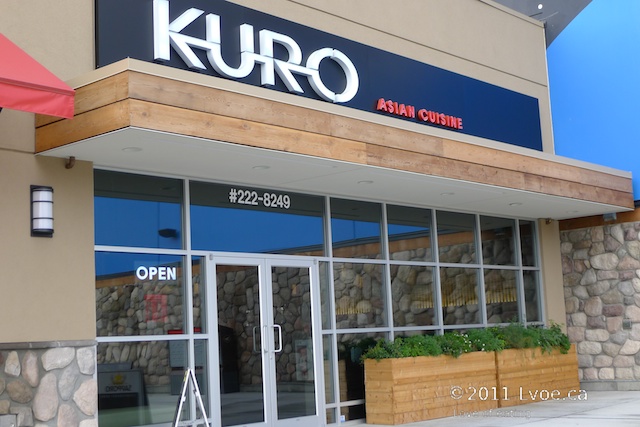 Kuro Asian Cuisine is one of the restaurants in the Eagle's Landing retail complex in Chilliwack. Did you know this place existed? I didn't, until I was given a little driving tour around Chilliwack recently. Eagle's Landing is fairly new, and there are still many retail spaces up for lease among the anchor stores.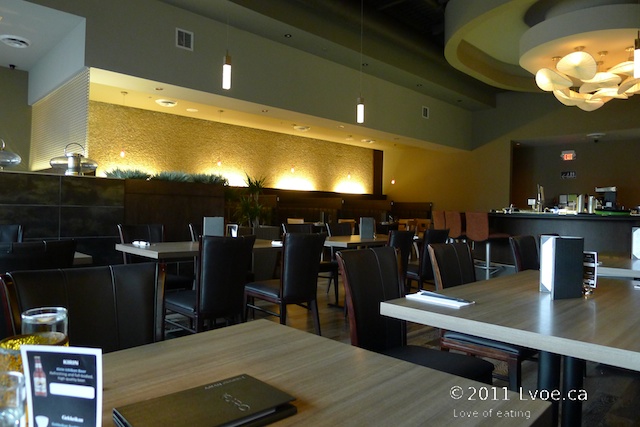 It's very quiet.
We were the only patrons during our entire meal.
I'm not in the mood to take a gamble on their $14.00 sushi rolls so I opt for some of their "fusion" items.
Beef Tataki ($12.00)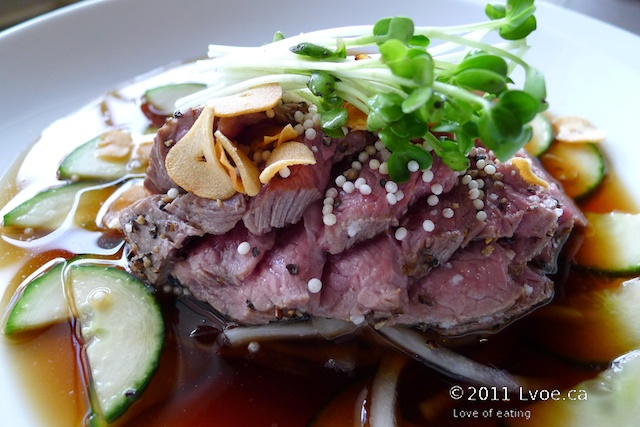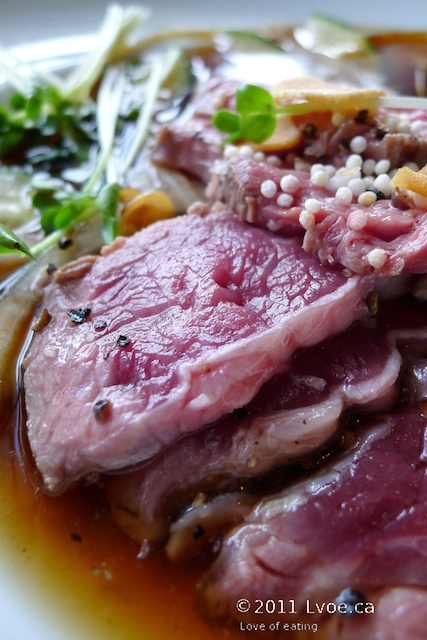 The rib eye is sliced pretty thick for tataki, but the flavours are okay. DL didn't like this at all, as the pieces are a bit gristly. I like rib eye, and I eat it rare. So Kuro's version of tataki is like having a big ol' rare steak with ponzu.
Volcano Rice Omelette ($13.00)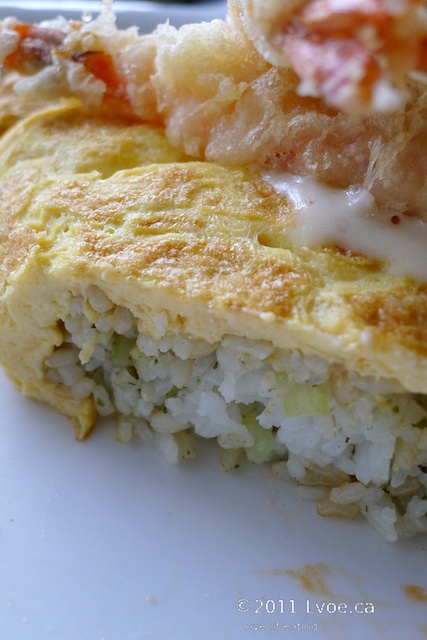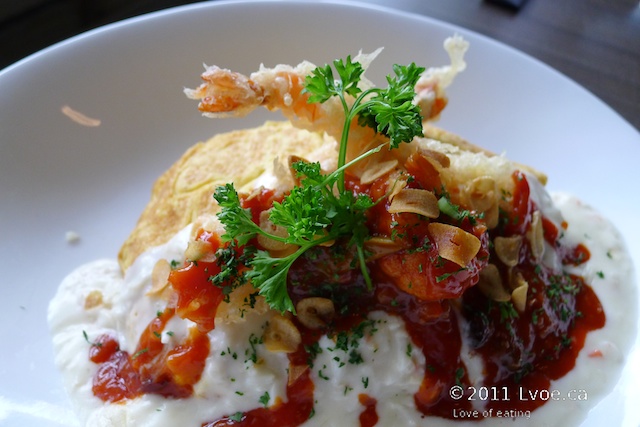 Many visuals entered my brain when I read the name of this dish. Of course I must order it. I am envisioning a volcano shaped omurice! I guess Kuro's imagination isn't as low-classy as my imagination. Nothing arrives at the table looking like some classic elementary science fair project.
The omurice came out fluffy and packed with veggie fried rice. The tomato based sauce has some kick to it; perhaps that's where the volcano bit comes from? I find the red sauce a bit too overpowering for the already seasoned rice. I prefer the crab crème sauce. The white sauce makes this rice omelette a little different from the average omurice with ketchup. The omelette is finished with two tempura prawns and a sprinkle of fried garlic slices.
Spicy Chicken Teriyaki Bowl ($14.00)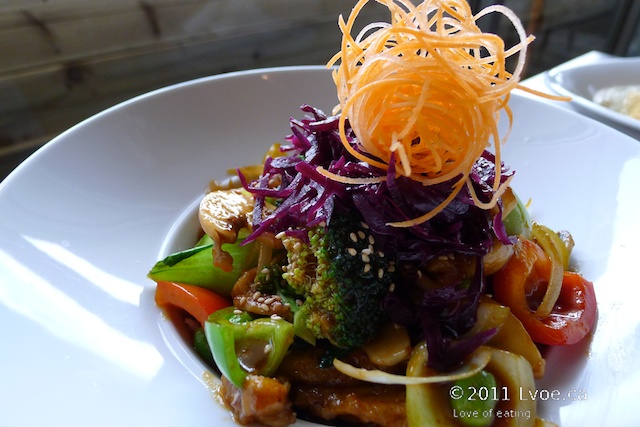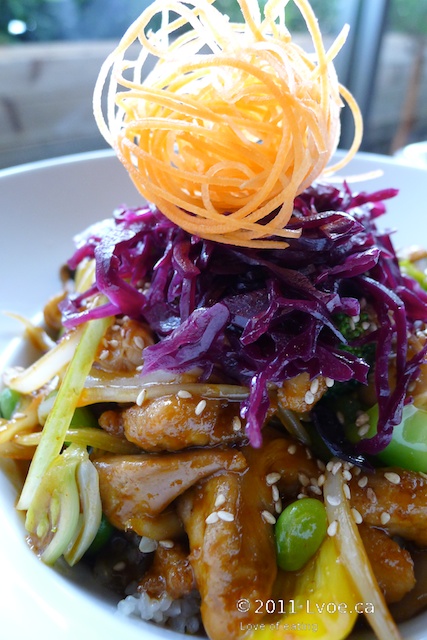 Standard teriyaki rice bowl. Although, the chicken breast pieces have a tasteful amount of spicy heat, the bowl contains mostly veggies. There is a good mix of vegetables, and they maintain their texture nicely in the rice and sauce.
Genmaicha ($4.00)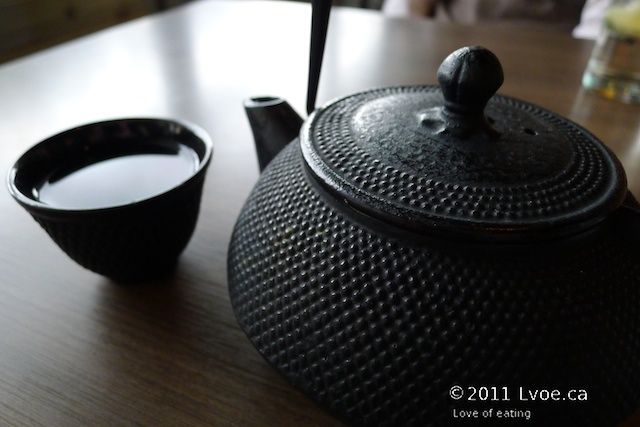 I'm really thirsty.
Both the dishes have very in-your-face seasoning. I find it's a challenge to finish the large portions when the flavours are so strong. The omelette and rice bowl are pretty generous in terms of size. Keep this in mind if you are planning to save room for dessert.
Getting to Kuro can be a bit finicky. There isn't a westbound off ramp from Highway 1 directly to Eagle Landing Parkway (however, there is an eastbound highway exit.) I landed here in a roundabout way via Yale Road.
Kuro Asian Cuisine sits beside the Galaxy Cinema, for those who may want dinner and a movie. There is a lot of traffic circling the Eagles Landing parking lot; I imagine it will only get busier as more tenants move into the vacant spaces. In addition to the theatre, Kuro shares the parking lot with an A&W, Five Guys Burgers, Salad Loop, a frozen yoghurt bar and Walmart. The shopping complex is shiny and new; it will be interesting to see what other businesses end up roosting here.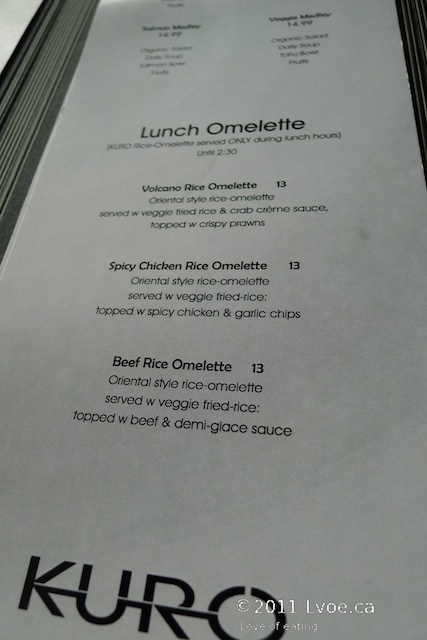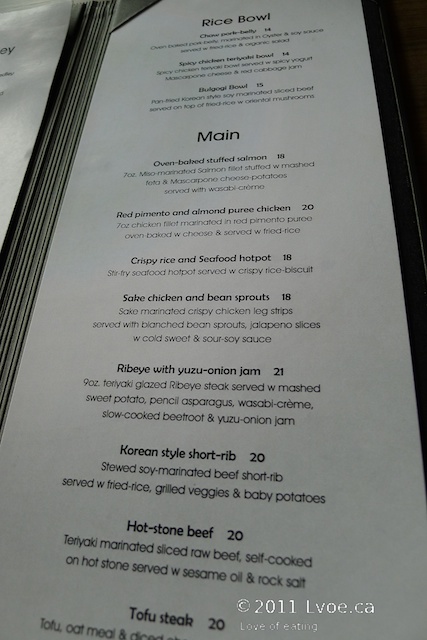 KURO Asian Cuisine Facebook click here
KURO Asian Cuisine website click here
Locations
KURO Asian Cuisine
222 - 8249 Eagle Landing Parkway
Chilliwack
,
BC
V2P 7K6
Canada