The Lunch Box Café - Kamloops, BC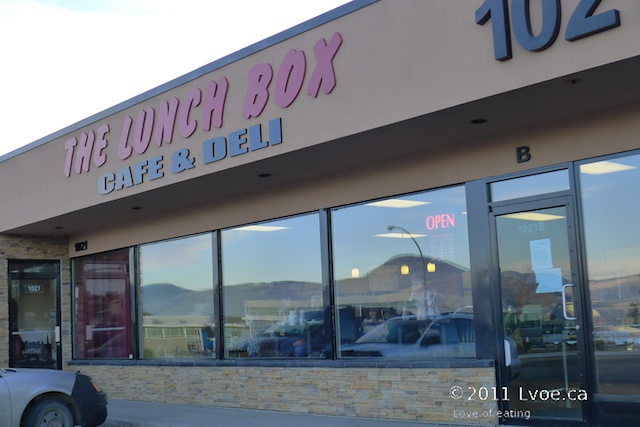 Happy Friday! So glad the weekend is here. I'm sure this weekend will be busy for most. I'm picking up some snacks at Eastuff Grocery today. They have loads of goodies on the shelves on this visit. I might do a separate post about Eastuff later. For now, an opportunity for a quick lunch beckons me into The Lunch Box Café. The little lunch stop is conveniently located next door to Eastuff.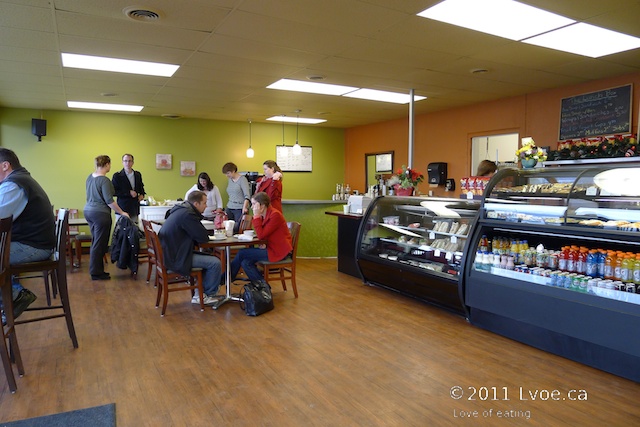 The Lunch Box Café is clean and spacious. There are a handful of tables, giving way for lots of room to move around. The other side of the café is more of a sit-and-linger space, like a living room. It's appointed with a sectional couch in the far corner and a couple of chairs poised in a conversation-ready position around the fireplace. I love the 70s motif on the upholstered chairs.

This afternoon the café is buzzing with a fairly steady stream of customers. The parking spaces in front are occupied as quickly as they are vacated. There is additional parking near the back side of the lot. I watch a Dodge Ram 3500 excitedly pull into an ultimate spot (what luck!), but to his chagrin the spot is marked with a familiar blue and white design denoting stick-figure in a wheelchair. He circles a few times, glancing longingly at the prime parking real estate in front of the café windows.
Egg Nog Latte ($3.50)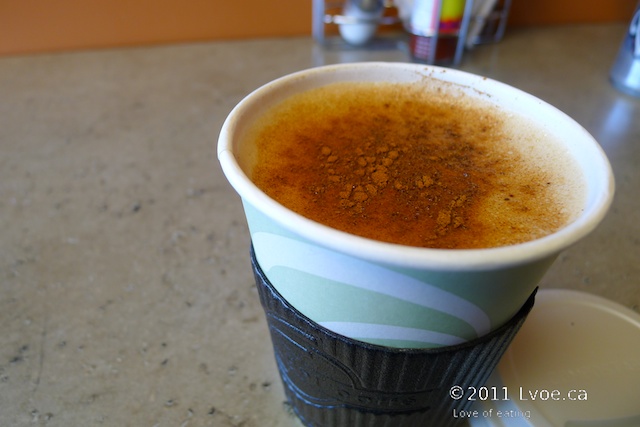 Creamy and cinnamon-y. I didn't really need to have this. I have already downed a huge Thermos of Assam tea before heading out today, but I can't say no to seasonal drinks. I specify that I am eating-in, but curiously the drink still came in a to-go cup. I guess it's just as well, because I end up nursing the coffee and taking it with me...to go.
Spicy Chicken Burrito ($7.50)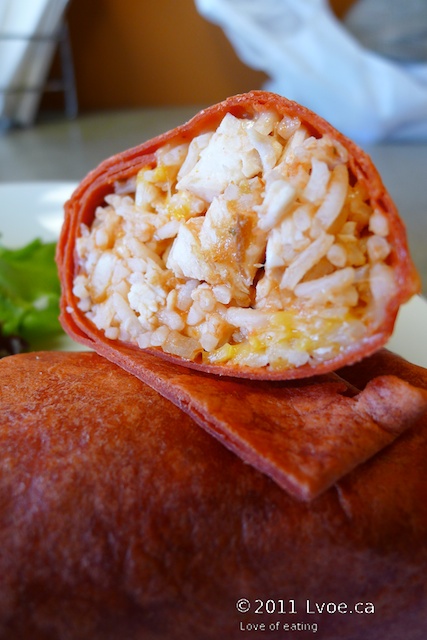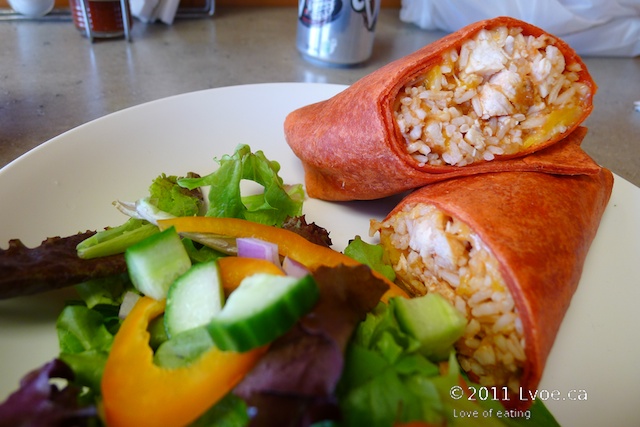 The salsa aroma wafts into our nostrils as the plate hits the table. This wrap is filled with rice, cheddar, and chicken breast chunks. I didn't find it spicy, but the moist chicken pieces still keep it enjoyable.
ABC Wrap ($7.50)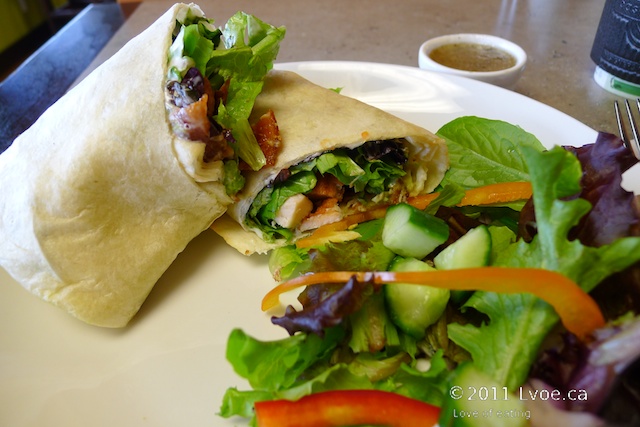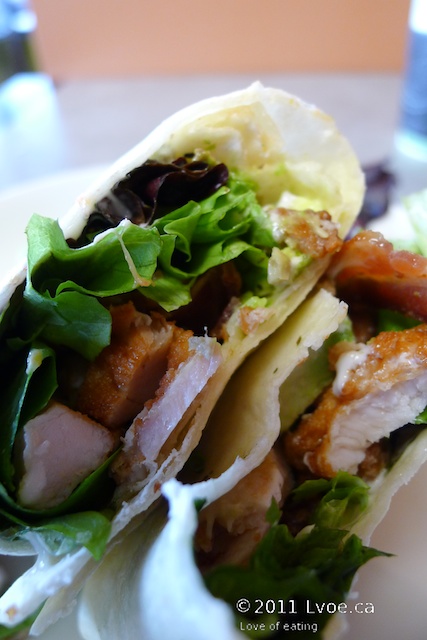 This is a salad wrap filled with avocado, bacon and chicken. Again, the chicken is moist and tender, and the bacon gives it that tasty bit of salt and crunch. That is the humble job of bacon, isn't it? Both side salads are crispy and come with your choice of dressing on the side.
Vegetable Chowder (?)
No photo and no opinion. Why you may ask? Well, I didn't receive my order of Vegetable Chowder. By the time I realize that the soup was not going to arrive, I had already finished my wrap and salad. I wasn't super hungry anymore, so I check my receipt to see if I was charged for it. It's not an itemized receipt, so I employ my best guesstimation skills. My bill came to $22.25 for two wraps a latte and a can of soda. I don't know the the price of soup or soda, but after adding up the above items and knowing my total is $22.25, I figure the soup order was probably missed from the get go. (Odd, since I watched counterperson write it down.) My belly is full, so I decide to just let the proverbial sleeping dog lie.
The Lunch Box is busy! There are just as many people coming in for grab n'go lunches as there are people having sit down meals. There is still a selection of baked goods on display at lunch today, and many prepared sandwiches and wraps ready to be taken away. These are the same folks behind The Lunch Box mobile catering; from time to time I see their lunch truck rocketing around town.
The Dodge Ram finally found an appropriate spot to rest his HEMI. I presume in the parking spaces behind the building. The driver orders a soup, sandwich and tea in which he receives at lightning speed. I notice his food because he happens to order what I am missing: the Vegetable Chowder. For what it's worth, I crane my neck to check it out, and the chowder looked hearty from afar...

Locations
The Lunch Box Café
1021B-C McGill Road
Kamloops
,
BC
V1S2A1
Canada