Chicken Time - Chilliwack, BC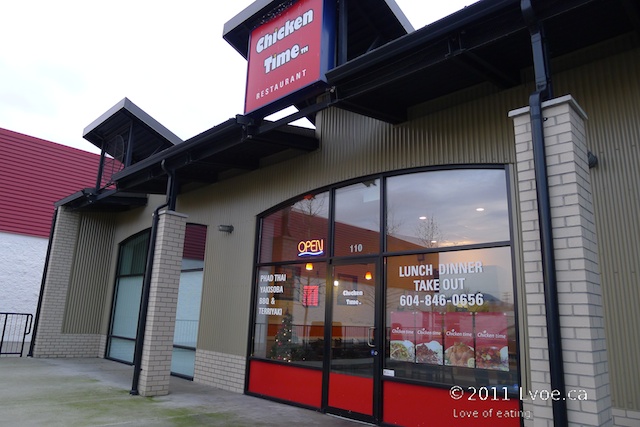 *UPDATE: October 2012 Chicken Time is now closed.
Stop. Chicken Time.
Did the base line to Rick James' Superfreak just start playing in your head? Did visuals of MC Hammer dancing, in his namesake pants, to U Can't Touch This start sequencing in your mind? This happens to me every time I see or think about this place.
The name is funny, no? I think it needs an exclamation mark at the end. Chicken Time!
This is one of those places I find myself drawn to simply because of the name: Chicken Time.
I'm not sure why I find the name Chicken Time so amusing. I mean, I don't bust a gut when I drive by a Taco Time.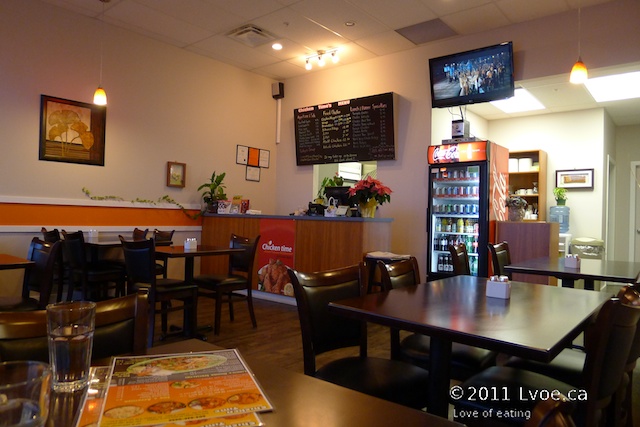 Chicken Time is an interesting eatery. The selections are a mix of flavours. The menu offers a little Thai here, a little Korean there and some Southern Fried Chicken too. There are even plans to add California Rolls to the mix in the near future. Although there are a handful of tables in the restaurant, Chicken Time strikes me as a take away restaurant for meals on the go.
Miso Soup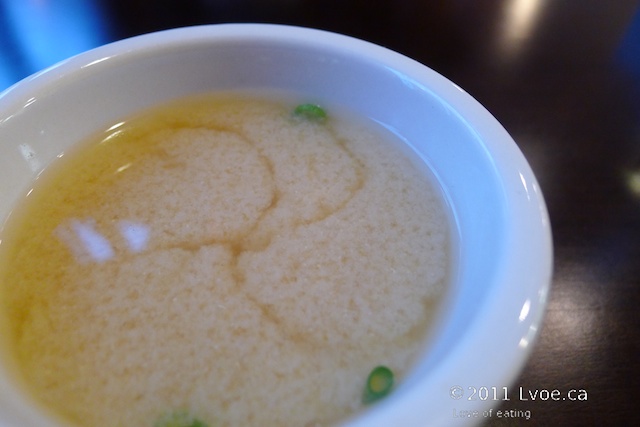 Miso soup is included in both dinners tonight. I'm not a huge fan of miso soup. Never have been. Nonetheless, I sip it down like a trooper.
Chicken Time Special ($9.95)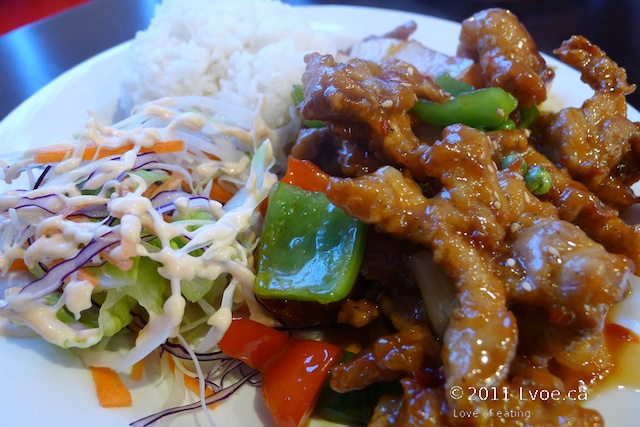 The chicken is tossed with bell peppers and pineapple chunks. The breaded chicken is still slightly crispy even with the sweet and spicy sauce. Both plates tonight are accompanied by steamed Korean rice and a light julienned side salad.
I really wanted to try their Southern Style Fried Chicken. Man, I haven't had fried chicken in ages! The Southern Style Fried Chicken can be ordered as half (1.5 lbs) for $12.00 or whole (3 lbs) for $22.00. The Chicken Time kitchen prepares their chicken at the time of order, which means an approximate 20 minute wait. I still have a few hours of attentive driving to accomplish after dinner, so reluctantly I opt out of their fried bird. (Speaking from experience, being in a satiated and sleepy chicken-induced coma is not the best driving scenario.)
Beef Short Ribs ($13.95)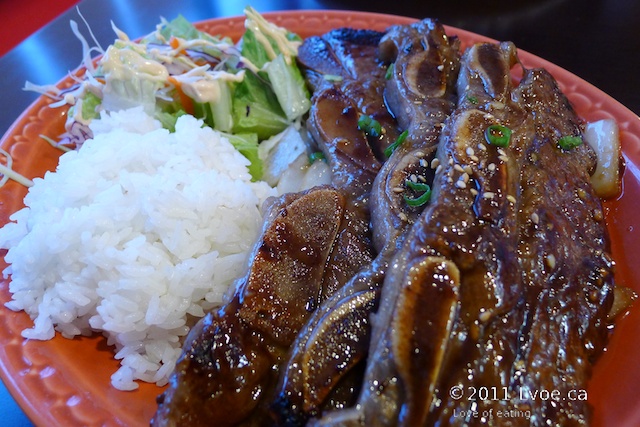 The Korean style short ribs are tender and saucy. I'm given a choice of cutting utensils: knife or scissors. There's just something about snipping meat with scissors, which I find so...efficient. Especially with the Korean style short ribs. Snip snip and away we go! It is a generous helping of meat. Clearly more than the 75g deck-of-cards portion size advised by the Canada Food Guide.
I enjoy the short ribs more than the chicken special, but DL is quite the opposite preferring the chicken dish. Since I didn't get to try their Southern Style Fried Chicken on this visit, I'm determined to swing in again to give it a go. After all, the place is called Chicken Time.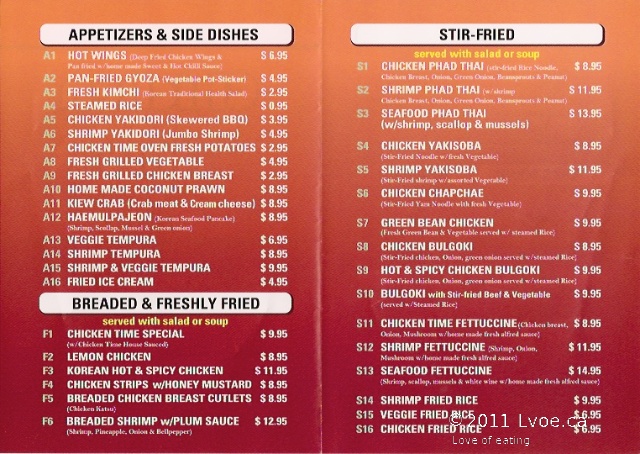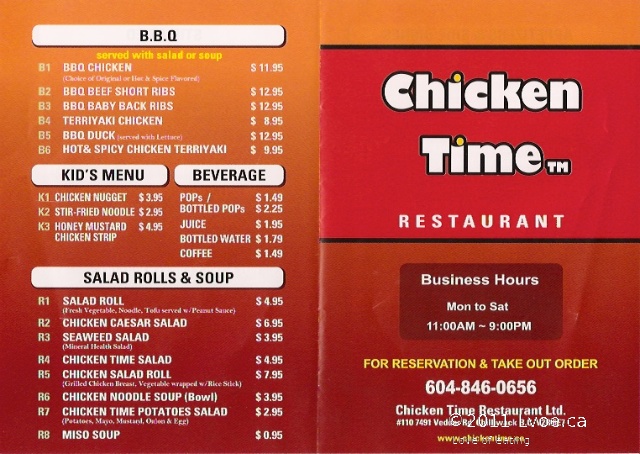 Locations
Chicken Time Restaurant
#110 - 7491 Vedder Road
Chilliwack
,
BC
V2R 6E7
Canada