Papa Tee's Pizzeria - Kamloops, BC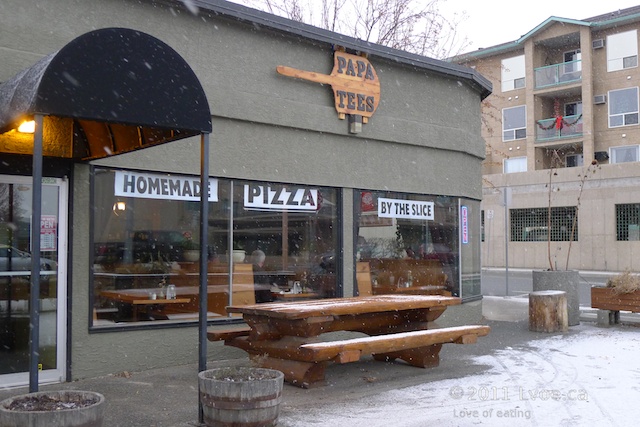 I feel like I just spent the entire morning in an appointment at the bank. Perhaps things seem to take longer when my stomach is rumbling. By the time I exit the financial institution it is well into the lunch hour.
As Kamloops begins to acquire a light dusting of icy precipitation, we head over to Papa Tee's Pizzeria. The new pizza joint sits on the corner of 7th Avenue and Victoria Street (kitty corner to the Thompson Hotel that houses the Noble Pig and Crush restaurants.)
Chicken Noodle Soup ($5.25)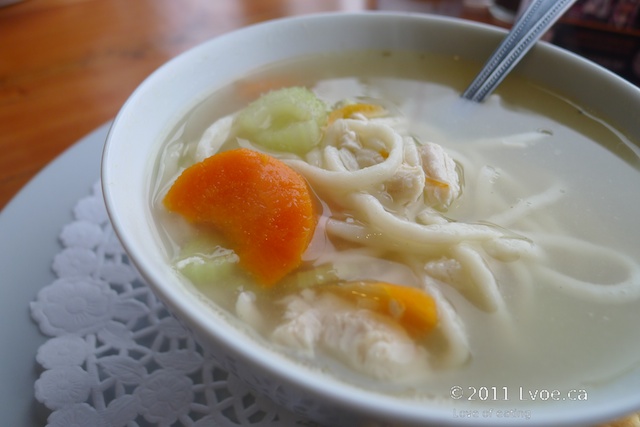 I first glanced over Papa Tee's menu, when reading about A.L.'s meat extravaganza, and the chicken noodle soup caught my eye. Papa Tee's version of the iconic soup tasted good for your soul! Lots of chunky chicken breast pieces along with carrots and celery. The noodles are house-made and plentiful in the clear flavourful chicken broth. A handful of saltines accompany the soup.
Spaghetti and Meat Sauce ($9.95)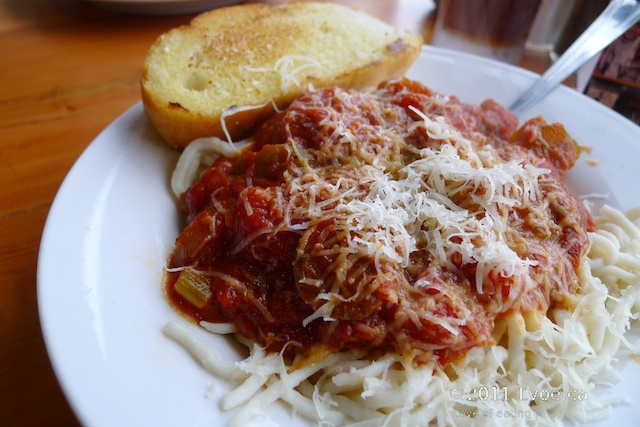 DL seems so delighted with the fact that Papa Tee's makes their spaghetti noodles. This dish contains a generous helping of homemade noodles topped with red sauce full of sausage. I really like the mellow tomato sauce here. I'm not usually a huge fan of restaurant tomato sauce, because often I find it too strong for my liking. Papa Tee's tomato sauce is nicely balanced with tomato tang and saucy goodness.
Traditional Lasagna ($9.95)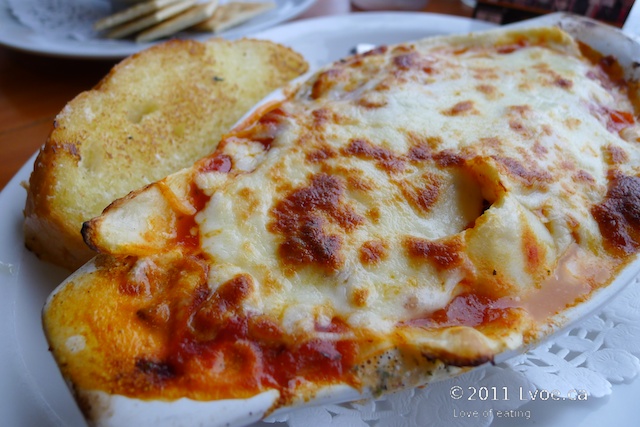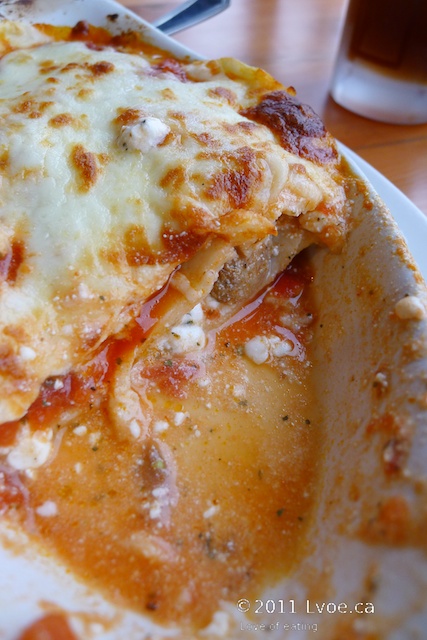 The lasagna arrives bubbling hot. There is more of that tomato-ey sauce, sausage, onions, and cheeses. It's easy to finish, but also easy to share. Both pasta dishes come with the softest slice of garlic toast.
10" Pepperoni Pizza ($15.00)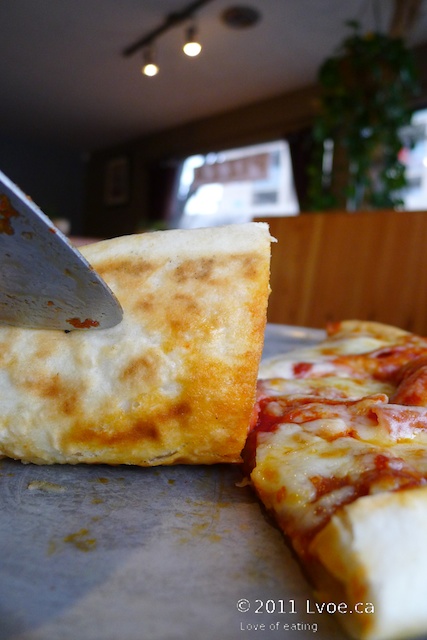 While DL is still yammering on about the homemade spaghetti noodles, I move toward the pizza. There are so many tempting topping combinations on the menu. We opt for the basic pepperoni pie. The peppery meat, hiding under the melted provolone and mozzarella, is evenly distributed ensuring a perfect bite on each slice. The house made crust is soft with some chew but still maintains a crispy bottom and edge.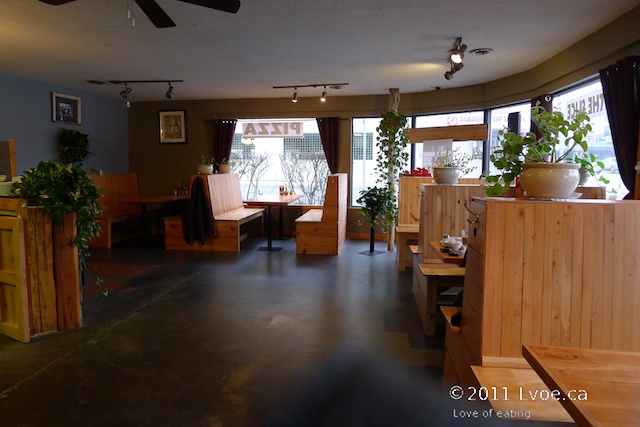 The dining space is open and brightly lit with the huge windows that face Victoria Street and 7th Avenue. Booth seating lines one side of the restaurant, while stool seating with a few deuces make up the other side. The service is attentive and friendly*. It wasn't a busy time when we visited, as we were the only patrons there for most of our visit. With a full belly and a smile, I head out into a newly snow covered Kamloops to finish the rest of my afternoon tasks.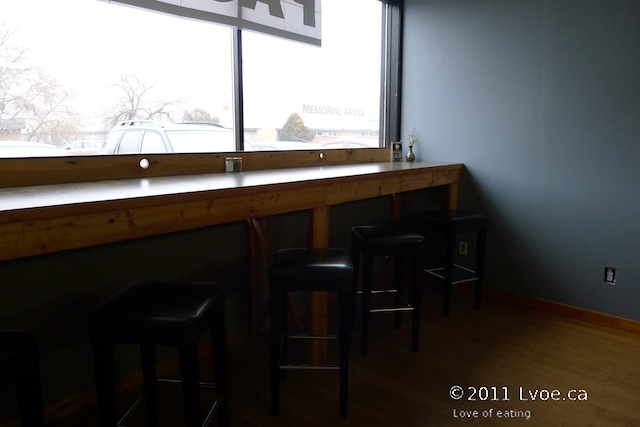 *Weird side story: After we placed the above order today, we could hear our server relay the order back to the gentleman running the kitchen. When the server finishes communicating the order, the gentleman lets out a loud exasperated sigh. (Really? Your restaurant is empty this afternoon. Is this order really putting you out?)
I may be jumping to conclusions... Frankly, I have no idea if he really was indeed exasperated, or if it was just an inside joke or staff humour not intended for customer ears. I chose to give him an eyeroll and ignore it at the time; hoping it was just sarcastic staff humour (of which, I am a fan BTW.) DL and I both chuckled about this later on in the day.
Locations
Papa Tee's Pizzeria
705 Victoria Street
Kamloops
,
BC
Canada