Sweet Home Café - Kamloops, BC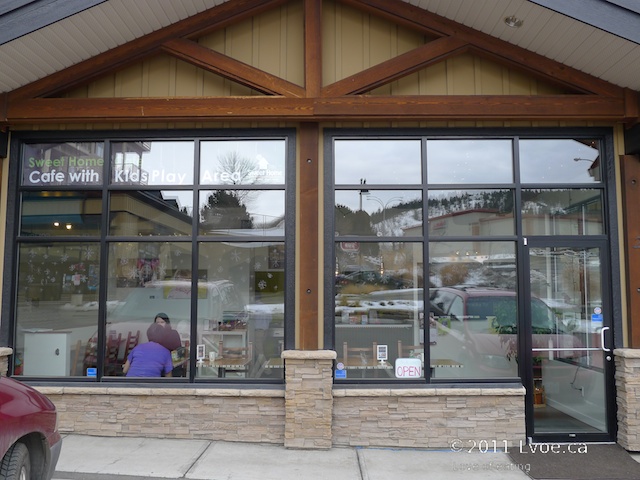 The Sweet Home Café is a small soup and sandwich type of place. The main draw for parents is that Sweet Home Café offers a supervised play area for small children. The restaurant is small, but the space is defined. On one end of the restaurant, there is the play area and on the other end there is a living room-like lounge space. In the middle, joining the play and lounge spaces, is the café dining area.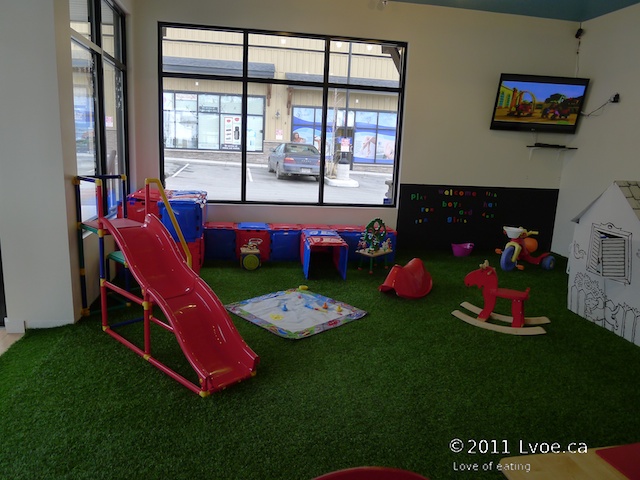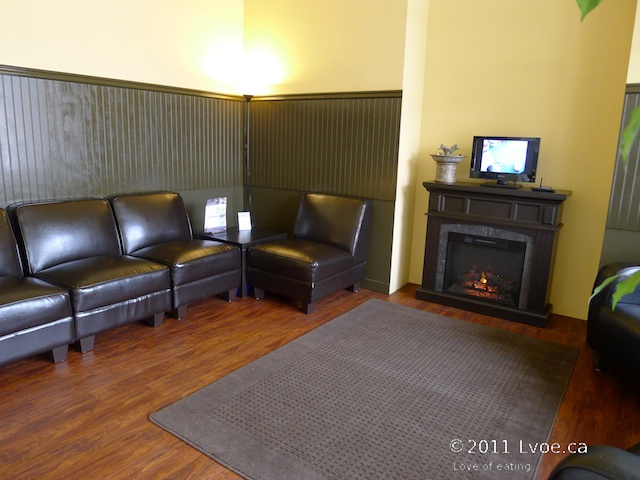 Two identical mini-vans pull up and unload pint size adventure seekers. The four tykes file into the cafe, with their adults in tow, already knowing the drill for the play area. Sign in, shoes off, network with peers and discuss the important issues of a three year old. The adults do the same, while sipping soup, but leave their shoes on.
Meat Ball Stew ($7.00)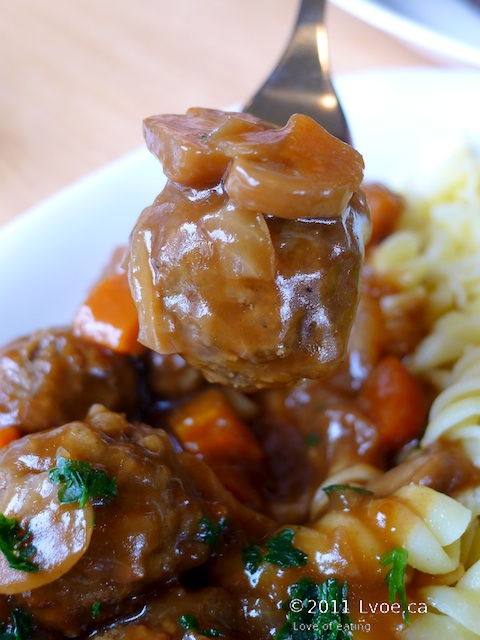 The stew has thick cut mushrooms, carrots and onions along with the beef. I like the chunky mushrooms, and veggies. The taste reminds me a bit of that vegetable soup with alphabet letters in it. The meat ball stew is served with soft rotini and a side salad.
Chee Zee Pasta Gratin ($6.80)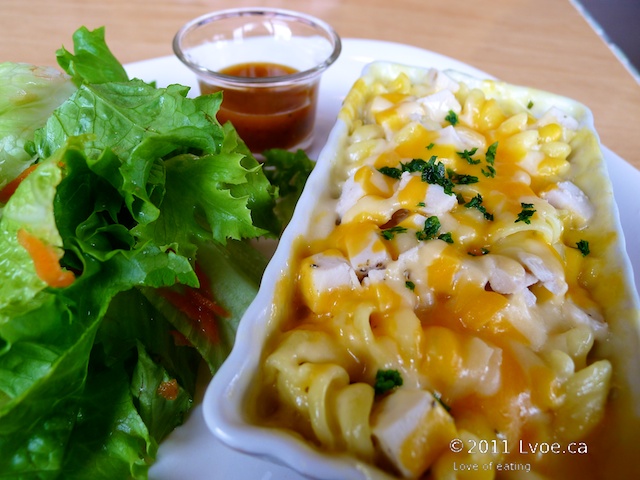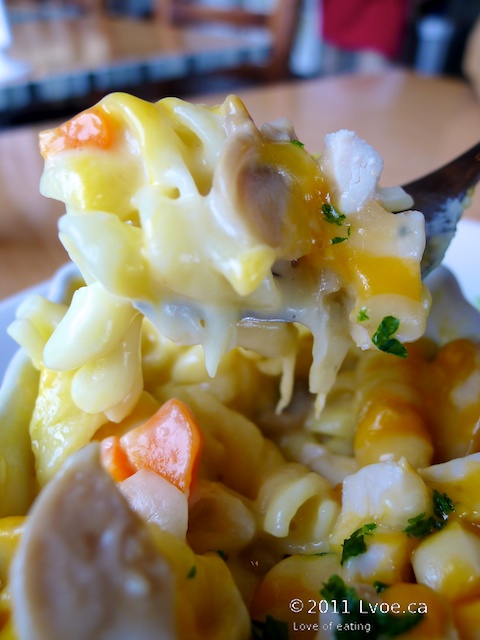 Boy is this cheesy. How can one not like cheesy sauce? It's homey, hot and cheesy with cubes of chicken and chunky sliced mushroom throughout. It's tasty, but the pasta is on the softer side.
Roll Cake ($4.80)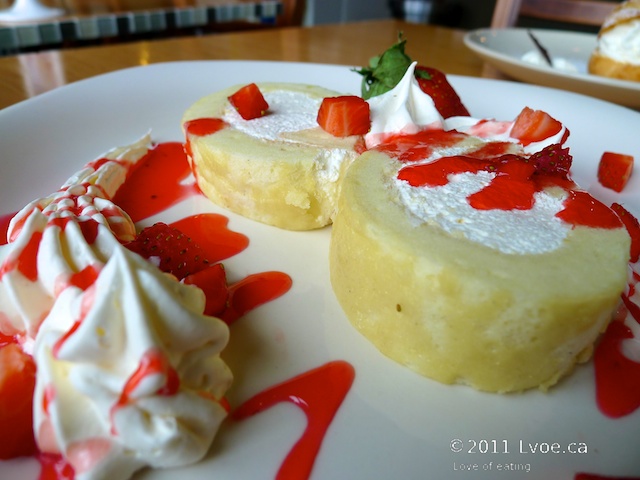 This is soft spongy cake with strawberries and cream. It's a light dessert, with the sweetness coming mostly from the strawberries.
Choux à la Crème ($2.40)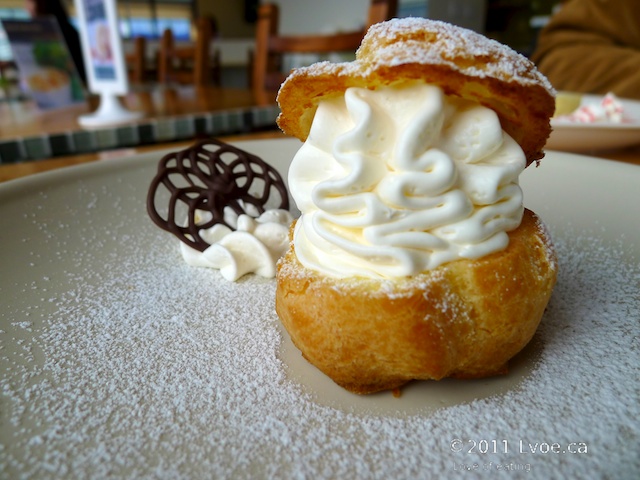 It's a cream puff. Simple, small, and just sweet enough.
The food isn't necessarily going to be why people come to Sweet Home Café. They serve quick and light lunch fare that's easily found elsewhere in Kamloops. However, Sweet Home Café is already popular with their niche market in Kamloops. If you are a parent planning a play-date with others, and would rather nosh on something other than a Filet-o-Fish, then Sweet Home Café is a nice clean option.
Oh, and it's conveniently located next to the Liquor Barn if you need something stronger after the play-date.
Locations
Sweet Home Cafe
#2 - 1380 Hillside Drive
Kamloops
,
BC
V2E 2N1
Canada