A Touch of Europe Café - Chilliwack, BC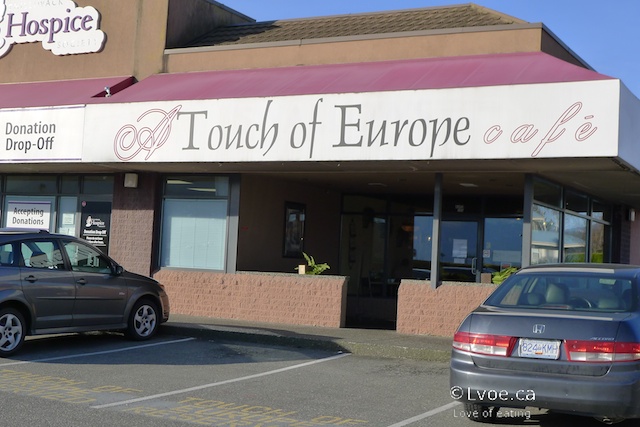 ***UPDATE 2013: Touch of Europe is gone now :(, Michelle's Café currently occupies this space serving Chinese food***
Homebound, we make a pit stop in Chilliwack for breakfast this morning. A Touch of Europe is a little café on Luckakuck Way among a cluster of businesses that include the BCAA and McGavin's Bread Basket.
Now before we get to breakfast, tell me, what's going on here?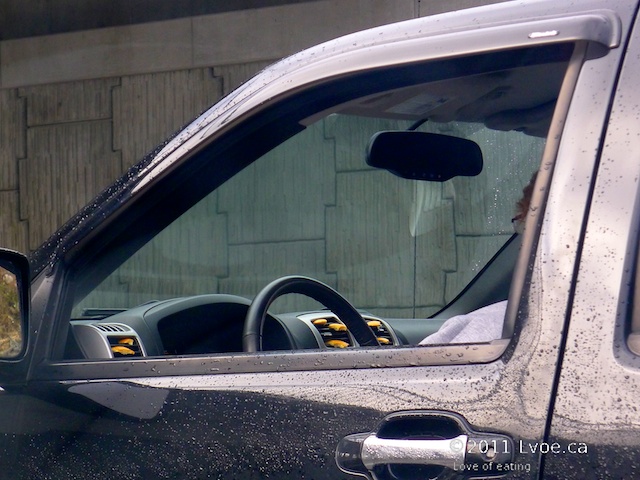 It's the vehicle beside me on the highway. Click to enlarge. If you look closely, the driver has pieces of orange peels tucked into the heating-cooling vents. I've never seen this form of air freshening before. I'd be so worried that the citrus peel could fall into the vent. Can you imagine trying to fish that out?
A Touch of Europe Café serves breakfast and lunch Tuesday to Sunday. This morning I need a place that opens a little earlier, since we are cruising through Chilliwack before 9:00am. A Touch of Europe fits the bill as they are already serving a handful of tables by the time we pull in.
Caffè Latte ($3.95) and Coffee ($2.25)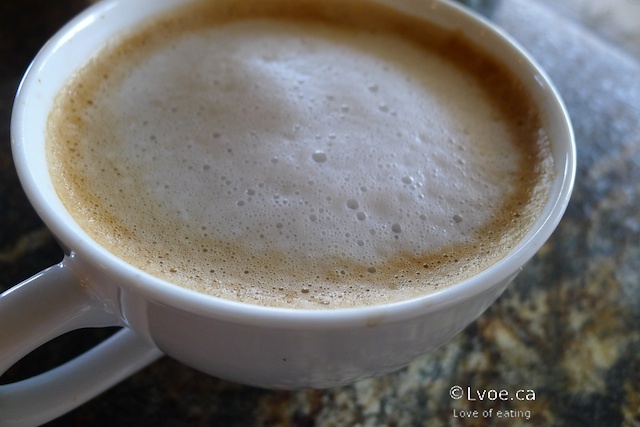 Since A Touch of Europe "does not sacrifice quality for convenience and speed," we both order sipping beverages while we wait.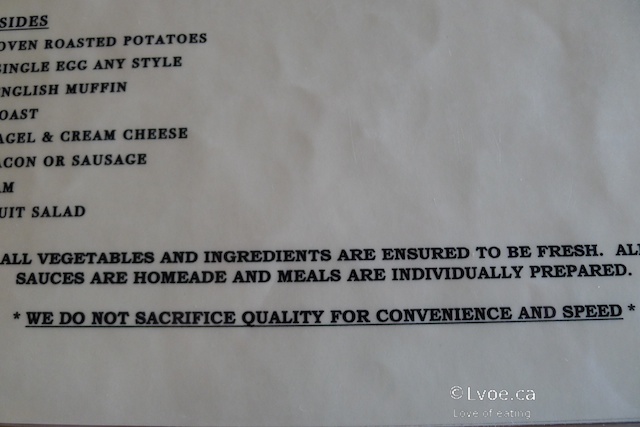 Eggs Benedict ($10.00)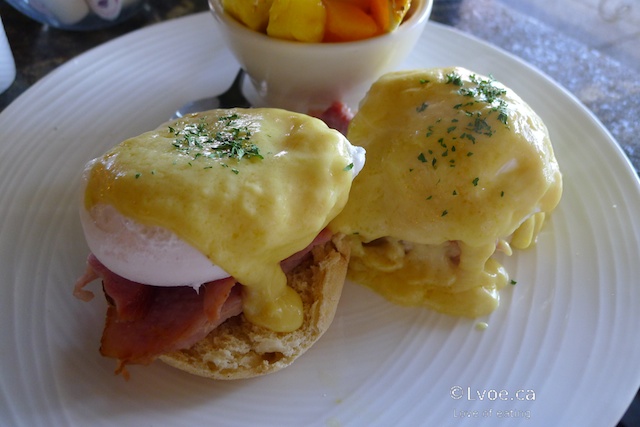 The eggs are poached slightly more than the requested "soft," but volume of the yolks is so large that there's still enough runny liquid to keep a soft egg person happy. The yolks are gigantic and the orange lava ruptures generously over the chunky sliced ham and English muffin.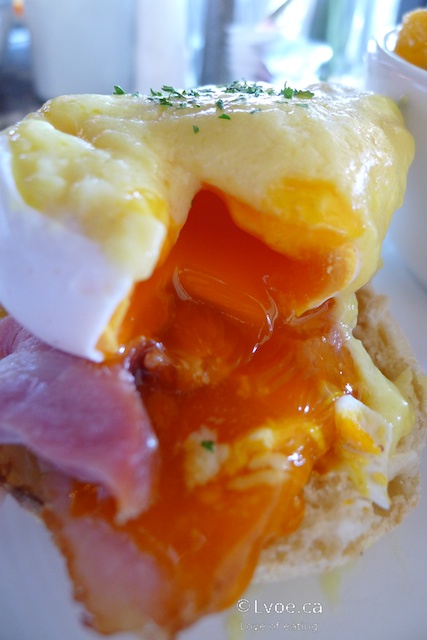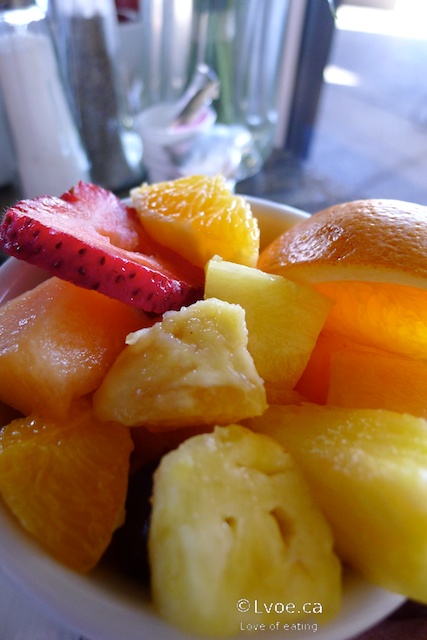 The home made hollandaise has a nice lemony tang to it. I like being able to taste the tang in hollandaise sauce. The choices for a side dish are roasted potatoes or fruit salad. (As we were ordering DL tried to Charles Xavier me into the potatoes, but clearly I had my Magneto helmet on.) The fruit salad consisted of apples, oranges, cantaloupe, pineapple, grapes and strawberries. This breakfast doesn't look big in the photo, but it is very substantial.
Mix Fruit Crêpes ($11.00)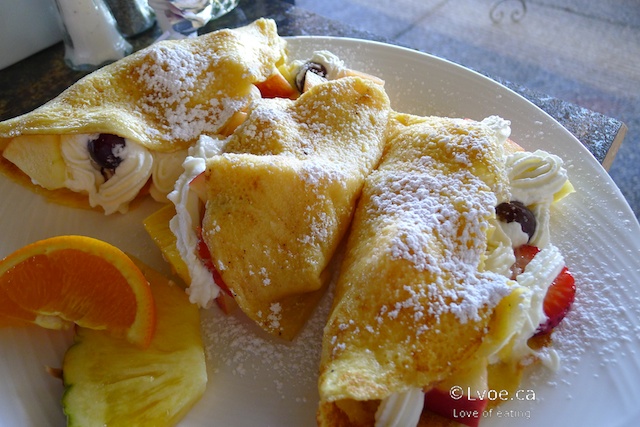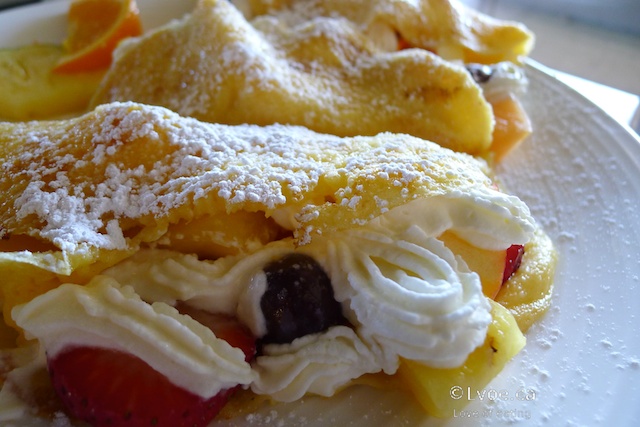 Look how fat these are. They look like three huge tacos bursting with fruit. The jumbles of fruit in these crepes are the same mix as in my fruit salad above. The thin pancakes provide a light neutral blanket around the fruit and whipped cream. I find the slightly sweetened whipped cream and icing sugar give just enough sweetness to complement the fruit and crepe. I didn't feel the need to use any of the butter or syrup that is provided on the side.
A Touch of Europe Cafe also bakes! The display case this morning is filled with quite a selection of house made pastries.
French Lemon Tart ($3.95)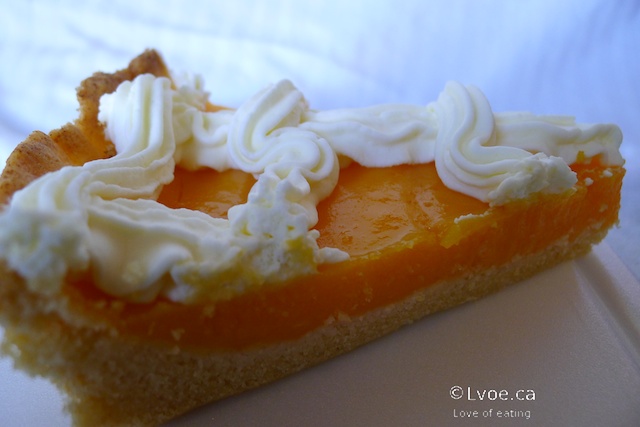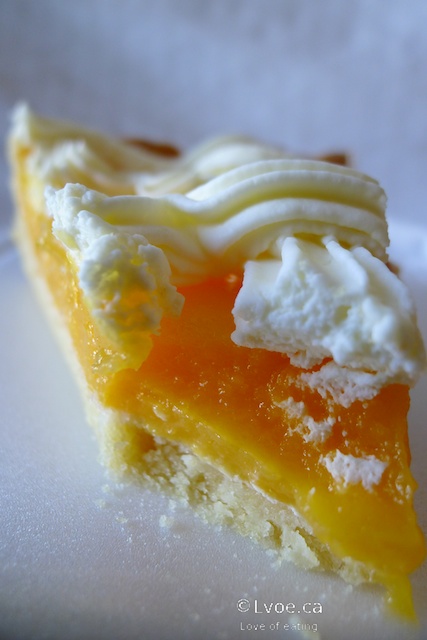 You can tell they use the same kind of beautiful free range orange yolks in their lemon tart as they did in the Benedict. The lemon custard is lemony, but not lip puckering tart. Make no mistake, it is good lemon custard, but y'all know how I like my eyes to water when I eat lemony things. This home made crust is excellent. Crumbly, delicate and buttery.
Chocolate Cream Puff ($3.50)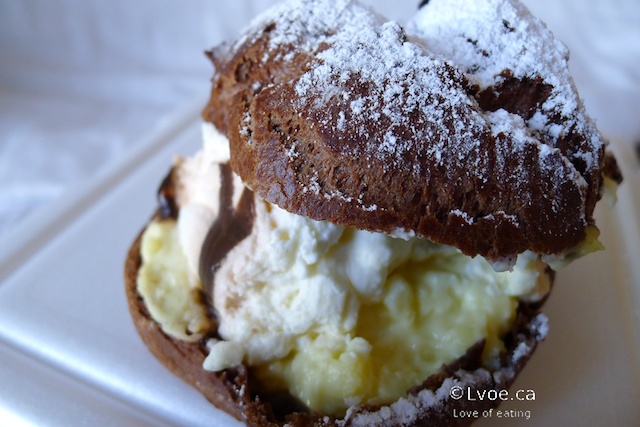 Chocolate choux pastry, whipped cream and custard cream. It's the perfect storm.
The couple that operates A Touch of Europe Cafe is lovely. Seriously, they look just as lovely and cute in person as they do pictured here on their website menu. (**UPDATE: Their website is now down. Annoying, I know. But trust me, they looked every bit as adorable in real life as they did on the site.) The silver-haired gentleman prepares the food in the café's simple open kitchen, as his partner runs the front of house. The service is soft spoken and jovial. She wishes us a safe drive as we exit into the Chilliwack morning air.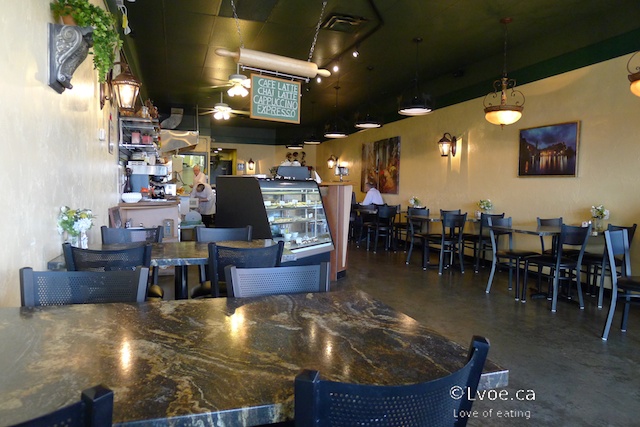 Now Chilliwack's air isn't always crisp and fresh, if you know what I'm getting at. I'm thinking the citrus-peel driver may be on to something.
Locations
A Touch of Europe Café
200 - 45428 Luckakuck Way
Chilliwack
,
BC
V2R 3S9
Canada