Nayaab Fine Indian Cuisine - Kamloops, BC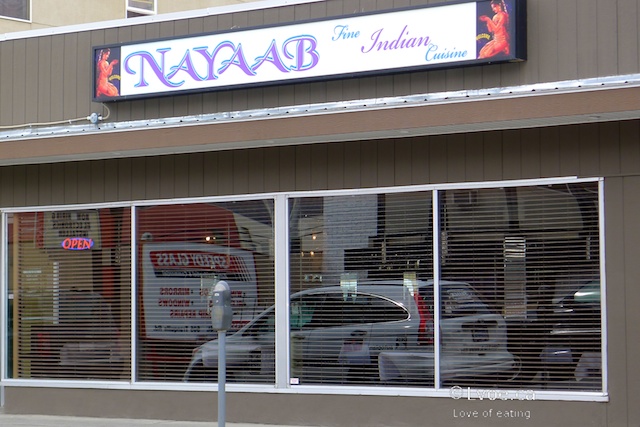 **UPDATE: September 2012 Nayaab Fine Indian is now closed. Cornerstone Sushi and Korean BBQ now occupies this space.**
After the original owner of Spice A Taste of Indian Cuisine sold his Northshore restaurant, he went on the hunt for a new project. This is the finished product: Nayaab Fine Indian Cuisine on Seymour Street near 6th Avenue. DL caught wind of this new Indian Restaurant via A.L.
I knew it was only a matter of time before a butter chicken visit had to be made.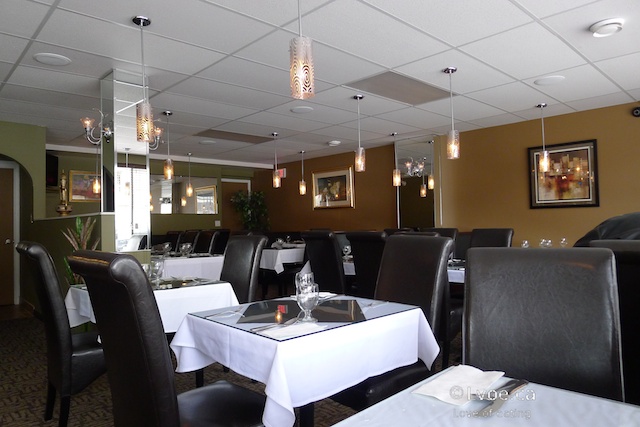 The space is modern and comfortable. It looks like my friend's dining room. For reals. They both have that same neutral, spec-home colour palette, and dark brown dining table chairs. I like the size of Nayaab's dining area. The smaller space and these cushy chairs creates a more intimate feel to this dining room.
Chai ($2.25)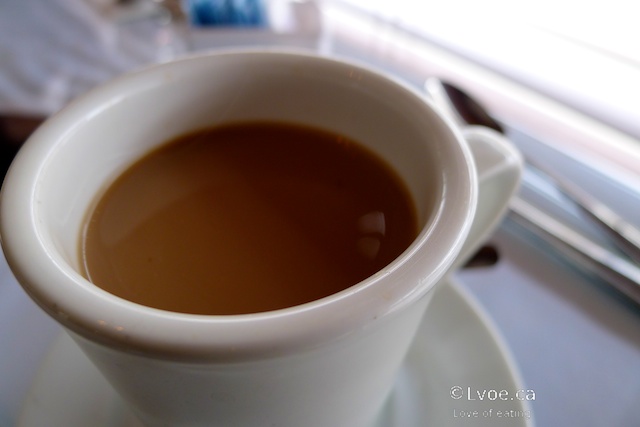 Keema Samosa ($5.95)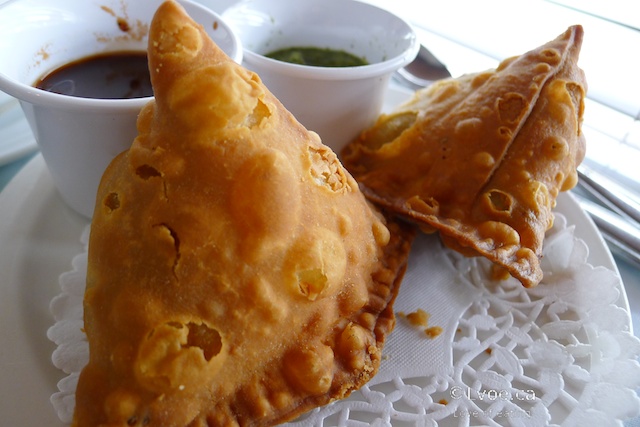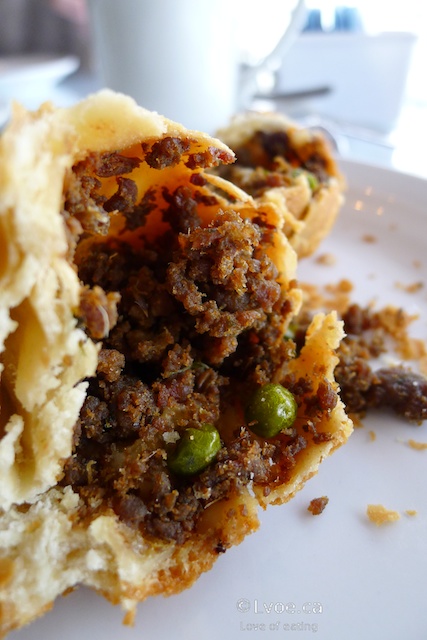 I normally get vegetable samosas. I'm not sure why I made this change at the last minute. The minced meat and peas are a little dry. The pastry is a tad dry too and a bit hard in the corners where the dough is a little thicker. I love tamarind chutney, so a few spoonfuls of that helped this meaty samosa along.
Butter Chicken ($14.95)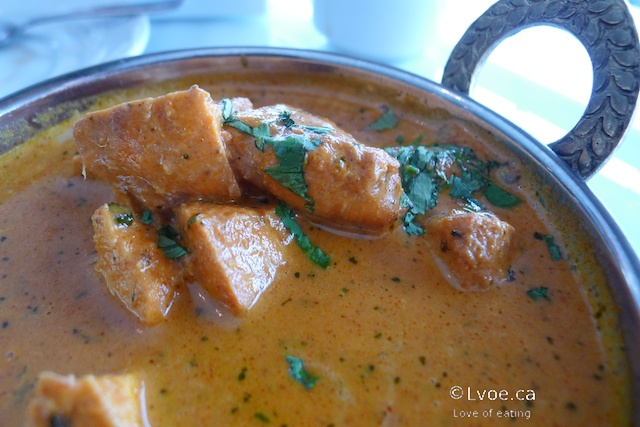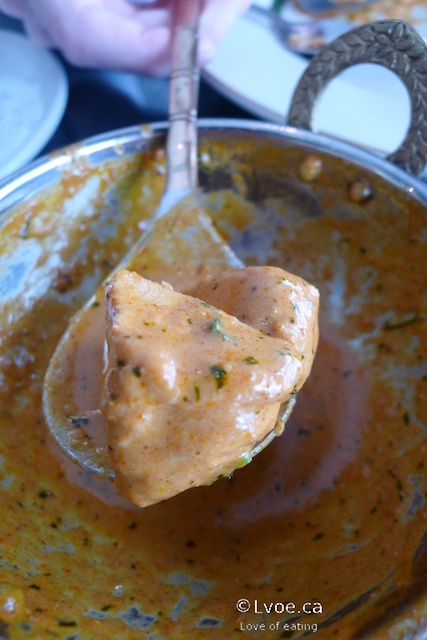 The chicken pieces are tender. FYI, although the menu says the meat is seared, I didn't detect a tandoori sear texture in my mouth. (I know some of you have expressed this is an important detail, and prefer the meat to be tandoori'd before braising in sauce.) The saucy foundation is nicely creamy with a little tomato-ey tang.
Lamb Korma ($15.95)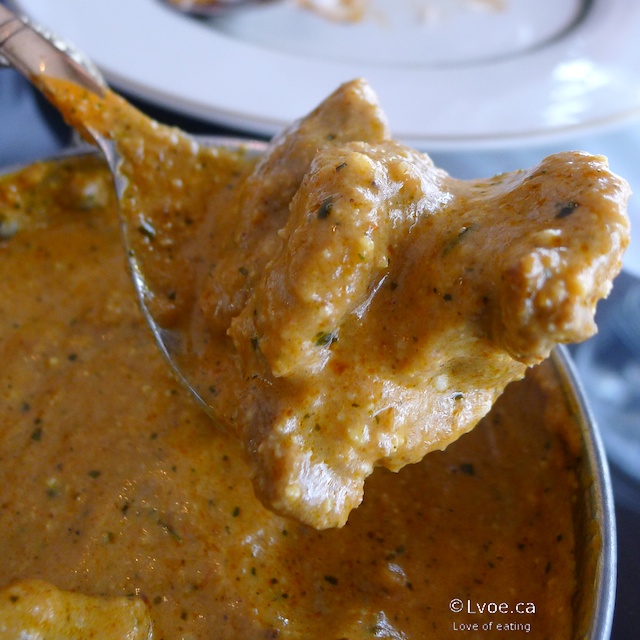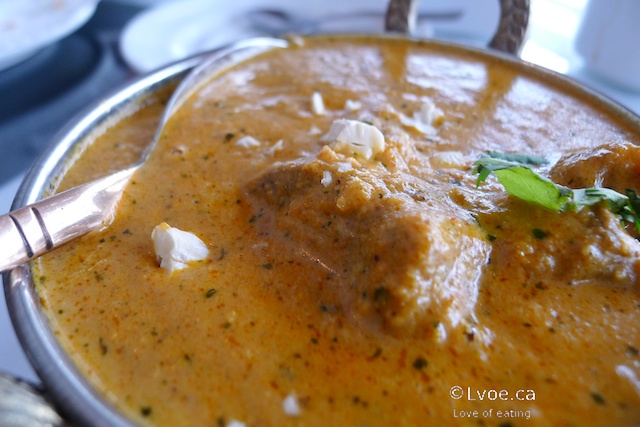 The lamb is a smidge mutton-y today. It's not leather-shoe tough, but you need a healthy set of dentures to take down the meaty bits. The korma is creamy and nutty. I really like the sauce portion of this dish. The ground nuts are plentiful, giving the sauce a thickness that clings to the naan and rice very well.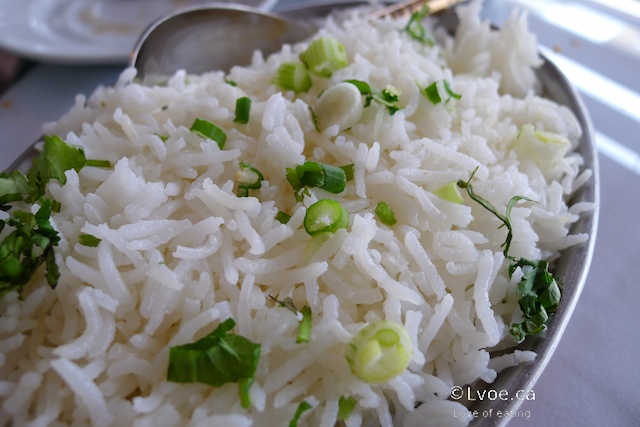 The Butter Chicken and Lamb Korma dishes both include rice. You know how some restaurants put the metal serving bowls atop a candle to keep the contents warm? Nayaab Fine Indian Cuisine didn't offer that today, and our korma and butter chicken became cool quite quickly.
Naan ($2.25)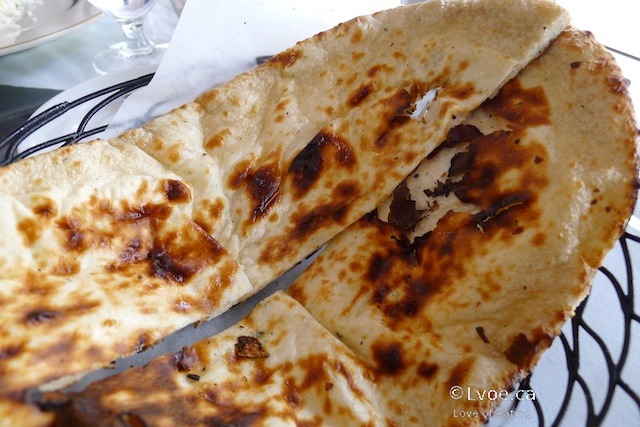 The naan here is soft and chewy. It's somewhat like the naan I had at Maurya's, but thinner. We order another round of naan to finish what's left in the metal bowls. Our second order of naan comes out so fresh and hot from the oven, that it's finger-tip handling only. Excellent. How can one not love bread fresh from the oven?
I must say service today is very entertaining. Our server is humorous and very personable. For some reason I can picture him running a nightclub or a sports bar. There's no logic to this, but I often visualize outgoing people running nightclubs or sports bars, OR...as a lead in musical theatre. Our server is too young to portray Jean Valjean, so by default, I picture him running a nightclub. Welcome to the randomness that is my mind.
I am too full for dessert. My initial plans were to have their version of rasmalai and rice pudding to compare with the desserts I had at Shandhar Hut, but I'll have to save that for another day.
I will most likely make another visit, because the service was so much fun today, and there are a few items I spied on the menu that I'm curious about. One of them being Peshwari Naan: "leavened bread stuffed with coconuts, raisins, cashews, almonds and pistachios." Doesn't that sound interesting?
Another interesting fact is Nayaab Fine Indian Cuisine is a Slashy Restaurant: two completely different restaurants in one space. I blogged about another Slashy Restaurant back in 2010, it was The Press Box / Zhen Zhen. Nayaab's "slash" is with Pizza Factory. I'll have to save that for another day too.
Locations
Nayaab Fine Indian Cuisine
561 Seymour Street
Kamloops
,
BC
V2C 2G8
Canada