Buffalo Station - Ashcroft, BC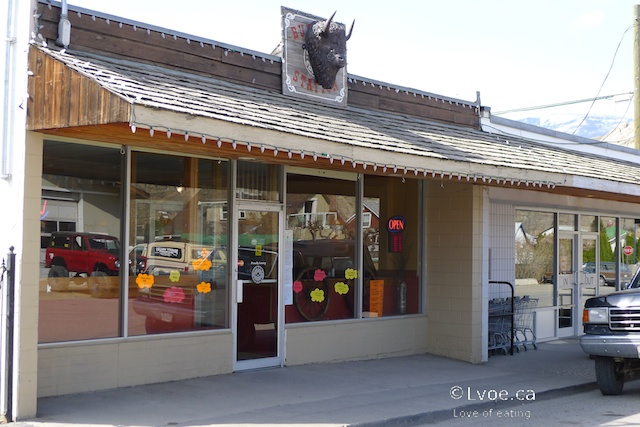 **UPDATE 2012: Buffalo Station is now closed. Shelley's Place now occupies this space.**
Having some breakfast this fine morning, at the Buffalo Station in Ashcroft.
Apparently, "wellness awaits" me in the Village of Ashcroft.
We first visited Ashcroft, BC some years ago on a road trip. What lured us off the highway to check out this community, was a sign that beckons the driver to visit: Historic Ashcroft. As a road-tripper tourist, anything historical makes me curious enough to detour. Ashcroft, like many of the communities in this area has a deep history which I'm sure goes beyond the Gold Rush and CP Railway narratives.
The sign on the highway now states, Ashcroft: Wellness awaits you. I'm not sure what this means. Is Ashcroft a hub of nutrition, mental health, and physical activity? Is there a high concentration of Yoga studios and health spas here? I don't know, but I do enjoy this little community. I'm not sure why they aren't playing up their rich history anymore.
Coffee ($2.25)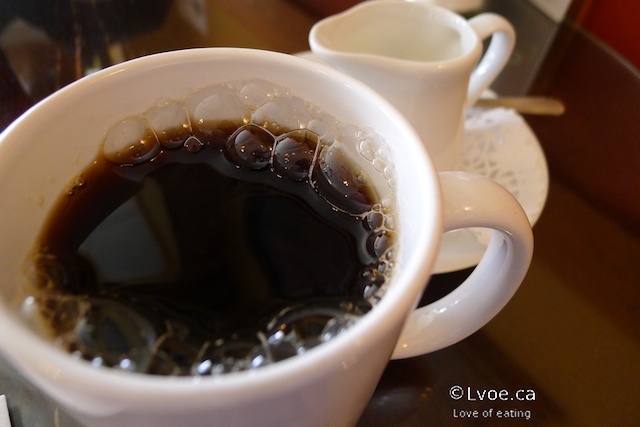 Buffalo Station is located on the corner of Third Street and Railway Avenue. I never knew this was a restaurant where one could order breakfast and lunch meals. For some reason, I thought it was a coffee-n'-muffin place.
Cowboy Benny with hash browns ($9.95)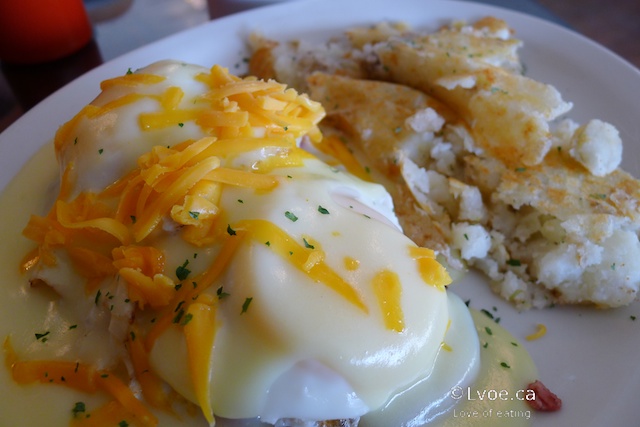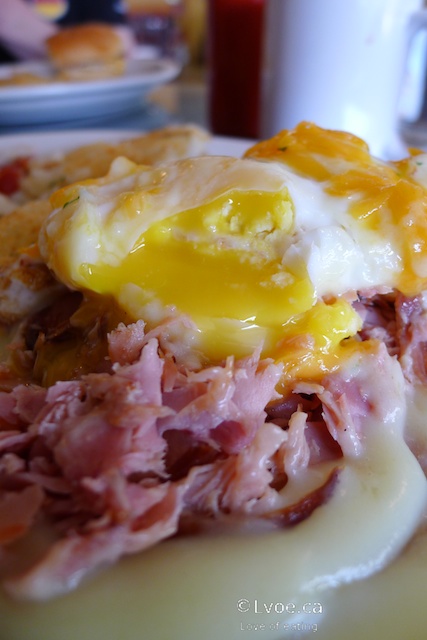 The cowboy version of Eggs Benedict has the soft yolks resting on slices of toast and shredded ham. I like the shredded ham; it makes for easy cutting, and ensures equal distribution of ham, egg, and bread in each bite. The mild hash browns have a boiled potato texture with some crispiness on the surface area. It's a change from the typical chunky or cubed home-style hash browns.
Bacon Egg Cheese Kaiser with hash browns ($5.95)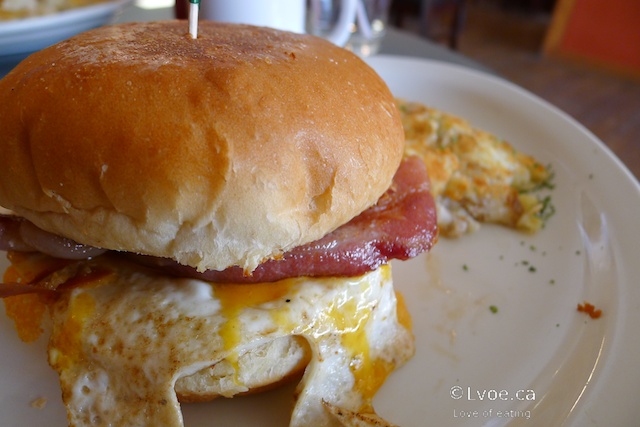 "This smells great!" DL exclaims, when the Kaiser hit the table. Of course it does. Doesn't bacon and eggs always smell great? Soft bun, bendable bacon, and a sprinkle of cheddar. I always have issues when eating breakfast sandwiches with bacon. I can't ever seem to cut through the bacon with a single bite. Not that I want razor blade teeth, but clearly I have not yet developed a Bacon Biting Technique.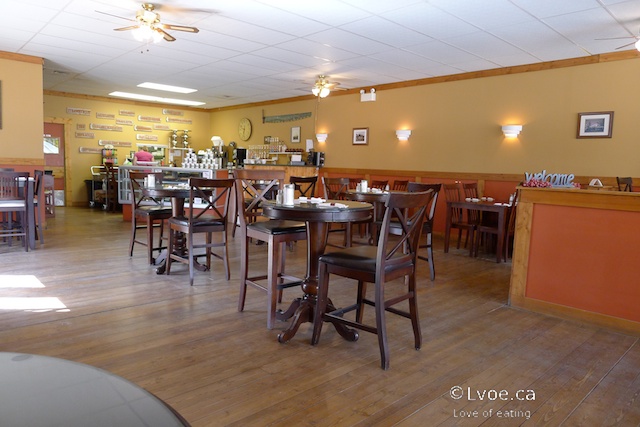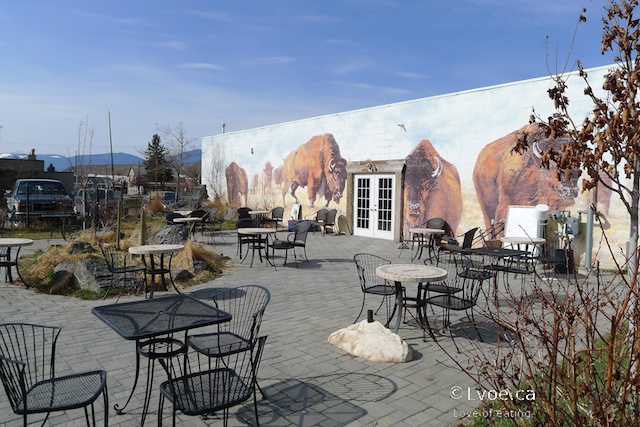 The restaurant is spotless and the interior dining area is very roomy. Buffalo Station also has an enormous outdoor patio area. Imagine how great this space is the summer! The service this morning is friendly and fast. As you can see on the menu, there aren't as many breakfast options as there are lunch items, but the breakfast is solid, and it's served in comfortable surroundings.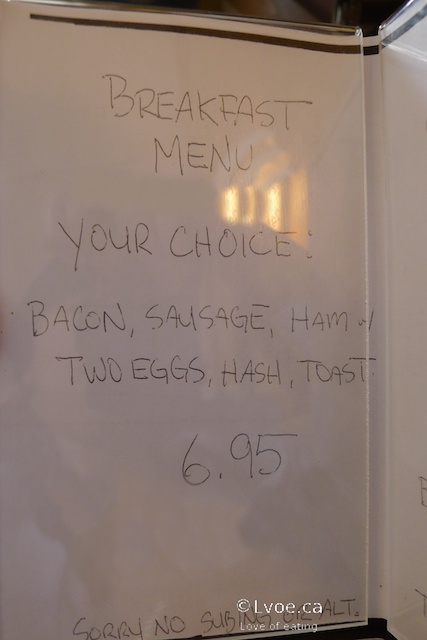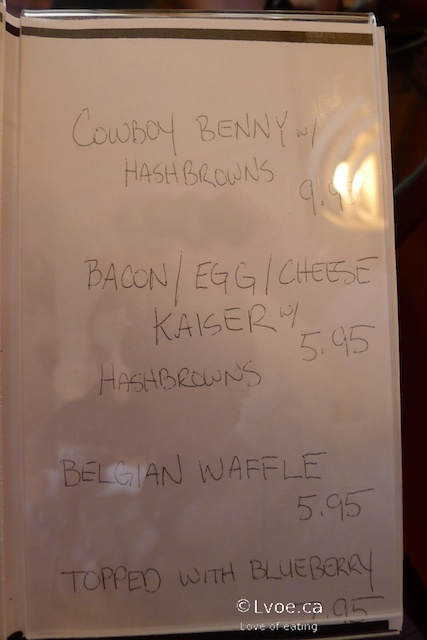 Just down the street from Buffalo Station, Ashcroft's Heritage Place Park on Railway Avenue is a pretty little place to stretch your legs in the middle of a long drive. Is this what Ashcroft means by "wellness awaits you?"
Locations
Buffalo Station
301a Thrid Street
Ashcroft
,
BC
V0K 1A0
Canada