Carolyn's Cozy Cafe - Kamloops, BC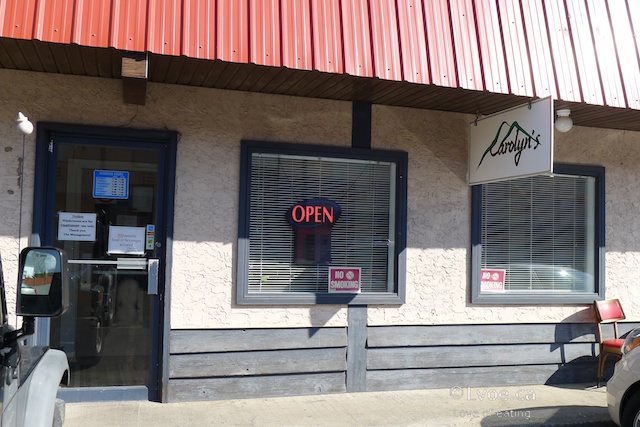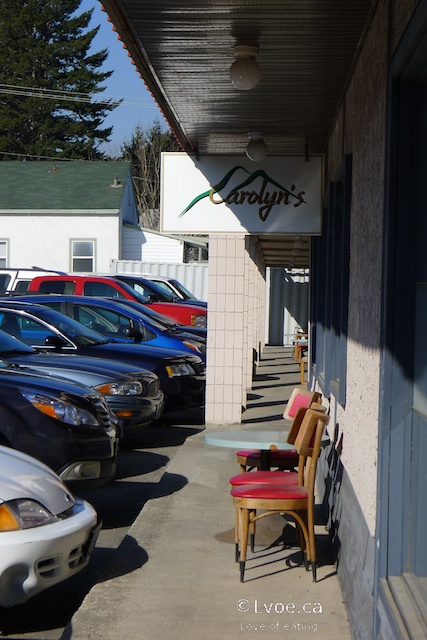 Still on my breakfast kick. This is Carolyn's. Is it still called Carolyn's Cozy Café? In any event, Carolyn's is a DDE located amongst the buildings that make up the Acadian Motor Inn on Columbia Street.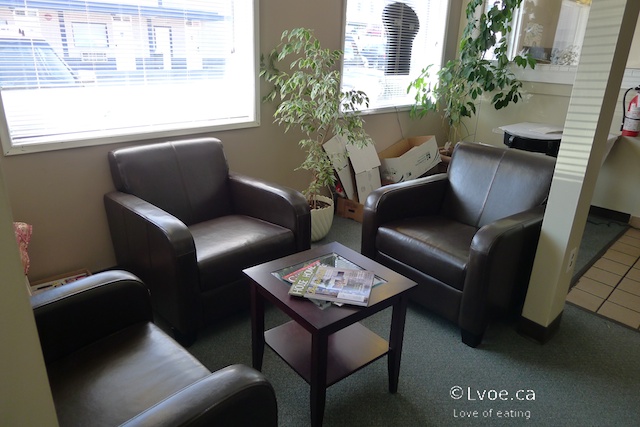 Carolyn's diner is open for breakfast and lunch, closing at 2:00pm (1:30pm on Saturdays.) We roll in bright n' early for breakfast, passing through a random lounge-waiting area. The dining room is already packed! The Acadian Inn is very busy today too. I observe many guests packing up their luggage and loading their families into vehicles this morning.
One Egg Breakfast ($5.50)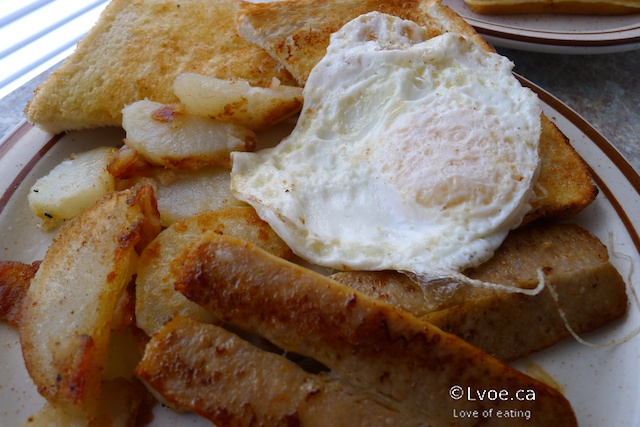 The One Egg meal comes with a choice protein (bacon, ham or sausage,) some hash browns and a slice of toast. The house made hash browns are the big chunky potato wedge type. At first glance it may seem like not much spudsy hash, but because it's the wedgie-kind of hash brown, there is plenty of pan fried potato goodness for the morning.
Waffles ($4.50)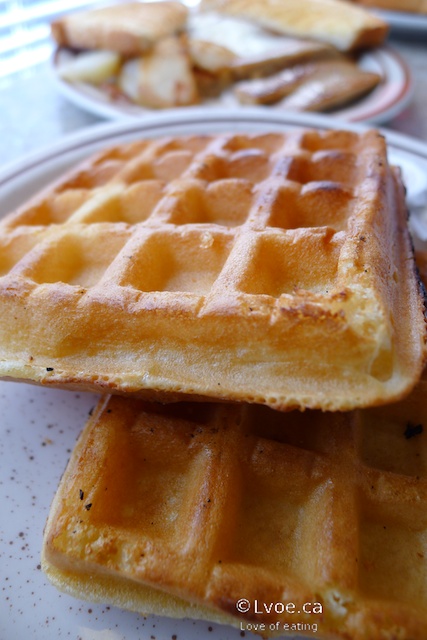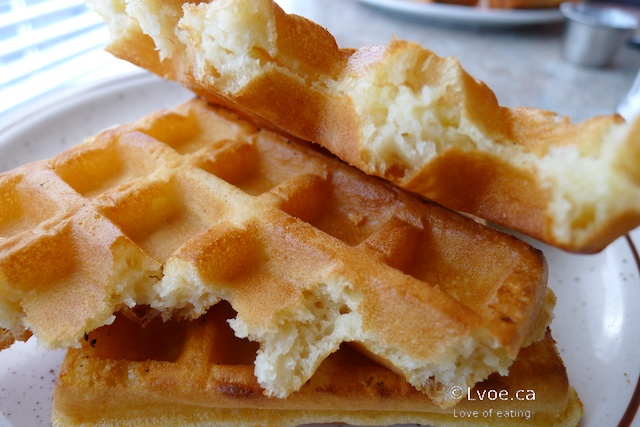 This is a side order. I didn't see waffles as an extra side listed on the menu, but our server informs me that anything can be a served as a side. Well then, hit me up with some waffle action! The squares have a crispy but forgiving outside, and hot n' soft inside.
With a mouthful of syrupy griddle cake, I peer out the window and notice a young motel guest, banging on the window of one of the suites with his fists. Just walloping on the glass. He's about 8 or 9 years old; I think he's been accidently locked out.
Perogy Breakfast ($9.95)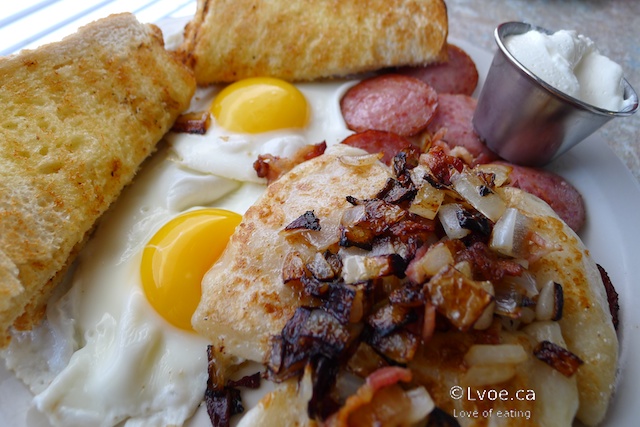 This is a large breakfast. There are four potato pockets covered in bacon pieces and onions, two eggs, toast and a small mound of garlic sausage slices. The caramelized onions and real bacon bits make DL's head nod in approval. It's comparable to the Farmer's Platter I had at Dee's Country Corner Café. I prefer the sausage at Dee's, but DL prefers the sausage at Carolyn's.
The little dude is now employing a fist-to-window, and foot-to-door combination. I can hear his booms from the restaurant, but whoever is in the suite have not.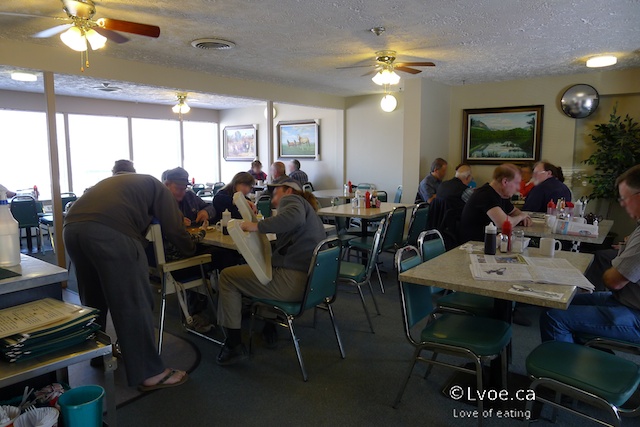 Carolyn's Café is a diner. You will get a diner breakfast, with diner service. The lone server today is wonderfully efficient. The room is full with guests coming and going. There's one staff member up front and one cranking out the orders from the kitchen. The lady running the show seems to be able to take care of every table with ease and a smile. You'd never know that she's the only one on deck.
Finally, a bleary eyed parental unit opens the door. My young buddy throws his hands up, and lets out an exhausted sigh of relief while he saunters into the room. Carolyn's Café must welcome a lot of regular dining guests. More than one party shares familiar banter with the server, and depart with, "See you next week" before they head out the door.
Locations
Carolyn's Cafe
1390 Columbia Street
(Acadian Inn)
Kamloops
,
BC
V2C 2W8
Canada