Bamboo Chopsticks - Kelowna, BC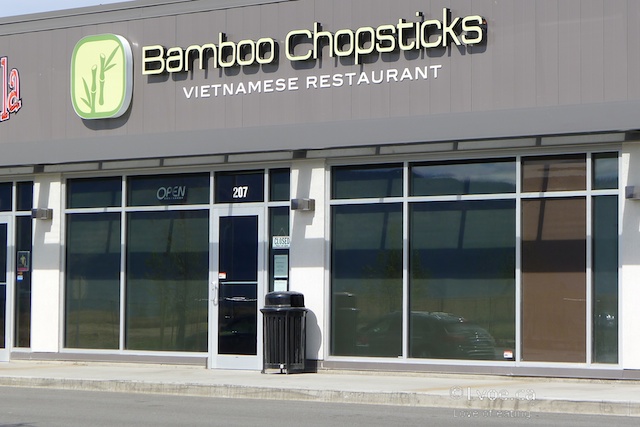 Spending a few days in West Kelowna for a meeting; I arrive in town a little earlier than expected, so I went to grab some phở before Bamboo Chopsticks closes. Bamboo Chopsticks is a Vietnamese cuisine restaurant in Westbank. It is located in the Snyatan shopping complex. Bamboo Chopsticks sits opposite Winners and next to Mr. Mozzarella Pizza.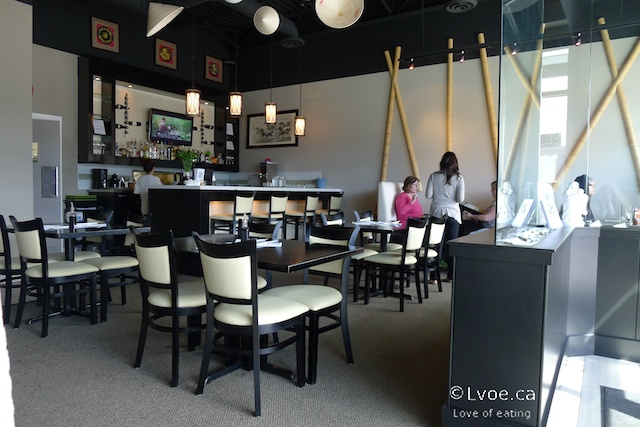 The space is contemporary and filled with natural light on this sunny evening. The restaurant is smaller than it looks from the outside; there are about ten tables and some bar seating.
Iced Coffee ($3.95)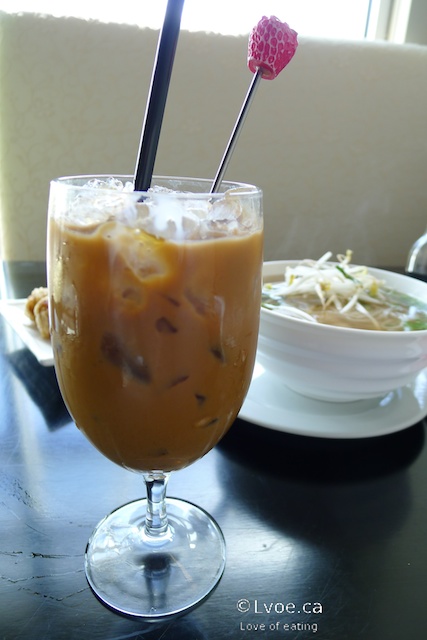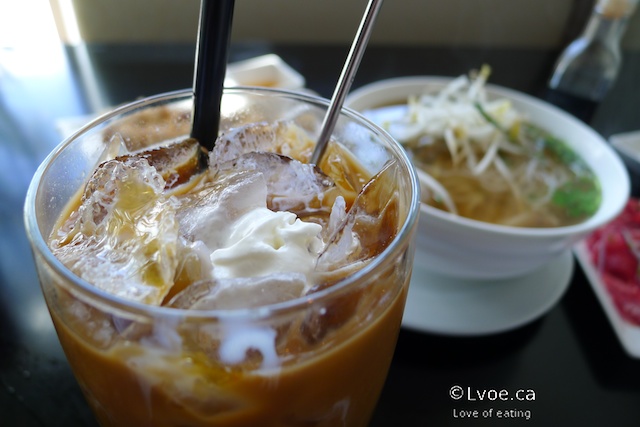 Here at Bamboo Chopsticks they bring out the coffee prepared for you. It's all good, but I like to watch my coffee drip in front of me, into the condensed milk, and I like adding the ice myself. What can I say? It keeps me busy; gives me something to do while waiting for the food.
Spring Rolls ($5.50)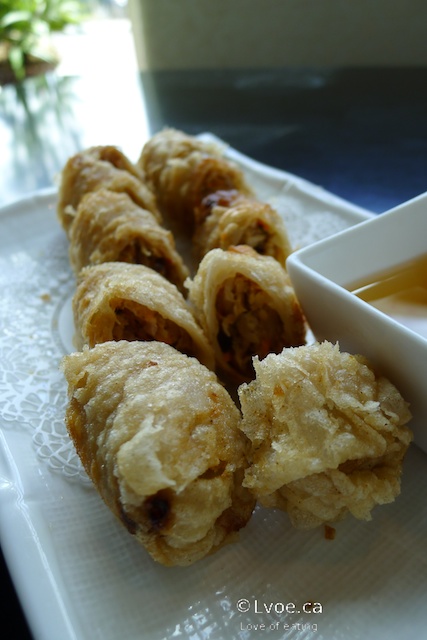 Hot and fresh from the fryer. I love saying "fresh from the fryer." Spring rolls need to be ripping hot when they hit the table, and these cut morsels are indeed. The spring roll wrapper at Bamboo Chopsticks is blistery, light and crispy. I've always preferred the texture of fried rice paper versus the square egg roll pastry for spring roll wrapping and deep fry purposes.
Special Beef Phở ($7.95)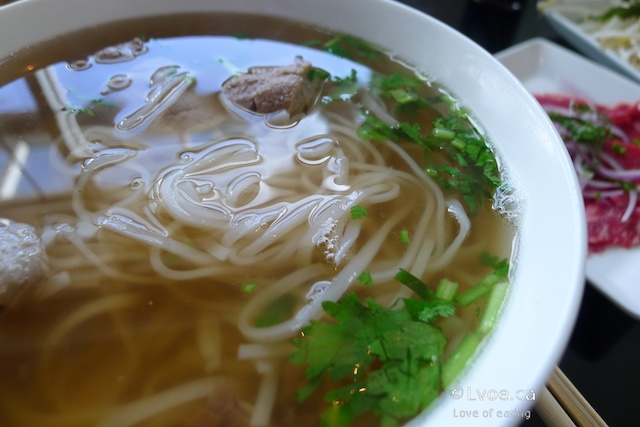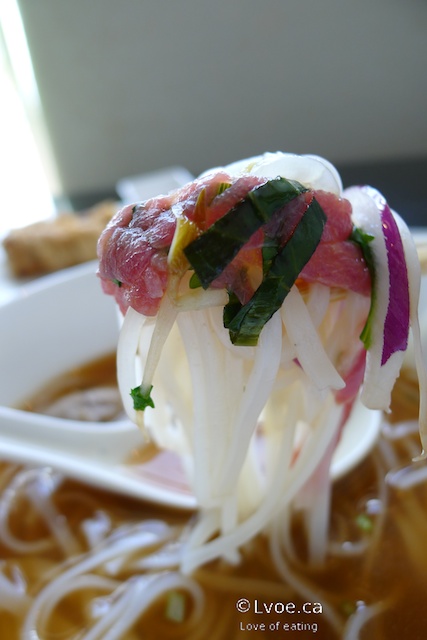 Love smokin' hot broth. The broth here is fairly tasty; not bland. I've had some bland-ass bowls of pho in Kelowna in the past, and Bamboo Chopsticks has alright broth. The flavours aren't deep and complex but it's there, and decent. I still feel the need to give a lil' squirt of Sriracha and hoisin, but not much. The noodles have a respectable bouncy chew and loosen with ease in the bowl.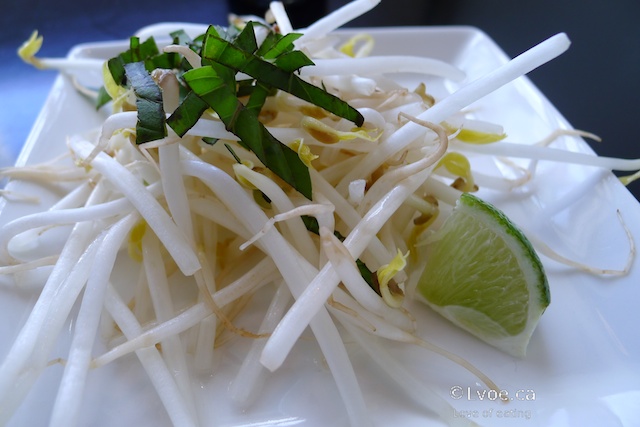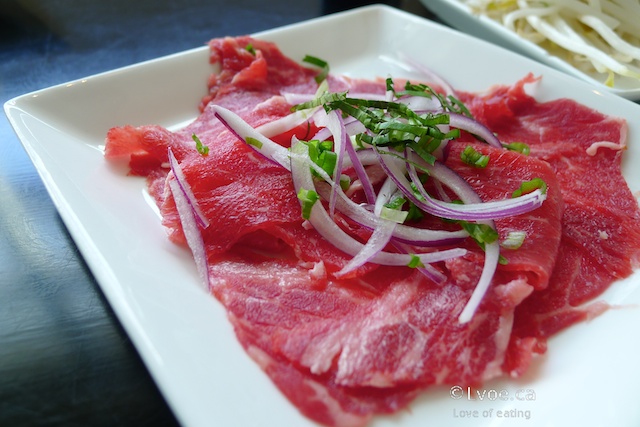 I smile as I eyeball my side of rare beef. It is sliced paper thin. Nice. The brisket is a bit dry, but not tough. The hunks of beef balls pieces are a good size; it looks like the spheres are cut into thirds.
I've had other bowls of phở out here in Kelowna and Vernon (click here and here and here) for those experiences.
The two front staff members today are friendly, with casual conversation happening at each of the tables. Hey, it's busy here today! The entire room filled up within 11 minutes of my visit. (Yes, I often take note of time.) Service is quick as the tables turn over steadily with several parties arriving, eating, and then leaving.
Hold on. Am I that slow of an eater? Did I just nurse a bowl of beef noodle soup, springs rolls, and iced coffee for so long that several tables have turned? I really should start taking note of my own eating time in the future.
I will indeed make a return visit to Bamboo Chopsticks, because I know DL will want to grace me with a second opinion. I think I want to try their Bún bò Huế on my next visit.
Locations
Bamboo Chopsticks
3608 Carrington Road, Unit #207
(Snyatan Shopping Centre)
West Kelowna (Westbank)
,
BC
V4T 3K7
Canada