Passek's Classics Cafe - Kamloops, BC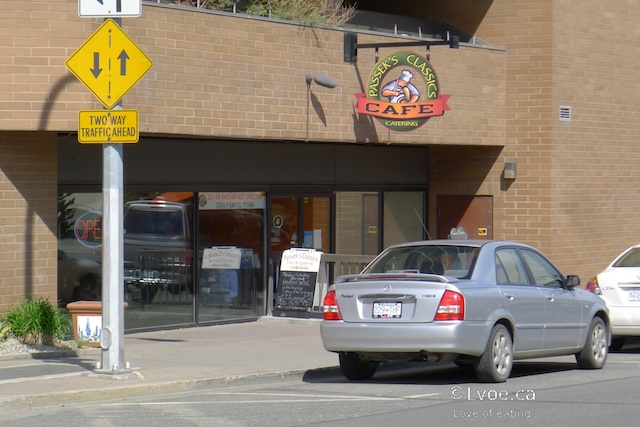 Passek's Classics Café has had their new menu items out for a while now. After a morning of weeding and planting, I reward myself with some breakfast at Passek's Classics. My fingers tend to swell up like sausages when I do yard work. Mmm...sausages. Today is a warm sunny morning, and many others have the same idea this a.m. to indulge in breakfast out.
Passek's has pulled pork on the menu...for breakfast.
Passek's Pulled Pork Hash ($11.95)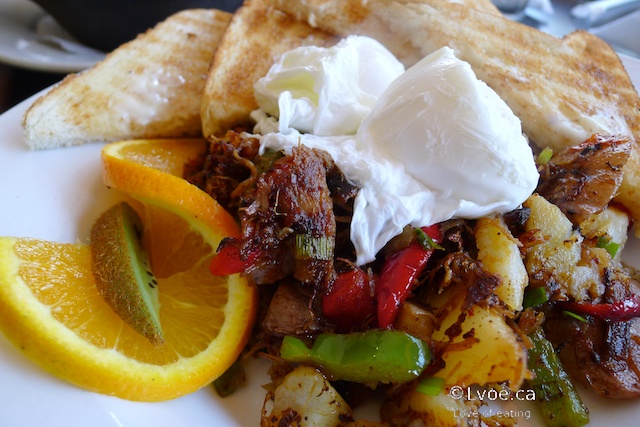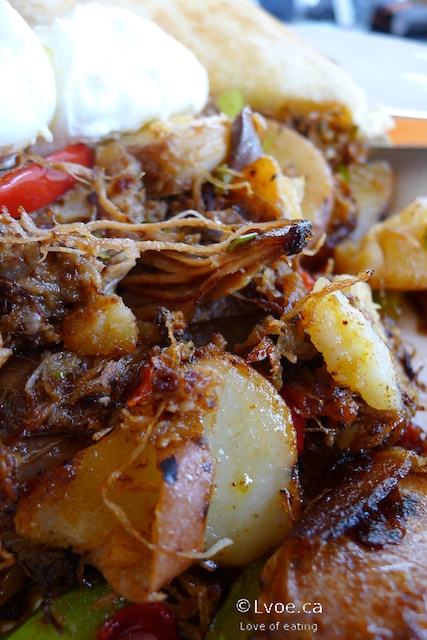 Wafts of smoky sweet pulled porkiness permeate the air when these dishes land on our table. It's a strong, heady smokiness, much like what it smells like inside Gary's Deli. Underneath the soft poached eggs, the hash is full of tender pork and slivers of onions, mushrooms, tomatoes and bell peppers. It's good. It's the kind of smoked meat that if you inadvertently touch it with your fingers the aroma lingers on your skin like a smoky barbeque perfume.
Speaking of peppers, I just finished planting some bell peppers earlier this morning. It's my first attempt at bell peppers. I grew hot peppers last year and they proved to be an easy crop for a newbie gardener like moi. So I thought, why not add some bell peppers this year?
Passek's Pulled Pork Skillet ($11.95)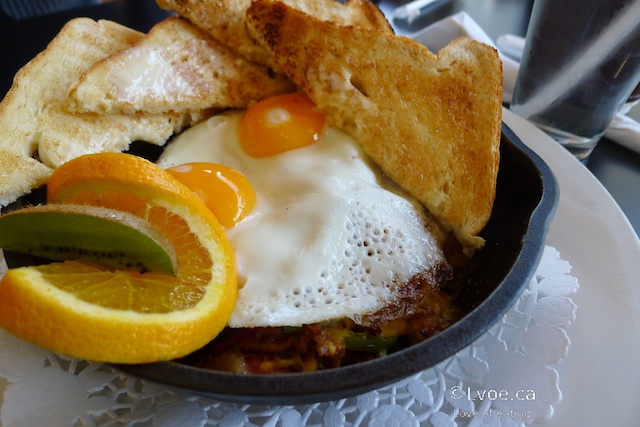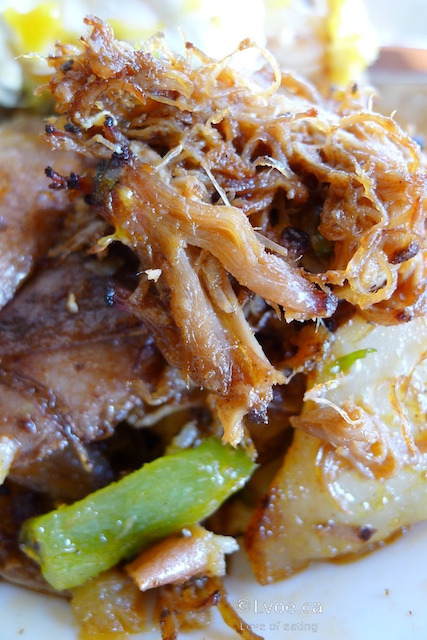 We're having a pulled pork party this morning at our table. This selection has the similar meat mixture as above in a hot skillet, with eggs, potatoes and toast. The pulled pork adds a lot of flavour to the spuds in this hearty skillet. I've mentioned this before on my previous post about Passek's: You will not leave hungry. The breakfast portions continue to be substantial.
I'm finally ordering an irrigation system for my humble little garden. I've been eyeing these watering systems in the catalog since last summer, but I wasn't sure if it would be worth it for my small-time garden. However, after a Love of Eating reader vouched for the effectiveness of these watering set-ups last fall; I decided to go for it this spring. (Thanks for the tip! ;)
I can't wait to install it, because I think this Being-At-Home-Everyday-To-Water-The-Garden business is a fool's game.
There are so many patrons enjoying their hearty fare at Passek's Classics today. The steady stream of customers continue to file in as we finish our post yard work meal and head out into the warm Kamloops sun.
Locations
Passek's Classics Cafe and Catering
120 Third Avenue (corner of Third and Lansdowne)
Kamloops
,
BC
V2C 3M2
Canada