The Track Side Diner - Ashcroft, BC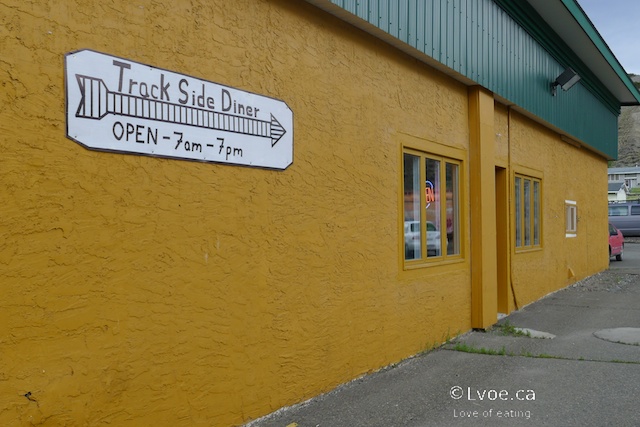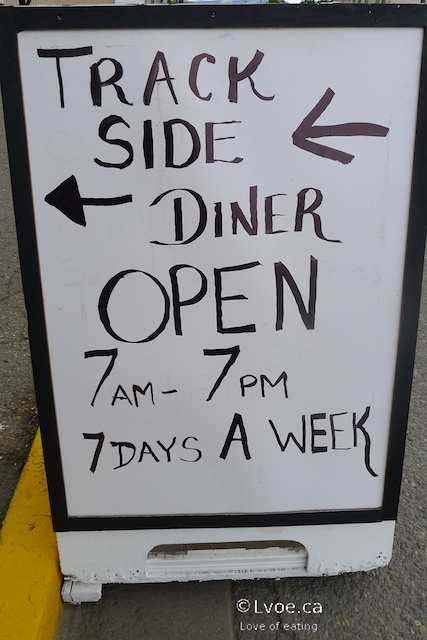 A co-worker of mine grew up in Cache Creek. Every time June rolls around I hear about Graffiti Days. She's been telling me that it's a rousing good time for a few years now. Since 2012 is Cache Creek's 25th anniversary of Graffiti Days I made an effort to swing into town. It's all about drag races and classic cars.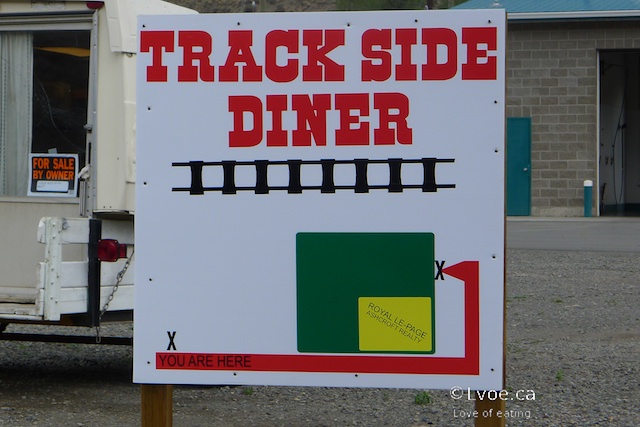 I didn't plan on having lunch or dinner at the Track Side, but when I drove through the neighbouring village of Ashcroft, I encountered a sign across from the farmers market.
It's a map that guides you to the newest eatery in the 'hood: The Track Side Diner. The signage makes it clear that the establishment is just around the corner. Literally, just around the corner.
Canadian Made Burger ($10.50)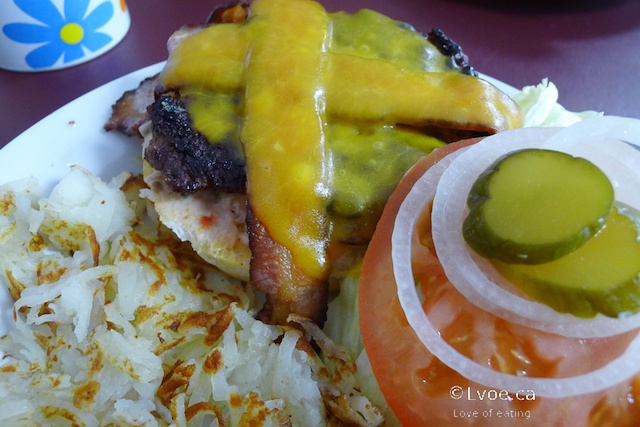 The burger patty appears to be hand formed, and tastes beefy. It's not a "juicy" burger, but not dry either. Track Side Diner also uses a thousand island-type burger sauce, which adds a bit of tang and moisture to the Canadian Made. I like that they use cheddar cheese, and the bacon is easily bite-able. The patty sandwich has good all-around flavour for a basic burger. The burgers come with a choice of soup, hash browns or salad.
Open Faced Denver Sandwich ($7.50)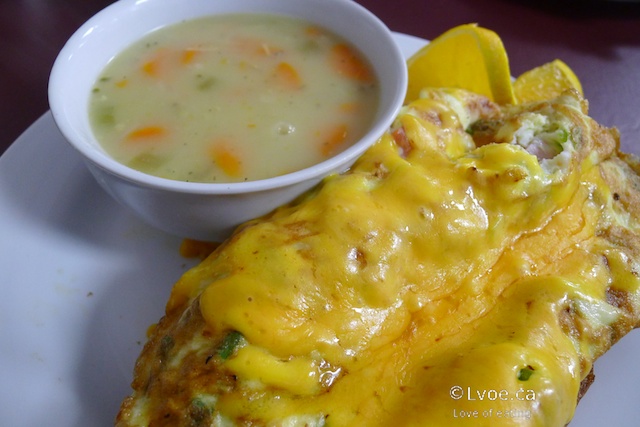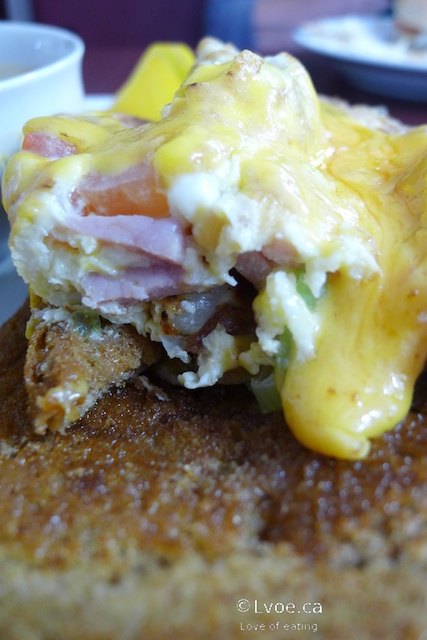 This is one of the sandwich specials today. The Track Side Diner serves breakfast all day. I am contemplating having my favourite morning foods, but I opt for a sandwich instead. I must still have breakfast on the brain, because the open faced Denver is pretty much an omelette on toast. Underneath all that cheddar I find a scramble of bell peppers, onions and ham. The sandwich itself is pretty filling. It reminds me a bit of the omelette I had at the Heartland Restaurant a few months ago in Cache Creek.
Turkey Barley Soup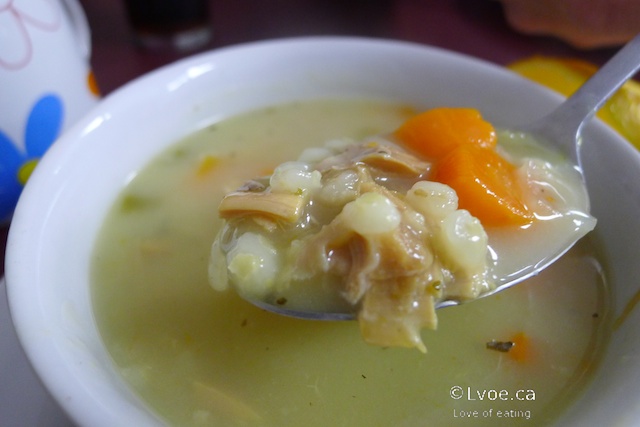 The sandwiches also come with a choice of soup, salad or hash browns. The soup de jour is Turkey Barley. Our lovely servers informs us that the soup is home made. From the texture of the turkey, barley and chunky carrots it does seem like someone had lovingly prepped these ingredients into a pot, but the thick soup base has a salt factor, and distinctive mouth feel very similar to tinned soup.
Years ago I received a cook book, as a well intended gift, called "Grandma's Best." The book is filled with recipes from back in the day, when it was popular to open a can of Campbell's Cream of Fill-in-the-Blank, and then add some of your own ingredients to the party, and voilà, dinner is served. Do you still consider this home made? I guess one can argue, yes. When I think of "homemade" I automatically imagine that the bulk of it is made "from scratch."
Apple Pie ($3.50)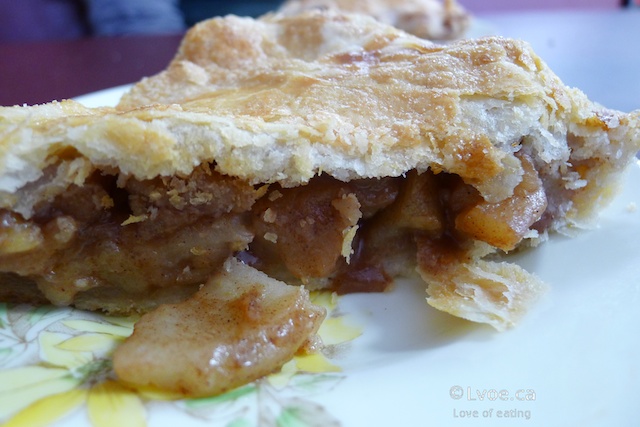 This is my favourite part of my lunch. The crust is flakey but delicate enough to easily fork through. The apples are super cinnamon-y, and not too sweet.
Raisin Pie ($3.50)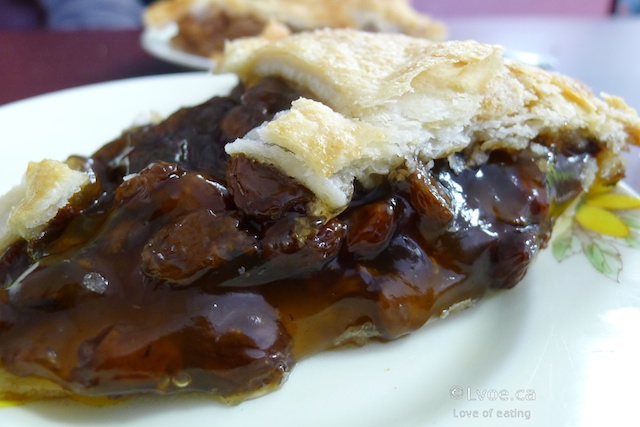 I think the last time we had a slice of raisin pie was at, the now defunct, Taylor's Breakfast Nook down the street. (The old Taylor's space is now April's Bistro.) This pie is loaded with plump raisins. I only took a few bites of this slice as I am not a big raisin fan. However, DL was in dried grape heaven.
One day I should dedicate a blog post to this Grandma's Best cookbook. Some curious selections from Grandma's Best include:
Jellied Rice Salad, Beef Burger Jelly Roll, and Pizza Soup!
My grandma did not cook like this. Did yours? Any kind of salad which is jellied is foreign to me. When I first saw the recipe for Hamburger Soup, I exclaimed, "Gah! What the hell is Hamburger Soup?!?" (As my eyes also scan Taco Soup and Pizza Soup on the opposite pages.)
To my shock DL casually recalls, "Oh, I remember having that as a kid." (Wow...)
I still keep the book on my cookbook shelf because it's written by two Canadian grandmas, and once or twice a year I pull it out to try a recipe for fun.
The Track Side is teeming with customers today. Graffiti Days must be good for the businesses in the two villages. The Track Side Diner isn't pretending to be anything it isn't. It is a village diner, and it's DDE with homespun Ashcroft friendly service.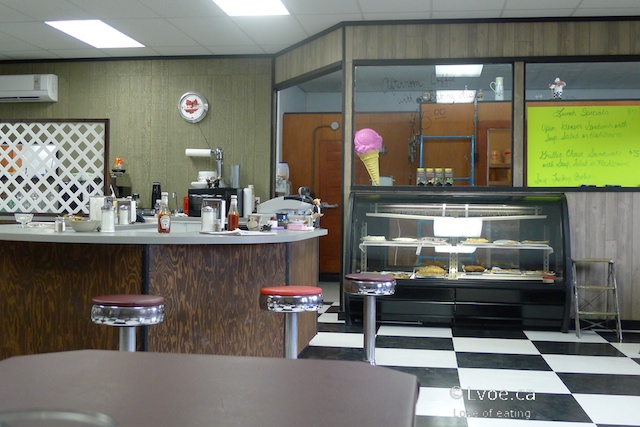 The Track Side Diner has been open for only a week! I had known it was a newer restaurant, but I didn't realize it was this new. I'm sure they are still trying to find their groove at this point and also tinkering with what works for their them, and their clientele. The Track Side seems to be the buzz of the village today, as the stream of customers continued as we scoot out from the booth, just in time for the Graffiti Day Car Cruise and Parade. It's always fun to see what Ashcroft has in store.
Location
Track Side Diner
114 Railway Avenue
Ashcroft
,
BC
V0K 1A0
Canada