Walkers Toffee at The Bulk Barn - Kamloops, BC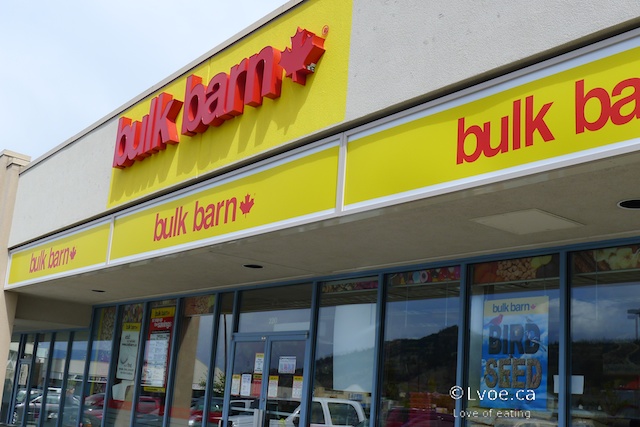 The Bulk Barn was never on my list of Lets-Check-It-Out places until A.L. bumped into a Pal-o-Mine there earlier this year. I'm one of those people who isn't completely comfortable with self-serve bulk foods. Does this surprise you? Please.
Come on; think about the bulk section in your favourite grocery store. Picture how it always looks like a gaze of raccoons have ransacked the bins. Then you walk down the aisle crunching with every step, as your shoes destroy a myriad of loose products that never made it into the clear plastic baggie.
Also, how long have those Cheezie Poufs been in that barrel?
Although the Bulk Barn can use more pens at each Bag and Twist Tie Station, the store is pretty clean. There is often a staff member vacuuming and replacing the scoopers. The Bulk Barn has quite a bit more to check out than just pretzels and kidney beans. This was a pleasant surprise. If you take your time and look on the shelves above the bulk bins, there are many non bulk "regular" items. Most notably there are loads of import goods and retro treats. If British expats are wondering where they can acquire Walkers tray toffee, Flake or a jar of Branston Pickle, it's at the Bulk Barn.
Walkers Liquorice Toffee ($2.29)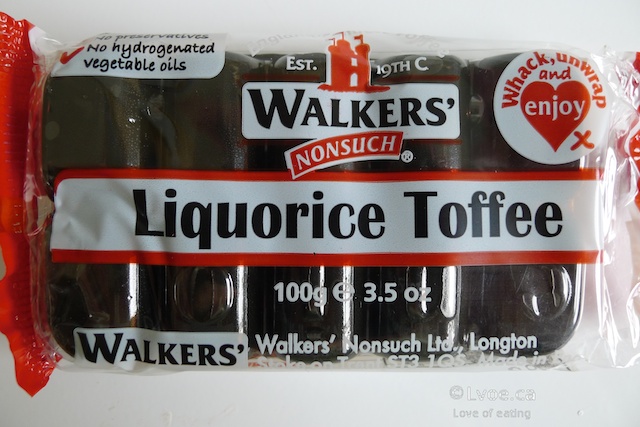 So creamy and buttery. If I recall correctly the Bulk Barn also carried the Walker flavours of original toffee, Treacle, and Brazil nut. Remember to give it a whack before you unwrap.
I notice quite a selection of baking pans and cake decorating items too. The Bulk Barn is like a hybrid of a dollar store, the grocery store bulk section and the import foods aisle. For those of you on specialized diets, The Bulk Barn also stocks a large selection of gluten free products and dairy alternatives too. Their non dairy alternatives are competitively priced to boot. I found Rice Dream, Soy Dream and Coconut Dream for $2.89 per 946ml tetra pak. I pick up some Coconut Dream today, since I have not come across this in the other stores on my grocery route.
Bulk Barn is worth a little peek because the barn seems to have a little of everything. I like that we can reduce excessive packaging when it comes to bulk items. So, despite my hypersensitive issues with self serve bulk bins, I do actually buy certain things in bulk.
Just not Cheezie Poufs.
Locations
Bulk Barn
500 Notre Dame Drive
(Columbia Square Shopping Centre)
Kamloops
,
BC
Canada