Brambles Bakery & Cafe - Merritt, BC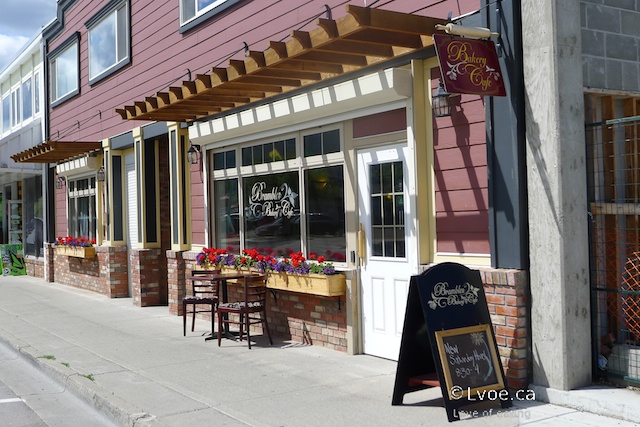 I have to be out here again in Merritt in a few weeks time so I thought I'd do a drive through town to see what's interesting. I love eateries that make their menu items from scratch. How quaint is this little gem we found out here in dusty Merritt, BC? It is called Brambles Bakery and Café.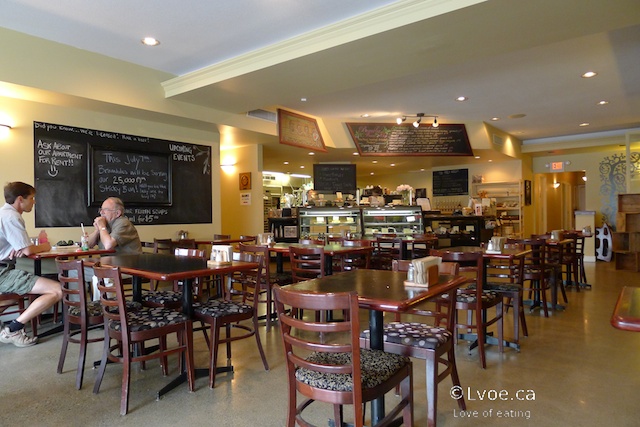 Brambles Café is on Quilchena Avenue in downtown Merritt. The space is much larger inside than it looks from the outside. The dining space is spacious and the staff are busy, yet very welcoming.
Lamington ($3.50)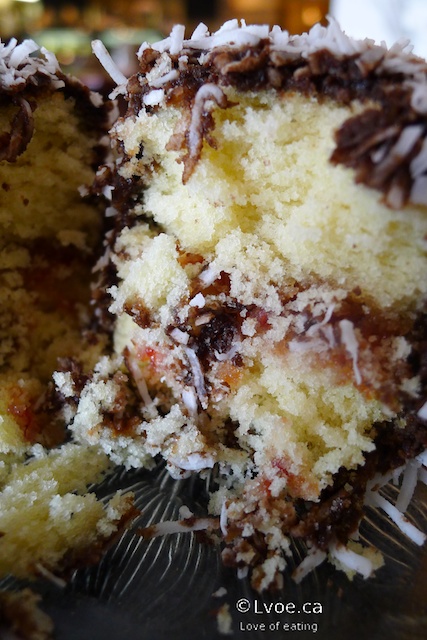 DL chooses this coconutty Australian treat for a dessert item. The cake layers are thick and spongy giving it that tall Rubik's Cube shape. The berry jam in the middle helps keep the cakey cube moist with all that coconut going on. I know I want to end my meal on a savoury note; so I eat my lamington as an accompaniment with my coffee while waiting for our sandwiches.
Rueben Sandwich ($8.50)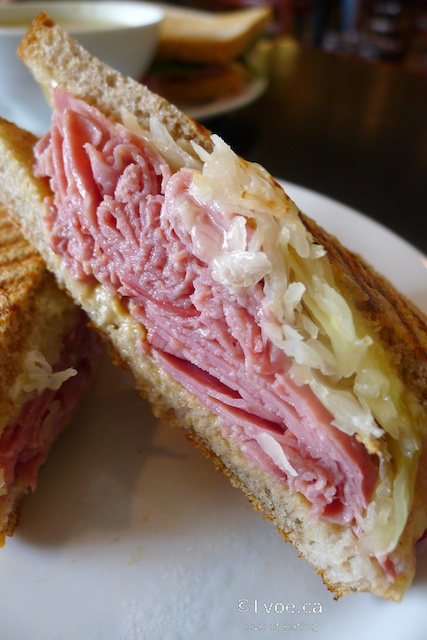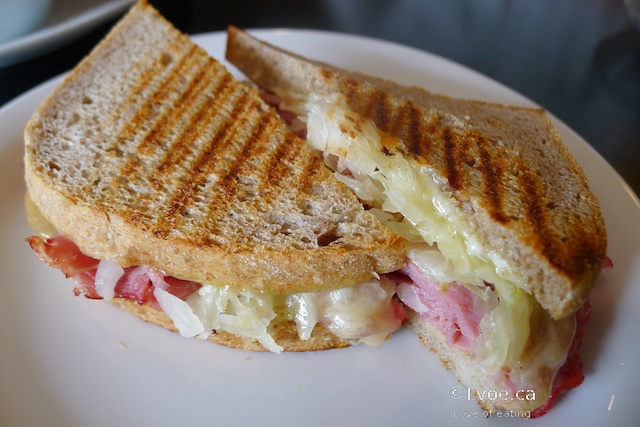 We didn't get a choice of bread today, which is just as well, since I am so indecisive tonight even with what kind of sandwich I wanted. All sandwiches are served on Brambles homemade bread. This Rueben is loaded. Lots of corned beef. Lots of sauerkraut. Lots of hot Dijon. I really like the kick of the hot Dijon, and the added zip of the sharp cheddar. So good.
Muffaletta Sandwich ($8.50)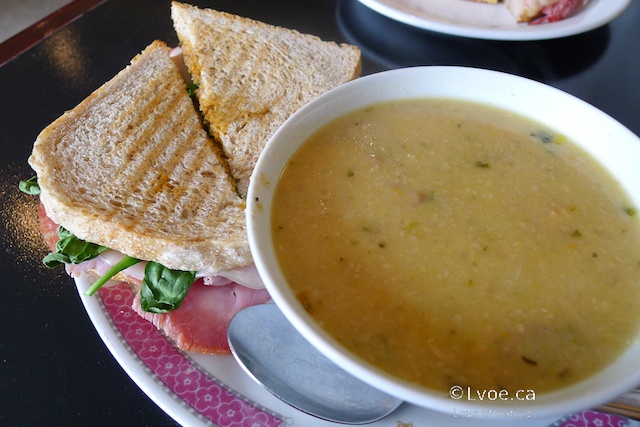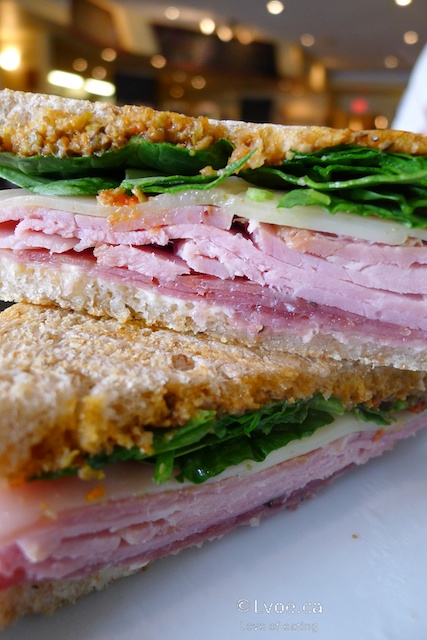 A Muffaletta is an excellent picnic/hiking/road trip sandwich. It can be huge. You can make it out of an entire round loaf, and I swear the sandwich gets better as it sits in your picnic basket while you travel to your destination. I've even packed things on top of it, and the weight helps flatten the bread out for ease of eating.
Brambles version of Muffaletta consists of ham, salami, provolone cheese, spinach, and olive tapenade on sliced house made bread. Super. The olive salad mix is my favourite part of any Muffaletta, and the Brambles Cafe olive tapenade makes this sandwich. I take a moment between bites, fantasizing about eating the spread by the spoonful. Gah, can you imagine if Brambles made a full size Muffaletta?
Mushroom Soup ($4.20)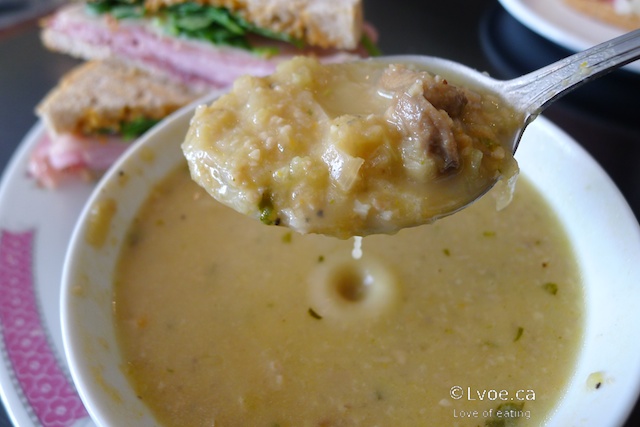 So much flavour and textures going on here. I don't know what's in this soup (other than mushrooms...) but it's awesome.
I always inquire if soups are homemade. I often don't bother with soups that aren't homemade unless it's already included in a combo or something. What's the point, right? Can't we all crack open a can of Campbell's at home? The cheerful Brambles staff member adopts a Vanna White-esque sweeping hand gesture and informs us that, "all the menu items in the café are made from scratch." How can I not love a place that makes their own...well, everything? I'm already eyeing up some of their artisan breads for my next visit.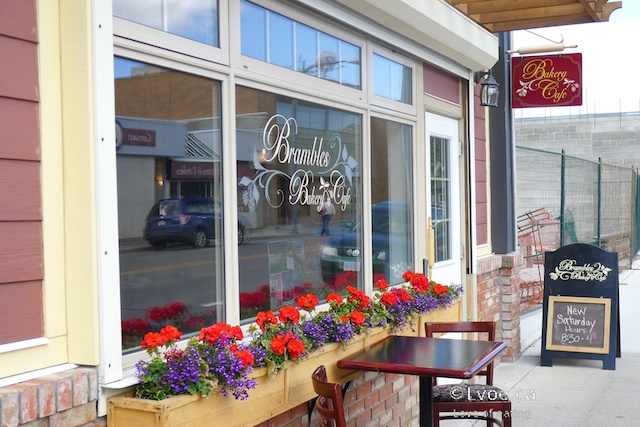 Brambles Bakery and Café is serving up their 25,000th sticky bun this Saturday July 7, 2012. Will you be helping Brambles Bakery Café reach their brown sugar n' butter milestone?
Menu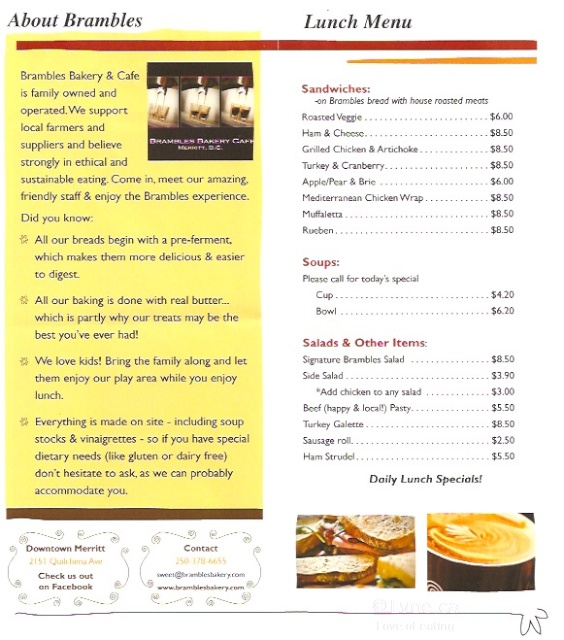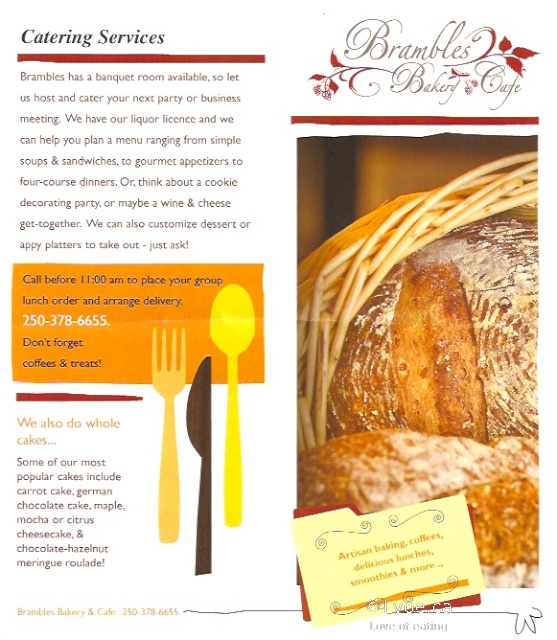 Bramble Cafe Hours:
Monday to Friday 8:30am to 5:30pm
Saturday 10:00 to 4:00pm

Locations
Brambles Bakery and Cafe
2151 Quilchena Avenue
Merritt
,
BC
V1K 1B8
Canada