Beijing Bina Cooking House - Kelowna, BC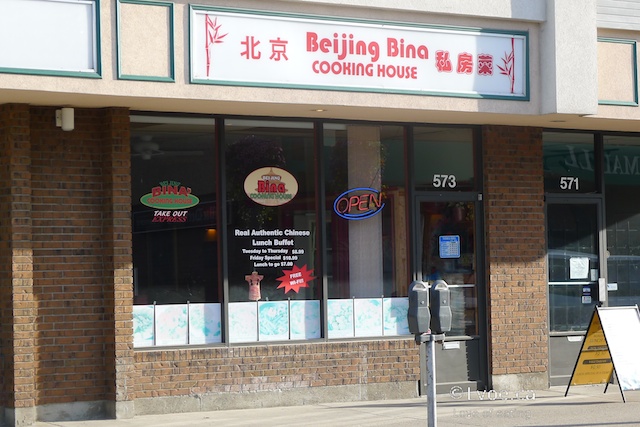 Beijing Bina Cooking House is a Chinese restaurant that offers a bit more variety than the average Golden-Dragon-Lotus-Inn type place out here in the interior. Most notably, Bina's focus is on Mandarin cuisine, with a sprinkling of Sichuan. However, if you're still hankering for the Chop-Suey-Sweet-n'-Sours, Beijing Bina offers a westernized-Chinese take-out menu on the side too.
Gele/Gula Mountain Chili Chicken ($16.88)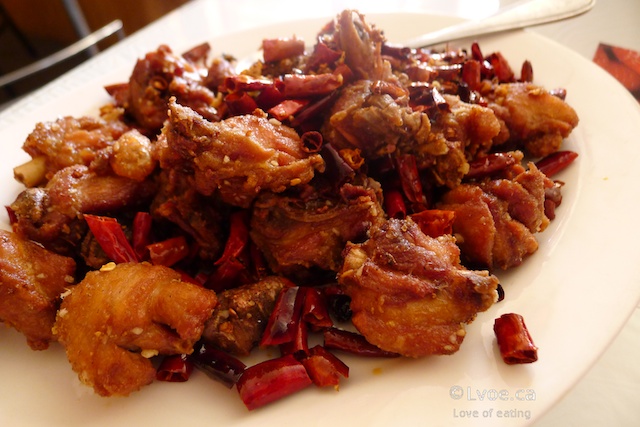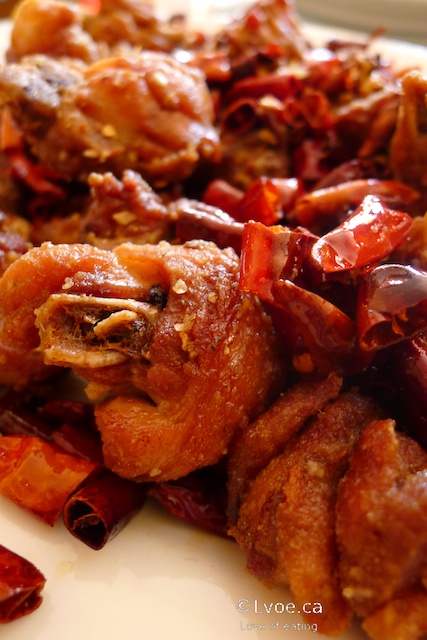 This is Beijing Bina's version of Chongqing Chili Chicken. It's deep fried chopped pieces of chicken drumettes or wings. Some people can't deal with the amount of bones in Chongqing Chili Chicken, but I have no bones about navigating bones. Usually there are more chilies than chicken in this dish, since half the fun is rooting around the dried peppers for a hunk of bird like a dinner time Easter egg hunt. The poultry pieces are salty dry with a bit of kick from the chilies. The texture is like those little dry ribs you can order at most pubs. Don't be frightened off by the chilies. They do add a little something, but it doesn't get very spicy hot unless you choose to pop a few chilies in your mouth while eating.
Royal Family Style Braised Pork ($18.88)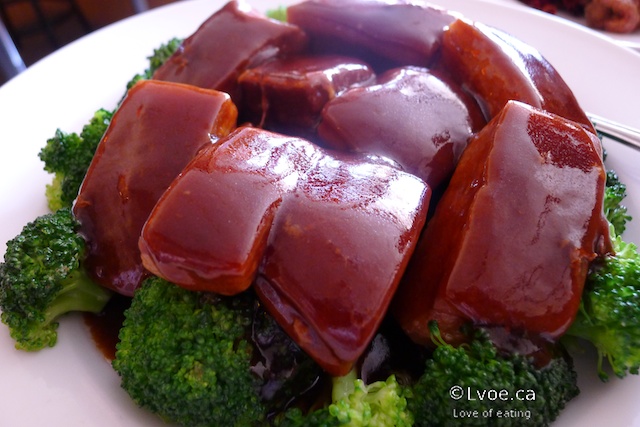 Glorious, right? This dish also goes by many other translated names, but essentially it's a red braised pork belly in brown sauce. It's not for calorie counters.
Tall cubes of gelatinous porky goodness.
Folks, this is pork belly. Thus, we need to be comfortable with eating layers of fat and meat in order to enjoy this. No, really. It is literally layers of fat and meat.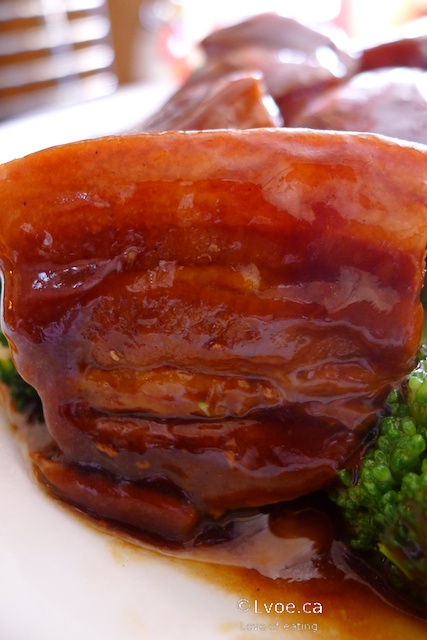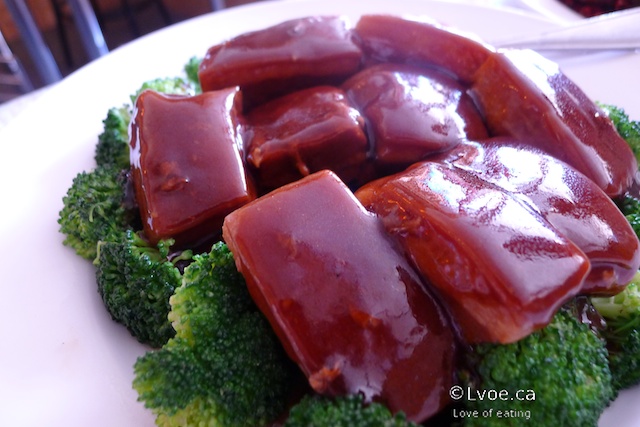 Dear Pork Belly,
I hate myself for loving you.
L.
The flavours here are strong, but not overwhelming. The ridiculously tender pork is richly savoury with a side of sweet. The Royal Family Style Braised Pork will need to get together with some rice or steamed buns to make the richness more manageable. Not an everyday dish, but so luxurious once in a while. A cube or two is plenty, since a little goes a long way.
Oh yes, and eat up that broccoli for tonight's vegetable allotment!
Steamed Rice ($2.88)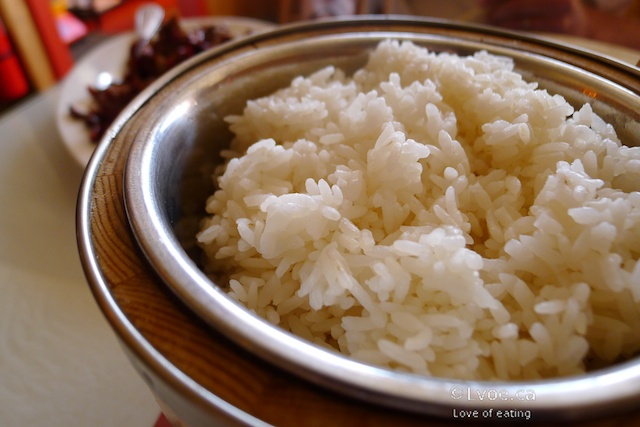 Rice seems like a good way to soak up the sauce tonight.
The dining room is not fancy by any means, but it is clean, homey and comfortable. The multilingual service tonight is super friendly and accommodating. There are three other parties (all families) that have the same idea as we do tonight, by eating a late supper at Beijing Bina Cooking House.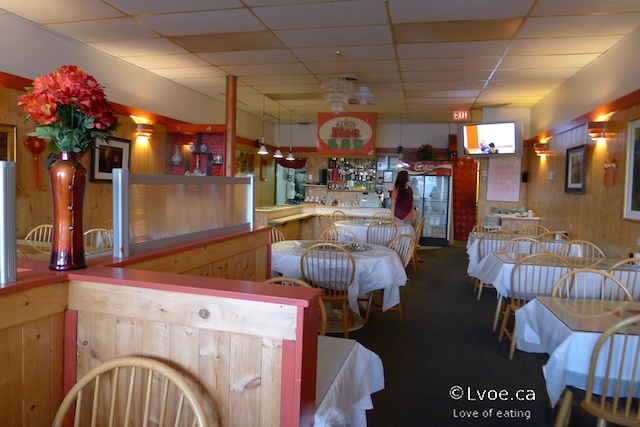 I haven't had many opportunities to eat the dish selections above since moving from the coast. It is both exciting and unexpected to find them on a menu list out here in Kelowna. When dining-in at Beijing Bina's the eat-in menu (complete with 0.88 pricing for prosperity...) contains many more Chinese selections than the take-out menu. So don't just peruse the Beijing Bina Cooking House take away menu, because there is so much more available than just chicken balls.
Take-out Menu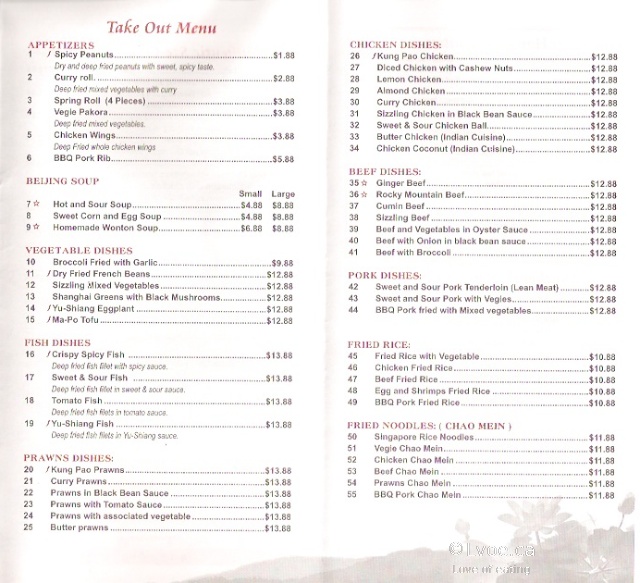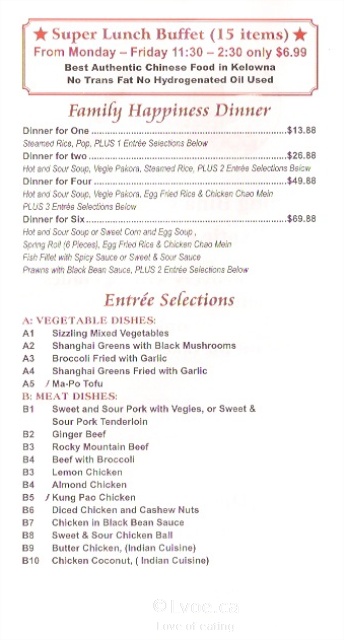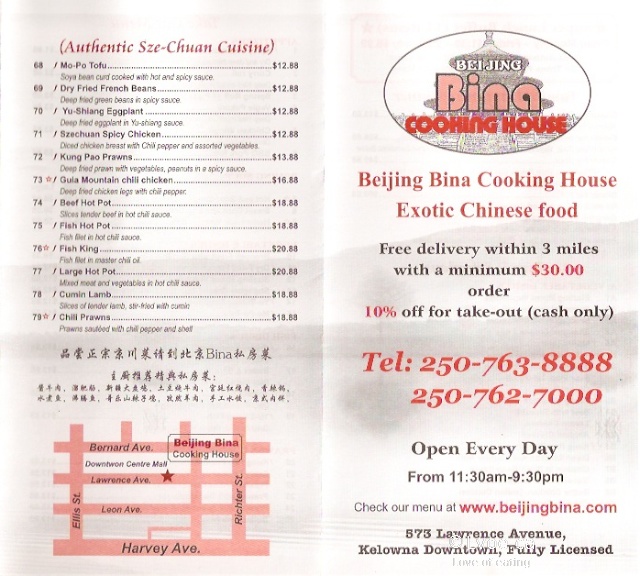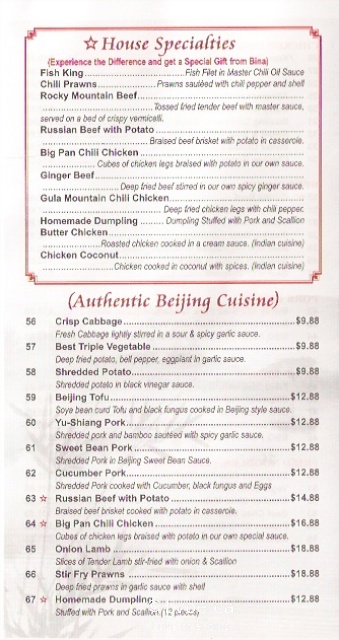 Beijing Bina hours:
Mondays Closed
Tuesdays to Fridays Lunch Hours 11:30am to 2:30pm
Tuesdays to Sunday Dinner Hours 5:30pm to 9:30pm

Locations
Beijing Bina Cooking House
573 Lawrence Avenue
Kelowna
,
BC
V1Y 8R2
Canada
Phone:
250 763 8888 or 250 762 7000