Left Field Cider Co. - Mamette Lake, BC (Merritt)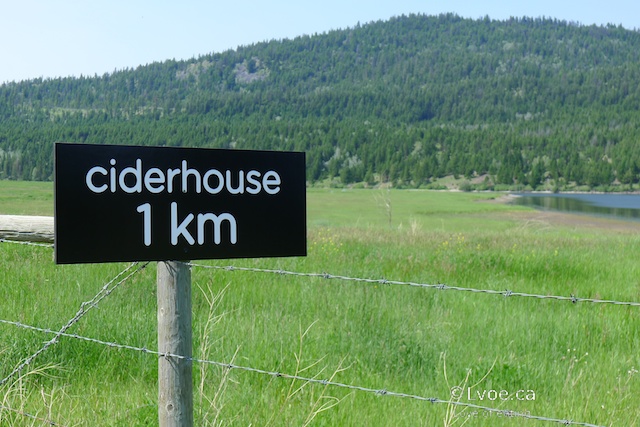 A few weeks ago I was driving along Mamit Lake Road where I came across a new sign that read, "Ciderhouse 1km." What? There's no cider house out here. The sign didn't lie. One click later we drove by Left Field Cider Co. Interesting.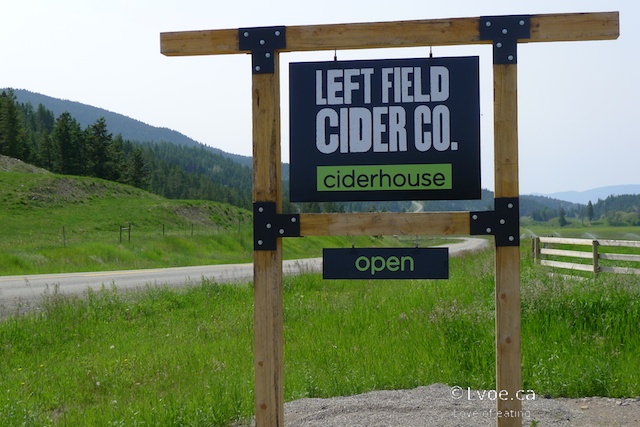 On that particular day, I proceeded onward to Merrit, BC and had the most delicious soup at Brambles Bakery Café. While oogling the Brambles dessert cooler I see the bakery also serves cider from that mysterious cider house we had just zoomed past: Left Field Cider Co. Very interesting.
I make a mental note to visit Left Field Cider Co. the next time we are in the area. Well today is that day. How exciting is it to have an artisan cider house so close to home? Their full juice ciders are made in small batches from a mix of dessert and cider apples from the Okanagan.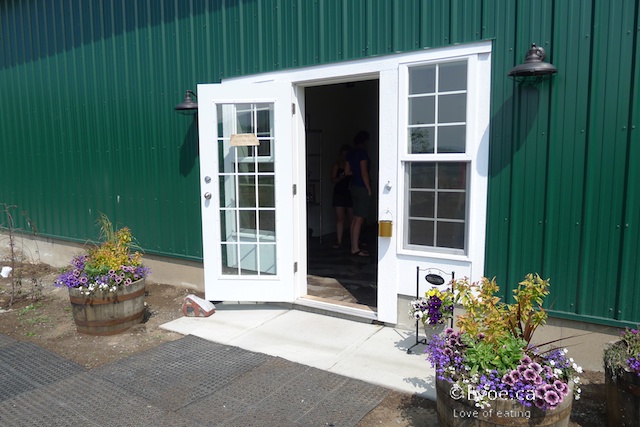 We turn into their gravel driveway which winds past their new orchard and up to the tasting room and cider house. About a half dozen farm dogs welcome us as we get out of the vehicle. I hear someone shout, "Don't pet them...they stink!"
I heed the warning, but to my delight, it was too late for DL.
Tee, hee, hee. DL is a dog hugger. You know the type.
Left Field offers two ciders: Little Dry and Big Dry.
Little Dry (500ml; 6.5% alc/vol)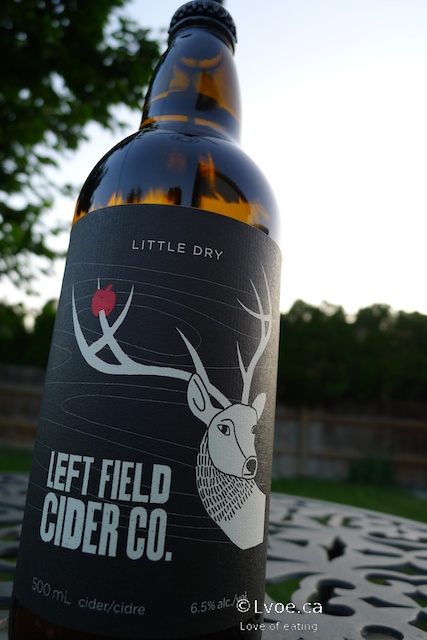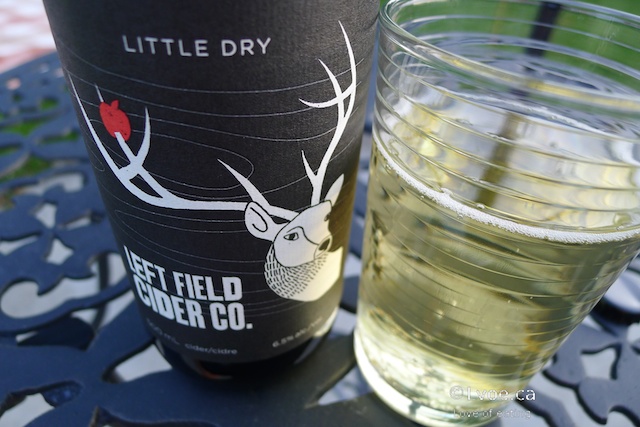 This is so damn refreshing. Little Dry taste like a bubbly, unsweet apple juice that can eventually make you whoozie. I prefer Little Dry over Big Dry. I get more apple-ly flavours and aromas from Little Dry; also it's a bit "sweeter." Little Dry is perfect on a hot evening out on the patio.
Big Dry (500ml; 7.2% alc/vol)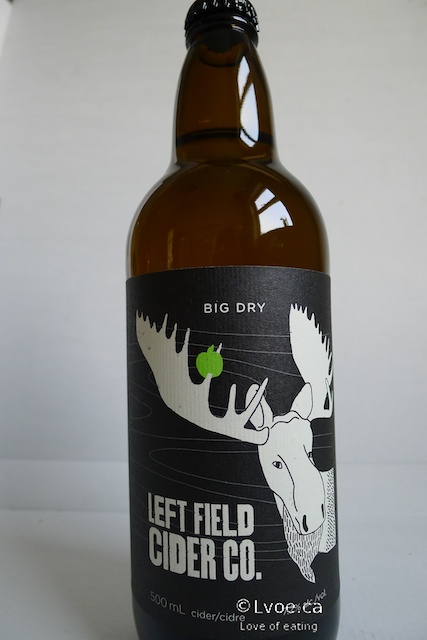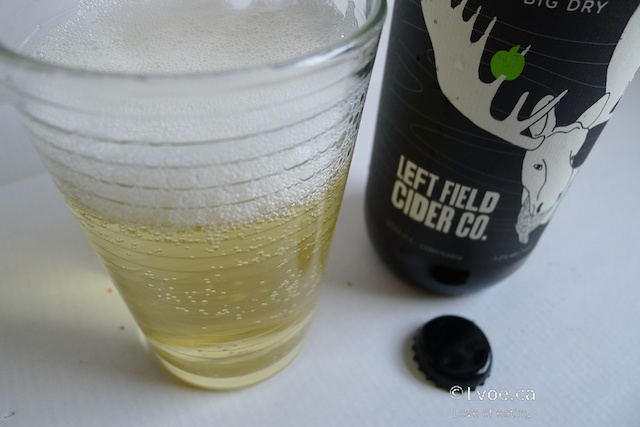 This is DL's pick of the two. As the name implies it is indeed dry and puckery. Big Dry is slightly carbonated with strong apple aromas. I need to eat some cheese or sausage with Big Dry, whereas I can drink Little Dry straight up.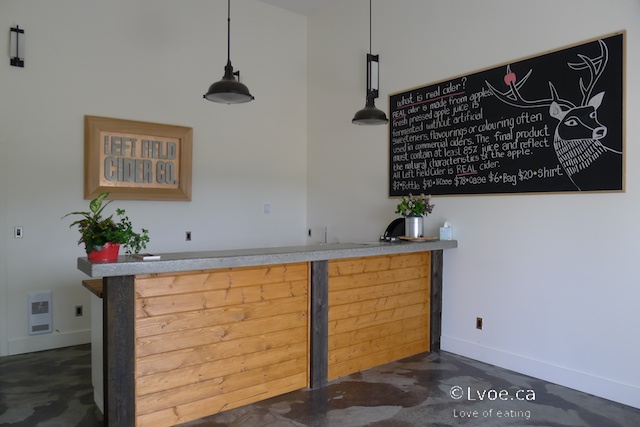 Left Field Cider's tasting room is open on weekends from 10am to 4pm all summer long. You will likely meet the people behind the cider, behind the counter. They are passionate about their cider, and it shows. Can you believe they do it all in this renovated barn from start to finish? Family members and a small crew of "unsuspecting volunteers" ensure the cider is created together with care.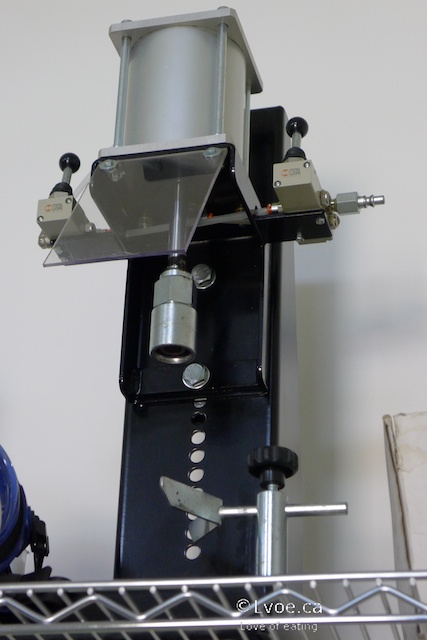 All the bottles are hand capped; one at a time using this very machine. That's a lot of cappin'. Crazy! And here's where they slap on those bottle labels. They are great labels, no? (It took DL a little while to notice the moose and stag.)
Left Field Cider Co. is located on Mamit Lake Road (Highway 97C). It's that stretch of road that connects Merrit to Logan Lake. In Kamloops, Left Field cider is available at Stags Head and U-District liquor stores. But really if you live as close as Kamloops, the drive down Mamit Lake Road is lovely in the summer time. For those of you reading Love of Eating from elsewhere here is a list of other retailers that currently carry Left Field cider.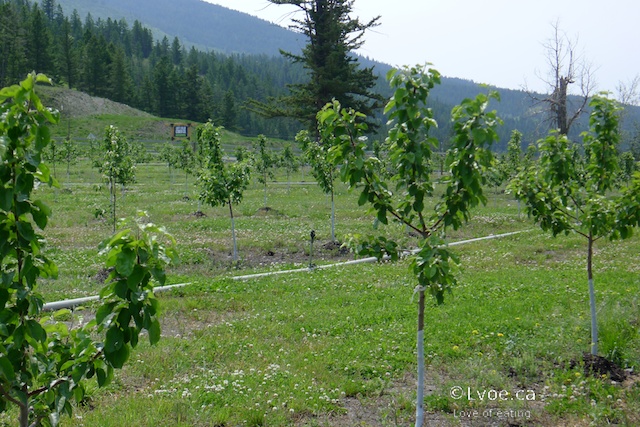 Left Field Cider is available from their cider house by:
Bottle $7
Half Case (6) $40
Full Case (12) $78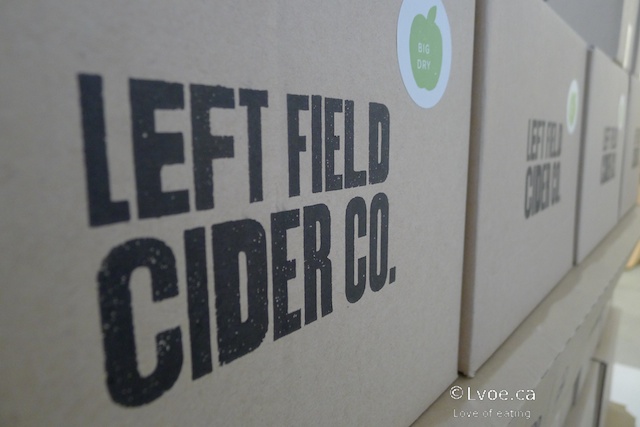 So try to make a detour on your next drive to visit Left Field and taste some of their ciders. We decide to come home with a case of half Little Dry and half Big Dry. With a week of heat and house guests it may turn out to be the perfect summer purchase.
Location
Left Field Cider Company
8821 Highway 97C (Mamit Lake Road)
Mamette Lake (Mid way between Merritt and Logan Lake)
,
BC
Canada