Yaki Joe's Pizza - Merritt, BC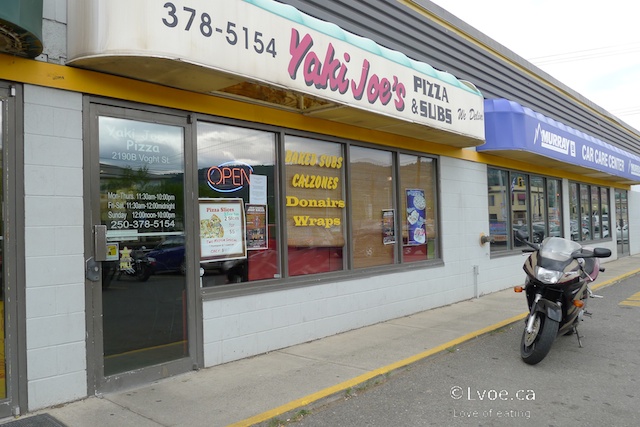 I'm here in Merritt for a tournament which runs all day, from 9:30am to 4:00pm. There was no time to eat in between, and I didn't really want to eat during the tourney. Do I need to say that I am starving? Granola bars and oranges slices can only take me so far.
Yaki Joe's Pizza is located on Voght Steet; just a few blocks in from Highway 97C (Nicola Avenue.) For some reason I always thought this was a sushi place. I guess I never really read the signage thoroughly.
Delusional with hunger, DL and I have an unspoken understanding that there will be no discussion on where to eat. Whichever diner we pass by first, will be dinner. Yaki Joe's is the first open eatery that we come across after sweating it out for six hours. (Not counting A & Trouble U, across the street.) Yaki Joe's Pizza here we come!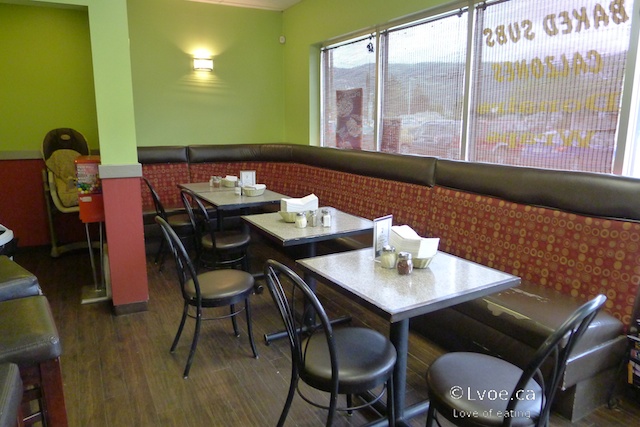 Yaki Joe's is primarily a take-out pizza joint; there is a small dining area too. As with many take-out pizza places, Yaki Joe's dining area is a little rough. Not so rough that I can't eat here, but it can use a wipe-down and a sweep. Curiously, the bathrooms are modern and cleaner than most WCs I've encountered.
Double Mushroom Cheese Burger ($16.50 medium)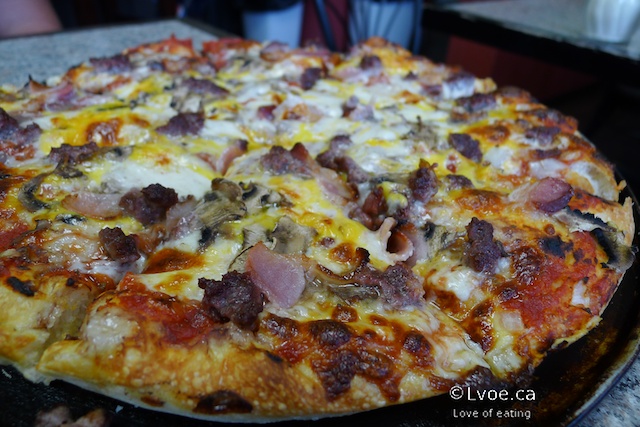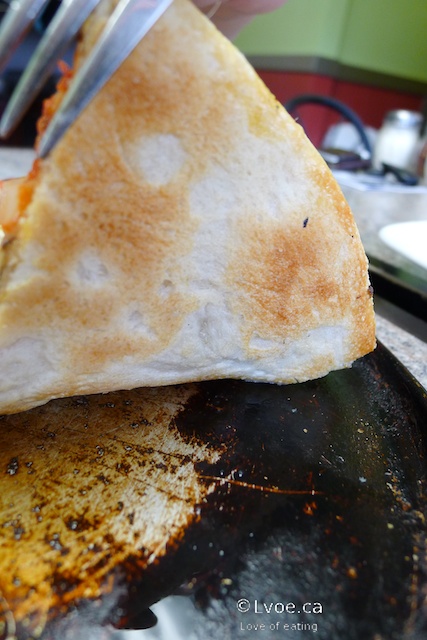 DL always seems to order the "cheeseburger" pizza when it's available on a menu. I think it must have to do with nostalgia. Perhaps reminiscent of the good ol' days back in high school. A time when DL, and the rest of the kids that "smoke out by the gate," gathered for late night snacks with a Bacon Double Cheeseburger pie at the local Boston Pizza.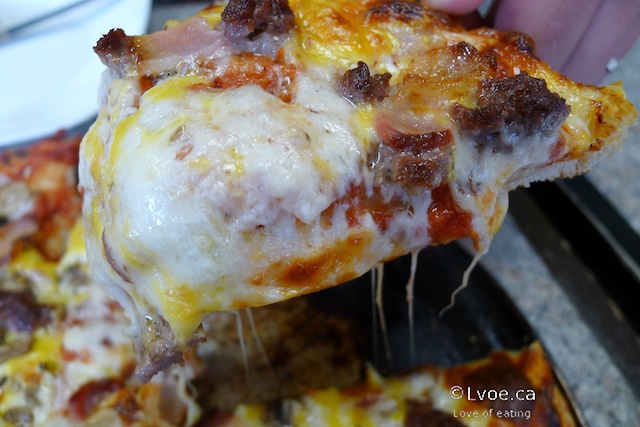 Yaki's Double Mushroom Cheeseburger is pretty standard in taste. Mind you, I think most cheeseburger pizzas kinda taste the same. However, DL is loving the whole package: soft chewy crust, sharp tomato sauce, and seasoned meats. I promptly receive an eye-roll from across the table for thinking this is "just okay." The toppings are very generous and the meats are moist. I do enjoy that Yaki's bacon is actually cut up pieces of real bacon rashers; it's not the ground-up-red-bacon-bits type of "bacon."
Tropical Chicken ($17.75 medium)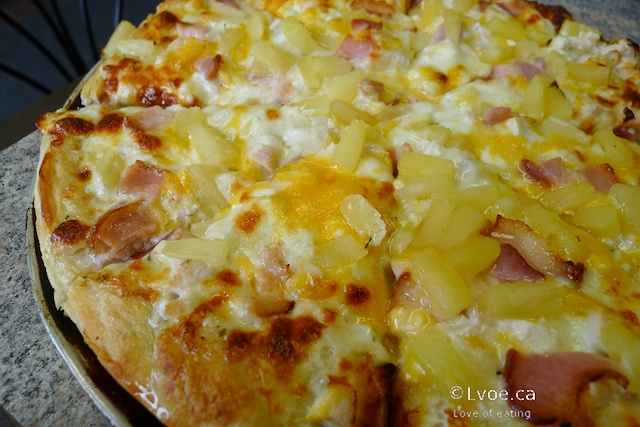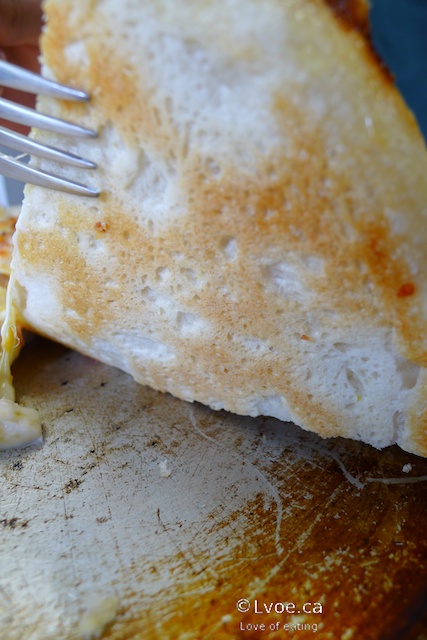 Yaki Joe's has a "tropical" series where pineapple is the theme ingredient. I know many people cringe at pineapple on pizza, but I always enjoy a savoury sweet combo. I quite like this pizza choice. Instead of tomato sauce the Tropical Chicken has an alfredo-like white sauce as the foundation.
I like this alternative for a few reasons.
1. It's tasty!
2. I don't get red sauce stains all over the sides of my mouth...and sometimes my cheeks.
(Have I mentioned that, at times, I eat like a two year old? Apologies to all two year olds, but really, some of you wee folks eat like dingoes.)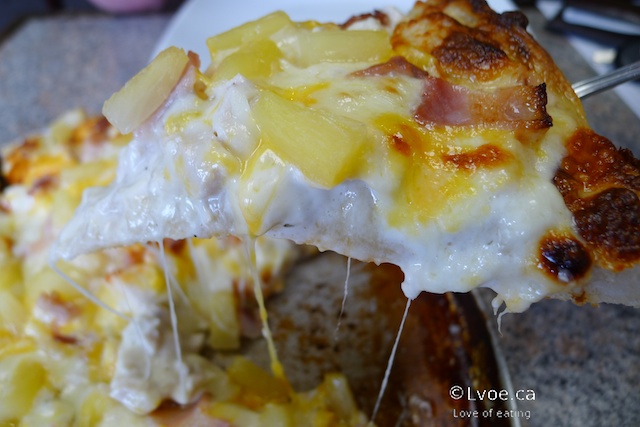 The chicken chunks are still juicy under the cheddar and mozzarella cheese. Although, I've been hydrating all day before, during and after the tournament, I find that after eating this pizza, I am pretty darn thirsty. So there's that.
I like the topping combinations that Yaki Joe's created for their Gourmet Pizza menu selection. If you like your pizza to be fully loaded Yaki Joe's fits the bill. Their calzones prove to be popular too. An entire family of six, at the table next to us, all order different variations of Yaki Joe's calzones. We had to hit the road before their order came to the table, so no information gathered by my Neck Craning Technique could be had today.
I'm starting to like Merritt. I've driven through many times, on most occasions only stopping for petrol. I may look into making longer pit stops here during my travels.
Yaki Joe's website click here
Yaki Joe's Facebook page click here

Locations
Yaki Joe's Pizza and Subs
2190-B Voght Street
Merritt
,
BC
V1K 1B8
Canada