The Pond Country Market Coffee Shop - Kamloops, BC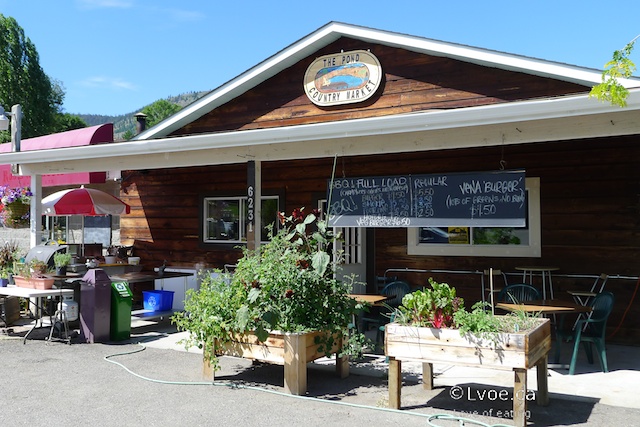 **UPDATE September 2013: As promised the eatery went through some renos and is now called The Smokin' Duck Eatery**
I spent the weekend breathing heavy and wheezing around scenic Vancouver. Super fun run, with fantastic weather. The first thing I decide to do when I got home is some yard work. (Not the smartest choice. I know my body will make me pay later.)
When I first moved into my abode, there lived a little patch of weird weed (I think it is called yarrow) on my lawn. It was the size of a dinner plate. In two summers it grew into a patch the size of a kiddie pool. I started to pull it out, only to find the entire patch is interconnected by uncooperative rhizomes just underneath the surface. Swollen fingers and multiple blisters later, I made bare a four foot radius dirt patch in the middle of my already small patch of lawn.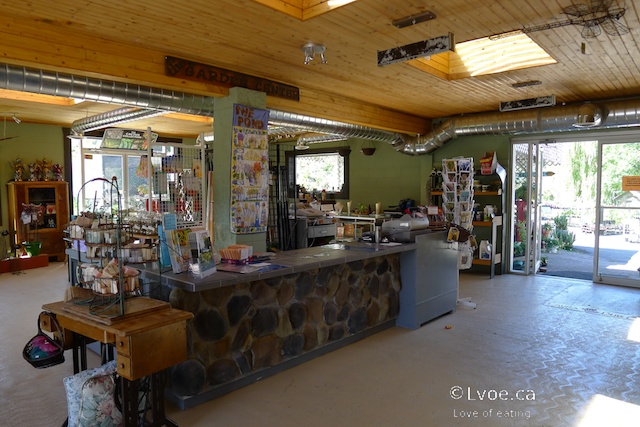 This brings me to The Pond Country Market and their garden centre out "in the heart of Barnhartvale." You may already be familiar with the location as it used to be the site of another garden store: the now-defunct Roots To Shoots. Today I need a small amount of lawn seed. Conveniently, there is an eatery inside. It is a coffee shop but they grill up fresh burgers too.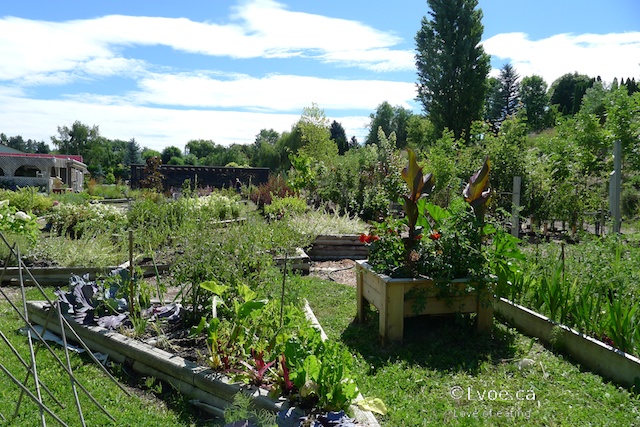 We place our order and take a leisurely stroll around the property. The duck pond and the raised beds with various fruits and veg growing from them, make it feel more like I'm walking around someone's yard rather than a garden center. As I make my way around I compare the size of their tomato plants with mine at home. I have shrimpy tomato plants this year. It's mid August and they are still only a few feet tall. I'm hoping for a growth explosion soon.
Full Load Burger ($7.50)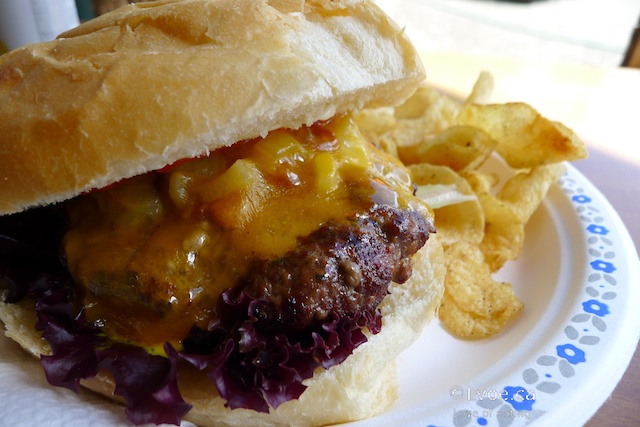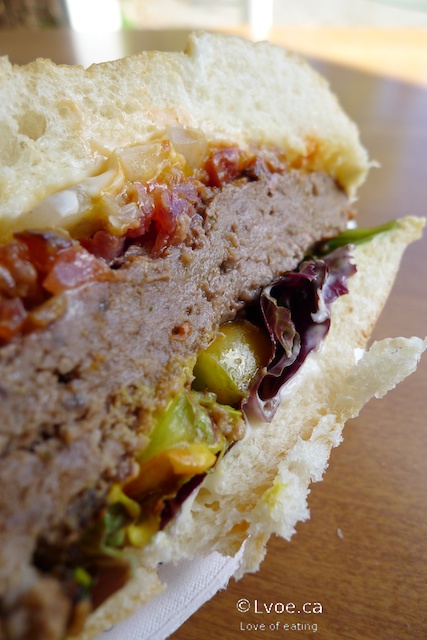 The juicy hand formed patty forms a thick foundation for caramelized onions, bacon and cheddar cheese. The beef came directly off the grill, flavourful and well seasoned. I like the look of the red leaf lettuce for a little green and red colour contrast. Both the burger and hotdog came with a side of sea salt n' pepper crisps.
Loaded Foot Long Hotdog ($6.50)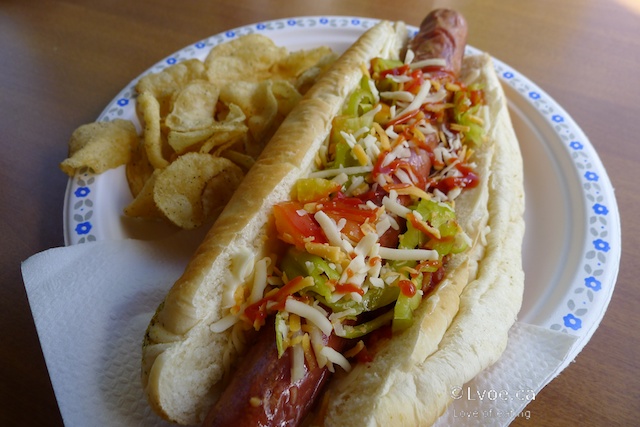 It's big and spicy. The jalapeños give it a nice hot spice, while the avocados cool it down. The hotdog comes fully dressed with a squirt of ketchup and sprinkles of shredded mozzarella and cheddar cheeses on top. The food is simple, made to order and has solid summer-time-backyard-get-together flavours.
Old Tyme Ginger Beer ($3.25) and Santa Cruz Raspberry Lemonade ($2.50)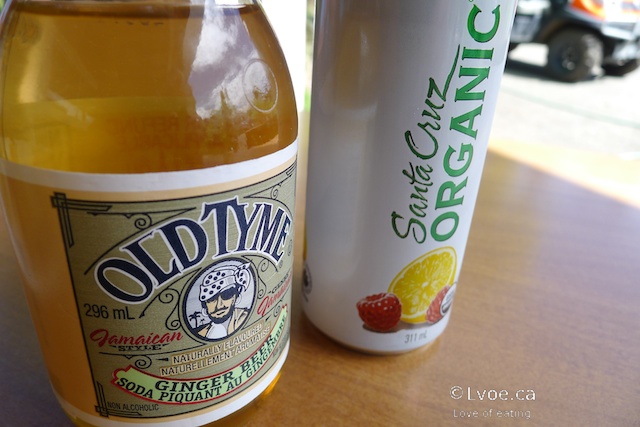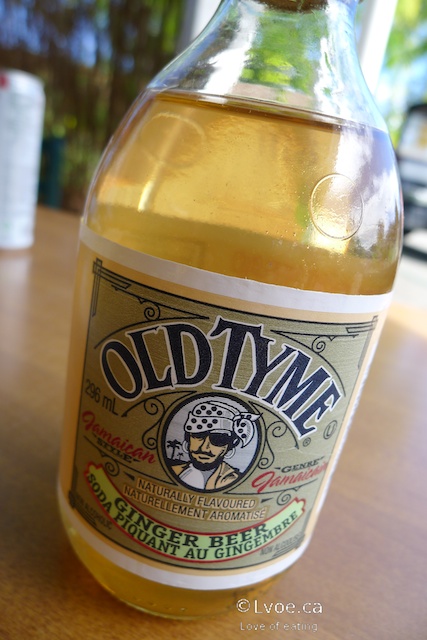 Washing it all down with ginger beer and lemonade.
One of the owners did the grillin' duties today and shared that there are exciting plans to expand the dining space inside to a 25 seat restaurant. It will be fun to see how the property transforms with a new vision from the spunky new proprietors. (Edit Sept 2013: Transformation complete! It is now called the Smokin' Duck Eatery. )
I leave the Pond Country Market clutching a brown lunch bag of bulk lawn seeds. Since grass is essentially a weed, I figure it can't be that hard to grow a little patch before frost hits. (Note: I'm often proven wrong by Mother Nature with my many newbie gardening assumptions.) With my quadriceps still tingling from my Sea Wheeze run, I sprinkle the dirt patch with my new seeds. Fingers crossed.(I say that a lot when I'm trying to grow things.)
The Pond Country Market Facebook click here
The Pond Country Market website click here
Locations
The Pond Country Market
6231 Barnhartvale Road
Kamloops
,
BC
V2C6V6
Canada